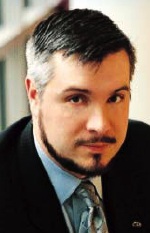 As I write this 36th consecutive Report from the President, 2002 is nearly at its end. Thus, this is a particularly important time for reflection, introspection, and planning for what lies ahead. Looking both within the United States and abroad, I am filled simultaneously with emotions of frustration and hope for what has and has not been accomplished this past year in the global battle against HIV/AIDS. I expect that I share many of these emotions with the members and partners of the International Association of Physicians in AIDS Care (IAPAC) who look to the association for leadership on advocacy, education, and capacity-building issues aimed at ensuring effective care for all people living with and affected by HIV/AIDS. I am humbled by the images of millions worldwide who have perished this year as a result of AIDS, where so many others have benefited from access to effective antiretroviral therapy. The global inequities that inform this difference reveal the worst in the human character.
In view of the mixed plate of frustrations and hopes that is our current diet, I choose to speak to the accomplishments IAPAC achieved this year, and our commitments for 2003. I do so less in immediate praise of IAPAC's accomplishments than as a continued plea for your support and your collective commitment to responsibility as arbiters of health and human dignity. Further, I present to you the following description of IAPAC's 2002 activities and plans for 2003 in order to urge you to hold IAPAC and others to the tasks that must be fulfilled in redressing the AIDS pandemic.
The year 2002 was a year of tremendous growth for IAPAC. As many long-standing observers and members of the association will testify, IAPAC has transformed from an almost exclusively U.S.-based and -guided association to one that is now truly reflective of the global reach and diversity that our name suggests. In this respect, the association welcomed additional international clinical and policy leaders to the IAPAC Board of Trustees, as well as to the roster of staff that fulfills the association's mandate. There is "Strength in Numbers," as IAPAC's ongoing membership slogan suggests, but also strength in diversity and representation, as our leadership and staff structures reveal.
Advertisement
The association also grew significantly in its programmatic reach and depth, across each of its three main areas of activity. With respect to IAPAC's critical advocacy role to increase the quality of and access to care and treatment for those living with HIV/AIDS, our revised Web site was launched in July 2002, with expanded physician, patient, and allied healthcare professional member services and information. We anticipate the Web site to be fully developed by early 2003, thus providing the necessary means to express regular policy and clinical statements on pressing international care and treatment issues, in addition to those frequently distributed to media and partners. Also critical in terms of IAPAC's role as advocate were continued support for and recognition of key HIV care providers and patient-advocates through the annual Honoring Our Heroes awards event, this year held October 26, 2002, in Chicago, and participation in key policy and clinical symposia and conferences such as the XIV International AIDS Conference in Barcelona.
Medical education continued to assume the largest portion of IAPAC staff time, building upon momentum and promises made in 2001. For example, IAPAC distributed more than 50,000 IAPAC Drug Guides, featuring monographs of the 19 U.S. Food and Drug Administration (FDA)-approved antiretroviral agents. IAPAC also produced and distributed 30,000 sets of GRIP Guides -- user-friendly physician/patient interaction guides visually articulating U.S. Department of Health and Human Services (DHHS)-recommended antiretroviral regimens. These reference tools are meant to ensure appropriate HIV treatment and patient adherence to prescribed drug regimens.
IAPAC also continued publication and global distribution of our member magazine, IAPAC Monthly, and launched in early 2002 a new quarterly, peer-reviewed clinical journal entitled JIAPAC. Adding to quarterly JIAPAC issues in 2002 were regular supplements focusing on pressing clinical management issues such as HIV-related anemia, once-daily dosing of antiretroviral regimens, and the psychiatric manifestations of HIV disease and treatment.
Rounding out the association's medical education mandate was the IAPAC Sessions 2002 held May 16-17, 2002, in Chicago; as well as IAPAC's 5th International Conference on Healthcare Resource Allocation for HIV/AIDS held April 15-17, 2002, in Rio de Janeiro. Each of these events, the proceedings of which were presented in 2002 issues of the IAPAC Monthly and on the IAPAC Web site, were important vehicles in harnessing the collective strength and knowledge of our global members and partners.
While I am quite pleased with the progress that the association was able to make in both its advocacy and medical education missions, what most excites me about 2002 was the significant expansion of IAPAC's technical assistance function. This year witnessed the final development of our Global AIDS Learning & Evaluation Network (GALEN) curriculum, as well as the publication of our first two learning modules: GALEN Modules No. 8 and 9 -- Introduction to Antiretroviral Therapies, and Antiretroviral Therapy in Resource-Limited Settings, respectively. Field-testing of these modules in Ethiopia and South Africa confirmed for IAPAC the desperate need for these medical education materials, and further committed the association to completing the entire series of GALEN learning modules in early 2003.
This year also saw the establishment of a corresponding GALEN "HIV Care Specialist" certification process -- a process designed to document the core competencies of HIV-treating physicians in resource-limited settings, and to further empower this network of specialists to advocate increased resources for the provision of HIV care along a continuum. With the GALEN Certification Committee to be finalized in early January 2003, the certification process that will be overseen by Committee Co-Chairs John G. Bartlett (Johns Hopkins University, Baltimore) and Peter Mugyenyi (Joint Clinical Research Centre, Kampala, Uganda) is well on track.
IAPAC's Southern Africa Regional Office (SARO) in Johannesburg, South Africa, greatly expanded its activities in 2002, training physicians and allied healthcare professionals in southern and eastern Africa through Pfizer's Diflucan Partnership Program. To date, 10,000-plus healthcare providers in 12 countries have been trained in the administration of Pfizer-donated Diflucan, and in the prophylaxis and management of opportunistic infections. Further, IAPAC-SARO successfully re-launched I-Med Exchange, our Web-based training vehicle that had fallen dormant in late-2001 because of a host of technical and infrastructure challenges experienced in host countries.
No less important have been IAPAC's membership recruitment, retention, and services activities. Recruitment efforts yielded a significant increase in dues-paying individual memberships across a number of healthcare professions. Our retention efforts secured an 80 percent retention rate for individual dues-memberships, as well as (remarkably in this economy), 100 percent retention of IAPAC's Corporate Partners. And, IAPAC significantly expanded member services with the launch of a "Members Only" section of our Web site, as well as a toll-free "helpline" for U.S.-based members -- 1-866-IAPAC-HQ. I speak to our membership activities because, as our membership slogan clearly communicates, there is "Strength in Numbers."
Although this past year makes me particularly proud, there remains much to be done. One need only mull over the following statistic -- 43 million men, women, and children living with HIV/AIDS -- to understand why. Looking toward 2003, I am inspired by what IAPAC, with the support of our members and partners, is poised to accomplish.
With respect to medical education, IAPAC has committed to distribute an additional 30,000-plus sets of GRIP Guides and 50,000 copies of our popular "antiretroviral agent poster," both based on the amended 2003 U.S. DHHS "Guidelines for the Use of Antiretroviral Agents in HIV-Infected Adults and Adolescents." In addition, IAPAC plans to distribute European-appropriate versions of the GRIP Guides and antiretroviral agent poster based on the "European Guidelines for the Clinical Management and Treatment of HIV-Infected Adults." And, we plan to distribute GRIP Guides for physicians/patients in resource-limited settings based upon public health-inspired guidelines released earlier this year by the World Health Organization (WHO).
IAPAC pledges continued comprehensive coverage of salient issues in each of our flagship publications, the IAPAC Monthly and JIAPAC. And, the host of clinical, policy, and member services and information that are available via www.iapac.org will expand significantly in the coming year.
Our conference/symposia calendar reflects further commitment to uphold critical medical education and advocacy activities. Co-chaired by Diane Havlir (University of California San Diego School of Medicine, San Francisco) and Renslow Sherer (Cook County Hospital, Chicago), the IAPAC Sessions 2003 is scheduled to take place May 13-15, 2003, in Chicago. And the 6th International Conference on Healthcare Resource Allocation for HIV/AIDS will take place October 13-15, 2003, in Washington, DC. Information about both of these events will be available on the IAPAC Web site in early 2003.
The association is also committing to expanded participation in key policy and international coalitions and working groups -- including the International HIV/AIDS Treatment Access Coalition (ITAC) -- to advocate for expanded global access to a continuum of HIV care, including antiretroviral therapy. IAPAC will continue to assert our position on the need for quality assurance by insisting upon global provisions that commit governments and international institutions to measures ensuring quality care, treatment, and support for all people living with and at risk of HIV infection.
What offers greatest promise for both IAPAC and those in whose service we operate, will be the association's expanding technical assistance and capacity-building agenda. Completion early in the year of both the full GALEN curriculum, as well as the GALEN Certification Examination, will enable IAPAC to greatly enhance physician training and the documentation of care capacity in resource-limited settings by mid-2003. This medical education and certification program holds immense potential to make an immediate impact upon the care provided to HIV patients and to provide additional impetus to the drive to expand access to antiretroviral therapy.
IAPAC-SARO recently committed to a renewed and expanded training contract for 2003 through the aforementioned Diflucan Partnership Program. As of early 2003, IAPAC-SARO will be training thousands more healthcare providers in an additional 11 countries within southern, eastern, and central Africa, bringing to 23 the number of countries on the African continent in which IAPAC provides direct technical assistance. Additionally, IAPAC-SARO will expand the I-Med Exchange, while broadening its information distribution and resource network throughout the southern Africa region.
And, with a need to expand our global reach, IAPAC will actively invest in our newly established European Regional Office (IAPAC-EURO) in Paris, as well as in activities throughout Latin America/Caribbean and Southeast Asian regions -- where IAPAC hopes to establish a regional presence in coming years. A major IAPAC thrust will be to enhance our membership base so that the association will continue to represent a critical mass of physician-activists above and beyond the 12,000-plus members in 89 countries who give us our "Strength in Numbers."
As I close this report, I wish to express my gratitude to the IAPAC Board of Trustees for entrusting me with the association's helm for another three-year term. And, I wish to thank each of you for your continued support of our efforts to advocate on the behalf of people living with HIV/AIDS through serving those in whose hands the well-being of so many men, women, and children is placed -- physicians, allied health professionals, and patient advocates. With your continued support and collaboration, IAPAC is willing and able to rise to the challenges and opportunities that will certainly come in 2003. In so doing, I pray that we may collectively celebrate, at this time next year, the millions of lives that we will have improved and saved, and the further dignity that we will have restored to our shared humanity.
On behalf of our Board of Trustees and staff, I extend IAPAC's sincerest wishes for a healthy 2003 and success in all of our endeavors.
José M. Zuniga is President/CEO of the International Association of Physicians in AIDS Care, and Editor-in-Chief of the IAPAC Monthly.

Back to the December 2002 issue of IAPAC Monthly.