In this one small thing at least it seems I am wiser -- that I do not think I know what I do not know.

-- Socrates in Plato's Apology1
Introduction
Once yearly over the past three years -- and twice in 2004 -- the International Association of Physicians in AIDS Care (IAPAC) gave member clinicians a two-day leave from the front lines of HIV care and invited them to listen to, and challenge, 12 top specialists on four topical topics. Many attendees outrank the faculty in seniority, having treated HIV infection since before the retrovirus appeared under a Pasteur Institute microscope, before AIDS had a name. Half of IAPAC's members have treated people with HIV for more than 15 years, and another 28 percent for 10 to 15 years.
Advertisement
So the IAPAC Sessions are invariably invigorating, routinely provocative, and always sobering. Sobering because one readily learns that even an audience of the most seasoned HIV clinicians can be flummoxed by this pesky virus, caught flat-footed in the contest to dissect the facts from the factitious, flim-flammed again by their retroviral foe.
Upon reflection, though, this frank frustration with HIV's legerdemain says more, rather than less, about clinical aptitude on the antiretroviral ramparts. As Socrates saw circa 410 BC, those who know what they do not know are "in this one small thing ... wiser." And this wisdom, perhaps, allows both the humbling question and the heedful challenge to expert opinion. For at IAPAC Sessions the experts sit on both sides of the rostrum.
This year's IAPAC Sessions -- USA gathered 70 clinician experts and 12 faculty experts in Chicago to explore four issues, ordered here to mime HIV's course:
Preventing HIV infection
Refining antiretroviral tactics
Navigating HIV resistance
Managing metabolic and morphologic complications
Preventing HIV Infection
Prevention is the problem we all need the most help with, proposed IAPAC Sessions cochair Diane Havlir (University of California, San Francisco). When the HIV clinician's role evolved from making death easier to saving -- then prolonging -- lives, many missed a terribly important insight: In caring for people with HIV infection -- often people with dangerously high viral loads or loads of resistant virus -- clinicians grasp a golden chance to prevent HIV transmission.
That point first dawned, gloriously, for HIV clinicians entrusted with treating pregnant women when the landmark PACTG 076 study showed that an apparently penumbral tactic -- monotherapy -- proved lustrous enough to limit mother-to-child transmission dramatically. Better prophylaxes followed. Wouldn't similarly potent therapies limit adult-to-adult transmission? That question got the spotlight only last year, when the US Centers for Disease Control and Prevention (CDC) launched a campaign to encourage prevention in the HIV clinic.2
Treatment and Prevention: A Virologic Perspective
Robert M. Grant, Gladstone Institute of Virology and Immunology, San Francisco
Is there a public health indication for antiretroviral therapy to prevent HIV transmission? Perhaps, suggested Robert M. Grant, noting that there's some good news and there's some iffy news. The good news is that stronger antiretrovirals do cleave the odds of perinatal transmission according to his reckoning of relevant studies:
No therapy: 20 to 40 percent transmission
Monotherapy: 4 to 8 percent transmission
Combination therapy: 0 to 2 percent transmission
Combination therapy plus aggressive case finding: about 0 percent
The iffy news involves transmission between adults. Although a randomized trial has never weighed therapy's value in preventing adult transmission, a study of 415 untreated serodiscordant African couples did yoke lower viral loads to a lesser chance of transmission.3 The correlation held true for male-to-female and female-to-male transmission. Other work involving 240 HIV-discordant couples found the greatest risk of transmission -- in the earliest stage of HIV infection and just before death -- when viral loads were highest.4 Half of the transmissions in this cohort came during the index partner's first five months of infection. Grant reminded colleagues they have a good chance to see, counsel, and perhaps treat people with primary infection because acute early symptoms often send the newly infected to the clinic.
A 10-year-old study suggested that even archaic zidovudine (AZT) monotherapy can protect a partner from HIV.5 This study recruited 436 monogamous women without HIV and their infected partners. Half of the AZT-treated partners already had symptoms of HIV infection. After 740 person-years of observation, HIV incidence measured 4.4 cases per 100 person-years in the AZT group and 3.8 per 100 person-years in the untreated group, a nonsignificant difference. But when researchers adjusted the analysis for HIV symptoms, p24 antigenemia, a CD4 count below 400 cells/mm3, consistent condom use, and AZT therapy, they found that the first three variables independently raised the risk of transmission while the last two lowered the risk (AZT by 50 percent and condoms by 80 percent).
But, Grant asked, should clinicians put stock in a correlation that comes clear only in multivariate analysis? Perhaps, he proposed, because a Swiss study convincingly showed that regimens strong enough to banish HIV from plasma also send seminal loads tumbling.6
Is it the therapy, or is it serosorting?
Grant's home cachement, San Francisco, has been a bellwether of epidemic trends in the United States since HIV reared its glycoprotein-hatted head in the early 1980s. The latest trends -- a pendulant swing back to risky sex and a loud uptick in sexually transmitted diseases (STDs) among gays -- have kindled much concern. Should they? Grant wonders. A study he coauthored found that a surge in risky gay sex has not fostered a similar surge in HIV incidence (Table 1).7 Although the number of dangerous liaisons more than doubled from 1994 through 1999, the rate of new HIV infections stayed stable or dwindled a tad.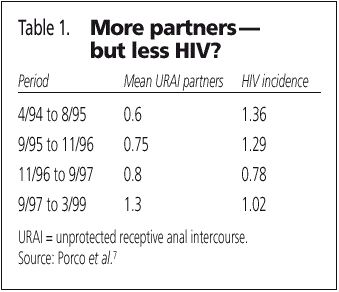 That trend may reflect improving antiretroviral therapy over the years studied, Grant proposed, but it may also reflect serosorting -- a preference for sex partners of the same serostatus. Serosorting specialists believe this behavior finds favor especially among men who practice unprotected anal intercourse. Although serosorting in any given population requires widespread testing and disclosure, if those conditions hold it could explain the apparent gap between a growing number of HIV-packing partners and flat or falling HIV incidence in this cohort.
Studying 376 gay partnerships in San Francisco, Grant's team learned that 45 percent of sex acts involved seroconcordant partners, while only 14 percent involved discordant couples.8 As readers endowed with advanced mathematical skills will note, however, that leaves 41 percent of couples who coupled without knowing each other's retroviral rating. But if Grant is right about serosorting's popularity (at least in some groups), it would mean markers of HIV incidence -- such as risky sex rates, STD incidence, and condom use -- may mislead predictors of HIV incidence.
Superficial threat of superinfection?
The threat of superinfection -- picking up a second virus to join an already resident strain -- has inspired edgy headlines since a flurry of reports documented this double viral trouble. How worried should you be about it? Superinfection surely rates as a bad bargain for the person who picks up a nastier virus, but Grant observed that the phenomenon remains vanishingly rare. Of the five cases that have withstood peer review, two involve injecting drug users in Thailand9 and three involve gay men in Switzerland10 or the United States.11,12
A peppering of other possible cases has made the meeting rounds. But even when researchers scour their records for superinfections, few turn up. Grant's compilation of eight superinfection surveillance studies tallied 1,710 person-years of follow-up in 1,290 persons, but only five superinfections. Stern warnings of superinfection's threats, he fears, often amount to "behavioral grandstanding." Scare tactics may even promote the spread of HIV, Grant suggested. People who know they're infected and practice seroconcordant sex may swing to uninfected partners if they fear superinfection.
Does superinfection mean HIV vaccines won't work? Grant finds such suggestions "grossly overblown." The inability of a few people worldwide to withstand a second virus while mounting an immune response to their first does not translate seamlessly to an uninfected person facing a first virus with an immune response to a vaccine. The uninfected person will typically have a stronger immune system than someone already saddled with HIV.
Trends in transmitting drug-resistant virus
The fretful attention focused on transmission of drug-resistant virus over the past few years often misses one key point: The most recent reports show that rates of resistant virus transmission have remained stable (in North America, Europe, Spain, and Switzerland) or fallen (in Montreal, Amsterdam, and Sydney). Triple-class resistance in recently infected untreated people remains almost as rare as hens' teeth. Grant counted two cases in San Francisco, two in Montreal, and one each in Los Angeles and Geneva.
Even when an untreated person shows up with multidrug-resistant virus, all is not lost. Evidence suggests that resistant HIV continues to respond to antiretroviral therapy. Grant's work with Steven Deeks (University of California, San Francisco) charted viral loads sustained a half-log below pretreatment values and still-climbing CD4 counts for a year or more after emergence of resistant virus and virologic rebounds.13 His analysis of other studies showed a persisting response to AZT monotherapy, AZT/lamivudine (3TC), AZT/3TC/indinavir (IDV), and AZT/didanosine (ddI)/nevirapine (NVP) after virologic failure.
Why do the drugs keep working? Grant proposed a dual mechanism:
Residual activity of the multidrug regimen against partially resistant virus
Drug selection for mutant HIV that has diminished replication capacity
A modeling study by Sally Blower (University of California, Los Angeles) and Grant suggests that widespread antiretroviral therapy, even in the face of resistant virus, can limit the number of new infections -- with one big if.14 The model shuffled three critical parameters: fraction of cases treated, risk behavior (especially if linked to antiretroviral use), and relative transmissibility of drug-resistant HIV. Bumping up the fraction treated from 50 to 90 percent, the model predicted, would prevent 5 to 20 percent of new HIV infections that would otherwise occur. But even small flares in risk behavior wiped out that benefit.
Preventing Sexual and Drug-Related Transmission of HIV
Christopher M. Gordon, Secondary Prevention and Treatment, Adherence Center for Mental Health Research on AIDS, National Institute of Mental Health, Bethesda, Maryland
Can clinicians take the lead in promoting prevention of new infections by counseling already infected people? Christopher M. Gordon reviewed two studies suggesting they can -- and two studies suggesting they won't without help.
Missed opportunities to slow HIV's spread
Many rank-and-file HIV clinicians see 20 or more infected people every day. Lots of those people remain sexually active -- some hyperactive -- and safer sex does not always top their agendas. Others struggle with dangerous drug habits. Are clinicians doing enough to steer these people toward safer encounters? Two studies suggest they're not.
A cross-sectional survey of six public HIV clinics in California from 1998 through 1999 found wide variations in prevention counseling from clinic to clinic.15 The sample included 607 men who have sex with men, 127 heterosexual men, and 105 women, with an ample mix of whites (39 percent), Hispanics (36 percent), blacks (17 percent), and others (8 percent). From 52 to 94 percent said a health provider talked to them about safer sex at least once, while 31 to 78 percent remembered discussing disclosure of their HIV status. Men who have sex with men were less likely to have such discussions (compared with straight men), as were whites (compared with Hispanics and blacks). Serostatus disclosure discussions proved significantly less frequent than talk about safe sex (P<0.05).
Gordon reviewed a larger study by Steve Morin (University of California, San Francisco) involving 618 people being seen at 16 Ryan White-funded clinics in nine states. About three quarters were men, half African American, one quarter white, and 19 percent Hispanic. Clinic exit interviews tallied a mere 25 percent who talked with a health provider that day about "safer sex and how you can prevent giving HIV to someone else." Rates of more specific events were even leaner:
Six percent discussed specific sexual activities.
Seven percent discussed disclosure to partners.
Nine percent received reading material.
Six percent got tested for an STD that day.
Coax them or scare them?
A longitudinal study showed that brief but persistent prevention discussions can pay off, although researchers registered some surprise at what kind of conversation works best.16 Jean Richardson (University of California, Los Angeles) and colleagues ran the study in six Californian HIV clinics, training 75 primary care providers and more than 100 support staff involved in 52,000 patient visits over 10 months. Nearly 1,000 study participants had at least one intervention session. (These are the same clinics at which Richardson and others logged highly variable prevention counseling as a baseline measure.15) All providers completed a half-day training session. The researchers assigned two clinics to one of three interventions:
Brief message on the advantages of behavior change
Brief message on the consequences of not changing behavior
Brief message on adherence (the control arm)
Each interaction lasted three to five minutes; advantages and consequences exchanges covered self-protection, partner protection, and discloser of HIV status. Clinicians and patients also received printed backup material in English or Spanish. The advantages message might be "using condoms can help keep you free of STDs" while the corresponding consequence message might be "not using condoms puts you at risk for getting STDs." When Gordon asked IAPAC Sessions attendees which message they thought would work best, a whopping majority voted for the advantages approach. "That's what we thought, too," Gordon confessed. "It wasn't." At least in this population, scaring people worked better than wooing them.
Researchers interviewed 585 people at follow-up, 86 percent of them men and 74 percent of them gay men. Among people who had one partner at baseline, the interventions had no big impact on rates of unprotected anal or vaginal sex at follow-up. But among people with two or more partners, the consequences message worked best (Table 2). These findings aren't airtight, Gordon allowed, because researchers assessed participant behavior by self-report, with all the inherent limitations of that approach. But he argued that if the change for the better in the consequences arm was just yea-saying, that trend would likely appear across all study arms.

Gordon concluded that brief behavioral interviews delivered by primary HIV clinicians can work -- at least among the gay men who made up three quarters of the follow-up population -- and that emphasizing negative health consequences of unsafe sex trimmed the prevalence of risky behaviors.
A few minutes to modify risk
The Options Project, a collaboration between the University of Connecticut and the University of Western Ontario, is also weighing the merits of brief, clinician-instigated risk-reduction counseling repeated over time during routine HIV office visits. When the study began 239 of 489 participants (49 percent) said they had sex during the preceding three months. One third of sexual liaisons were unprotected.
The Options plan involves four steps:
Setting the agenda. "There are a couple of things that I talk about with all my patients," the clinician begins, "safer sex and safer drug use. I'd like to spend a few minutes talking with you about these issues, if that's OK with you."
Assessing risk. "Many of my patients find it challenging to practice safer sex and safer needle use on a day-to-day basis," the clinician continues. "What works for you and what doesn't when it comes to safer sex or clean needle use?"
Importance and confidence. Ask the patient to rate the importance of changing a risk behavior and their confidence that they can change it.

To assess importance:

On a scale of 0 to 10, where 0 is "not at all important" and 10 is "extremely important," how important is it to you to change this risk behavior?
You said it was x important to change this risk behavior. Why did you say x and not less?
What would it take to make it more important to you to change this risk behavior?

To assess confidence:

On a scale of 0 to 10, where 0 is "not at all confident" and 10 is "extremely confident," how confident are you that you could change this risk behavior?
You said you were x confident that you could change this risk behavior. Why did you say x and not less?
What would it take to make you more confident that you could change this risk behavior?

Negotiate goal or action plan and record on Options prescription pad. Allow the patient to choose a goal that is realistic and attainable in the context of his or her life.
An algorithm (Figure 1) details this step-by-step process depending on how people rate importance and confidence.

So far the Options team has trained 22 physicians, physicians' assistants, and nurse practitioners to follow this counseling protocol. They've managed to follow the prescribed steps during 70 to 80 percent of all office visits. After six months of follow-up, which sometimes allowed only one or two interventions, researchers recorded a drop in high-risk events from 534 to 32 in the 150-person intervention group. At the same time risky events rose from 315 to 530 in the control group, a significant difference (P=0.004).
One IAPAC Sessions attendee had misgivings about Step 1 of the Options protocol. In his experience asking a patient's permission to discuss lower-risk behavior is like asking a child if you can look in his ear. If the answer is "no" -- an unsurprising response -- the intervention screeches to a halt. Picking up on this theme, another clinician observed that many people simply will not discuss sex or needle sharing. "Look," they say, "I'm only here to get treated. Don't ask me about that."
Gordon agreed that engaging patients on how they have sex or do drugs can seem daunting. Most of the clinicians involved in these studies felt exactly the same way, he noted, until they tried and got results.
Challenges of Perinatal HIV Transmission Reduction
Mardge Cohen, Rush Medical College, Cook County Hospital, Chicago
The plunge in perinatal transmission of HIV in developed countries stands among the most heartening success stories in the antiviral annals. The graph Mardge Cohen showed of perinatally acquired infection from 1981 through 2002 in the United States looks like a Matterhorn silhouette -- a steep ascent through the late 1980s followed by an equally steep descent. But the tail end of that downward curve lingers perceptibly above zero. That's the gap we have to close, Cohen said, by getting pregnant women into prenatal care.
Treating pregnant women to stop HIV's spread, like treating infected children and adults to slow HIV's speed, remains a tale of two worlds. Across the globe, Cohen noted, 2.4 million women with HIV bear children every year. About 1,800 babies come into the world every day with HIV infection. Nine in 10 of them first open their eyes beneath the limitless skies of sub-Saharan Africa. In contrast, year 2000 saw the birth of only 300 HIV-infected children in the United States.
In the United States and Europe a perinatal transmission rate ranging from 13 to 30 percent without antiretrovirals fell below 2 percent with antiretrovirals and caesarean section. In poor and developing countries, transmission rates measure 20 to 43 percent without antiretrovirals, and 10 to 20 percent with short-course therapy.
Room for improvement
While universally applied perinatal prophylaxis could spare hundreds of thousands of children in the developing world, there's room for improvement in developed countries as well. Between 6,000 and 7,000 HIV-infected women in the United States have children every year, said Cohen, and up to 40 percent of those women don't know they have HIV before delivery.
New York City offers a snapshot of prenatal HIV testing from October through December 2000.17 During those months 1,115 women came to one hospital in labor, 152 (14 percent) of whom had no documented HIV status. Of those 152, 111 (73 percent) had never been tested and 41 (27 percent) had been tested but had no reliable records of results. Of all the women admitted, 16.5 percent delivered their child within one hour, while 70 percent had not delivered within four hours. That means a hefty majority of women with newly diagnosed HIV could have had prophylaxis after expedited HIV testing. Only four did.
But because of a law mandating testing for pregnant women, the number of women in New York State who knew whether they had HIV before delivery climbed steadily from 64 percent in 1997 to 94 percent in 2002. Largely as a result, perinatal transmission of the retrovirus slumped from 30.9 percent in 1997 to 3.9 percent in 2001. In Chicago, Cohen added, 23 percent of women with HIV still don't know their serostatus at labor.
Reaping the advantage of rapid HIV tests
The US Food and Drug Administration (FDA) has approved four rapid HIV tests:
OraQuick Rapid HIV-1 Antibody Test (no lab required)
Reveal Rapid HIV-1 Antibody Test
Uni-Gold Recombigen HIV Test
Murex-SUDS HIV-1 Antibody Test
These tests have a positive predictive value equivalent to that of ELISA assays; predictive values are higher in areas with higher HIV prevalence (Table 3). Their value in preventing mother-to-child transmission came clear in a study at Cook County Hospital's emergency room, the busiest emergency room in the city. After getting informed consent and giving pretest counseling, staff members screened and tested about 20 women daily.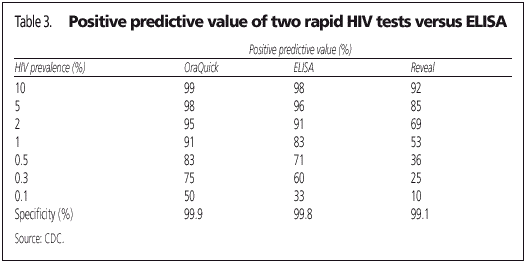 Among women eligible for the study, 58 percent agreed to rapid HIV testing, which found HIV in 39 women (2.3 percent). Three quarters of those with a positive test kept their first follow-up appointment for HIV care. The researchers had no false-positive results in over 1,600 tests run.
Cohen rated the trial a successful deployment of rapid testing in a hard-scrabble setting, particularly because it identified a substantial number of infected women that routine targeting would have missed. Point-of-care testing, she said, saves time, provides results more quickly than lab testing, and ensures participation of staff most responsible for women in labor (nurses, midwives, residents, and attending physicians). The CDC calculates that point-of-care testing takes a median of 45 minutes (range 30 minutes to 2.5 hours), compared with a median of 3.5 hours (range 94 minutes to 16 hours) for lab testing.
Myriad opportunities with MIRIAD
The Mother-Infant Rapid Intervention at Delivery (MIRIAD) study aimed to rate the feasibility and performance of rapid HIV testing for women who enter labor with an undocumented HIV status. The project, linking 15 hospitals in six cities, tried to reduce perinatal transmission by providing timely prophylaxis. Facilitating follow-up care for HIV-infected women and their infants was an equally important goal.
MIRIAD enrolled 7,000 women -- 8 percent of those screened -- with an unknown serostatus and at 24 weeks of gestation or later. Of those 7,000, 85 percent agreed to testing and 5,445 actually had an HIV test. Forty-one women had HIV, and two infants were born with the virus. HIV prevalence ranged from 0 to 3.1 percent at the 15 participating hospitals. The OraQuick assay yielded two false-positive results and no false negatives. Positive predictive value measured 94 percent for OraQuick and 81 percent for standard ELISA. Turnaround time averaged about one hour with OraQuick and 24 hours with ELISA.
Implementing this protocol wasn't easy, Cohen cautioned. Especially when women arrive at the hospital already in labor, explaining the study and getting informed consent take patience and tact. Some women agree to testing only if they don't hear the results until the child is born. Cohen ticked off these lessons learned from MIRIAD:
Women in labor take advantage of the opportunity to get tested.
Point-of-care testing delivers faster results than standard lab testing.
Rapid testing can be successful in a variety of hospital settings.
Point-of-care testing requires training of existing staff and new staff.
The study also had one disappointing result. It didn't always pave the way to postpartum clinical care. Women born in high-prevalence countries often dropped out of the study, while others continued to use illegal drugs or put their children in foster care. Even with rapid test diagnosis during labor and delivery, Cohen concluded, continuing care is hard to maintain. But programs like MIRIAD can provide one essential of better health care, "a sense of stability and trust in the future."18
Refining Antiretroviral Tactics
Since potent triple combinations made their mid-1990s debut, antiretroviral therapy has had its ups and downs. It began on an up so lofty -- the hope of eradication -- that subsequent downs looked abysmal indeed: The ghastly surprise of lipodystrophy. The grim specter of heart disease. The dull drumbeat of regimen switches and outright surcease traced to toxicity, complexity, pharmacologic vagaries, and resistance. And most recently the failure of simpler nucleoside-based regimens.
Which way should clinicians turn at this pass in the antiretroviral campaign? Charles Hicks and Calvin Cohen explored opposing options.
When Does the Cost of Simplification Run Too High?
Charles Hicks, Duke University Medical Center, Durham, North Carolina
The poor showing of congenial combos like Trizivir twice daily in a contest with efavirenz (EFV) and the outright rout of once-a-day triple-nuke minglings involving abacavir (ABC), tenofovir disoproxil fumarate (TDF), ddI, or 3TC have inspired renewed faith in the "Guideline Givers." Charles Hicks parsed data buttressing US experts' choice of regimens hinged on lopinavir/ritonavir (LPV/RTV) or EFV for people launching their antiretroviral odyssey.19 He proposed that guideline-prescribed nucleoside/tide reverse transcriptase inhibitors (NRTIs) picked to accompany these agents may merit reconsideration, since few clinicians these days start people on stavudine (d4T). The British HIV Association (BHIVA), he noted, already discourages up-front d4T. But evidence backing LPV/RTV and EFV remains firmly rooted.
Lopinavir/ritonavir: 204 weeks and counting
An early dose-ranging trial of lopinavir/ritonavir plus d4T/3TC started with 100 treatment-naive people whose median baseline numbers stood at 4.8 log copies/mL and 326 cells/mm3.20 This humble study offers solid evidence that the response to this boosted protease inhibitor (PI) lasts and lasts. After 204 weeks of follow-up, statisticians gauged a 71 percent response rate using a 400-copy RNA assay in a noncompleter-equals-failure analysis, and a 70 percent response rate with a 50-copy assay. Over that same span the mean CD4 count kept climbing. The average gain topped 300 cells/mm3, and people starting with fewer than 50 cells/mm3 have added 400 cells/mm3.
The phase 3 contest between LPV/RTV and nelfinavir (NFV) -- the first and still largest head-to-head PI joust -- proved that the 204-week dose-ranging results were no fluke.21 After 96 weeks of follow-up, time to loss of virologic response measured 79 percent with LPV/RTV and 58 percent with NFV (P<0.01). Week 96 responses did not vary between people who began LPV/RTV with more or less than 200 CD4 cells/mm3 or more or less than 100,000 RNA copies/mL.
Lopinavir/ritonavir versus boosted PIs
Although NFV ranked as the PI of choice when the LPV/RTV study began,21 in retrospect everyone knows LPV/RTV had a starting-gate edge because boosted PIs routinely outlast unboosted PIs. But LPV/RTV has not wilted when faced with other RTV-aided PIs.
MaxCmin2 enrolled a mixed population with or without antiretroviral experience, including 32 percent in whom a PI had failed and 52 percent who had PI experience.22 People took two or more reverse transcriptase inhibitors plus 400/100 mg of LPV/RTV or 1,000/100 mg of saquinavir (SQV)/RTV twice daily. Time to virologic failure at 48 weeks, the primary endpoint, proved significantly longer with LPV/RTV (P=0.0006). Although the treatment groups did not differ in grade 3 or 4 side effect rates, 29 percent quit the SQV arm while 13 percent abandoned LPV (P=0.001).
The Context study randomized PI-experienced people to standard-dose LPV/RTV or fosamprenavir (fosAPV)/RTV at 1,400/200 mg once daily or 700/100 mg twice daily.23 After 24 weeks the mean average area under the curve minus baseline (AAUCMB) viral load fell 1.48 logs with once-daily fosAPV/RTV, 1.50 logs with twice-daily fosAPV/RTV, and 1.66 logs with LPV/RTV. After 48 weeks the AAUCMB was 1.4 logs lower with twice-a-day fosAPV/RTV and 1.67 logs lighter with LPV/RTV. At that point slightly more people taking LPV/RTV than fosAPV/RTV had a viral load below 50 copies/mL in an intent-to-treat analysis (50 versus 46 percent). People taking LPV/RTV averaged an extra 10-cell/mm3 gain at week 48 compared with fosAPV/RTV.
A study comparing unboosted atazanavir (ATV) with LPV/RTV after one PI failure found a significantly better 24-week response with LPV/RTV.24 The combination of ATV/RTV at a dose of 300/100 mg once daily did better in another study, but again the response slightly lagged that of LPV/RTV.25 This trial enrolled people in whom at least two regimens including at least one PI and one nonnucleoside reverse transcriptase inhibitor (NNRTI) had flopped. After 24 weeks viral drops averaged 1.86 logs with ATV/RTV and 1.89 logs with LPV/RTV. Respective percentages with 24-week loads below 50 copies/mL were 39 percent and 42 percent. And people taking LPV/RTV gained more CD4 cells. A third group treated with 400/1,200 mg of ATV/SQV once daily did significantly worse than the other two groups.
Although trials rated some of these RTV-boosted PIs "noninferior" to LPV/RTV, Hicks suggested that consistently better results with LPV/RTV in these studies -- though not statistically significant -- imply that this agent is the better alternative. Everyone knows the drawbacks of LPV/RTV: a weighty pill burden, scandent lipids, and gut-grinding side effects. But as far as antiviral potency and durability are concerned, Hicks concluded, no other PI measures up to LPV/RTV.
Efavirenz versus first-line PIs
The seminal DMP 006 study comparing EFV with unboosted IDV or EFV/IDV offered the first clear-cut evidence that a nonnucleoside could outpace a PI as first-line therapy.26 In a 144-week noncompleter-equals-failure analysis, 52 percent randomized to EFV/AZT/3TC had a viral load below 50 copies/mL compared with 35 percent assigned to EFV/IDV/AZT/3TC and 30 percent assigned to IDV/AZT/3TC. The EFV/AZT/3TC combo also handily outdid the other two combos in time to virologic failure. The 144-week 304-cell/mm3 CD4 gain with EFV/AZT/3TC, Hicks observed, matched that in long-term studies of LPV/RTV.
The six-arm ACTG 384 trial comparing EFV with NFV plus two NRTI backbones logged a significantly longer time to first virologic failure with EFV/AZT/3TC than with NFV/AZT/3TC (P<0.001) but similar failure rates with a ddI/d4T back-bone.27 Efavirenz also emerged unscathed from toe-to-toe combat with a boosted PI, amprenavir (APV).28 The CLASS study randomized treatment-naive people to EFV, APV, or d4T -- all with ABC/3TC. A 48-week analysis showed a significantly better sub-50-copy response to EFV than to APV or d4T (Table 4).


In addition to long-term DMP 006 study results, EFV proved its stamina in a 96-week placebo-controlled comparison of d4T with TDF plus EFV and 3TC.29 A missing-data-equal-failure analysis at that point found 78 percent in the TDF arm and 74 percent in the d4T arm with a viral load below 50 copies/mL.
Efavirenz versus nevirapine
The much-anticipated and even more-atomized 2NN study firmly established that deciding between EFV and NVP as a first-line drug requires a Ph.D. in statistics, at least if one wants to base that decision on antiviral potency. For those who need reminding, this trial randomized 1,216 treatment-naive people to take d4T/3TC plus 200 mg of NVP twice daily, 400 mg of NVP once daily, 600 mg of EFV once daily, or 400/800 mg of NVP/EFV once daily.30 After 48 weeks, solo EFV easily beat NVP once daily or NVP/EFV while eking out a nonsignificant virologic edge over NVP twice daily (P= 0.091).
The authors conclude that "antiretroviral therapy with [NVP] or [EFV] showed similar efficacy, so triple-drug regimens with either NNRTI are valid for first-line treatment."30 But they concede their failure to show equivalence between NVP and EFV within the protocol-defined 10 percent confidence limit. In a companion editorial, Andrew Carr (St. Vincent's Hospital, Sydney) probed that statistical snake pit and decided that the 6 percent difference between those arms "is not desirable, but could be overshadowed by choice of a second regimen."31 Hicks took a similar view at the IAPAC Sessions, saying that if he had to select one of these drugs solely on antiviral vigor, he would take EFV and its extra 6 percent advantage.
Clinical and laboratory toxicity results favored EFV over twice-daily NVP in 2NN; the researchers attributed two deaths to NVP. Carr offered a thoughtful table summarizing situations in which one would prefer EFV over NVP (for people with hepatitis or those needing rifampin) or vice versa (for known or potential pregnancy or active psychiatric illness).
If one invokes cohort studies to decide between EFV and NVP, the advantage lies squarely with EFV. Hicks outlined four studies that compared the two drugs in more than 3,000 naive or experienced people,32-35 and EFV consistently proved superior to NVP in virologic efficacy and drug-dropping rates. Although these studies tinkered statistically to adjust for possible differences in treatment approaches, Hicks reminded colleagues that the limitations of retrospective analyses cannot be adjusted away.
Lessons from the triple-nuke nosedives
Any level-headed person looking at the studies Hicks reviewed must agree that the US Department of Health and Human Services (DHHS) made the right call in anointing LPV/RTV or EFV as the premier up-front option. All of our heads feel even leveler after the failure of the triple-nuke trials. When Trizivir couldn't keep pace with EFV in ACTG 5095,36 Hicks noted, some pointed to timeworn AZT as the weak link in the Trizivir arm. But with AZT put out to pasture and a coltish TDF teamed with the NRTIs, triple nukes did even worse.
"We all want to be cutting-edge doctors," Hicks confessed, "and we want to make things easier for our patients." When the triple-nuke trials "went horribly awry," he said, HIV clinicians learned that "we may be taking too much of a risk" if we ignore results of the best clinical trials on record. "Maybe our practice patterns got ahead of the data."
HIV Treatment 2004: Pondering the Alternatives
Calvin Cohen, Community Research Initiative of New England, Boston
Hearing that you're a good HIV doc, a middle-aged man comes to see you. He had a positive HIV test a few years ago and now has a CD4 count of 520 cells/mm3 and a viral load of 40,000 copies/mL. A genotype shows wild-type virus, and he doesn't have hepatitis B or C. You ask if he wants to start therapy.
After outlining that case at the IAPAC Sessions, Calvin Cohen asked attendees how many would recommend therapy. Not one. The man described didn't want to start either. But a year later his viral load had clambered to 90,000 copies/mL and his CD4s sank to 230 cells/mm3. Every IAPAC Sessions attendee agreed he should start now [see note 37], and the man did too. He had just one request: "None of those damn side effects."
Cohen gave attendees five options for the first regimen:
Two NRTIs plus a nonnucleoside
Two NRTIs plus a boosted PI
Two NRTIs plus a nonboosted PI
All NRTIs
Only a boosted PI
About 90 percent picked option one and the rest option two. After two years of treatment, this man felt well ("usually") with a CD4 count of 550 cells/mm3 and a viral load consistently below 50 copies/mL. Now he wants to know if he's going to have to take these pills for the rest of his life.
No stop to the starting debate
Similar scenarios have surely played out in HIV clinics across the land. And at this point, Cohen confirmed, the ideal CD4 threshold for starting therapy remains unknown. He summarized extant guidelines as recommending treatment at a CD4 count "somewhere above 200," which probably means "however high above you want" and "at whatever viral load you want."
Sundry cohort studies see little advantage in starting above 350 versus 200 cells/mm3, and at least one saw no difference in disease progression when comparing people who started at 150 to 199, 200 to 249, or more than 250 cells/mm3.38 But Cohen noted that a few trials, including the DMP 006 study of AZT/3TC/EFV,26 at least hint at a higher response rate after two years among people starting with more than 500 cells/mm3.
Until lipodystrophy's debut, more than a few clinicians agreed with guidelines sounding a 500-cell starting siren. But does delaying therapy really delay fat abnormalities? Not according to results from the HIV Outpatient Study (HOPS), which charted a lower incidence of lipoatrophy among people who began treatment at higher CD4 counts.39 Even if putting off treatment for a year or two does spare people from certain side effects for that time, Cohen asked, does the delay matter in the context of lifetime therapy? Cohen believes no one has the answer, but the advent of more tolerable drugs -- an advent already unfolding -- may make this question moot.
IAPAC Sessions cochair Diane Havlir voiced her opinion that delaying therapy until the CD4 tally nears 200 cells/mm3 could prove dangerous. She suspects people may have not only an RNA set point, but also a CD4 set point. So if you let 600 CD4s drift down to 200 before beginning treatment, you may set 200 as the point to which CD4s will fall during a drug break.
Several attendees took Havlir's side, and none challenged her. One noted that someone who puts off therapy until their nadir hits 200 cells/mm3 will almost certainly add hundreds of CD4s after treatment begins. But in sinking to that nadir, this person may lose the CD4s trained to track the Kaposi's sarcoma (KS) virus, for example. With antiretrovirals that person could reach an undetectable HIV load and a CD4 count of 400 cells/mm3 but still need KS chemotherapy.
Another clinician worried about what HIV does in the brain when the CD4 count wanders into the 200s. Though first-line therapy at that point typically banishes HIV from blood and sends CD4s back up, he suggested, the retrovirus may have found a permanent home inside the head and foster a new epidemic of neurologic disease in 20 or 30 years.
When to stop ... and restart ... and restop
All IAPAC Sessions attendees agreed they would not counsel starting therapy if someone had a CD4 count above 500 cells/mm3 -- unless it was falling fast or that person had a keen desire to start. But if none of us wants to start treatment above 500 cells/mm3, Cohen asked, why do we almost always continue treatment when T tallies crack the 500 ceiling?
Two studies of people who stopped therapy during good viral control reached a "strikingly similar finding," Cohen noted. Nadir CD4 count proved the best predictor of the need to restart.40,41 But even people with low nadirs managed to stay off therapy for six to eight months.
Several pilot studies assessed stop-and-start strategies, and several ongoing trials, one headed by Cohen, are doing the same. The SMART trial stops therapy when CD4 counts exceed 350 cells/mm3 and restarts when they fade back to 250 cells/mm3. Cohen's five-day-on-weekend-off study randomizes people to regimens based on EFV, NVP, or a PI. A week-on-week-off study headed by Mark Dybul (US National Institute of Allergy and Infectious Diseases, Bethesda, Maryland) saw no viral rebounds among seven people taking a once-daily regimen of ddI, 3TC, and EFV.42
Many would urge great caution in transferring NNRTI on-off strategies to the clinic because the long half-lives of these drugs spawned resistant virus in more than one treatment break trial.43-45 That didn't happen in Dybul's most recent study,42 apparently because the virus didn't start replicating fast enough during the seven-day break (no one rebounded above 50 copies/mL) to select NNRTI-resistant virus. But there's no guarantee everyone will have the same experience. Some people in the Swiss-Spanish Intermittent Treatment Trial rebounded from below 50 copies/mL within eight days of stopping therapy.46 Cohen's two-day weekend holiday should be the safest option yet. But what happens, Charles Hicks wondered, when national holidays yield three-day weekends?
"Preferred" versus "alternative" nucleosides
The NRTIs "preferred" in the DHHS guidelines are 3TC plus AZT or TDF or d4T (with EFV) and 3TC plus AZT or d4T (with LPV/RTV). Cohen agreed with Hicks that d4T no longer deserves its niche on the preferred list, though he suggested that extended-release d4T may earn that ranking. Cohen also wondered about AZT's front-row seat. If lipoatrophy proved the downfall of d4T, he proposed, AZT should be questioned for its performance in the fat substudy of ACTG 384.47 Whether randomized to ddI/d4T or AZT/3TC, people gained limb fat during the first 16 weeks of treatment. Although people taking ddI/d4T lost limb fat faster in the following weeks, both NRTI groups had less limb fat than they started with by week 80.
Cohen suggested that one of the "alternative" NRTI combos, ddI plus emtricitabine (FTC), rates a closer look. Focusing on a trial that randomized treatment-naive people to ddI/FTC or ddI/d4T (plus EFV), he noted that baseline mutations drove virologic failure in both arms, but that people taking ddI/FTC had fewer failures (Table 5).48 Compared with a 4 percent failure rate in the ddI/FTC arm among people who started treatment with wild-type virus, those starting with any NRTI mutation had a 12 percent failure rate, and those starting with any mutation had a 10 percent failure rate. People taking ddI/d4T did even worse.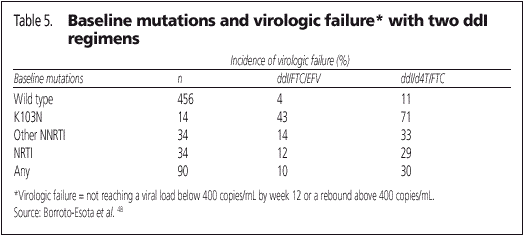 This study flags the vulnerability of NRTIs when a nonnuke regimen falters. But in people without resistance mutations lurking before treatment, ddI and FTC selected few new mutations through 72 weeks of follow-up -- none at positions 74 and 184 and few thymidine analog mutations.49 At that point 6 percent in the d4T arm had signs of lipodystrophy compared with 0.4 percent in the FTC arm.
Resistance barriers and PI "monotherapy"
The well-advertised low barrier to resistance with NNRTIs usually rests on a comparison with powerhouse boosted PIs. But Cohen cited signals of a faster road to resistance with EFV than with an unboosted PI, ATV, in the randomized trial comparing those drugs.50 That lower barrier does not merely mean that nonnucleoside mutations emerge more readily with EFV than protease mutations do with a PI, but also that nucleoside mutations pop up faster when a nonnucleoside regimen loses steam. Although the M184V mutation arose with similar frequency in the EFV and ATV arms (60 and 56 percent), thymidine analog mutations proved twice as common in the EFV group (30 versus 16 percent).
ATV's most trumpeted advantage -- its happy lipid profile -- rang true in trials comparing ATV with other PIs or with EFV. After 48 weeks of unboosted ATV, total cholesterol, low-density lipoprotein cholesterol, and triglycerides changed hardly at all, whereas all rose with EFV.50
Do findings like these build a case for unboosted ATV? Certainly not after PI failure; noted pharmacologists get queasy about how low ATV troughs may droop without those RTV suspenders.51 Cohen (who headed the unboosted ATV-versus-LPV study24) eyed the issue from the other end of the telescope, wondering what 100 mg of RTV daily may do over the course of several years. The cytochrome P450 (CYP) system did not evolve in humans by happenstance, he observed. Its functions are manifold. So shutting down CYP 3A4 with RTV seems likely to have consequences somewhere down the road. But at least through 24 weeks of follow-up, RTV-boosted ATV eased lofty lipids as convincingly as unboosted ATV in people with PI experience (Table 6).52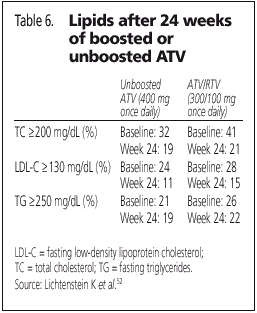 If one does prescribe a boosted PI, Cohen mused, do they even need nucleoside support? He is not alone. PI-boosted "monotherapy" comes up at nearly every HIV conclave these days, though the data supporting it remain slim. A study of solo IDV/RTV maintenance after induction with those PIs plus two nucleosides recorded no consecutive rebounds above 400 copies/mL through 48 weeks of follow-up.53 In another study 21 of 22 people had a viral load below 400 copies/mL after taking LPV/RTV for 24 weeks.54 Neither report offered 50-copy results. More such data are certain to follow, since both Abbott Laboratories and Roche Laboratories evince more than passing interest in this strategy.
Won't lipodystrophy still emerge with PI-only regimens? Maybe not as fast, Prometheus study investigators learned. After 96 weeks of follow-up, people who stayed with the baseline regimen of RTV/SQV (400/400 mg twice daily) suffered significantly fewer fat changes than those who added d4T (P=0.009).55 But visceral adiposity has been a problem among people taking LPV/SQV/RTV, and longer follow-up is needed in single-boosted PI studies.
The other double-class-sparing regimen -- nucleosides only -- has proved HIV's favorite whipping boy for the past two years. Neither AZT/3TC/ABC nor ddI/d4T/3TC could keep pace with standard triple regimens, while 3TC/ABC/TDF, ddI/3TC/TDF, and ddI/d4T/ABC fell as flat as a postmortem EKG. But Cohen hasn't abandoned all hope for this strategy. One quad nuke combo -- AZT/3TC/ABC/TDF -- has survived the conflagration so far.56 No one's giving odds on whether it or other nuke medleys will endure.
Navigating HIV Resistance
IAPAC Sessions come and go, but one topic persists year after year. Resistance. IAPAC Sessions cochair Diane Havlir told attendees that when she and her co-chair Renslow Sherer (University of Chicago Hospitals) sit down to map out these meetings, resistance always stakes its claim. And no wonder. When Havlir takes residents on rounds and reels off the first resistance profile -- "He's got 41L, 70R, 215Y, and 219Q" -- glazed stares are their reply. Even when physicians decode this semiotic lingo, making sense of it challenges the best.
One of the best, Daniel Kuritzkes (Brigham and Women's Hospital, Boston) chaired the resistance session and introduced it with a quick conspectus. The history of this discipline is aging fast, with the discovery of resistance to AZT already a decade and a half old. More than 10 years have rolled by since research documented the transmission of resistant HIV, and almost 10 since the first sighting of multidrug-resistant virus.
After a steady crescendo, transmission of drug-resistant virus dropped or remained stable in Western Europe and the United States. One close study of acutely infected people in North Carolina found no new cases of phenotypically defined resistance since 2000.57 In Amsterdam the transmission rate slumped from 20 percent in 1994-1997 to 6 percent in 1998-2002.58 Switzerland has seen little change in transmission from 1996 through 2002.59
Why these trends? Kuritzkes suggested three reasons:
Lower viral loads in chronically infected people
Higher proportions of people with undetectable viremia
Variations in frequency of potential transmitters (small numbers, numerous infections from one source)
Another trend sure to broaden research horizons in coming years is the relentless rise in European infections with HIV-1 subtypes other than B. Referring to trans-European migrants, British virologist Clive Loveday (Royal Free Hospital, London) says that non-B virus "is literally walking across the continent." Some estimates now place the prevalence of non-B virus at 25 percent in Western Europe. No one can predict the clinical fallout of that change, but resistance patterns certainly differ from one subtype to the next.
Kuritzkes also proffered a useful primer on one of the most mulled but least understood resistance topics of the day: fitness. Or do you mean replication capacity? Or perhaps virulence? He proposed the following definitions:
Fitness: the relative reproductive success of a virus in a given environment
Replication capacity: how many virions a virus produces per round of infection or unit of time
Virulence: a virus's ability to cause disease, for example, by destroying CD4 cells
So a fit virus can reproduce well even with a relatively low replication capacity.
A macroscopic glimpse of HIV resistance history suggests different patterns in what Kuritzkes labeled the "old era" and the "new era." High-level resistance to nucleosides characterized those olden days, followed by multiple PI resistance and cross-class resistance to nonnucleosides as those agents gained wide use. The last few years, in contrast, have seen fewer new thymidine analog mutations (except when AZT or d4T is kept in a failing regimen), rare resistance to PIs (except for people starting NFV and perhaps -- time will tell -- unboosted ATV), and the dominance of resistance to 3TC and the NNRTIs.
Can Resistance Patterns Guide Drug Sequencing?
David Katzenstein, Stanford University
There's a simple answer to the question in his talk's title, David Katzenstein said: "Yes." But using resistance patterns to do anything has grown more complex with each passing research report because of:
Transmitted or acquired resistance
Drug-specific differences in resistance and cross-resistance
Archived resistance (minority quasispecies)
Differences in interpretation systems
Despite these complications, though, the improved potency and tolerability of antiretrovirals -- plus better treatment planning -- continue to pay clinical dividends. Katzenstein cited Johns Hopkins cohort data from the dawn of triple therapy: 1996 through 2001-2002.60 Over that span, as Hopkins clinicians leaned away from first-line PIs and toward nonnucleosides, the percentage of people with undetectable viral loads after six months on their first regimen billowed from 45 to 73 percent, while CD4 gains jumped from 72 to 90 cells/mm3. The rate of AIDS-defining diseases during the first year of therapy waned from 21 to 10 percent, while mortality during the first year dwindled from 18 to 1 percent.
The Hopkins study traced a slow surge in all-nucleoside regimens from none in 1996 to 16 percent of all prescriptions in 2001-2002. But that was before the spate of studies underlining the virologic inferiority of triple nukes. The growing use of non-nucleosides will certainly affect resistance patterns, both Katzenstein and Kuritzkes observed, as nonnuke mutations come to dominate viral populations.
That trend leaves one lusting for the once much-heralded second-generation NNRTIs that promise to harness some virus resistant to EFV and NVP. But Katzenstein noted that development of capravirine has been achingly slow, and lately one hears little of the Dupont Pharmaceuticals agents inherited by Bristol-Myers Squibb [see note 61]. As for the choice between EFV and NVP, he doesn't believe the 2NN study clarified that decision.30 Katzenstein goes with the agent that best fits the individual, an approach detailed in a Lancet review by Andrew Carr.31
Resistance in treatment-naive people
Between 40,000 and 50,000 people in the United States get infected with HIV every year, and about 5 to 6 million worldwide. In the United States and Western Europe, the rate of primary infection with resistant virus climbed throughout the 1990s and appears to have settled at about 10 percent.
In the European CATCH study, from 1996 through 2002 the prevalence of major resistance mutations among untreated people infected for less than one year stood at 10.9 percent, while the rate among untreated people infected for more than a year measured 7.5 percent.62 In 10 US cities resistance prevalence among people infected for 12 months topped 8 percent in a 1997-2001 study.63 In both studies the most common mutations conferred resistance to nucleosides, followed by nonnucleoside mutations. But in another survey of newly infected people in North American cities, nonnucleoside mutations rapidly outpaced mutations to NRTIs and PIs since 1999.64
These trends raise the question whether antiretroviral sequencing should now be a pretreatment norm for HIV docs in the developed world. If 5 percent to 15 percent of people get infected with nonnucleoside-resistant virus, will boosted PIs regain some first-line favor? Such decisions remain difficult, Katzenstein noted, because the consequences and duration of transmitted mutations may differ from those of acquired mutations.
Recent work shows that transmitted resistant virus does not quickly retreat to some archival cubby. Four studies involving 17 untreated people with resistant virus -- some with multidrug-resistant virus -- logged only one reversion to wild-type during nine to 360 weeks of follow-up.65-68 Results like these explain why first-line treatment planning in regions with high resistance rates rest more and more on pretreatment genotyping. A poll of IAPAC Sessions attendees showed that half of them now routinely genotype newly diagnosed people planning to start therapy, and almost all selectively genotype some untreated people.
Plotting patterns of resistance
Sedulous research has taught us much about resistance patterns, yet each new lesson adds a layer of varnish whose cumulative veneer can defy translucence. Each viral gene admits to:
Polymorphisms: chance changes in amino acid residues that may nonetheless grease the skids to later resistance, though research on that topic remains sketchy
Known resistance mutations: changes driven by drug pressure that remain consistent from one HIV-1 subtype to the next
Primary, secondary, and compensatory mutations: changes driven by drug pressure that may vary from subtype to subtype
These amino acid substitutions can affect the virus in at least three ways: First, they may swiftly confer absolute resistance to one or more antiretrovirals. Second, they may inspire "relative resistance," which Katzenstein defined as "modest changes in susceptibility." For example, a mutation or sequence of mutations may increase viral resistance to one or more drugs while blunting replicative capacity of that virus. Especially for people with multidrug-resistant virus and few treatment options, this pattern may help sustain CD4 quotients at a low though detectable viral load. Third, certain mutations may confer viral hypersusceptibility to some drugs. But Katzenstein rated hypersusceptibility "an area of fascination primarily to virologists."
The favored first regimen of most clinicians these days -- EFV or NVP plus two NRTIs -- yields a predictable resistance pattern if the regimen fails. Most failures -- 70 percent or more -- spawn at least one mutation linked to high-level nonnucleoside resistance. Without second-generation NNRTIs, Katzenstein said, this drug class will not shuck its "use-it-and-lose-it" tag. The only exception may be deep-salvage redeployment of EFV if the K103N mutation wriggles back to wild type.
First-line NRTI medleys -- most of which now include 3TC or FTC -- almost invariably select M184V upon failure, plus minority thymidine analog mutations. "We've used 3TC so much," Katzenstein opined, "that we've made HIV a 3TC-adapted drug." When people fret over rampageous resistant virus in Africa, he added, "it's hard to imagine doing worse than we've done in the United States."
The best and the brightest
Over the past two years more than one antiretroviral pundit has pointed to Gilead study 903 as a beacon to the promise of future therapies. Virologic results with the two regimens -- 3TC/EFV plus TDF or d4T -- ran neck-and-neck through 96 weeks of follow-up, with about 80 percent notching a sub-50-copy viral load in a missing-data-equal-failure analysis.29 This is the standard against which all regimens must be measured, Katzenstein said. Although dropout rates were similar in the two study arms, triglyceride, total cholesterol, and lactate readings proved better in the TDF group, and those taking d4T suffered neuropathy's pangs more often.
Among 29 people who endured virologic failure in the TDF arm, the largest proportion -- 35 percent -- had wild-type virus, a signal that they did not take or did not absorb one or more drugs.69 More than half, 55 percent, had virus resistant to EFV, while 41 percent had the 3TC-resistant M184V mutation and 24 percent had the TDF-linked K65R. Phenotypic analysis of virus from six people in whom TDF failed with K65R showed viral hypersusceptibility to AZT and d4T, a finding suggesting to Katzenstein that these thymidine analogs merit consideration in TDF regimens. Virus with the K65R mutation had moderately reduced susceptibility to ddI, ABC, and TDF or remained fully susceptible to those drugs.
The complex resistance patterns that emerge even with a straightforward three-drug regimen taken by people with no treatment experience highlight the need to weigh genotyping results carefully, taking guidance that accompanies test results only as a starting point. Katzenstein adjured colleagues to tap the Stanford HIV Drug Resistance Database painstakingly assembled by his Stanford University colleague Robert Shafer (http://hivdb.stanford.edu). This sophisticated yet simple-to-use tool allows clinicians to size up specific genotypes from individual patients against an encyclopedic trove of research results. The database ranks specific mutations for their impact on licensed products on a seven-rung ladder:
High-level resistance
Intermediate resistance
Low-level resistance
Contributes to resistance
No resistance
Unknown
Hypersensitivity
This part of the site allows users to infer drug resistance to available agents using rules hyperlinked to the database. Another part of the site permits comparisons of four algorithms, those of the Stanford University database, the Agence Nationale de Recherches sur le Sida (ANRS), the Rega Institute, and one created using the Algorithm Specification Interface. Overviews of resistance to NRTIs, NNRTIs, and PIs link to relevant database entries. Unreformed resistance wonks can dabble in GenBank entries or test their skills on "advanced query pages."
Drug Concentration and Viral Susceptibility: Two Keys to Picking a Rescue Regimen
Richard H. Haubrich, University of California, San Diego
An appreciation of the interplay between drug concentration and viral susceptibility in picking a rescue regimen rests on understanding basic pharmacokinetics. The four principal pharmacokinetic variables are the maximum concentration (Cmax), minimum or trough concentration (Cmin or Ctrough), and area under the concentration-time curve (AUC). Cmin and Ctrough are not necessarily equal. Ctrough reflects the concentration measured just before dosing. Cmin, or true minimum concentration, may be lower than the Ctrough because plasma levels of some drugs wane slightly just after dosing while the drug gets absorbed.
Rationale for TDM
Richard H. Haubrich spelled out three reasons for therapeutic drug monitoring (TDM):
Interpatient variability
Concentration can correlate with efficacy
Concentration can correlate with toxicity
Antiretrovirals are marked by high interpatient variability in the plasma concentrations achieved after dosing. When one looks at the smooth curves describing a rapid climb in drug level after dosing, then a slow tailing off, one must remember that the curves shown for a study population reflect the smoothing of widely splayed individual data points (Figure 2). Boosting with RTV can raise low PI concentrations, but boosting does not necessarily tighten interpatient variability.
Figure 2. This Plot of a Steady-State Lopinavir Concentration Illustrates the Wide Interpatient Variability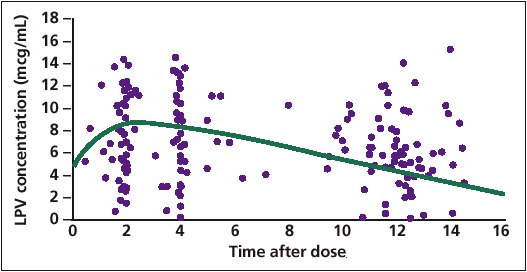 Because there is no way to predict before dosing whether someone will attain high or low or average levels of a certain drug, TDM can be valuable, particularly in situations when high or low or highly variable levels might be expected. But Haubrich believes much remains to be learned about pharmacokinetics before antiretroviral TDM becomes routine. Continued study of pharmacogenomics may eventually permit more accurate a priori estimates of drug levels, but pharmacogenomics is in its infancy.
Numerous studies have forged a link between good antiretroviral levels and response. Higher drug levels may also raise the risk of toxicity. Both ties held true in a study of EFV: People who achieved higher EFV levels had a better virologic response, but levels above a certain concentration also made central nervous system toxicity more likely.70 A study of IDV concentrations found that nearly everyone with urologic complaints had IDV levels above the population average.71
Randomized trials of TDM
The ATHENA study remains the best demonstration of how TDM can help improve virologic response or limit antiretroviral toxicity.72 The study randomized treatment-naive people starting NFV or IDV to a TDM group or standard-of-care control. All study participants had blood samples drawn at each visit, but only clinicians treating people in the TDM group got the results and food-instruction or dose-adjustment advice.
Among people taking unboosted IDV, the discontinuation rate due to toxicity proved significantly higher in the control group than in the TDM group (PATHENA yielded one other compelling finding: Only half of the clinicians given TDM results followed the accompanying advice. Pointing to this result, Haubrich suggested one reason why TDM hasn't caught on in the United States: When given drug level readings, many clinicians aren't sure what to do with them.
Unlike ATHENA, the PharmAdapt trial did not find a virologic advantage in people randomized to the TDM arm,73 but the reasons for this failure are not mysterious. First, although drug levels were measured at treatment week 4, dose adjustments were not made until week 8, and virologic response was measured at week 12. The dose-adjustment delay may have allowed failures in the TDM arm. Second, only 11 percent of study participants had PI levels below the cutoff that triggered a dose adjustment. Third, people in PharmAdapt were starting a new regimen after virologic failure, whereas everyone in ATHENA was taking a first regimen. Fourth, unlike people in ATHENA, most PharmAdapt participants -- 63 percent in the TDM group and 61 percent in the control group -- took a PI boosted by RTV.
Haubrich believes both ATHENA and PharmAdapt may have suffered from the relatively small populations studied -- 147 in ATHENA and 183 in PharmAdapt. If one assumes that 20 percent of a population will have a low PI concentration, that half of those people will suffer virologic failure, and that 20 percent with a high PI concentration will also endure failure, a TDM study would need 608 people per arm to discern a significant difference in failure rate. That high number, Haubrich noted, is one reason why the ACTG has limited its TDM research to small, targeted studies.
Will IQs have a clinical role?
The inhibitory quotient (IQ), long studied in antibacterial pharmacology, captured the fancy of antiretroviral adepts when Abbott showed that higher IQs foretold better virologic results with LPV/RTV in a rescue regimen.74 The IQ characterizes the kinship between drug exposure (pharmacokinetics) and drug susceptibility (resistance) of a pathogen. For PIs, researchers usually define IQ as:
IQ=Ctrough/50 percent inhibitory concentration (IC50)
But that equation is only the beginning. Complications set in when one remembers that PIs have a marked affinity for proteins, and the IQ equation must be adjusted to account for this binding. Haubrich listed three adjustment tactics:
Measure IC50 in the presence of 50 percent human serum.
Measure in vitro IC50 and adjust for known levels of protein binding in vivo
Ignore protein binding and adjust all IC50s upward 4-fold to account for assay variation
Does the method chosen make a difference? Indeed. By choosing different protein-binding adjustments to figure the IQ of a 400/400-mg SQV/RTV regimen, Roche Laboratories' Andrew Hill famously showed, one can arrive at IQs ranging from 0.3 to 53.8.75
But if one accepts the definitions laid down in a study, IQ can refine the prediction of virologic response. For example, in a study of RTV-boosted IDV given to 17 people with ongoing viremia, phenotype alone (figured by VirtualPhenotype) did predict virologic response through 48 weeks.76 These researchers rated 71 percent with a VirtualPhenotype below 6-fold as responders versus 43 percent with a VirtualPhenotype above 6-fold. But with a virtual IQ of 2 as a cutoff, the separation between responders and nonresponders proved much larger: 80 percent with a virtual IQ above 2 responded versus 0 percent with a lower virtual IQ.
A study of LPV concentrations and IQs in 30 people with PI experience found that LPV level alone did not predict the six-week response.77 But an IQ figured as 12-hour LPV concentration divided by IC50 did predict the six-week response in people on therapy when phenotyping was performed. Both of these studies are limited, though, by their small populations.
Given the limited study of this parameter and the uncertainties surrounding it, IQ seems destined to remain a research tool for some time. Haubrich offered these concluding points:
The relationship between antiretroviral concentration and both efficacy and toxicity has been well established.
There are still significant practical and logistical barriers to making TDM clinically useful.
Threshold values for Cmin/IC50 ratios should be established for each drug. Upper drug concentration ranges are also important.
Correcting for protein binding is a step in the right direction, but it is an insufficient step.
Other variables that must be considered include drug penetration of viral compartments, intracellular accumulation, active metabolites, and antiretroviral synergy and antagonism.
For nonnucleosides, the Cmin/IC50 ratios needed to predict a good response may well exceed 500.
For PIs, the required ratios may actually lie below 1, because of intracellular PI accumulation.
Cmin/IC50 ratios probably cannot be used to compare the potency of different antiretrovirals or different antiretroviral classes.
Toxicity Tactics
Managing Morphologic Complications: What We Know and What We Don't
Donald P. Kotler, St. Luke's-Roosevelt Hospital, New York
Donald P. Kotler was studying muscle wasting in people with HIV when he saw something strange on an abdominal MRI: starkly tapered subcutaneous tissue and a marked jump in intra-abdominal fat. The year was 1996 and the lipodystrophy era had arrived.
What FRAM says
Two key questions about lipodystrophy still lack answers:
Are the fat redistribution and metabolic disorders seen in people with HIV a single syndrome or multiple, overlapping syndromes?
Are these changes caused by antiretroviral therapy, host factors, HIV disease, or a combination of these variables?
The Fat Redistribution and Metabolic Change in HIV Infection (FRAM) study goes the farthest, Kotler believes, in addressing these questions.78,79 This prospective, cross-sectional study compared 1,200 HIV-infected people with 300 controls to discern differences in body fat distribution and metabolic measurements. FRAM began with certain principles:
There were no preconceptions about associations between the variables studied.
HIV-infected persons and controls underwent the same subjective assessments and objective measurements (including anthropometrics, DEXA scans, and whole-body MRI scans).
For a finding to be clearly distinguished as HIV specific, there had to be a statistically significant difference between the HIV group and controls.
For two findings to be combined into a single syndrome, there had to be a positive statistical association between the two findings.
Among women, body mass index proved similar in the HIV group and controls, but control men had a significantly higher body mass index than men with HIV (P<0.001). In the HIV group, both men and women with clinically apparent lipoatrophy had a significantly lower body mass index than those without lipoatrophy (P<0.001 for both). Control men had significantly more visceral adipose tissue than did men with HIV (P=0.003), but among women the control and HIV groups did not differ in visceral fat. Looking only at the HIV group, FRAM researchers found that men and women with clinical lipoatrophy had less visceral adipose tissue than those without lipoatrophy (P=0.049 for men and 0.058 for women).
Both men and women with HIV had significantly less leg fat than controls (P<0.001 for both), and men and women with HIV and lipoatrophy had significantly less leg fat than their HIV-infected counterparts without lipoatrophy (P<0.001 for both).
The FRAM team, which included Kotler, reached the following conclusions:
Lipoatrophy is an HIV-specific syndrome.
People with HIV did not have more visceral fat than controls, and men with HIV had significantly less than controls.
There was no relationship between visceral adipose tissue and subcutaneous adipose tissue (a finding suggesting that lipohypertrophy and lipoatrophy are distinct syndromes).
Buffalo hump reflects increased visceral adipose tissue.
Although these findings comprise the most comprehensive data on lipodystrophy, Kotler concluded, they leave questions unanswered. Future FRAM work will reckon the relation between body fat and cardiovascular disease as well as body fat changes over time.
How much are antiretrovirals involved?
Kotler outlined three areas where epidemiologic associations with lipodystrophy may be sought in people with HIV:
Host factors: age, sex, race, family history, body mass index, diet, exercise
HIV disease: duration, severity of immune depletion, magnitude of immune reconstitution
Therapy: specific agents, duration of therapy
Questions of disease and treatment duration cannot be addressed by cross-sectional data -- like those produced by FRAM so far -- but some work has addressed these issues. Four years have passed since Simon Mallal (Royal Perth Hospital, Australia) and colleagues showed much faster subcutaneous fat wasting among people taking a PI with two NRTIs than among those taking only two NRTIs.80 Recent research on fat atrophy implicates PIs in decreased differentiation of precursor cells to mature adipocytes (in cell culture) in response to IDV and NFV, and in decreased nuclear localization of relevant transcription factors, such as SREPB-1c. Mitochondrial toxicity, discussed below, emerged as the leading suspect in nucleoside-induced atrophy.
Fat wasting affects treatment-naive people who start a nonnucleoside as well as those starting a PI, according to the body fat substudy of ACTG 384,47 at least among people also taking two nucleosides. People who started EFV in that trial lost limb fat as steadily as people who started NFV; the only difference was a somewhat later onset of loss in the EFV group.
As in ACTG 384, the CPCRA FIRST study found an initial gain in limb fat among people starting a regimen including either ddI/d4T or 3TC/ABC.81 Those gains plateaued with both regimens, then began to fall with ddI/d4T -- but not with 3TC/ABC. These preliminary results, Kotler suggested, may mean that lipoatrophy is not inevitable with nucleoside therapy.
That possibility seems plausible if one believes in the mitochondrial hypothesis of lipoatrophy, because different nucleosides and -tides have different effects on mitochondria. Mitochondria, everyone now knows, are the cells' powerpacks. Why do fat cells need energy? Adipose tissue collects and deposits fat, Kotler explained. It needs mitochondrial energy to drive its depositing duties. When something short-circuits the energy source, fat doesn't get laid down and lipoatrophy results.
Several studies underpin this hypothesis, including one that found significantly less mitochondrial DNA (mtDNA) in adipose tissue from people with lipodystrophy than in tissue from those with no lipodystrophy, no antiretroviral experience, or no HIV infection (P<0.01 for all comparisons).82 In a study of nine people taking d4T and 13 taking AZT, severity of leg fat loss correlated with mtDNA depletion (P=0.01), duration of NRTI therapy (P=0.001), and use of d4T (P=0.03).83
Can fat abnormalities be fixed?
For those who prefer clinical data to inform clinical decisions, four studies have now charted limb fat rebounds in people who switched from d4T (or AZT), usually to ABC.84-87 The longest of these trials, with follow-up stretching to 104 weeks at last report,84 found the biggest limb fat gain among people randomized to trade d4T for ABC at baseline (39 percent gain), followed by those who switched to ABC at week 24 (15 percent gain), and those who never switched (6 percent gain).
The biggest gain did not restore limb fat to normal levels after two years of follow-up. Kotler took this as a signal that switching nucleosides alone will not completely reverse limb fat atrophy -- because the switch addresses only the treatment-related mechanism. Kotler believes at least one other mechanism -- immune dysregulation -- must be addressed. But the MITOX researchers observed that it took study participants six years to lose all this fat, so it could take six years to get it back.
Besides nucleoside switches for lipoatrophy, several other tactics have been tested to reverse abnormal fat gain or loss. All of them, Kotler stressed, remain experimental.
Lipohypertrophy: Exercise, recombinant human growth hormone, insulin-sensitizing agents, surgery (for buffalo hump)
Lipoatrophy: Nucleoside switch, plastic surgery, rosiglitazone
Five studies sized up glitazones (rosi- or pio-) for lipoatrophy, with mixed results (Table 7).88-92 The glitazones did what they were made to do -- lower insulin resistance. But they improved limb fat in three studies88-90 (two of them nonrandomized), while failing to do so in two randomized trials,91,92 including the largest and most rigorous of the five studies.88 These studies consistently found that glitazones drove up triglycerides and/or cholesterol. (See "Managing metabolic and morphologic complications" section on page 211 for more on the rosiglitazone trials.)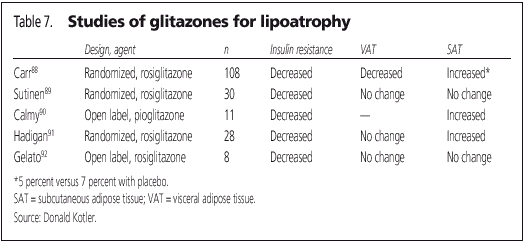 A placebo-controlled study of metformin logged significant drops in weight and waist circumference in HIV-infected people with fat redistribution and without diabetes.93,94 Treatment also yielded border-line drops in visceral adipose tissue. But metformin is not an ideal agent for people taking antiretrovirals because it can trim subcutaneous fat and boost lactates.
The rationale for using recombinant human growth hormone (rhGH) to remedy central fat buildup rests on three findings:
Growth hormone deficiency is associated with visceral adipose tissue accumulation, regardless of the reason for that deficiency, and growth hormone replacement reduces visceral fat.
Growth hormone secretion is low in metabolic syndrome patients without HIV infection, and replacement reduces visceral fat in that population.
Growth hormone secretion is impaired in HIV-infected people with increased visceral adipose tissue.
Studies consistently show that rhGH shaves visceral fat in people with HIV, but the drug causes painful arthralgia, fat comes back when treatment stops, and the cost is high. Those drawbacks prompted Kotler and others to study induction-maintenance rhGH therapy, starting with 4 mg daily or every other day for 36 weeks, then pruning the dose to 1 or 2 mg daily for another 24 weeks.95 The maintenance regimen maintained drops in DEXA-measured trunk fat as well as decreases in total and low-density lipoprotein (LDL) cholesterol. A phase 3 trial will randomize 300 people to start placebo or 4 mg of rhGH daily for 12 weeks, followed by 2 mg every other day.
Surgery has helped people with buffalo hump, although the procedure can be difficult because neck fat is laced with fibrous tissue and critical nerves course through the neck. Recurrence rates range from 5 to 50 percent.
Kotler counted approximately 20 options -- most to be found in Europe -- for lipoatrophy of the face or buttocks. Fat transfers are difficult or impossible in people with lipoatrophy, and transfer of buffalo hump fat to the face proved ill-advised because the transplanted fat may grow. Bovine collagen implants have been the most widely used method in the United States, but the fat is typically reabsorbed over three to six months. Polylactic acid, marketed as New-Fill in Europe, is more durable.96 After some bureaucratic tos and fros, this product seems set for FDA approval.
Managing Metabolic and Morphologic Complications
Colleen M. Hadigan, Massachusetts General Hospital, Boston
What's the prevalence of fat redistribution among antiretroviral-treated people?
83 percent
63 percent
30 percent
20 percent
About three quarters of IAPAC Sessions attendees said 63 percent comes closest to what they see in practice, with the rest picking 30 or 20 percent. The "correct" answer, Colleen M. Hadigan suggested, depends on how you define lipodystrophy. In a 1998 study by Sydney's Andrew Carr, 63 percent of people treated with PIs for about 14 months had facial or limb lipoatrophy or truncal lipohypertrophy on clinical exam.97 But in a study Carr published a year later, 83 percent of people treated with PIs for an average 21 months had lipodystrophy by self-report and confirming physical exam.98 In a 2001 Australian report on 159 men, 90 percent of them taking triple therapy, 30 percent reported lipoatrophy, lipohypertrophy, or both.99
What's the prevalence of hypertriglyceridemia among antiretroviral-treated people?
5 percent
23 percent
57 percent
89 percent
Almost everyone in the IAPAC Sessions audience picked 57 percent as the number best reflecting their experience. And that's precisely the percentage Hadigan found with triglycerides above 200 mg/dL in a study reported in 2001.100 That same survey found 57 percent with cholesterol readings topping 200 mg/dL. The Australian study of 159 men counted 52 percent with triglycerides above 177 mg/dL and 44 percent with high cholesterol, regardless of fat distribution.99
What about the prevalence of diabetes in antiretroviral takers?
7 percent
14 percent
25 percent
50 percent
About two thirds of IAPAC Sessions clinicians voted for 14 percent, with the other third picking 25 percent. In Hadigan's 2001 report, 7 percent with body fat changes met World Health Organization (WHO) diabetes criteria, while 35 percent had impaired glucose tolerance.100 In a survey by Carr, 7 percent of 113 PI-treated people had diabetes by American Diabetes Association criteria.98 And a 2002 Spanish study of PI-treated men with lipoatrophy found diabetes in 5.8 percent.101 Most recently, a survey of 1,107 US men from 1999 through 2003 charted a 13 percent age- and body-mass-index-adjusted prevalence of diabetes in those with HIV compared with a 5 percent prevalence in uninfected controls.102 Hadigan noted that prevalence may be lower in women with HIV.
Cardiovascular risks and consequences
Besides the morbidities of diabetes itself, Hadigan reminded colleagues that diabetes heightens the risk of death from heart disease. In a study of 7,164 men without HIV followed for 11.2 years, coronary heart disease killed more than twice as many men with than without impaired glucose tolerance and three times as many with diabetes.103
The massive prospective DAD study, embracing 23,490 cohort members on three continents, traced an inexorably escalating risk of myocardial infarction (MI) with each added year of antiretroviral therapy.104 Hadigan stressed, though, that antiretrovirals were hardly the only MI risk implicated by DAD. Other independent predictors were:
Age: relative rate (RR) 1.38 per 5 years
Male sex: RR 1.99
Smoking: RR 2.17
History of cardiovascular disease: RR 5.84
Hyperlipidemia, diabetes, and hypertension also boosted the risk of heart disease.
Summarizing DAD and other cardiovascular risk studies in slides prepared for this IAPAC Sessions, William Powderly (Washington University, St. Louis) offered these answers to the question, "Is there an increased risk of cardiovascular disease with HIV and its treatment?"
Probably, but ...
Absolute risk is low and not a justification to avoid therapy.
Relative risk increases with duration of antiretroviral exposure, a finding most relevant for people who already have a high risk of heart disease.
Reasons for heightened heart disease risk must be understood for each individual. If those reasons primarily reflect lipid and metabolic changes, certain antiretroviral regimens can modify those changes.
Adipocyte and metabolic mechanisms
Hadigan disentwined several threads that shape the knotty mechanisms of fat and metabolic abnormalities. HIV itself affects lipids, particularly by hiking triglycerides and cutting high-density lipoprotein (HDL) cholesterol. Antiretrovirals affect lipid production and clearance while inducing insulin resistance and promoting fat atrophy or accumulation. Those fat changes, in turn, can add to insulin resistance and already climbing lipids.
Specifically, HIV alone significantly jacks up output of very low-density lipoprotein (VLDL) cholesterol and apolipoprotein B, while both PIs and NNRTIs curb clearance of those malefic markers from plasma.105 Ritonavir fed to mice boosted VLDL by 30 percent and -- with a high-fat diet -- by 60 percent.106 Lopinavir/RTV fed to healthy male volunteers lifted lipids and stirred insulin resistance, whereas ATV and placebo did not.107
Meanwhile, a regimen's NRTIs can play havoc with mitochondrial duties in fat cells. Both AZT/3TC or d4T/3TC given for six weeks to 20 healthy volunteers fostered marked drops in expression of genes that regulate mitochondrial function.108 These deficits were uniformly greater and usually statistically significant with d4T/3TC. That these changes appeared in people without HIV -- and before any changes in lipids, glucose, insulin, lactates, or limb fat -- strongly suggests a direct drug effect.
Approaches to toxicity management
Hadigan drew a "big picture" of known or proposed mechanisms behind metabolic and morphologic abnormalities (Figure 3) and pinpointed those parts of the picture where statins or fibrates, diet or exercise, metformin, glitazones, and growth hormone appear to act.
Figure 3. The Manifold Mechanisms Behind Antiretroviral-Related Metabolic and Morphologic Abnormalities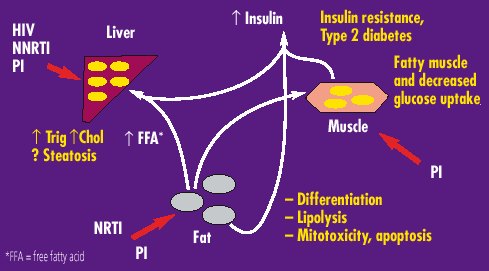 Statins and fibrates can ease high cholesterol and triglycerides in people with HIV, but they are hardly magic bullets. ACTG 5087 randomized 174 people with lofty lipids to take pravastatin or fenofibrate for 12 weeks,109 after which 1 percent taking fenofibrate and 5 percent taking pravastatin met National Cholesterol Education Program (NCEP) lipid goals. At that point people taking fenofibrate could add pravastatin and vice versa. But after 48 weeks of single and dual therapy, fewer than 10 percent reached NCEP goals. These results don't mean clinicians shouldn't try statins or fibrates in lipid-laden people with HIV, Hadigan counseled, but they shouldn't expect these drugs to solve the problem for most people.
Hadigan offered an overview of the conflicting rosiglitazone studies, one of which she headed.91 This trial randomized 28 HIV-infected men and women with lipoatrophy to 4 mg of rosiglitazone daily or placebo for 12 weeks. Three months later people in the rosiglitazone group had a significant gain in percentage of body fat when compared with the placebo group (P=0.04) plus a significant rise in subcutaneous midthigh fat (P=0.02). Carr's 48-week placebo-controlled trial in 108 people charted a 5 percent gain in limb fat with the glitazone and a 7 percent gain with placebo, a nonsignificant difference.88
What explains the at-odds outcomes? The protocols themselves differed in several respects, Hadigan noted (Table 8). Whether differences like gender or baseline insulin resistance influenced outcome is hard to say. A subanalysis of people who began Carr's trial with insulin resistance found no difference in limb fat response between the rosiglitazone and placebo groups.88 Carr and colleagues note that their results do not address the merits of rosiglitazone for fat atrophy in people not taking AZT, d4T, or a PI, or in women or children. Hadigan argued that the two trials' results share more similarities than differences. Both found increased CT-measured thigh fat with rosiglitazone (though Carr found less than half the percentage gain Hadigan found after treating people four times longer with twice the dose); and both booked small gains in total leg and limb fat. Ominously, both also chalked up cholesterol gains.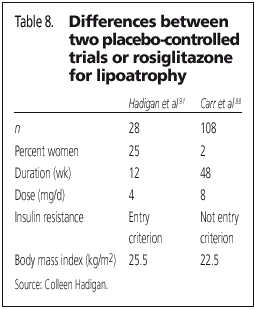 As Carr suggests, rosiglitazone may deserve further study for lipoatrophy in women, children, and people not taking thymidine analogs or PIs, but the results of this study make it hard to ignore the conclusion drawn by Graeme Moyle (Chelsea and Westminster Hospital, London) and Jussi Sutinen (Helsinki University Hospital, Finland) in a Lancet editorial: "Rosiglitazone, at the maximum dose of 8 mg a day, does not improve fat mass in HIV lipoatrophy."110
Are diet and exercise worth a try?
Hadigan closed her talk with a case report of a 40-year-old African-American woman taking d4T, 3TC, and NFV for two years and struggling with hypertension, obesity (116 kg), and increasing abdominal and neck fat (41 percent body fat). She had a family history of diabetes, hypertension, and high cholesterol. Her CD4 count stood at 997 cells/mm3 and her viral load below 50 copies/mL, but her labs were bad: glucose 85 mg/dL, cholesterol 202 mg/dL, LDL cholesterol 140 mg/dL, HDL cholesterol 30 mg/dL, and insulin 47 µU/L. Would you:
Recommend diet and exercise?
Prescribe rosiglitazone?
Change the antiretrovirals?
Start a statin?
Hadigan went with a 12-week structured exercise routine including cardiovascular and resistance training and made much easier by a program that takes exercise equipment to people's homes. After three months under the eye of a personal trainer, this woman lost 9 kg and saw her cholesterol drop 15 mg/dL while her LDL fell 33 mg/dL and her insulin 34 µU/L. Her HDL climbed 14 mg/dL.
Although the numbers are impressive, one IAPAC Sessions attendee voiced scant confidence in diet or exercise for people with HIV, claiming he never had a patient who stuck with either long enough to preserve healthful improvements. But Hadigan is convinced that physicians wield extraordinary influence in persuading people to diet and exercise. She told the tale of a close family member who ignored years of her pleading to lose weight through diet and exercise. But when his clinician finally offered the same advice, he started a 30-minute per day exercise program that has helped him shed pounds and trim cholesterol. And he shows no signs of quitting after nine months.
One clinician relayed the story of a cross-country runner in his care who had to abandon the racing trails because of his HIV. To fill the gap he started a power-walking group and persuaded 10 other patients to join him. Another attendee merely urged a patient to buy a popular exercise and nutrition guide, Body for Life, and the results have been measurable.
What else can HIV docs do to help people duck HIV's morphometabolic maelstrom? Hadigan had these suggestions:
Encourage people to stop smoking.
Monitor fasting lipids at least twice yearly and after changing regimens.
Check fasting glucose and consider an oral glucose tolerance test if it's high.
Pick antiretrovirals with metabolic toxicities in mind.
Mark Mascolini writes about HIV infection, often as IAPAC Monthly's Writer-at-Large (mailmark@ptd.net).
References and Notes