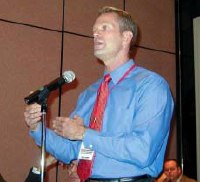 Craig Thompson, Executive Director of AIDS Project Los Angeles, shares his perspective on the impact current financial constraints are having on patient access to appropriate HIV/AIDS care and support services. Photo: Bob Roehr.
In many respects, the frontline of the fight against HIV/AIDS left the economically wealthy countries of North America and Europe sometime around the mid- to late 1990s. Researchers had developed effective treatment in the form of antiretroviral therapy, and the governments of these wealthy nations were able to guarantee access to antiretroviral drugs as "essential medicines." Morbidity and mortality decreased dramatically in countries such as the United States, and the most urgent goal for HIV medicine and AIDS advocacy became addressing the reprehensible global treatment gap that makes antiretroviral drugs unavailable to the millions who continue to die of AIDS-related illnesses in resource-poor countries.
However, given that there is neither a cure for AIDS nor a viable vaccine, and treatment remains an expensive, life-long endeavor, sustainability is vitally important to the world's response. Where there has been success in providing antiretroviral therapy to patients, we must ask how well the commitment is being maintained. And, in the case of the United States, where HIV/AIDS was first detected and responded to, and which has been the site of most breakthrough research discoveries, the unfortunate answer is "poorly."
As cited repeatedly during a day-long summit held April 6, 2004, in Washington, DC, entitled "Examining the PHARMACOEconomics of US AIDS Drug Access," the latest estimates count approximately 800 HIV-positive patients on waiting lists to access HIV/AIDS care, including antiretroviral therapy, through various state AIDS Drug Assistance Programs (ADAPs), designed to provide coverage for under- or uninsured Americans. At the summit, which was hosted by the International Association of Physicians in AIDS Care (IAPAC), clinicians, policy experts, patient advocates, pharmaceutical industry representatives, government officials, and other delegates who had gathered to discuss contentious issues around AIDS drug access generally agreed in predicting that this sobering statistic would increase. Indeed, the National Alliance of State and Territorial AIDS Directors (NASTAD) announced a day later its new estimate of the number of HIV-positive patients on ADAP waiting lists: over 1,200.
Advertisement
Patients are being made to wait for the antiretroviral therapy they need for reasons that tend to build on each other. Pharmaceutical companies are raising the prices of old agents, and charging unprecedented rates for new ones, even as government programs to provide treatment receive near flat, flat, or decreased funding from federal and many state governments.
These programs become responsible for more and more patients because antiretroviral therapy greatly increases life expectancy, but also because the same tight economic environment that makes it difficult for government to increase its spending means growing numbers of Americans are unable to afford private insurance that covers HIV treatment. Patients falling in and out of private insurance coverage, in addition to increasing HIV incidence among many Americans who have never been privately insured for healthcare, translates into an increased burden on an already strained government safety net.
These weaknesses are emblematic of a system cobbled together on the fly -- one that has much to recommend it in its ability to develop and provide antiretroviral therapy to thousands of Americans over the years, but that bespeaks, perhaps, an emphasis on quick responses over long-term planning.
There is great variation from one state to the next, confusion about which programs cover which patients, and a mountain of paperwork required to gain entrance to treatment programs. In one infamous irony, Medicaid, the system of federally funded state programs that pays for healthcare for Americans who are disabled and, in some states, below a certain income threshold, does not cover HIV-positive patients until they have an AIDS-defining illness. The ADAP was meant to fill this gap, covering patients who are living with HIV but who have not yet developed AIDS, but Medicaid often has better benefits and is a federally guaranteed entitlement. Despite overwhelming evidence that antiretroviral therapy is best started long before patients are symptomatic, they are sometimes asked, in essence, to get sicker before they are offered better coverage.
With regard to developing and selling medicines, a system that does not regulate drug prices, despite granting exclusive marketing rights to pharmaceutical companies, may be credited with establishing a research-friendly environment, and all summit presenters agreed that profit incentives had been effective catalysts for past drug development and would be needed in future. Many expressed fears, however, that absolute freedom to set prices was leading to costs that are too much for public and private payers to bear. This thorny dilemma is in many ways the same that is being debated about pricing of all pharmaceutical products in the United States, and that has come to a head over the issue of re-importation of drugs, at price-controlled rates, from Canada, many European countries, and Mexico. Immediate AIDS-specific points of concern include Abbott Laboratories' 400 percent price increase of ritonavir (RTV), the high cost of Roche Laboratories' enfuvirtide (ENF), and a general pattern of increasing prices for new antiretroviral drugs entering the market.
In discussing and debating the best ways to address these growing concerns, the concept stressed by the experts gathered at IAPAC's summit was "balance." There must be a way for society to ensure access to drugs that mean the difference between life and death, even in a time of increased budget constraints. There must be a way to balance profitability, and, thus, continued research and development, with drug pricing that does not cause impossible strain on the system. As IAPAC President/CEO José M. Zuniga stated in his opening remarks, economic realities and ethical imperatives can, and must, co-exist.
Zuniga summed up the current state of HIV/AIDS treatment in the United States as "the best of times, and the worst of times." On the one hand, there are 19 US Food and Drug Administration (FDA)-approved antiretroviral agents, as well as three fixed-dose combinations. Death rates and AIDS diagnoses have fallen dramatically. Where 50,610 people with AIDS died in 1995, only 16,371 died in 2002.
One good example of the much-touted success of antiretroviral therapy came from Michael Allerton, HIV/AIDS Operations Policy Coordinator with Kaiser Permanente's Permanente Medical Group. Among the nearly 15,000 patients living with HIV/AIDS who receive care from the giant health maintenance organization (HMO), the mortality rate has been less than 1 percent per year for the last six years. This figure "includes all fatalities, so some of those individuals were killed in car accidents or died of heart attacks," explained Allerton. Successful treatment can truly turn HIV/AIDS into a manageable chronic illness.
But increasingly physicians and allied healthcare professionals have to manage more than antiretroviral therapy. They have the difficult task of helping patients maintain healthcare coverage, and debating whether to begin therapy when coverage gaps might mean a break in treatment. Economic constraints are pressing into the ability of healthcare professionals to make decisions based on what they know is the ideal from a purely clinical standpoint.
This other side of the "best of times, and worst of times" divide is marked not only by the ADAP waiting lists, but by socioeconomic and epidemiological factors that are exacerbating the holes in what Christine Lubinski, Executive Director of the HIV Medicine Association (HIVMA), called "a fragmented patchwork of a healthcare system that links access to healthcare with employment, disability, age, sometimes poverty, and other factors" and which offers "no guarantee of continuity of care."
The list of entities that pay for AIDS drugs is a long one: Medicaid, private health insurance plans, ADAPs, Veterans Administration (VA), US Department of Defense (DOD), Medicare, and a miscellaneous grouping of charities and other state funds. And, as Lubinski made clear, there is tremendous variability of coverage within most of these categories of payers. One state Medicaid plan or ADAP has more stringent eligibility requirements than another; some formularies of available drugs are very broad, others quite narrow. Although data are sparse on drug coverage through private insurance, there is no doubt that different plans offer vastly different coverage.
Allerton pointed out that the categories are not necessarily discrete in terms of how people living with HIV/AIDS receive healthcare coverage. Those who have private insurance that is insufficient may rely on ADAP for additional coverage, and that will probably be more and more the case as private insurance plans raise premiums, increase co-pays, and, particularly with regard to HIV/AIDS, impose caps on annual spending. Lubinski reported that Mutual of Omaha did just that (and defeated a lawsuit challenging the decision) in the late 1990s.
Many of the same cost-cutting measures are being implemented in government programs. Lanny Cross, who manages ADAP for the New York State Department of Health, told summit delegates that Medicaid and ADAPs in many states are limiting prescription refills, capping enrollment, and restricting the criteria for medical and financial eligibility. Lubinski reported that the new Medicare law, signed by US President George W. Bush in late 2003, means older people living with HIV/AIDS will be able to receive drug coverage from the entitlement for the first time. However, Lubinski pointed out that among other concerns, the coverage may not be better than what patients currently have, and rules require them to agree to a long-term plan before learning all the coverage details.
All of these programs are at the budgeting mercy of lawmakers. For example, ADAP has received relatively small percentage increases from the US Congress over the last several years -- from approximately US$714 million in fiscal year 2003 to US$749 million in fiscal year 2004. About the same percentage increase is likely in fiscal year 2005, and it will not cover the estimated need. Medicaid, which is the largest single payer for HIV/AIDS treatment, has more secure federal funding, but both programs are heavily dependent upon state budgets, which are currently in notoriously bad shape nationwide. Unlike the US Congress, many state legislatures are required to pass a balanced budget, putting further constraints on funding decisions.
The states that tend to do the worst at supplementing federal money are often small Western and Southern states. These receive less federal money to begin with, by virtue of their smaller HIV populations. They are often in budget crunches, either because of depressed economies or a conservative ethos that calls for keeping taxes low. Having a smaller HIV community also comes into play again because there is not the constituent lobbying power of states such as California or New York.
Apart from an inadequate supply of public money, the other strain on payers' budgets, which was a major focus of summit discussion, is the increasing amount that payers are paying for prescription drugs. As people with HIV/AIDS are living longer, and as antiretroviral therapy is becoming more expensive, the pharmaceutical portion of most payers' healthcare budgets is straining. Allerton reported that although people living with HIV/AIDS make up less than 1 percent of Kaiser Permanente's total patient population, they account for the second highest total pharmacy costs. (Patients treated for depression make up the highest cost.)
As one presenter noted, however, these costs may need to be put into some perspective. Tufts University's Joshua P. Cohen, who is a Senior Research Fellow at the university's Center for the Study of Drug Development, argued that pharmaceuticals, not just for HIV/AIDS, but in general, are in many ways a bargain because they represent a much smaller cost burden than that of hospitalization and other healthcare services. According to Cohen, although costs for prescription drugs have risen as a percentage of what private and public third-party payers spend, they represent only 9 percent of the total healthcare expenditure in the United States. Patrick G. Clay of the University of Missouri and the Kansas City Free Health Clinic presented data showing the positive cost/benefit trade-off for antiretroviral therapy, stating that one hospital stay for the common opportunistic infection Pneumocystis carinii pneumonia costs more than a year's worth of antiretroviral drugs.
As Cross pointed out, however, those savings are sometimes missed by a system such as ADAP, which essentially only covers the cost of drugs. There are no offset hospital costs, at least not visible ones, and the appearance to lawmakers may be only of consistently growing expenses as more patients are entering and utilizing the system and living longer.
There was general agreement, as well, that increasing numbers of patients covered each year cannot alone account for the unmanageable costs experienced by third-party payers. The high and increasing price of antiretroviral drugs is also a factor. Even if the use of those drugs eliminates the theoretical cost that would have to be paid for hospital visits if those drugs did not exist, that does not mean that any price, or price increase, is reasonable. Cross presented data showing a jump in pricing that began with efavirenz (EFV) in 1998 and continued through five of the next six new antiretroviral drugs. Abacavir (ABC), tenofovir (TDF), ENF, atazanavir (ATV), and fosamprenavir (FPV) are all priced near or above the higher price point established by EFV. Other agents, such as azidothymydine (AZT), the first FDA-approved antiretroviral drug, have undergone steady price increases that are greater than would be required to compensate for inflation. These price increases have real effects on access. Even when price increases are accompanied by industry-sponsored compassionate access plans for people receiving government aid, Allerton said, the strain is felt throughout the system because private insurance plans raise their rates to compensate, forcing more people into already over-burdened public healthcare plans.
It is important to note that all those prices are averages. An additional problem is the fact that no two buyers actually pay the same price for a given drug. Instead, they each work out their own private agreements with the various pharmaceutical companies, some getting much better deals than others, no one knowing what anybody else is paying. Imperfect information is known by economists to create market inefficiencies, and the pharmaceuticals market is no exception. When pricing data do become available, they reveal some rather backward results. For example, in a 2001 study, Medicaid -- again, the largest single buyer of antiretroviral drugs -- was found to pay 33 percent more on average for antiretroviral drugs than other federal programs, Lubinski said. And there is variance within the Medicaid system, with Georgia paying the highest prices of the 10 states with the most HIV cases, while Massachusetts pays the lowest prices. In general, patients without any coverage at all, who have no one to bargain on their behalf, pay the highest prices for prescription drugs.
Another arcane process is the internal debate that pharmaceutical companies hold regarding what they should set as their average wholesale price (AWP), the "list price" that becomes the starting point for negotiations with different buyers. How do companies decide what to charge? How does that price relate to research expenses, marketing expenses, and overall profits? The generally touted figure of US$800 million that is estimated for a company to bring a new drug to market from point of conception to research and development through clinical trials, remains a matter of much controversy. Although several pharmaceutical industry representatives attended the IAPAC summit, most said they could not speak to these questions, citing federal regulations designed to prevent collusion by prohibiting companies from discussing their pricing decisions.
During discussion, a consultant who works closely with an antiretroviral drug manufacturer -- he asked not to be identified -- described the pricing process. He portrayed it as an internal debate between such factions as the marketing team, whose goal is to maximize profits, and the public affairs team, which often seeks to guard against the company receiving a "black eye" for raising prices to a level that the patient and provider communities will view as unfair.
In his book, Elements of Pharmaceutical Pricing, E.M. Kolassa, an acknowledged pricing expert and frequent industry consultant, also emphasizes that pricing negotiations hinge on perceptions. He essentially argues that prices should be set at the highest possible level that will not instigate public backlash, taking into consideration the likelihood that affected groups are willing and able to act on their indignation. Setting prices based on costs is singled out as a very bad way to proceed.
Instead, Kolassa urges decision-makers to think about such factors as who actually pays for a type of drug, saying that if patients are usually covered by public or private payers, so they do not see costs themselves, the pharmaceutical company should charge more. He points to research showing that high prices for drugs treating certain types of indications are more likely to incur patient ire than are others, saying that acute illness and highly symptomatic chronic illness leave the most room for high prices. Other considerations are company needs, competition, and the company's preparedness to defend a high price against attack or promote the benefits of a low price. According to Kolassa, surrounding and superceding all these considerations is public policy.
"In the foreseeable future, a company must consider the responses and actions of government officials and patient advocates when setting a price," he writes.
In light of all that, it would seem that advocacy and working with the pharmaceutical industry to make companies aware of problems and concerns is becoming very important. Indeed, Zuniga and Allerton, among other presenters and delegates, specifically called for more and greater communication and activism, making clear that higher prices have real effects on the viability of the system and, therefore, people's lives.
Such efforts, however, are often frustrating. Some advocates who participated in what might be the most ambitious efforts to work with industry around pricing of AIDS drugs -- the ADAP Crisis Task Force and the Fair Pricing Coalition -- attended the summit and reported mixed results. The task force has been the more successful of the two, bringing together state ADAP or AIDS directors from 10 large states to negotiate ADAP-specific discounts for all ADAPs, and saving an estimated US$60-65 million in the first round, Cross reported.
The coalition's efforts to establish lower overall prices, however, have not been very effective. Comprised of treatment advocates and government healthcare officials, the coalition attempts to work with pharmaceutical industry senior managers on pricing decisions. They emphasize the need for lower initial prices of new drugs and price freezes for existing drugs. Cross and Lei Chou of the AIDS Treatment Advocacy Coalition (ATAC) reported that their efforts were largely unsuccessful. They had multiple meetings with decision makers and presented their data, but the companies, with some variance from one to the next, continued to bring in new drugs at or above existing price points and either refused or quickly reversed price freezes for older drugs. Chou said he felt "deceived."
The industry consultant, who, on condition of anonymity, described the pricing decision process, said that a company often does not see the multiplied effect of price increases. Raising the price of their one drug by 6 percent seems insignificant, but when all companies are acting similarly, it can have a tremendous market impact. The companies simply do not recognize the overall effect, he said, positing that antitrust laws preventing companies from discussing pricing in each other's presence might play a role in that myopia.
Even if companies do see the impact of their pricing decisions, of course, they are under no obligation to act accordingly. They are given the ultimate power to decide how maximizing profits will be balanced against setting prices to facilitate accessibility. According to Kolassa, "In healthcare markets, we are granted the unique authority, by virtue of the products that are developed, to charge whatever we wish. ... We have the peculiar ability to say to a patient, 'It's your money or your life.'" Even provided that industry takes that responsibility seriously, and strives for pricing that does not create barriers to access, as Kolassa goes on to suggest, there is no official oversight.
The traditional argument is that any attempt to tinker with industry's ability to set its own prices will result in reduced profitability and, thus, less of the research and development that is a benefit to everyone. There was general agreement at the summit that profits must be ensured as an incentive for research. Perhaps, however, it would be wrong to take for granted that any outside pricing intervention would cripple the industry. According to a Henry J. Kaiser Family Foundation study, average profits for pharmaceutical companies from 1994-2001 were 17.2 percent, by far the highest of any legal industry, and considerably greater than the 4.6 percent that was the average for all Fortune 500 companies. Warnings of an end to research and development due to past regulation such as 1984's Hatch-Waxman Act (which effectively created the generics market) and 1990's Omnibus Budget Reconciliation Act or "OBRA 90," (which attempted to reduce Medicaid expenses) proved unfounded. Data from Fortune magazine, in fact, reveal that net profit as a percentage of sales actually increased rather dramatically in the years immediately following those regulatory changes, and they have not fallen off since.
Although time constraints for the first of several fora IAPAC intends to convene on this topic did not allow for many specific suggestions for reforming the pricing process, there was a sense among presenters and most delegates that the time for doing something along those lines might be upon us. It was also generally agreed that reforms should be broadly conceived in terms of both their impact and the actors involved in creating them.
Zuniga suggested a "mixed basket" of solutions, including industry profit concessions, but also review and amendment of the prescription drug system as a whole, increased federal and state ADAP funding, and increased attention to keeping people living with HIV/AIDS in private insurance plans. Benjamin Young, a physician with the University of Colorado Health Sciences Center and an IAPAC member, has been an outspoken critic of recent industry pricing decisions. He echoed the need for inclusive decision making in a "Call to Action" he delivered to end the summit.
Access to life-saving care must be recognized as a human right, Young said. And, though access to profits might also be a type of universal right, it is one that should be balanced against the greater human mandate to save lives. He called for an "unprecedented collaboration" between government, patients, advocates, physicians, allied healthcare workers, and industry to re-think all current operating procedures and inject a greater sense of ethics and community responsibility into every decision. He suggested this simple litmus test for policy decisions: "Are the strategies that you are developing consistent with how you would take care of your grandmother?" If the answer is no, Young said, those strategies should be changed.
Mark D. Wagner is Director of Communications at the International Association of Physicians in AIDS Care.

Back to the May 2004 Supplement issue of IAPAC Monthly.