Introduction
As International Association of Physicians in AIDS Care (IAPAC) President/CEO José M. Zuniga noted in his introduction to the IAPAC North American Sessions 2005, highly active antiretroviral therapy (HAART) has led to declines in morbidity and mortality, where it is available. However, many clinical challenges still face physicians and patients, among them late HIV diagnoses, poor adherence, cardiovascular risk, hepatotoxicity, and lack of physician expertise -- all of which contribute to increased death among HIV-positive patients.
Zuniga's conclusion is that "as much as we should rejoice that so many men, women, and children have been 'saved' by HAART, there remain tremendous clinical (and social) challenges on the road to managing HIV as a chronic disease. Indeed, that so many people on HAART continue to die each year still represents a great human tragedy."
Advertisement
One way IAPAC addresses these issues is through its series of IAPAC Sessions, which are held annually in North America, Southern Africa, and Western Europe. These annual meetings allow for such challenges to be discussed and for consensus to be built about how best to address them. The IAPAC North American Sessions took place June 3-4, 2005, in Chicago. This year's topics included management of metabolic and morphologic abnormalities associated with HAART, optimizing HIV clinical management, primary care of HIV-positive women, and management of viral hepatitis and HIV disease.
Evolving Strategies in the Management of HAART-Related Metabolic/Morphologic Complications
Management of Antiretroviral Drug-Related Metabolic Disorders
Colleen M. Hadigan (Massachusetts General Hospital) began by citing the Multicenter AIDS Cohort Study (MACS) as one of the better studies looking at fat changes in HIV.
1
Lipoatrophy was negligible in HIV-negative patients but present in 20% to 25% of HIV-positive men on HAART. There were wide differences between the HIV-positive group and the HIV-negative group in prevalence of fat abnormality in the face, legs and hips, and neck, but the groups were much closer (although the difference was statistically significant) in abdominal fat. "Abdominal fat clearly is increased in the HIV HAART population, but also in the HIV-negative population, so it's hard to tell what's related to disease and what's common," Hadigan concluded.
Lipodystrophy has also been found in children. In 2004, the European Paediatric Cohort gathered data on 477 children aged three to 18, and found an association between lipodystrophy and female gender, use of stavudine (d4T) or protease inhibitors (PIs), and duration of HAART.2 In this study, the European Paediatric Lipodystrophy Group reported that 21% of the children in its cohort had triglycerides greater than 150 mg/dL; 27% had total cholesterol greater than 200 mg/dL; and fat redistribution was more frequently seen in children with high lipid levels. The latter finding "suggests a relationship between hyperlipidemia and redistribution," Hadigan noted.
In 2001, Carter reported that 52% of 159 men with HIV had triglycerides greater than 177 mg/dL and 44% had hypercholesterolemia regardless of fat redistribution.3
Hadigan presented studies identifying impaired glucose tolerance (IGT) and diabetes in HIV-positive patients, but it is not known whether the risk is increased compared to the background population. One study, however, compared HIV-positive and -negative men, and adjusted for age and body mass index (BMI). Risk of diabetes was increased by four times for the HIV-positive men.4
Nina Friis-Møller and colleagues (Hvidovre University Hospital, Denmark), working with data from the Data Collection on Adverse Events of Anti-HIV Drugs (D.A.D.) Study, an observational study of 23,490 patients on three continents (76% male), found a HAART-associated increased cardiovascular risk for people on HAART versus HIV-positive people not on HAART, with the adjusted relative risk increasing over time.5 The study also found increased risk of myocardial infarction (MI). Independent predictors of an MI, however, included age, smoking, history of cardiovascular disease (CVD), and being male.
An update presented this year at the 12th Conference on Retroviruses and Opportunistic Infections (CROI) by Wafaa El-Sadr (Columbia University, New York) showed that the relative risk nearly doubled when analyzing six-year data as compared to four-year data.6 "If we could normalize everyone's lipids by [following] NCEP (National Cholesterol Education Program) [guidelines]," Hadigan noted, "[HIV-positive patients' cholesterol] would still be 10% above where it should be. This is why doctors think the virus itself is involved." The study reported a 1.17-fold increased risk per year of ART.
Antiretroviral drugs affect lipid production and clearance, insulin resistance, and fat atrophy and accumulation. Fat redistribution then affects lipid abnormalities and insulin resistance. Moreover, it was known before the HAART era that HIV increases triglycerides and lowers high-density lipoprotein (HDL) cholesterol. Diet and exercise are "the bedrock of [treatment] -- [they] work," Hadigan said. "We have all had these conversations with our patients. Exercise makes more muscle and more insulin sensitivity."
At last year's 11th CROI, Mustafa Noor (Bristol-Myers Squibb, Princeton) and colleagues reported that atazanavir (ATV) does not seem to have the same effect on muscle uptake of glucose, compared to lopinavir/ritonavir, (LPV/r), but Hadigan said that these data do not include boosted ATV.7
Andrew Carr (St. Vincent's Hospital, Sydney) and colleagues showed that in 111 patients with moderate to severe lipoatrophy who were randomized to stay on zidovudine (ZDV) or d4T or switch to abacavir (ABC), those who switched showed increased limb fat at 24 weeks.8
Growth hormone has been shown to aid reduction of accumulated fat. "The theory is that if you replace the growth hormone, you can reduce the fat. It can actually improve lipid levels. The tradeoff is that the waistline goes down, but so does limb fat." She referred to a study by Polyxeni Koutkia (Massachusetts General Hospital, Boston) and colleagues that showed a "nice" decrease in trunk fat but with an increase in leg fat.9 Doses were well tolerated with no increase in diabetes or insulin resistance. She pointed out that growth hormone is expensive and its use for fat redistribution experimental.
Metformin improves glucose uptake and also lowers blood pressure; the weight loss and decreased abdominal fat can help with cardiovascular risk profile. In her own work, Hadigan has found that rosiglitazone improves weight and waist circumference, but she said the drug also increases lipids.10
Carr and colleagues found that rosiglitazone did not improve lipoatrophy compared to placebo, but when taking into account the use of ZDV and d4T in their double-blinded group of 108 patients, there was a significant difference in limb fat at 24 weeks, though not at 48.11 A similar study by Hadigan and colleagues, which was smaller but also randomized and placebo-controlled, found significant differences in percent body fat (BIA) and percent subcutaneous fat (mid-thigh) after three months of rosiglitazone (n = 28).12
Showing five studies on a chart, Hadigan pointed out that positive results were found only in pre-diabetic patients (Table 1). This dampens the enthusiasm for rosiglitazone, though a cousin of the drug might show better results.

In response to delegate questions, Hadigan conceded that cardiologists can argue for hours about the importance of lipids, and that metformin's potential for increased risk of lactic acidosis for patients on HAART may be driven by nucleoside reverse transcriptase inhibitor (NRTI) treatment.
Treating to Goal: How to Manage Dyslipidemia in HIV-Positive Patients
In introducing a presentation by Carl J. Fichtenbaum (University of Cincinnati), Hadigan noted, "As you all know, this is a difficult goal to achieve." Fichtenbaum joked that he would not need a room full of cardiologists for an argument. "I can sit in a room and argue with myself."
What, then, is the goal? The primary goal is longevity with quality. Another goal is control of viral replication and avoidance of coronary heart disease, strokes, or peripheral vascular disease (PVD). In avoiding these diseases, the primary target is low-density lipoprotein cholesterol (LDL-C), and secondary targets are triglycerides and HDL-C.
Even with complete viral suppression for long periods of time, HIV infection is still associated with several phenotypes that may increase risk for cardiac disease. Whether due to chronic inflammation or to endothelial dysfunction, HIV patients experience lipid abnormalities, insulin resistance, and visceral adiposity.
Physicians should evaluate patients by asking about risk factors for coronary artery disease or the equivalent, as well as about chest pain or angina. According to Fichtenbaum, this is the most important part of patient evaluation. "Do you have any chest pain?" is now one of his standard questions. Fasting lipid panels should be completed annually, and repeated three to six months after initiation of HAART. Coronary heart disease evaluation should be performed if symptoms are present. "I don't do any stress test unless someone has symptoms. This has been shown over and over -- it's not predictive."
Risk factors that affect goals for LDLC can be found in Table 2.

Fichtenbaum noted that calculations are different for women with premature ovarian failure. People with diabetes or a previous CVD event also have different standards (Table 3).13 He noted that there is no consensus regarding people with zero or one risk factor who also have high lipids.
Table 3. LDL Cholesterol Goals and Cutpoints for Therapeutic Lifestyle Changes and Drug Therapy in Different Risk Categories


A 2004 report identified modified goals for cholesterol levels based on five recently published trials. Better effects were obtained when lipids had been driven even lower than previous recommendations (Table 4).13

New recommendations can be more aggressive due to better therapies; e.g., more powerful statins are now available. But it is interesting that for people in lower-risk categories, recommendations have remained unchanged. According to Fichtenbaum, patients like to hear that.
He also pointed out that 20% of patients with MIs have a triglyceride count of less than 200 mg/dL. "So there are risk factors we don't understand," he said. "I think applying what we know about the HIV-negative population to the HIV-positive population is not smart. We need to design good studies."
For patients with high triglycerides, non-HDL cholesterol has become a secondary target, and Fichtenbaum urged his audience to consider using this measurement more often in their practice.
"The calculation is pretty straightforward: total cholesterol minus HDL. It's probably more accurate than measuring direct LDL and, especially for patients with substantial risk, this is a good way to measure ... particularly in resource-poor countries without access to many tests. Non-HDL targets usually track 30 points above what the LDL targets are. And this has become a secondary target now when you have individuals with high triglycerides ... I think it's also important for individuals with those risk factors and those who have elevated LDL. That's where we really start looking at triglycerides."
Can HIV patients reach cholesterol and triglyceride goals? "You really need to make a stronger effort to make lifestyle changes in your patients," Fichtenbaum urged. "We look at behavioral interventions in medicine as ridiculous. Your patients are going to pick up on this attitude in you. Maybe you need to refer your patients to a nutritionist. Sit them down and look at what they're eating and what they can do differently. Weight reduction becomes important, particularly trying to increase physical activity. I'm not saying that your patients are going to do it or that my patients do it. But if we don't make an earnest effort to try it then they'll never do it. And really emphasize smoking cessation, because that, pound-for-pound, will make the greatest difference in risk reduction." Therapeutic lifestyle changes include plant stanols/sterols (2 g per day) and viscous (soluble) fiber (10 to 25 g per day) as LDL-lowering options.
Therapy consists of:
Initiating LDL-C-lowering therapy with a statin or bile acid sequestrant or nicotinic acid
If LDL-C goal not reached in six weeks, intensify with higher statin dose or add a bile acid sequestrant or nicotinic acid
If LDL goal not reached in an additional six weeks, intensify drug therapy or refer to a lipid specialist
If LDL goal achieved, treat other lipid risk factors
After four to six months, monitor response and adherence
"Clearly LDL-C remains the primary target, and you control it before you treat for HDL," Fichtenbaum stressed.
Fichtenbaum mentioned some caveats. For instance, he does not believe there is sufficient information available about nicotinic acid at this time. Also, some patients cannot tolerate side effects such as flushing, even with newer formulations of niacin or with aspirin. More information is available in package inserts about the benefits and downsides of different treatment options.
Fichtenbaum helped design the AIDS Clinical Trials Group (ACTG) A5087 study, which was criticized for trying to treat according to stringent NCEP goals. When the study succeeded, though, "cardiologists thanked us. We showed fairly profound lipid-lowering whether you used a fibrate or a statin first. Remember, we were using a statin that is not considered as potent as [pravastatin]. You can get 75% [of patients] to reach [the] HDL goal, so you can get two of three goals."
He admired the Maxepa Study presented by Pierre De Truchis (Hospital Raymond Poincaré, Garches, France) and colleagues at the 12th CROI, which demonstrated the benefits of fish oil: triglycerides decreased by 25.5% in the treatment group versus a 1% increase in the placebo group.14 An ACTG study that fully enrolled in the spring will study the use of fish oil with a fibrate; results should be presented at next year's 13th CROI.
In summary, "I would say you can reach your goals with 50% of your patients. [Low-density lipoprotein cholesterol] and HDL[-C] are the most important goals, and I think that's reachable."
As for switching antiretroviral drugs, Fichtenbaum emphasized that it is "[not] a simple option." Some improvements may be achieved by switching from NRTIs to ABC or tenofovir (TDF). For patients taking PIs, switches can be made to ABC, ATV, or a nonnucleoside reverse transcriptase inhibitor (NNRTI), avoiding an NNRTI plus PI combination. Still, he noted that "[s]tatins have mortality benefits above and beyond cholesterol. John Gerber of the University of Colorado says everyone should be on a statin, whether you have high cholesterol or not."
But beware of interactions. The ACTG A5047 study found that the area under the curve for ritonavir (RTV) plus saquinavir (SQV) decreased by 50% with pravastatin, and increased with other statins: 79% for total active atorvastatin, 347% with atorvastatin, and 3,059% with simvastatin acid.15 One of the conclusions drawn from ACTG A5047 is that physicians may need to use higher levels of atorvastatin with efavirenz (EFV).
In brief:
PIs are contraindicated with simvastatin and lovastatin due to the increased AUCs of those statins when prescribed with PIs
PIs should be used with caution with atorvastatin due to the increased AUC of that statin
Pravastatin dose may need to be increased because of that drug's lower AUC when taken with PIs
Simvastatin, atorvastatin, and pravastatin doses may need to be increased due to their lower AUCs when taken with NNRTIs
Whether antiretroviral drugs affect the AUCs of rosuvastatin and ezetimibe is unknown.
Predictors and Management of HAART-Related Morphologic Changes
An objective definition of lipodystrophy is difficult to construct, but Gerald Pierone Jr. (AIDS Research & Treatment Center of the Treasure Coast, Fort Pierce, Florida) pointed out that many physicians and researchers believe that the United States is in the midst of an epidemic of metabolic syndrome and obesity. Some of the theories surrounding metabolic changes in HIV include mitochondrial toxicity due to NRTIs, use of PIs, immune reconstitution, and HIV itself.
Several mechanisms have been proposed to account for fat redistribution (although Pierone noted research showing that fat is not actually moving from one spot to another, as previously thought). Possible mechanisms of lipoatrophy include:
Adipocyte dysfunction/loss due to NRTIs
PI inhibition of adipocyte differentiation
Effects of chronic HIV infection
Autonomic nervous system effects
Possible mechanisms of fat accumulation include:
Insulin resistance due to PIs
Other co-factors are likely (age, diet, etc)
Studies have found several risk factors for lipoatrophy in HIV patients: older age, white race, female sex, longer duration of antiretroviral treatment, low nadir CD4 count, prior AIDS diagnosis, and coinfection with hepatitis C virus. Conflicting results have been obtained regarding treatment with PIs: some studies have shown greater risk and some less. For fat accumulation, risk factors include older age, female sex, increasing triglyceride levels, and exposure to PIs.
Pierone said that some patients believe they look bad even though others do not agree. Other patients become tired of fending off questions about their health, which have been prompted by their appearance.
A report from the Women and Infant HIV Study (WIHS) noted more central and limb lipoatrophy in HIV-positive women versus HIV-negative women in their observational cohort of 1,057 individuals.16 No difference in lipohypertrophy was noted. Measurements were made by self-report, anthropometry, and bioelectrical impedance analysis (BIA).
The FRAM study of 412 HIV-positive men aged 33 to 45 in the United States also found more central and limb lipoatrophy in the HIV-positive men compared to 153 age-matched HIV-negative men, and no difference in either lipohypertrophy or buffalo hump.17 The HIV-positive men, however, had larger buffalo humps than did the HIV-negative men. The lipohypertrophy finding argues against the theory that there is a syndrome of peripheral lipoatrophy accompanied by central fat accumulation. Measurements were made by self-report, anthropometry, DEXA, and MRI.
The HIV Outpatient Study (HOPS)18 found the following risk factors for lipodystrophy:
Age over 40
History of AIDS >3 years
Nadir CD4 count <200 cells/mm3 or nadir CD4 percent <15%
BMI loss >2 kg/m2
BMI change of >2 kg/m2
Duration of treatment with IDV or d4T was also associated with increased risk.
Mike Saag (University of Alabama-Birmingham) and colleagues presented data at the 44th Interscience Conference on Antimicrobial Agents and Chemotherapy (ICAAC) in which they compared 207 HIV-positive men with 144 HIV-negative men, and found that waist circumference underestimated the amount of visceral fat for the former, who had much more visceral fat even after adjusting for BMI and age.19
Simon Mallal (Royal Perth Hospital, Australia) and colleagues at the XIII World AIDS Conference in 2000 reported finding abnormal mitochondria, with the use of electron microscopy, in the fat biopsies of four patients on antiretroviral therapy, with the one patient on a PI-sparing regimen appearing to have less severe abnormalities.20 Similar biopsies on three ARV-naive patients showed only normal mitochondria.
In the journal AIDS, Mallal and his colleagues reported a 2-fold greater risk of subcutaneous fat wasting with d4T and a PI versus ZDV and a PI.21 Risk was also greatly increased for patients on dual nucleosides versus those on a nucleoside/PI regimen. Patrick Mallon (St. Vincent's Hospital, Syndey) and colleagues, reporting on an Australian lipodystrophy cohort beginning HAART, found an initial increase in central and peripheral fat, then limb fat declines and central abdominal fat increases after one year.22 The study used DEXA measurements.
How to manage? Prevention may include the delaying of antiretroviral therapy, or choosing regimens less likely to cause metabolic changes. For established lipoatrophy, antiretroviral therapy can be switched, HAART can be interrupted, and surgical/procedural approaches can be used. Whether there is a role for anabolic agents (such as testosterone or oxandrolone) and antioxidants is an open question.
A review of switch studies found no improvements in fat loss when discontinuing PIs.23 For visceral fat accumulation, however, improvements were seen in three studies and not in two others. Another study found increases in fat mtDNA with a switch from d4T, but not from ZDV.24 Switching patients from d4T to ABC has also improved limb fat, but not visceral abdominal fat.25 Another switch from a thymidine analog to ABC or TDF improved limb fat.26 The ACTG 5110 study found significant (and similar) increases in limb fat by switching thymidine analogs to ABC or LPV/r plus NVP.27 Pablo Tebas (University of Pennsylvania, Philadelphia) reported an increase in peripheral fat by switching patients to a nucleoside-sparing regimen.28 There were no significant changes in truncal fat, glucose metabolism, HOMA-IR, or BMD.
On the subject of fat liposuction, surgeons report that buffalo humps are very dense and fibrous. The humps tend to re-appear. Ultrasound liposuction tends to be more efficient than traditional liposuction. Pierone reported on his experience using Sculptra. "I think any clinician with a little bit of thought and a lot of care can do it. It's free for people with less than US$40,000 income, with a sliding scale for people with [income of] US$40,000 to US$80,000." There is, however, a great deal of paperwork. There were many questions. Does he use a crash cart? Yes. Is there Medicaid reimbursement? No, and none from Medicare. How long does it take? In the beginning it took an hour, and now it takes 30 minutes. Do patients see a difference? "Some studies say no difference is seen by the doctor or the patients, but I think the mere fact that we don't see a progression on DEXA is valuable."
An HIV educator living with AIDS, who himself underwent surgery for facial lipoatrophy, called Pierone's challenge to physicians to learn to use Sculptra the most important report of the day.
Primary Care of HIV-Positive Women
Primary Care for the HIV-Positive Woman
Jean Anderson (Johns Hopkins School of Medicine, Baltimore) narrowed her topic to two issues: the effect of HAART on human papillomavirus (HPV) and lower genital tract dysplasia, and the fertility needs of serodiscordant couples.
She noted that half of all HIV-infected people between the ages of 13 and 19 in the United States are female. For people aged 20 to 24, that figure is 37%, and for ages 25 or greater, 29% are women. Though death rates and AIDS diagnoses began to decline from 1992 to 1996, the prevalence rate continues to climb. Worldwide, of the 14,000 new infections contracted per day in 2003, 95% were in poor or middle-income countries. Of those infections, 12,000 were in people aged 15 to 49, the most productive and reproductive ages; almost half of those were in girls and women. In sub-Saharan Africa, there has been a steady increase in infections over the decades, with a total estimated at 25 million in 2003. Anderson noted that global initiatives such as the US President's Emergency Plan for AIDS Relief (PEPFAR) and those of IAPAC and other organizations are beginning to address the pandemic.
How does HPV affect women with HIV? Women have:
a higher prevalence rate;
longer persistence of HPV;
higher HPV viral loads;
a greater likelihood of multiple HPV subtypes; and
a greater prevalence of oncogenic subtypes.
The oncogenic subtypes (four out of the 100 or more known HPV subtypes) may be more common with advanced disease, lower CD4 count, or higher HIV viral load.
With respect to neoplasia, Anderson commented that abnormal cervical cytology is more common among HIV-positive women, and is associated with HPV. The frequency and severity of abnormal Pap smears and documented dysplasia increase with lower CD4 counts and increasing viral load. Improvements in these parameters correlate with improvements in Pap smear results.
Although effective treatment exists for cervical dysplasia, with a 95% cure rate for pre-invasive disease in HIV-negative women, the therapies do not work as well for HIV-positive women. Also, women with HIV and cervical cancer tend to be younger and less immunosuppressed than HIV-positive women with other AIDS indicators, and to be younger than HIV-negative women with cervical cancer. In the United States, invasive cervical cancer was listed as an AIDS-defining condition in 1993. Around the world, cervical cancer has a much higher rate of incidence and mortality, because there is less access to health care, including Pap smears.
In summary, Anderson reported that use of HAART:
decreases the volume and bulk of genital warts;
decreases HPV persistence;
increases the rate of regression of HPV and lower genital tract dysplasia; and
decreases the progression of both those conditions.
Speaking to the overarching issue of fertility, Anderson began her comments by reminding delegates that with the arrival of ACTG 076 results in the mid-1990s, there was a dramatic drop in perinatal HIV infections. The trial results were rapidly translated into public health practice. "Transmission rates of less than 1% are achievable, and that's what I tell my patients," Anderson said. She presented a slide on Pediatric AIDS Clinical Trials Group (PACTG) 367 results, reported at the 11th CROI, listing transmission rates across viral load (greater or lesser than 1,000 copies/ml) and regimen type (Table 5).29 "With better treatments, we have longer, healthier lives. It's no wonder that women want to go on with their lives, and having children is part of that," Anderson commented.

According to two reports from 1996 and 1998, 18% to 40% of women in the United States become pregnant after their HIV diagnosis.30,31 The 2000 HIV Cost and Services Utilization Study (HCSUS) reported that 12% of all HIV-positive women become pregnant, compared to 26% of women under the age of 30.32 In 2001, HCSUS reported that of more than 1,400 HIV-positive adults in care, 29% of the women desired to have a child in the future, compared to 36% of HIV-negative women.33 Half of these HIV-positive women had less than 200 CD4 T cells, and roughly one quarter had partners who were also HIV-positive.
The investigators noted that 7% of the HIV-positive women in the cohort reported conception annually between 1994 and 2002.34 Seventy-seven percent of these pregnancies occurred with use of contraception.
On a personal note, and in closing her presentation, Anderson reported that she had spent the previous evening at the high school graduation of the first baby with HIV she ever delivered, and that the young woman is headed off to college on a scholarship.
Effect of HAART on HPV-Related Cervical Lesions
Although there is a high rate of any kind of squamous cell abnormality in HIV-positive women, there is a very low rate of high-grade dysplasia. "It's entirely driven by low-grade squamous intraepithelial lesions (SIL)," reported Kathryn Anastos (Montefiore Medical Center, Bronx, New York). Moreover, with increasing CD4 T cells and decreasing viral load, the prevalence of HPV decreases.
A study she called "fascinating" reported that the incidence of HPV 16 does not vary between women with fewer than 200 cells/mm3 and those with more than 500 cells/mm3.35 "This is one of the most oncogenic subtypes, and it escapes normal immune surveillance. Our therapy doesn't control it," Anastos reported.
A slide on cervical SIL regression across time and increasing use of HAART showed that regression increased with greater use of HAART. "I really believe HAART helps with HPV, because of this and anecdotally in my practice," Anastos said. Among other indicators, she said that colposcopies "plummeted" with HAART in the WIHS cohort, from 50% to 18%. In a study published in AIDS in 2002, women were twice as likely to have regression on HAART, whether looking at univariate or multivariate analysis.36 Again, these were almost all low-grade lesions.
A WIHS report published in 2001 in the journal AIDS reported that women on HAART were three times more likely to have regression of high-grade SIL as well.37 They were also less likely to progress. "There is, however, some controversy," Anastos continued, "and research showing the opposite." Paula Schuman (Wayne State University, Detroit) and colleagues38 and Flavia Lillo (IRCCS Hospital San Raffaele, Milan) and colleagues39 found that HAART had no effect on either progression or regression. She pointed out that with a P value of 0.57, the Schuman study was "nowhere close to statistical significance." Because the studies had half as many women as were represented in the WIHS report, she believes the difference can be explained by power.
Another report found that after adjusting for HAART, there was a strong interaction between HPV prevalence and incidence and CD4 count and viral load.40 "Most women have virus in the genital tract -- although lower than plasma -- and there seems to be a direct interaction," Anastos said.
A study by Howard D. Strickler (Albert Einstein College of Medicine, Bronx, New York) and colleagues found that for incident HPV detection, once the CD4 count was very low or the viral count very high, the other factor was less important. There was also extensive overlap between results in one CD4 stratum and the next, depending on HIV RNA, and failure to use both measures "would inadequately characterize the effects of HIV coinfection on HPV and cause misclassification (grouping unalike patients)." The effects were much stronger on incident detection of HPV than on persistence. This largely explains the high rates of HPV in HIV-positive women. As Anastos noted, "The limited effects of immune status on the duration of HPV may help explain why cervical cancer is not more epidemic in HIV-positive women."
"What is the effect on cervical cancer? We don't know," Anastos said. This is partly due to the low rate of the disease in the United States. Guidelines for screening remain unchanged:
Perform two (adequate) Pap smears at six-month intervals
If negative, perform annually
If abnormal, follow guidelines for that abnormality
Routine colposcopy not needed
Colposcopy indicated for all abnormalities
Use of cell suspension medium could decrease colposcopy for atypical squamous cells of undetermined significance (ASCUS)
"All SIL should be treated, and in women with HIV we also treat ASCUS," she said. "However, women are very tired of being treated with colposcopy for ASCUS." Anal cancer is also found, even in women who have not reported anal sex, but it is less common than in gay men. Anastos commented that anal Pap smears "fail" on various measures -- standards, rarity of disease, and mortality. Moreover, there is no "good" treatment.
"My guess is that there is a higher cervical cancer rate in positive women, but not enough to measure," she concluded.
Finally, Anastos reminded delegates that the HPV vaccine has not been studied in HIV-positive women, representing a notable omission.
Addressing the Fertility Needs of HIV-Serodiscordant Couples
Arlene D. Bardeguez (New Jersey Medical School, Newark) began her presentation, as many people do, by saying that she was delighted to be speaking, but then mentioned that when she first started addressing the issue of fertility needs in HIV-serodiscordant couples 10 years ago, colleagues thought she was crazy. Things have changed dramatically for couples living with HIV in those 10 years.
She reminded the audience of the 1985 US Centers for Disease Control (CDC) recommendation that women with HIV "should defer pregnancy" due to concerns about disease progression, the lethality of the disease, and perinatal transmission. "They should not be pregnant, but they got pregnant anyway," Bardeguez pointed out. She said that the women at high risk were those whose partners were HIV-positive but were unaware of their positive serostatus. Other women "bet on the 70% chance of having an HIV-negative baby."
In 1994, a dramatic decrease in perinatal transmission was achieved with the use of antiretroviral therapy and/or operative delivery; an even greater decrease followed in 1996 with the advent of HAART. Intervention measures work better in asymptomatic women, but they decrease risk even for symptomatic women or those with lower CD4 counts. Decreased mortality and perinatal transmission, increasing numbers of people with stable HIV disease, and increasing lifespan all argue for assisted reproductive technologies for infertile couples living with HIV, Bardeguez said. "We don't prohibit anyone from having a kid when there's a 25% chance of passing on a genetic disease," she noted. "Today we have greater survivability."
A meta-analysis published in 199941 reported the following risks of perinatal transmission:
10.4% for elective cesarean section
2% for elective cesarean section plus ZDV
19% for normal, spontaneous vaginal delivery (NSVD) or other
7.3% for NSVD or other plus ZDV
Bardeguez noted the caveat for those cesarean-section "purists" -- there is risk involved in the procedure, plus any future pregnancies would have to be delivered by cesarean section. However, she advised that if viral load is not below 1,000 copies/mL at the time of labor, cesarean section may be preferable.
Arguments exist, of course, against the use of assisted reproductive technologies in HIV-positive people. "The reality is, that people are dying of HIV -- that's the reality," Bardeguez noted. Moreover, a lack of perinatal transmission cannot be assured (a troubling thought for physicians who pledge to "first, do no harm"). Finally, there is a financial cost of intervention for both the individual and society.
Bardeguez explored other risks and benefits. One benefit is that the use of assisted reproductive methods could lead to a decrease in unprotected sex, and therefore decreased horizontal transmission in discordant couples. There is also an increased chance of conception of 25% per cycle, or 35% with in vitro fertilization.
There are also risks. For instance, the use of reproductive technologies has the potential to increase perinatal risk due to pre-term labor and low birth weight. These technologies might also increase morbidity if operative interventions are required, such as the removal of ovaries. The cost of these techniques is also a major factor: approximately US$20,000 per cycle, not including the cost of medications. "I know we're excluding the majority of our patients because they're poor and cannot afford this technology," Bardeguez said.
A landmark moment occurred in 2002 when the American Society for Reproductive Medicine reversed its previous position, and stated that assisted reproductive technologies should not be denied to HIV-infected couples solely on the basis of their positive serostatus.42 "It took 18 years to get to this point," Bardeguez noted.
In each situation, certain information must be conveyed to patients. For instance, it is very important for patients to understand that an undetectable viral load may not correlate to the virus in their genital tract. "Their assumption is that if they have undetectable viral load, they can have a baby. There's a difference between blood and the genital tract. Explain to them that it's not equivalent," Bardeguez urged delegates. Researchers are looking at drug penetration into the genital tract, and there is hope that this research can lead to future recommendations for drugs that are better able to penetrate the genital tract.
Bardeguez said there is no data suggesting that either HIV or its treatment affect fertility. She noted, however, that many infertility patients are older, often in their 30s, which may affect their ability to conceive a child.
For couples living with HIV who are trying to have a child, whether serodiscordant or not, the goal is to prevent transmission between partners and to the infant.
In the case of a positive female and uninfected male, women may choose artificial insemination with or without ovarian stimulation. Since ovarian stimulation produces more ova, a risk of multiple fetuses exists. This risk has been reduced, though, with the advent of improved technology. An infertility work-up should be conducted, if needed. Physicians should remember that substance use could cause cycles to be abnormal. Donor insemination is another possibility.
With respect to a positive male and uninfected female, infection can occur from either cell-associated or cell-free virus. Again, it is important to remind couples that the relation between serum and genital viral load is imperfect.
Intrauterine insemination can be performed following a "sperm wash." Or, intracytoplasmic sperm injection (ICSI) is a technology that uses a laser beam to isolate one sperm, which fertilizes one egg, then the zygote is placed in the uterus. Aliquots are tested for both cell-free virus and RNA.
Bardeguez referred to Mark Sauer (Columbia University, New York) as "the guru of ICSI." His work is "innovative and daring," but "[t]he problem is that you have to have money, because it's not free." Sauer reported that from 1997 to 2002, his clinic assisted 25 couples with 27 pregnancies, resulting in 40 neonates and a cesarean-section rate of 70%.43 Mean gestational age at delivery was 37 weeks. There were seven cases of preterm delivery and eight of low birth weight, or 2% to 3%, which is no higher than the background rate. Complications included multiple pregnancies and ovarian stimulation syndrome.
Augusto Semprini (University of Milan) and colleagues reported more than 1,000 intrauterine inseminations (IUI) after sperm wash, with 200 pregnancies and no horizontal transmission. His latest data is from 1999.44 Simón Marina (Instituto de Reproduccion CEFER, Barcelona) and colleagues used IUI for 63 HIV-positive men without AIDS.45 Bardeguez pointed out that the technique is not perfect; 5.6% of sperm samples were found to be positive for HIV RNA. There was a 49% success rate with IUI, and 37 children were born. All of the women remained HIV-negative six months after IUI, and the infants were uninfected.
When both partners are HIV-positive, Bardeguez stressed that the risk of reinfection should be weighed. These couples have all of the above options open to them (including adoption), but optimal management is still an open question.
In addition to sperm washing and DNA/RNA testing, laboratories must prevent cross-contamination. Potential complications include timing procedures, and the need for separate freezers to store samples since liquid nitrogen vapors can cause contamination between samples in the same freezer. "Centers are not jumping at all this for the few cases that might come in," Bardeguez pointed out.
She referred providers to www.duncanholly.com, the Web site for the Bedford Research Foundation, a non-profit clinical test laboratory that performs many of the tests at Bardeguez's clinic. Bardeguez admitted that laboratories equipped for all these services can be hard to find.
Bardeguez described the procedures used at her clinic. First, disclosure of HIV-positive status between the partners is done in front of the provider. Pre-conception counseling follows. Informed consent regarding the risks, benefits, and alternatives is obtained. Patients are checked for opportunistic infections and treated with prophylaxis. The clinic requires a CD4 count of more than 350 cells/mm3, and viral load of less than 50,000 copies/mL. Women must have a normal Pap smear, or a colposcopy if the Pap smear is abnormal.
If hepatitis C virus is present, the patient must have normal liver enzymes and a hepatology consult. Patients must have been on HAART for at least a year; Bardeguez said this requirement helps the provider look at toxicity and adherence. There should be no toxicities, good response and no teratogenic drugs in the regimen. Semen samples are sent to a lab for HIV polymerase chain reaction (PCR) testing prior to insemination. The clinic uses intrapartum ZDV, and follows up with the infant and the HIV-negative partner to verify lack of transmission. HIV-negative women are tested early and late in pregnancy. Bardeguez noted that physicians should explain very early the necessity of not having unprotected sex, in order to prevent transmission.
"We still give [ZDV] at labor even if the mom is resistant, because it crosses the placenta and it still works," Bardeguez said. "Many studies show this despite long-time [ZDV] use or documented resistance."
Viral Hepatitis: Surveying the Therapeutic Landscape
A Hepatologist's View
"I don't need to tell you that this is a huge problem in the HIV population," began Stewart Cooper (California Pacific Medical Center, San Francisco). "Hepatitis C [virus] (HCV) is found in 30% of HIV-positive people, and we still have inadequate prospective natural history data, in my opinion."
He continued with the following reminders:
HCV-related liver disease (LD) is now a leading cause of morbidity and death among HIV-infected people
There is probably a greater risk for accelerated LD in HIV/HCV-coinfected people
HIV/HCV coinfection can result in a higher incidence of HIV drug-related liver toxicity, and the mechanisms for this are not precisely understood
Interactions between drugs used to treat HCV and HIV can cause toxicity in unpredictable ways
"We know that there are particular culprits in drug interactions, but we don't know who is going to get toxicity and why," Cooper noted. "Now we're seeing a new era with development of the type of studies we need to see." Meanwhile, there is increasing optimism that coinfection can be successfully treated even with existing therapies, despite the fact that both patients and providers are "hampered by the paucity of clear, evidence-based information."
On the topic of monoinfection, Cooper began by commenting that there is no significantly different PK activity between the two pegylated interferons (PEG-IFNs) on the market: Roche Pharmaceuticals' Pegasys and Schering-Plough's Peg-intron.
Dosing of ribavirin differs by HCV genotype (weight is an additional consideration for genotypes 1 and 4). Ribavirin is available in one generic and two proprietary products, including Roche Pharmaceuticals' Copegus and Schering-Plough's Rebetol. Ribavirin treatment duration also depends on genotype: 24 weeks for genotypes 2 and 3; 48 weeks for genotypes 1 and 4. "Why there's a treatment response [that is] different by genotype is fascinating, but we don't know the reason," Cooper said. "We're now looking at less than 24 weeks of treatment for genotype 2, due to some evidence that it's more responsive."
A viral load that is undetectable six months after stopping therapy is considered a sustained viral response (SVR). For genotype 1, approximately 47% of those with a high viral load (more than 800,000 IU/ml) attain SVR; approximately 65% of those with a lower viral load attain SVR. For genotypes 2 and 3, however, the proportion of patients attaining SVR is similar regardless of viral load -- approximately 84%.
Other factors influence treatment response; for instance, there is less response among African Americans, people with a higher BMI, and those with fibrosis.
With respect to the mechanism of action for interferon-alpha (IFN-α), Cooper explained that this agent works at multiple sites. It augments cellular immunity with:
increased Th1 immunity;
human leukocyte antigen (HLA) class I (A, B, C) and II (DR, DP, DQ) up-regulation; and
enhanced innate immunity (NK).
Th1 promotes cytotoxic T-lymphocyte activity against viruses. Interferon-α also has anti-proliferative effects. "Hepatic fibrosis is reduced even in non-response, which is interesting," Cooper noted.
Ribavirin is a synthetic guanosine analogue, which inhibits IMPDH (inosine-5'-monophosphate dehydrogenase); inhibits NA (RNA and DNA) synthesis; and has activity against some RNA and DNA viruses.
It has weak, if any, inhibitory effect on HCV replication, so why does it work in a synergistic manner with IFN-α? There may be an immunomodulating effect, Cooper said. The Th1-polarizing effect of ribavirin may be the reason for this activity.
There are 21 HCV-specific cytotoxic T lymphocytes (CTL) and nine HCV targets. "HCV is very replicative, like all RNA viruses. Studies of spontaneous HCV immunity have found that cytotoxic T cells were attacking virtually every viral protein," Cooper explained. "But in some monkeys, only some proteins were attacked. So you need to attack the virus at many points -- it makes sense."
It seems essential for HCV clearance that liver CTLs simultaneously target multiple HCV proteins, with many CTLs targeting even single peptide epitopes. When there are attacks at many sites, each site needs many different T cells, due to plasticity and the existence of many mutations.
"Our lab has been interested in [hepatitis] C clearance for 10 years and why it doesn't happen more," said Cooper. "These people [with clearance] are very interesting and may help us figure out mechanisms for clinical management of our patients."
Cooper cited unpublished data indicating that in immune studies of IFN responders, a patient with chronic infection had one CTL clone and a narrow range of viral variants. With IFN-α therapy, seven CTL clones were seen, with a broader range of viral variants, and he became a responder.46 "Interferon expanded his cytotoxic T-cell repertoire and he now had seven T-cell clones at one target instead of one." This is particularly important because HCV mutation can destroy T-cell recognition.
In natural immunity, CD4 T cells determine the strength and type of immune response by secreting cytokines, and the Th1 cytokines stimulate CTLs. In therapeutic immunity, the augmentation of the Th1 response may be an important component of induced HCV clearance.
Cooper next presented on the impact of antiretroviral therapy in HCV-infected patients. "The nucleosides and nucleotides overall are quite gentle on the liver," Cooper said, "although we occasionally see the effect of these medications as we do with any drugs, including steatosis and hepatomegaly." Liver complications that may occur with use of this class of antiretroviral drugs include hepatitis B treatment effect from 3TC and TDF, and steatosis and increased liver enzymes with ZDV.
Elevated liver enzymes, however, are not uncommon with the NNRTIs. "This class has the highest rate of discontinuation for liver toxicity," Cooper reported, citing data presented by Raymond T. Chung (Massachusetts General Hospital, Boston) at the 2001 Digestive Disease Week.47
For the PIs, increases in alanine aminotransferase (ALT) have been documented with IDV, NFV, RTV, and SQV. An increase in unconjugated bilirubin has also been noted with IDV. Cooper noted that, "these are not usually increases at levels which we would want to discontinue, but like all drugs, we should monitor liver enzymes." Of these particular PIs, SQV is less likely to increase ALT.
Hyperbilirubinemia has been seen with IDV, as well as case reports of portal vein thrombosis. Hepatitis has been seen (in descending order of incidence) with RTV, IDV, NFV, and SQV. Altogether, the data present a conflicting relationship between PIs and HCV.48 "[HIV-] positive people with PI therapy have less fibrosis than people not on PIs, despite the liver effect. At the moment, this emphasizes the need for more study," Cooper said.
Regarding the effect of liver disease on antiretroviral therapy, Cooper explained that "the direct effect of HCV is not known. There may be a variety of mechanisms involved. [Hepatitis C] proteins can certainly affect mitochondrial function."
F. Peter Guengerich (Vanderbilt University, Nashville) and colleagues found that CYP450 activity can be reduced in advanced LD and influence drug kinetics and toxicity.49 Cameron (University of Ottawa) and colleagues reported reduced RTV clearance in patients with chronic LD.50 Yasmin Khaliq (University of Ottawa) and colleagues reported variable clearance of NFV in patients with LD and recommended dose reductions.51 Rare steatosis and hepatomegaly have been seen with both ZDV and zalcitabine (ddC).
One report found ALT >3 times the upper limit of normal (ULN) in 15% of 610 patients given NVP, and the six patients who developed clinical hepatitis were coinfected with HCV.52 There was a 2% discontinuation rate for liver-related treatment, but 9% discontinuation for rash. Another study reported a 92% chance of liver damage in people with high NVP levels and HCV coinfection.53 Other risk factors with NVP include gender, race, and other drugs, such as fluconazole. A high CD4 count is bad for NVP therapy.
A report of ALT >5 ULN in 6% of patients on EFV noted no symptoms with the significant increases. Nine of 11 of these patients (82%) were coinfected with HCV.54
Cooper commented that increased hematological toxicities are seen due to interactions between IFN/ribavirin and antiretroviral therapy. Erythropoietin helps patients with anemia maintain the ribavirin dose, with better quality of life and better safety, but Cooper noted that toxicity may be exaggerated in people with preexisting risk. He also added that he gets "very concerned" about patients over the age of 65 who have diabetes or cardiovascular risk, because in that population anemia may cause a heart event. He generally opts for a stress test for this group.
For patients with neutropenia, it is unknown at what level to introduce granulocyte-colony stimulating factor (GCSF). "We no longer reach automatically for [GCSF] when the level is 800,000 [IU/ml], and we don't know its use in coinfection," Cooper stated.
Patients on NRTIs and ribavirin have an increased risk of mitochondrial toxicities (MT), pancreatitis, or lactates above 7.4 mmol. Stanislas Pol (Hôpital Necker, Paris) and colleagues found MT in 16% of patients on a ddI-containing regimen (odds ratio [OR]: 18.3, P = 0.002).55 Moreno et al found clinically significant MT in 16 of 35 (46%) patients on ddI and ribavirin.56 Patients with HIV/HCV coinfection who are on ART should avoid ddI.
Complicating factors in the treatment of HIV/HCV coinfection include antiretroviral regimens that vary between practitioners and clinics, as well as variable non-antiretroviral drugs with the potential for interactions. Cooper also questioned the differences between antiretroviral drugs in terms of psychiatric effects, and whether monoinfected and coinfected patients differ in susceptibility to antiretroviral drugs. Direct or indirect interactions are also a question; for example, interactions between IFN and EFV. All could lead to clinically significant difference in compliance, quality of life, and mortality.
"Clearly the road to consensus management strategies has to be through random, controlled clinical trials," Cooper urged. He referred delegates to his colleagues, who would be discussing the APRICOT, RIBAVIC, and ACTG A5071 studies.
As research moves forward, basic treatment questions remain:
Should LD be staged/characterized in all or almost all patients?
Might HCV-specific CD4s be a better indicator than total CD4 count?
Should treatment-naive patients be treated in the same way as antiretroviral therapy-reconstituted, off-therapy patients?
Does SVR indicate clearance in coinfected patients as well as it does in monoinfection?
Finally, there are still only limited clinical data on HCV treatment interactions with antiretroviral therapy, ways to balance treatment efficacy while minimizing potential for toxicity, and ethnic considerations in treatment.
New HCV antiviral agents specifically disrupt the viral life cycle at multiple drug target sites. New or more potent immune stimulators include other IFNs (Infergen and Peg-Infergen; IFN gamma 1b; albuferon-alpha; and omega IFN), and less toxic versions of ribavirin (viramidine, a ribavirin pro-drug, is the most promising in development; it is activated in the liver, resulting in reduced ribavirin accumulation in red blood cells and fewer cases of hemolysis).
Two toll-like receptor (TLR) agonists are in development: Actilon, a synthetic agonist of TLR-9, and isatoribine, an agonist of TLR-7.
Cooper explained that therapeutic HCV enzyme inhibition is an attractive possibility for new drug development: inhibitors typically block the active site in the enzyme molecule. The NS3-4A serine protease is particularly attractive because it cleaves four sites in the HCV polyprotein. However, "it's likely that most of these drugs will suffer from resistance and will likely be used in combination," Cooper pointed out.
Obstacles to drug development include issues with delivery, inactivation (as by host nucleases), interactions, resistance, and toxicity (e.g., BILN-2061 cardiotoxicity in animals). Two HCV PIs are now entering into human trials: SCH-7 and VX-950.
For the next five years, IFN-based therapy is expected to remain the bedrock of HCV treatment. Lower doses of IFN/ribavirin (or ribavirin replacements) might be achieved with newer combinations, which may benefit HIV-coinfected patients by increasing effectiveness.
Delegates asked Cooper how he balances the cost and toxicity of HCV treatment when the disease has a benign history in HIV-negative people. He replied, "I use that very argument as another plus to biopsy patients. Some coinfected people have Stage 0 disease and no cirrhosis. It really depends on the clinical setting. I'm concerned that even [SVR] doesn't reduce cancer risk if they remain cirrhotic. The objective staging of disease helps to create urgency. I'm an advocate for biopsy in most cases. Some patients are gung-ho for it and some want to wait. I don't think we have any satisfying non-invasive test."
Fellow speakers for this section chimed in. Francesca Torriani (University of California, San Diego) pointed out an excellent study by Johns Hopkins University's Sulkowski showing a mean time of around 2.8 years for a substantial proportion of patients to experience a two-grade mean progression in fibrosis.57 "So you cannot tell your patients to come back in five years," she said, "it may be too late." Barbara McGovern (Tufts University School of Medicine, Boston) noted that cirrhosis may be a reason to reduce the PI dose when starting HAART, as it is with amprenavir (APV).
Emerging Treatment Options for HIV/HCV Co-Infected Patients
Francesca Torriani delved into four recently published (2004) randomized trials on HCV therapy in coinfected patients: RIBAVIC
58
from France; Laguno
59
from Barcelona; ACTG 5071
60
from the United States; and APRICOT,
61
an international trial that took place in 19 countries, including Australia, Europe, and the United States.
However, she noted that, "Cutting to the chase, [PEG-IFN] works better than [IFN]," and that "clearly, the response rate in coinfected patients is lower in all these trials, although APRICOT and Laguno had quite high response rates. But you have to remember that these two trials had more people with genotype 3, who have a better response rate."
The RIBAVIC study randomized 416 patients to either IFN alpha-2b or PEGIFN alpha-2b, all with ribavirin, for 48 weeks, with follow-up to 72 weeks.
The Laguno study was the smallest, with 92 patients. Higher doses of ribavirin were used for patients with HCV genotype 1 or 4. Patients with a low viral load (<800,000 IU/ml) were treated for 24 weeks instead of 48. Patients with genotypes 2 and 3 were also treated for 24 weeks, and received low doses of ribavirin.
On the other hand, ACTG A5071, with 134 patients, had a complicated design (Table 6). "Basically," Torriani explained, "if early virologic response was not seen at week 24, a biopsy was done. If there was no histological response, treatment was discontinued."

The APRICOT study, for which Torriani was lead author, had 868 patients in three arms and a simple design: IFN alfa-2a plus ribavirin versus PEG-IFN alfa-2a with either ribavirin or ribavirin placebo. All patients were treated for 48 weeks, with follow-up to 72 weeks.
Torriani reminded delegates that some facts were not known at the time the studies were designed.
With respect to the studies's results, Torriani cited the SVR for PEG-IFN (intent-to-treat, [ITT]):
26% in RIBAVIC (55/205)
44% in Laguno (23/52)
27% in ACTG 5071 (18/67)
40% in APRICOT (115/289)
The devil is in the demographics. "In ACTG and APRICOT, we had very high viral loads [between 5.6 and 6.2 x 106 IU/ml], basically three times higher than we normally see in patients. In Laguno, 53% of patients with genotype 1 had a less than 800,000 [IU/ml] viral load ... Also, they had patients with genotype 4, and genotype 4 response is always slightly better than genotype 1. The other trials had only genotype 1. In RIBAVIC, viral load was low."
Patients with genotype 1 made up 77% of the ACTG group and 61% of the APRICOT group, but 52% of the RIBAVIC study and 49% of the Laguno trial. Also of note was that 33% of the patients in the ACTG 5071 group were African Americans, a group that has less response to HCV treatment. "You also have to remember that early, 24-week response was a primary endpoint for ACTG," Torriani reminded delegates. CD4 count was high and HIV replication low in all four studies.
Comparing genotype 1 (and 4, where applicable) SVR to overall SVR, by ITT analysis:
RIBAVIC: 15% (16/110) versus 27%
Laguno: 38% (10/27) versus 44%
ACTG 5071: 14% (7/51) versus 27%
APRICOT: 29% (51/176) versus 40%
Comparing genotypes 2/3 SVR to overall SVR, using ITT analysis:
RIBAVIC: 42% (10/19) versus 27%
Laguno: 53% (36/86) versus 44%
ACTG 5071: 73% (11/15) versus 27%
APRICOT: 62% (58/95) versus 40%
When it came to predicting success, Torriani reminded delegates that in the APRICOT trial, liver histology did not predict SVR. She stated, "That's very important. For HIV patients, those with compensated cirrhosis, we might want to treat them and not say it's too late. But you're thinking, 'How am I going to convince my patients to stay on the therapy now, for 18 months with genotype 1?' We can show that the negative effects are outweighed by the benefit."
Also important is when to stop treatment. "If there is no response by week 12, we know there's not a likelihood of response. It's worth stopping treatment, for both monoinfected and coinfected patients. We looked for a two-log drop by week 12."
The best positive predictor of SVR, however, was being HCV-negative at week four, with a positive predictive value (PPV) of 82% for genotype 1 and 94% for genotypes 2 and 3. In comparison, having a 2-log drop in viral load at week 12 had a 45% PPV for genotype 1 and a 70% PPV for genotypes 2 and 3.
"If patients are HCV-negative at week 4, there's a very good chance of a sustained response," Torriani reported. "The earlier I can identify this, the more I can push this patient to stay on therapy. We have Epogen and GCSF to deal with toxicity."
A counterintuitive finding in the RIBAVIC study was that higher AST counts predicted better responses. The study also found that ART without a PI was a predictor of SVR. "As soon as we got that information," said Torriani, "we looked at our data, and we didn't find a difference between PI regimens and non-nuke regimens or those that were nuke-only, which were still used at that time."
RIBAVIC and APRICOT also found that HCV genotype non-1 was a better predictor of SVR than low viral load. In addition, low viral load (<700,000 IU/ml in RIBAVIC and <800,000 IU/ml in APRICOT) was only predictive for genotype 1. Another factor with predictive value was age <40 in RIBAVIC. Both RIBAVIC and APRICOT found no predictive value in CD4 count, weight, or liver histology. Of note, however, there were few patients enrolled with less than 200 cells/mm3.
The relapses in Laguno were particularly instructive. While there were only 3% fewer responders at the end of therapy than there were the at end of follow-up for genotypes 1 and 4 (from 41% to 38%), there was a greater drop-off for genotypes 2 and 3, from 68% at end of therapy to 53% at end of follow-up. Torriani speculated that higher ribavirin doses are needed for fewer relapses. Also, the monoinfection paradigm of treating genotypes 2 and 3 for only 24 weeks may not be valid with HIV/HCV coinfection.
APRICOT did not see a difference in response for genotypes 2 and 3 between end of therapy (64%) and end of follow-up (62%). Genotype 1 had a 38% response rate at end of treatment and 29% at end of follow-up. In the APRICOT trial, no difference in response was discovered between people with high or low HCV viremia among genotypes 2 and 3, but patients with genotype 1 were found to have large differences in response. Of particular note, with PEG-IFN and ribavirin there was a 61% response for people with genotype 1 and low viral load, but only an 18% response for those with genotype 1 and high viral load. A 61% response is very good in coinfection, Torriani pointed out. In comparison, the response was 61% and 63% low and high viral load in genotypes 2 and 3.
On the topic of safety, Torriani said there were two treatment-related deaths in RIBAVIC and one in APRICOT, and a high incidence of fatigue and depression. "Depression is clearly present, but it is manageable if you treat it early," Torriani said (Table 7). There were very few hepatic decompensations, and discontinuation for adverse events was "quite low," but higher in Laguno (Figure 1).
Table 7. General Safety PEG-IFN Arms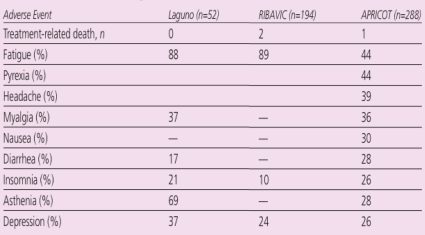 Figure 1. Safety and Adverse Events in PEG-IFN/Ribavirin Trials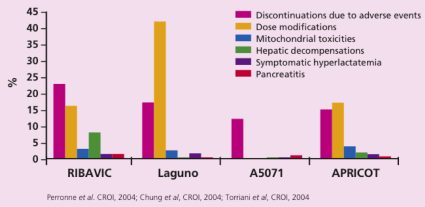 Three conditions occurred which had not previously been seen in monotherapy trials:
Hepatic decompensations in RIBAVIC and APRICOT;
Symptomatic hyperlactatemia (SHL) in RIBAVIC, Laguno and APRICOT (less than 5% of patients); and
Pancreatitis in RIBAVIC, ACTG 5071 and APRICOT (again, less than 5% of patients).
In APRICOT, there was a 10.5% incidence of hepatic decompensation in people with cirrhosis (14/133), versus 1.6% for the study as a whole (14/866). These were distributed evenly across arms, and 13 occurred before 24 weeks. Six patients died. Coinfected patients with compensated cirrhosis should be monitored closely during IFN-based therapy.
Symptomatic hyperlactatemia was seen in 1.1% (10/866) of participants, and pancreatitis in 0.7% (6/866). The latter occurred only in people with advanced cirrhosis, all of them on antiviral therapy. "The use of ddI, thrombocytopenia, high bilirubin [count], and anemia were really the factors that were mainly associated with decompensation," Torriani said. These were also found in RIBAVIC. Stefan Mauss (Center for HIV and Hepatogastroenterology, Düsseldorf) and colleagues have reported on MTs that occurred during APRICOT.62
An APRICOT pharmacokinetic nested study, however, found no interactions between ribavirin and ZDV, d4T, or 3TC.63 "So this concern can be completely laid to rest," Torriani said. A ribavirin dose of 800 mg daily did not affect the intracellular metabolism of ZDV, d4T, or 3TC, or their corresponding endogenous nucleoside triphosphates, and ribavirin did not modify the plasma concentrations of the three drugs.
No participants in the IFN arm withdrew from APRICOT for laboratory abnormalities, 5% withdrew from the PEG-IFN with placebo arm, and 3% from the PEG-IFN with ribavirin arm. Withdrawal for adverse events was 14% for the IFN arm, 12% for the PEG-IFN with placebo arm, and 12% for the PEGIFN with ribavirin arm. For non-safety reasons, withdrawals were 24%, 15%, and 10%, respectively. The 24% withdrawal rate in the IFN arm is probably due to non-response. The occurrence of serious adverse events, however, was 15%, 21%, and 17% for the three arms, respectively.
A 7% neutropenia incidence in RIBAVIC was attributed to PEG-IFN-2b, while a 27% incidence was attributed to PEGIFN-2a in APRICOT. The RIBAVIC study attributed a 10% anemia incidence rate to ribavirin, while APRICOT attributed a 16% incidence to that drug. "But again," said Torriani, "these are toxicities that we can control. If that is the cost that we have to pay [for side effect management], then we need to pay it, because these are the only therapies we have."
In APRICOT, absolute CD4 T-cell counts dropped but then recuperated completely, there was a slight increase in CD4 percentage, and opportunistic infections were not seen. Meanwhile, HIV viral load dropped 0.7 log while on therapy and then rebounded when treatment was stopped, indicating that PEG-IFN may have significant anti-HIV activity.
Hepatotoxicity and HAART
Tufts University School of Medicine's Barbara McGovern began her presentation by pointing out that HAART-induced liver toxicity can lead to patients stopping their medications, and that though the literature is filled with case reports of severe liver injury and even death, there are no clear monitoring guidelines. She called this "very, very frustrating."
The liver is the conduit for biotransformation of almost all drugs. The phase 1 oxidative reactions of CYP450 have the potential to create harmful metabolites, while the phase 2 conjugation reactions may protect the liver from active metabolites. Deficiencies in the detoxification process, notably in glutathione conjugations, can contribute to drug-induced liver disease (DILD).
Drug-induced liver disease may be predictable, or unpredictable. Acetaminophen is the prototype of the predictable DILD. These reactions are dose-dependent and host-independent, occur with high incidence, and have early onset. Unpredictable drug reactions are host-dependent, have a low incidence, and are not dose-related. The vast majority of drug reactions in HIV patients are unpredictable. Here the drug metabolite affects immunologic response as well as exerting direct toxicity. All of this is difficult to tease out.
Host-mediated hypersensitivity reaction is one type of unpredictable side effect. Symptoms include fever and rash; eosinophilia is a possible laboratory abnormality, but McGovern noted that physicians would be lucky to see this red flag because it is an unusual symptom. This reaction has an intermediate onset of one to eight weeks; incidence is one in 1,000. The prototype drug for this type of reaction is halothane.
There are two hypotheses pertaining to mechanisms of hypersensitivity reactions. The Hapten hypothesis asserts that reactive metabolites covalently bind to a macromolecule. Some believe this is similar to an isoenzyme of the CYP450 system, which generated that metabolite. This is perceived as a neoantigen, which stimulates both arms of the immune system, leading to hepatic sensitization, and hence the flare.
The "danger hypothesis" adds to the understanding. It asserts that the right environment is necessary for the reaction; that immune response to the perceived neoantigen only occurs if the "danger signal" is seen. "This may be cytokines or it may be chronic inflammatory cells," said McGovern.
Host-mediated hypersensitivity reaction is probably the mechanism for early-onset DILD with NVP or ABC. This reaction presents with rash and intermediate latency of one to eight weeks, and with ABC, is associated with specific HLA backgrounds.
Host-mediated "idiosyncratic" metabolism accounts for the vast majority of reactions. These host differences in drug metabolism may lead to an excess of reactive drug metabolites via aberrant pathways, or perhaps deficiencies of certain enzymes that are necessary to break down the drug. They may have a long latency, approximately two to 12 months. This is a major concern, as at this time, there is no way to predict this type of reaction.
Absent a blood test, there are clues to potential reactions. Women seem to be at higher risk for drug toxicity in general. Knowledge of genetic polymorphisms might help, for people who metabolize a drug in a way that leads to an increase in metabolites. Metabolic risk relates particularly to obesity.
Most importantly, clues come from alcohol use. McGovern stated, "I think alcohol use is the most important aspect in our HIV/HCV-coinfected patients, because of increased reduction of reactive oxygen species (ROS) that contributes to liver damage; also, the revving up of cytochrome 2E1, which is important to how drugs are metabolized. Alcohol depletes glutathione as well, which is very important for rescuing the host from toxicity."
Drug levels, HIV status, and duration of treatment may all affect reactions. HIV itself is associated with increased risk for hypersensitivity for Bactrim and oxacillin. HIV is also associated with decreased stores of glutathione.
McGovern next tackled the implications of three antiretroviral drug classes on liver disease. With respect to NRTIs, she reminded delegates that duration of treatment is most important in relation to this drug class, which is associated with:
inhibition of DNA polymerase gamma;
decreased oxidative phosphorylation;
defect in pyruvate metabolism; and
increased lactate production.
The last item is of particular concern, said McGovern, who called it "one of the scariest things you'll ever see. It has a life of its own, and once it's there, it's rolling."
Nucleoside reverse transcriptase inhibitors have been associated with MT. Impaired mitochondrial function can lead to a decrease in free fatty acid (FFA) oxidation. Free fatty acids accumulate and are metabolized to triglycerides, leading to hepatic steatosis.
There are two patterns of steatosis. In macrovesicular steatosis, hepatocytes contain a single large vacuole of fat (TG), which fills up the cell, pushing the nucleus to the periphery.
Much more important is microvesicular steatosis, where hepatocytes are filled with numerous small lipid vesicles which leave the nucleus in the center of the cell. This implies impairment of mitochondrial oxidation of fatty acids with resulting severe energy crisis. "When you see these foamy-looking cells, there is severe energy crisis," McGovern said.
McGovern presented "old data that ring true." In 1994, J. Louise Martin (Burroughs Wellcome Co., Research Triangle Park, North Carolina) and colleagues published an in vitro study showing MT associated with NRTIs.64 There is close to zero effect from ABC, ZDV, or 3TC on inhibition of polymerase gamma, but there is a clear effect from d4T, ddI, and especially ddC.
At the 12th CROI, McGovern and colleagues presented a multicenter study of hepatic steatosis in HIV/HCV-coinfected patients.65 Two thirds of their coinfected patients who had received liver biopsies had some steatosis. Not surprisingly, HCV genotype 3 correlated with the risk of steatosis; this has already been defined in HCV monoinfection.
Much more interesting was the difference between the nucleosides being used. Patients who were not on dideoxynucleosides had a multivariate OR of 2.65 for developing steatosis. The OR was much higher for patients taking ddI and d4T (4.63). "Of those patients with steatosis, 17% had evidence of pure microvesicular steatosis -- severe energy crisis and mitochondrial impairment," McGovern reported.
McGovern explained that with the NNRTI class, case reports focus on NVP, including reports in health care workers using PEP; one of whom required a liver transplant. At the 8th CROI in 2001, John A. Bartlett (Duke University, Durham, North Carolina) reported on the FTC-302 trial.66 In this trial, all the patients diagnosed with hepatotoxicity were on NVP; of 36 cases, 33 occurred within four weeks of beginning the drug. Women were twice as likely to experience hepatotoxicity; only one third of the patients experienced rash. The talk of the conference was that greater CD4 counts were associated with increased risk. "Maybe if you have a better immune system you're at greater risk. It makes sense, because of the stimulation of the immune system and the neoantigens."
Ron Palmon (New York University, New York) and colleagues reported a very low incidence of grade 3 or 4 AST/ALT elevation with NVP, but McGovern noted that 92% of the patients were men, and the median CD4 count was 254 cells/mm3.67
In retrospective analysis of 568 patients with NNRTI-associated DILD, Sulkowski found that 312 were on EFV and 256 on NVP.68 In the NVP group, patients were more likely to be coinfected with hepatitis B or C and to be on PI therapy. This group was found to have a relative risk of 2.21 (confidence interval [CI] 1.04 - 4.6). Of the NVP patients, 15.6% had grade 3 or 4 ALT, compared to 8% for EFV, which McGovern said "is not innocuous." Nevirapine toxicity occurred within the first three months in only one third of patients. This raises the question of whether there are two different mechanisms for NVP toxicity, which would determine early or later onset, or whether PIs were later prescribed.
A "very extensive cohort" from Boehringer Ingelheim, cutting across many groups on NVP (n=1,731), found that most cases of asymptomatic ALT of >5 times ULN occurred in the first three months.69 At higher risk were women; women with baseline CD4 counts of >250 cells/mm3 and men with baseline CD4 counts of >400 cells/mm3; people with a baseline ALT or AST >2.5 times ULN; and patients with HIV/hepatitis B (HBV) coinfection.
Liu et al raised the question of whether immunosuppression might be protective.70 McGovern said, "I think so, probably because of the mechanism underlying this type of toxicity." Liu reported that EFV hepatotoxicity has a longer latency of onset.
Interest in the potential for hepatotoxicity with the PIs began in the 1990s with case reports on IDV, which included reports of deaths. The focus quickly shifted to RTV, particularly with a study published by Johns Hopkins University's Sulkowski.71 The prospective cohort of about 300 patients showed that RTV had a much higher incidence of moderate or severe hepatotoxicity than other PIs studied, regardless of underlying coinfection.
Conflicting data have been published since that report. Earlier studies looked at high-dose RTV, which is no longer used. A paper by Curtis Cooper (University of Ottawa) showed that in his very small group of patients, low-dose RTV seemed to be very safe.72 Another Sulkowski paper also suggested that low-dose RTV is safe.73
Certainly, NVP should be avoided in women with CD4 counts greater than >250 cells/mm3. But McGovern stressed that health care providers should be vigilant about mitochondrial toxicity. She discussed a particular patient seen by an infectious disease fellow. The patient complained of weight loss, and was having a workup done for that. He also had nausea and bloating. He had a chest X ray and thyroid function tests, among several other measurements.
"But you ask the patient how long he has been on ddI/d4T and he says five years -- it's time to get that lactate level, and sure enough [his results] came back 5. I think that really was the reason for his symptoms, but I don't know yet because I haven't seen the follow-up. You have to keep driving it back home to your ID fellows -- don't forget lactic acidosis, especially when people have been on drugs a long time. That's when you actually have to worry," McGovern said.
An ACTG report on 10,000 patients from 21 trials found no increased class-specific hepatotoxicity. Most drug reactions were unpredictable.74
Ritonavir should be avoided in cirrhotics. On day 14 of a PK study of 12 HIV/HCV-coinfected patients taking LPV/r, RTV area under the curve (AUC) was 41% higher in the six patients with mild LD and 185% higher in the six patients with moderate LD, compared to 12 HIV-positive controls.75
McGovern said that "the ugly head of viral hepatitis has reared," as more than 15 studies share the consistent finding that HBV and HCV underlie hepatotoxicity when patients are on HAART. (She soon, however, explained the differences between the two viruses.) Abnormal aminotransferases at baseline predict risk. Nevertheless, the majority of patients with chronic hepatitis are able to tolerate HAART, and it is important that they understand this.
The theory that immune reconstitution with HAART may be an underlying mechanism for hepatotoxicity in chronic hepatitis is an attractive one, McGovern said, but it is presented "almost as if it's dogma," and there is no concrete proof that it is true. The idea was first proposed in 1998.76 In a cohort of patients, three had severe flares of liver function tests and the reappearance of hepatitis C antibodies after taking HAART. The paper suggested that this signified immune reconstitution. "But I would say that just because you have sero-reverted your [hepatitis] C antibodies doesn't mean anything about cellular immune responses."
Other papers have shown increased HCV RNA while initiating HAART, during the time HIV RNA is decreasing. This may be viral interference, which is very well described for HBV and HCV. "We don't know that [hepatitis] C RNA correlates with hepatic flares, but some authors say that perhaps we are restoring the immune system so that there is recognition of [hepatitis] C at the level of hepatocytes, and so we have hepatocytonecrosis. It makes sense."
Regarding CD4 gain and hepatic flare, there are data on either side of the fence, so neither hypothesis has yet been proven.
But for HBV, said McGovern, "We know very well that cellular immunity plays a critical role." She discussed a potential problem HIV/HBV-coinfected patients may face with the withdrawal of 3TC. "If your patient has [3TC] resistance, so you took them off, you may forget that they have underlying [hepatitis] B that was controlled. You have a hepatic flare that you may misinterpret as drug toxicity, but it may be re-emergence of [hepatitis] B because you were withdrawing the drug. Or, your patient may have emergence of [hepatitis] B resistance on [3TC] monotherapy."
"Also know that treating [hepatitis] B helps improve T-cell responses, which contributes to viral control," she continued. There have been "beautiful case reports" showing that HAART and immune reconstitution have been associated with the clearance of hepatitis B antibodies. In one report from Australia, a patient taking HAART containing no active agent against hepatitis B completely seroconverted, and almost died while doing so.77 After his severe hepatitis flare, he eventually completely cleared hepatitis B without a hepatitis B agent.
Hepatitis C virus may play a role in and of itself due to its association with depleted glutathione stores, as shown by a few studies. In response to a question about supplements, McGovern said that it is not known whether supplementation or antioxidants help. The hepatitis C virus's core protein also leads to mitochondrial injury, oxidative stress, and production of ROS.78 This, in turn, contributes to liver injury. There is also increased lipid peroxidation, again increasing risk of toxicity.
There may also be antecedent liver injury. Severe liver injury and hepatic decompensation have been reported following the initiation of HAART.
McGovern called one report "very provocative."79 Fifty-one patients with biopsy-proven chronic HCV before starting HAART were put on varying PI regimens. Several experienced severe hepatic flares, and a subset of 32 patients were re-biopsied. "And they found that the necroinflammatory activity of the liver biopsy had worsened considerably, from a mean Knodell score of 8 to 13. Now that's very, very interesting data."
Again, glutathione levels are low in advanced LD. There is also a decreased expression of CYP450 enzymes in cirrhotics, which affects drug elimination. This raises a concern about RTV, because of its potent inhibition of CYP450. Chronic viral hepatitis also indicates the presence of inflammatory cells, which may predispose patients to cytokine imbalance, again favoring liver injury, as with tumor necrosis factor.
Why was DILD not seen earlier? McGovern recalled that registration trials enrolled patients with near-normal aminotransferase levels, and sometimes patients with hepatitis were excluded. Post-marketing experience helps to rectify this lack of information. Moreover, HIV patients have a high prevalence of HCV, and "maybe HIV and HCV are double trouble, somehow, in some way, that we haven't just figured out."
Do we know what governs the severity of hepatic flares? Most aminotransferase elevations are mild. Physicians frequently find that patients with hepatic flares get better despite staying on their regimens. "This has been well-described, even by the FDA. Flares just come down. Hepatologists refer to this as adaptation," McGovern said.
Which should physicians treat first: HIV or HCV? McGovern pointed to a "very interesting study" about tuberculosis (TB), which found that HIV/HCV-coinfected patients had a 14-fold higher risk of drug hepatotoxicity when treated for TB.80 Of these 134 patients, four had recurrent liver injury when the physicians continued to treat the TB. "Out of desperation, they tried to treat the hepatitis C first with [IFN], and then were able to successfully treat the TB. Was that immune reconstitution? Obviously not. But I think [IFN] has a role as an anti-inflammatory. It may be altering the cytokine milieu in the liver."
Massachusetts General Hospital's Chung, in an ACTG study, showed that in virologic nonresponders, a significant proportion of patients will have a histologic response.81 Of 45 nonresponders on IFN and ribavirin, at week 24, 16 (36%) had a histologic response. For the PEG-IFN and ribavirin arm, of the 26 nonresponders at week 24, 9 (35%) had a histologic response. "So [IFN] does something positive even if it doesn't cure a patient," McGovern said.
McGovern's report at the 2004 Infectious Diseases Society of America (IDSA) meeting concerned HCV treatment in a case series of 10 patients with a history of grade 3 and 4 hepatotoxicity, with severe necroinflammatory changes.82 (One patient was not biopsied because he had cirrhosis.) "Asymptomatic and symptomatic toxicity are two different animals," she noted. "The focus is on symptoms." These patients had very low T-cell counts and high viral loads at the time of referral to her coinfection clinic, because they continued to experience hepatotoxicity when on therapy and were taken off by their physician. All 10 patients are still on HAART. One patient went from 10 T cells to 70, "out of the danger zone."
"Your first hepatotoxicity is the time to evaluate," McGovern said. "Get a liver biopsy and see what's going on." Bring a hepatologist on board.
Separate symptomatic from asymptomatic flares. Look for jaundice, mitochondrial toxicity, and hypersensitivity. "I think we need to educate our patients about the signs. Nausea and vomiting was seen two days before hypersensitivity in one study. Two deaths could have been avoided. Rash was seen two weeks before liver injury." Even in cirrhotic patients, high enzyme levels may not occur. She suggested physicians ask about pain, nausea, and loss of appetite. She avoids new drugs for patients with chronic LD until postmarketing data become available, and uses as few drugs as possible in cirrhotic patients. Consider other causes for hepatitis; for instance, ask about occult alcohol abuse, which is critical.
Among the limitations of current data on HAART-associated hepatotoxicity, the most worrisome is that the definition of DILD differs from study to study, so that trials cannot be compared. Another problem is that disease is not categorized as symptomatic or asymptomatic. Incomplete data on hyperbilirubinemia and a lack of histopathology are common. Also missing is information on alcohol use. She noted that when studies do ask about alcohol, "it rose to the top for risk."
It is important to assess whether patients have chronic viral hepatitis, to obtain baseline aminotransferase levels, and to evaluate synthetic function and stage LD. The monitoring of laboratory results, however, is still a "murky" area, McGovern said.
She stressed, "Educate the patient!" This is probably the most important thing learned from tuberculosis colleagues. "It's important to know when to pick up the phone with nausea. If they think, 'Well, thank God I'm going to see my doctor in two weeks,' that's not good."
Enid Vázquez is Associate Editor of Positively Aware, which is the journal of the Chicago-based Test Positive Aware Network.
Editor's Note: This issue of the IAPAC Monthly covers three of the four topics addressed at the IAPAC North American Sessions 2005. Visit www.iapac.org in December 2005 to download an IAPAC Monthly supplement featuring the remaining topic, "From Bench to Clinic: Optimizing HIV Clinical Management."
References