Introduction
Over the past two years we have witnessed tremendous developments in the effort to extend necessary care and treatment for HIV/AIDS to the world's most affected regions. Although access to life-saving antiretroviral (ART) therapy remains extremely limited -- some 440,000 out of 6 million persons in immediate need have been reached thus far
1
-- the foundation for rapid ART scale-up has been laid through successful harnessing of political and financial commitments, antiretroviral (ARV) drug price reductions, and establishment of important legal and trade frameworks. One may believe, therefore, that while the ambitious goals of the World Health Organization (WHO) "3 x 5" initiative, for example, may ultimately prove out of reach, the spirited movement that they signify is meeting with some success.
Although HIV infection has been a veritable death sentence for most people living in resource-poor countries, the possibility of ARV access promises to revitalize families, communities, and nations reeling from the effects of the global AIDS pandemic. The hope that this inspires is quite palpable. However, the introduction of these sophisticated medicines into settings hamstrung by conditions of poverty and limited infrastructure raises new questions about how best to ensure the health and increased welfare of the populations for which they are destined.
Among the questions we face are ones such as how best to ensure that ARVs are complemented by development of infrastructure, including increased access to necessary care services and the rapid training of healthcare professionals; how to ensure patient adherence and a sustainable flow of antiviral and complementary drugs; how to address the inevitable metabolic and morphologic complications of highly complex multidrug ART; and how to cope with the inevitable failure of first-line ARV regimens in many patients when second, third, and salvage regimens remain prohibitively expensive and/or unavailable in many settings.
Advertisement
Below this rapidly growing numerator of questions and challenges lies a common denominator of realities that renders our shared interest in expanding access to these life-saving medicines a potentially untenable journey. Awaiting these shipments of drugs are skeletal healthcare systems that often define scarcity in nearly every sense; governments which are often obligated to pay greater annual service on foreign financial debt than they spend on all social services combined; doctors, nurses, and allied health professionals who are and will be asked to prescribe and monitor drug treatment modalities that in wealthier nations are not top choices and are often of constricted efficacy; and nations which are grateful for assistance, but have no certain way to guarantee the sustainability of services that are being expanded, should foreign assistance dollars suddenly evaporate. Indeed, our hope is tempered by the serious challenges that lay ahead.
Against this backdrop, the International Association of Physicians in AIDS Care (IAPAC) recently accelerated its advocacy and technical assistance efforts aimed at ensuring that the fight against HIV/AIDS is everywhere undertaken in full view of these challenges and with the human right to health as the centerpiece of mounting global activity. The XV International AIDS Conference in Bangkok served as the catalyzing event at which this program was launched.
Entitled "State of AIDS Care 2004: One World, Multiple Standards," IAPAC's July 15, 2004, satellite symposium was designed to reveal -- via the experiences and insights of hand-picked experts -- snapshots of the quality of care available to people living with HIV in regionally diverse areas, and to elaborate the dichotomy between state-of-the-art care available to a few, and the status quo of care available to most. Presentations focusing on Botswana, Brazil, Haiti, Russia, Uganda, and Thailand were nestled between opening and closing remarks which, respectively, explored broad global care and treatment issues, and the WHO's efforts to grapple with the matters at hand.
Opening the proceedings, IAPAC President/CEO José M. Zuniga set the mood for the evening by engaging the sensibilities of a kindred battle -- the US civil rights movement -- drawing an analogy between the predicament faced by civil rights leader Martin Luther King Jr., and that now confronting the global community at its latest crossroads in the fight against HIV/AIDS.
The passages, captured in King's famous "Letter From a Birmingham Jail,"2 bear repeating. A white supporter of the cause, seeking to comfort King through a calmed acceptance of the slowness of change, wrote to King: "Christians know that the colored people will receive equal rights eventually, but it is possible that you are in too great a religious hurry. It has taken Christianity almost 2,000 years to accomplish what it has. The teachings of Christ take time to come to earth." To this letter, King responded in meditations penned on scraps of jailhouse paper:
Such an attitude stems from a tragic misconception of time, from the strangely rational notion that there is something in the very flow of time that will inevitably cure all ills. ... Time itself is neutral; it can be used either destructively or constructively. Human progress never rolls in on the wheels of inevitability; it comes through the tireless efforts of men willing to be co-workers with God. ... Without this hard work, time itself becomes an ally of the forces of social stagnation.
Such tenacity in the face of great challenges, Zuniga noted, must infuse our collective efforts, and the challenges ahead should not discourage us from charging forward. "For our part," he declared, "IAPAC commits itself to acting as a full partner in the immediate effort to expand access to life-saving and -enhancing treatment, but we are gathered here to say that this must be done with a view of health as a human right, and a focus on not resting until we have eliminated the differences in standards of care for this disease that remain the unfortunate reality."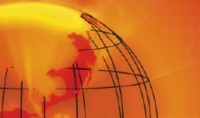 Moving on from guiding principles to practical issues, Zuniga proceeded to paint a quick picture of the epidemiological picture that is the global AIDS pandemic, and to elaborate the various challenges that are faced. Reminding the audience that ART expansion is but one among a series of necessary responses, Zuniga categorized the first-line challenges as the scale-up of prevention efforts; scale-up of treatment; the feminization of the epidemic (coping with deepening gender imbalances in infection rates and access to services); impact alleviation, with focus on the growing "orphan" generation; and the continued harnessing of political, financial, and technical resources.
Describing the slow pace of progress in the two-plus decades of the global pandemic, Zuniga related estimated figures regarding the mounting need for financial resources for global prevention, care, and support efforts: US$8 billion in 2004, doubling to US$15 billion by 2007. Of course, the greatest single cause of increases in required funding will be for the ARVs needed to treat infections not prevented. It is troubling to add, Zuniga remarked, that as the funding need grows so too does the gap between need and actual commitments.
The greatest single portion of the opening presentation, informed by IAPAC's longstanding contributions to and experiences in this area of concern, was spent discussing the issue of gaps in the numbers of and HIV care knowledge among healthcare providers in resource-constrained settings. Citing a July 2004 report to provide an example of healthcare service gaps, Zuniga noted that among six high-burden Asian countries, the HIV-trained physician to HIV-positive patient ratio varies anywhere from a high of 1:3,140 in Cambodia to a low of 1:11,250 in Vietnam.3 Of course, these are numbers that would pale in comparison to the situation in the majority of high-burden African nations. Overall, many experts agree that mere access to HIV-trained personnel is the single greatest challenge to appropriate care and support. Asked to tell you how manageable are patient caseloads of these sizes, most physicians and allied care professionals working in the luxurious (by comparison) settings of affluent countries would surely opine that quality of care would have to be greatly sacrificed.
Country Perspectives
Thailand
The symposium's country-specific presenters further defined the global landscape Zuniga surveyed. Each provided unique insights into the particular status quo and challenges faced in their respective settings. The first of these, Praphan Phanuphak (Thai Red Cross AIDS Research Centre, Bangkok) reiterated the pointed statement contained in the symposium's title "One World, Multiple Standards," noting that while the global community rarely speaks to these multiple standards, they exist everywhere, and the first order of business must be to address them openly, and with due candor.
Phanuphak's country presentation revealed that in Thailand -- a country typically cited as a success story -- almost 25 percent (150,000) of the 604,0004 people living with HIV/AIDS are in immediate need of treatment; however, only 33,000 are on ART. To those 33,000 (13,000 treated through government-funded programs and 20,000 through third-party sources) will be added another 50,000 throughout 2004, all treated with the country's fixed-dose generic drug combination GPO-Vir [nevirapine (NVP)/lamivudine (3TC)/stavudine (d4T)]. However, Phanuphak urged the symposium attendees to not only consider the length of time that it has taken Thailand to reach these levels, but to also question the difference between mere access to emergency medicines and actual long-term quality of care.
To begin, Phanuphak listed the armamentarium of ARVs available within Thailand, noting that while generic versions of seven individual ARVs and two coformulations exist, the standard of GPO-Vir as first-line treatment in ARV-naive patients contradicts what clinical evidence suggests are more appropriate choices [e.g., zidovudine (ZDV)/3TC/efavirenz (EFV) or didanosine (ddI)/3TC/EFV]. Further, he noted that despite indication of their high effectiveness, agents such as tenofovir (TDF), lopinavir (LPV), and atazanavir (ATV) are not available to the vast majority of prescribers.
Another area of multiple standards, Phanuphak noted, is in the prevention of mother-to-child transmission of HIV (PMTCT) where single-dose NVP prophylaxis continues to be favored over full-course treatment for HIV-infected mothers -- the standard in more affluent countries -- with no consideration of ZDV as an alternate prophylactic measure, despite strong evidence of its favorability. The consequence continues to be a high rate of NVP resistance in a context where the recommended first-line treatment regimen is an NVP-containing coformulation. Across all treatment concerns, Phanuphak related that while six-month CD4 count follow-up is standard procedure, access to viral load and genotypic resistance testing remains highly limited, rendering patient monitoring and detection of treatment failure complicated.
Phanuphak echoed the concerns Zuniga articulated in his opening presentation in listing the training of healthcare providers, amendment of existing health service practices (e.g., allowing select cadres of nurses to prescribe drugs), and the need for more clinical research on strategic treatment options [e.g., ritonavir (RTV)-boosted indinavir (IDV) versus the expensive double protease inhibitor (PI) combination of saquinavir (SQV)/LPV] as essential to ART scale-up success and sustainability in Thailand.
Overall, Phanuphak urged his Thai compatriots to continue to earn the country's reputation within the global community by fighting to eliminate HIV-related stigma, to accept the cost-benefit of investing in high-quality HIV care and treatment interventions sooner rather than later, and to act as a global leader in these areas not because of pressure from external sources, but because of a generalized desire for the betterment of Thai society.
Brazil
Of his middle-income nation, Celso Ramos-Filho (Federal University of Rio de Janeiro) delineated a history of successes, followed by an interesting series of current and projected challenges that proved a true education for all. He started by tempering the tendency of some to imply that all is rosy in the world's fifth largest country when it comes to its AIDS epidemic. Although an estimated 600,000
5
Brazilians are living with HIV/AIDS, and though care and treatment are constitutionally guaranteed and have been largely achieved through political commitment and a flourishing generic drug manufacturing sector, only an estimated 215,000 of those living with HIV are being followed up (of which 142,000 are on ART). And, approximately 385,000 have not entered into the healthcare system for HIV care. Indeed, it is thought that the majority of these 385,000 are not even aware of their serostatus.
To Brazil's credit, a chart presented by Ramos-Filho showed a nearly perfect 45-degree incline, depicting the number of patients who have been placed on ART over the past decade. From 1997 to 2004, these numbers have increased each year, from a base of 20,000 in 1997 to over 140,000 as of early 2004. The result (from 1996 to 2002) has been a decrease of 40 percent in mortality (90,000 prevented deaths) and 70 percent in morbidity; a reduction in hospital admissions of 80 percent (358,000 in total); savings to the economy of US$1.23 billion in hospital services and treatment of HIV-related opportunistic infections; and a reduction of US$960 million in drug prices.
The services responsible for the above figures are delivered by 950 HIV/AIDS care units across the country, including 388 accredited hospitals, 420 outpatient units, and 63 home-care units. However, these services are disproportionately centered in high-density, urban settings. Though the majority of HIV-positive Brazilians live in these areas, there are alarming gaps between urban and rural care infrastructure, which must lead to differing epidemiological situations in various regions of the country. In other words, while Brazil remains a shining example, if one looks beyond major urban centers such as Rio de Janeiro, Sao Paulo, and Brasilia, discrepancies in incidence and mortality rates across the country's different regions are startling. As Figure 1 shows, there continue to be plateaus or alarming increases in both incidence and mortality in certain regions, such as North and Northeastern Brazil, while in others these rates have declined significantly.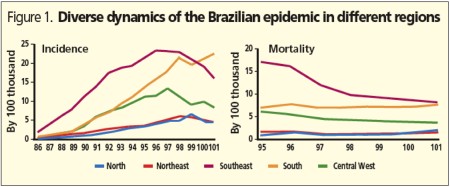 This picture of "two Brazils" is compounded by an increasing gender imbalance. In regions where a decline in incidence rates has been experienced, the rate of decline is typically half as slow for women as men, and where incidence rates are growing (again, most notably in the north and northeast of the country), they are increasing twice as rapidly for women as men. This gender imbalance also has its own regional character. For instance, while the average percentage of HIV-infected pregnant women across Brazil who receive ZDV prophylaxis during labor is 35.5 percent, regionally specific data indicate that this rate varies widely -- 50 percent receive ZDV in the southeast; 42 percent in the south; 18 percent in the central west; 10 percent in the north; and a mere 8 percent in the northeast. Consequently, these inequities are reflected in vertical transmission rates, with a low of 5.5 percent transmission in the south and a high of 14.86 percent in the north.
Ramos-Filho stated that his country will only retain its global reputation in HIV care and treatment if it is able to grapple with these regional differences and with the feminization of the disease. Finally, he shared various data revealing the relative success of Brazil in achieving ARV price reductions through a mixture of generic manufacture and price negotiation for brand name drugs. Of particular note is the fact that the mean price reduction has been nearly twice as great for drugs that are produced locally versus those imported from abroad (83 percent versus 47 percent).
Botswana
Botswana is the first African nation to embrace the challenge of ART delivery on a national scale, in the face of the second highest HIV prevalence rate in the world (37.3 percent).
6
Ernest Darkoh (Botswana National ARV Program, Gaborone) endeavored to describe how HIV care and treatment efforts in the diamond-rich country are unfolding.
Nestled in the current epicenter of the AIDS pandemic, Botswana benefits from a longstanding civil peace and from a commitment at the highest political levels to combat the nation's AIDS epidemic. In 2001, the government of Botswana made the commitment to provide ART to all those in need. This promise has been coming to fruition gradually through "Masa," the national ART program (named after a Setswana word meaning "new dawn") and its various governmental and private sector components, including a collaboration between Botswana's government, the Bill & Melinda Gates Foundation, and the Merck Company Foundation, known as the African Comprehensive HIV/AIDS Partnerships (ACHAP).
Describing the difficulties of poverty and logistics in developing countries attempting to treat with ARVs, Darkoh argued that even if treatment for HIV/AIDS consisted of nothing more than a glass of clean water every day, it would be an enormous task to deliver it to all the people in need. Darkoh stressed that the greatest obstacles to effective HIV treatment in the country are the severe shortage of trained healthcare personnel, the challenge of reducing numbers of patients presenting at late stages of disease, and the logistical complications of reaching disparate populations with a steady supply of drugs and regular follow-up.
Despite great odds, Botswana has achieved notable success in mounting care and treatment programs in recent years. As of June 2004, Darkoh said of the estimated 260,000 Batswana living with HIV/AIDS, 27,699 persons have been diagnosed with CD4 counts of <200 cells/mm3 or an AIDS-defining illness (the criteria for ART initiation), of which 24,087 have been placed on ART. This number, however, still falls short of the 110,000 that are estimated to be in immediate need of treatment. Nonetheless, it demonstrates a broad reach across the country's 16 public treatment sites and additional private sector centers. In addition, across all public treatment sites (accounting for 17,387 out of about 24,000 persons on ART) the average mortality rate for those receiving ARVs has been 7 percent.
Darkoh related that ZDV/3TC/EFV is prescribed as the first-line regimen, substituting NVP for EFV in the case of children and pre-menopausal women of childbearing potential. Although no information was shared regarding the frequency of regimen failure, he made clear that second- and third-line regimens are available through the national program (ddI/d4T/nelfinavir (NFV) and RTV/SQV, respectively). Unlike most other resource-poor countries, however, a high level of diagnostic testing and monitoring is provided in Botswana. Although resistance testing continues to be unavailable publicly, the standard work-up for patients on ART through the national program includes a CD4 count, viral load, chemistry, and hematology tests five times a year, and hepatitis and syphilis tests annually.
Darkoh listed several very practical recommendations as lessons learned from Botswana's experience. Foremost, he reiterated that HIV testing through voluntary counseling and testing (VCT) centers has proven the key entry point for all interventions -- treatment, support, and prevention -- and that the quality of these services has a marked impact upon the success of any national effort. In scaling up from no or few ART sites to many, Darkoh stated that the best approach appears to be establishment of small pilot programs, followed by rapid roll-out, as opposed to a phased roll-out scheme.
To these recommendations, however, he added several important caveats. Most notable among them were, first, to appreciate that typically, the sickest patients will present first, and so there is a need to ensure a balance between equitable access and emergency care; second, to appreciate that the greatest burden of service delivery relating to ART is in monitoring and evaluation, and to therefore establish these systems early on in the scale-up plan; and, third, to ensure coordination and alignment of all stakeholders from the outset of the process in order to foster project ownership and avoid redundancies and operational inefficiencies.
Darkoh reminded the audience that the single greatest obstacle to effective and appropriate ART delivery, namely the lack of health service capacity, predated the AIDS pandemic. As such, he urged countries not yet faced with the devastating prevalence rates experienced in countries such as Botswana (and especially those now touted as "next wave" countries) to seize the opportunity to invest in this capacity in advance of escalating HIV incidence rates.
Haiti
Bouncing back across the Atlantic, attendees were next presented with the case of the small Caribbean island of Haiti. Haiti holds two unfortunate titles. It is both the Western Hemisphere's poorest nation and the country outside of Africa with the highest HIV prevalence rate (5.6 percent).
7
Having returned to his native country in 1980 from the United States, Jean William Pape (Centres GHESKIO, Port-au-Prince) has dealt with Haiti's epidemic from its outset, and he drew from this formidable experience in relating the challenges and opportunities for HIV care at this crossroads in the global movement.
Despite its poverty and the tremendous political turmoil that has gripped the nation over the past half-century (13 different governments over the past 18 years alone), Haiti has mounted successful programs in prevention of and care for HIV over the past two decades, stemming the tides of a potentially much more devastating epidemic. With commitments of funding and reductions in the price of ARVs over the past few years, the country has shifted into high gear to add the outstanding component of a truly comprehensive national program, namely ART.
Pape noted that 2002 national guidelines dictating first-line ARV regimens (ZDV/3TC and either NVP or EFV), and recommendations for treatment of HIV-related opportunistic infections, have been implemented using modified urban and rural testing entry point models, the former designed by Centres GHESKIO and the latter by Harvard University's Partners in Health program. These services are being provided in 27 VCT centers nationwide, with several being developed to act as centers of excellence. The rapid scale-up of ART and high-quality patient care in Haiti, he noted, is shaped by several concurrent activities currently underway. The focus on VCT services as the key entry point to care, support, and prevention interventions is being paralleled by a program to rapidly train scores of new physicians, nurses, and allied healthcare providers at those centers and elsewhere, through dedicated on-site and mobile training teams. Additionally, a system of data management is being implemented across that network of testing and treatment centers to monitor patient clinical and laboratory indicators, drug inventories, and site-specific epidemiological indicators.
Pape noted that 2,400 patients in Haiti had been placed on ART as of July 2004. While this figure remains low when contrasted against the estimated 240,000 Haitians living with HIV/AIDS, he noted that the comprehensive approach being undertaken throughout the country to integrate services at VCT centers, coupled with the new promise of access to treatment, will surely cause this number to grow exponentially in the short term. He shared figures from Centres GHESKIO, for example, demonstrating that the number of people tested for HIV had more than doubled from 2000 (10,310) to 2003 (21,328). To accommodate these new numbers of patients entering into formal care services, Pape's centers commenced aggressive healthcare professional training programs in 2000 in cooperation with Cornell University, and have also ensured that patients placed on ART receive extensive adherence counseling and peer support, nutritional support, telephone calling cards, and free transportation to and from treatment sites.
Speaking of Centres GHESKIO's experiences as an example of the national picture, Pape expressed an optimistic outlook on next stages of ART scale-up, based upon results thus far. Of the past year's scale-up efforts he noted that only 4 percent of patients (out of a total of 1,091) placed on treatment have been lost to follow-up, with a 6 percent mortality rate, largely due to very advanced stage disease complications. A greater concern, and one shared by most presenters, was the event of toxicities requiring regimen change in 10 percent of those patients (most commonly due to anemia and rash). In addition to this concern, both for clinical and financial reasons, Pape cited several other issues that must be addressed in Haiti. Among them are the scarcity of diagnostic technologies, including very limited CD4 count availability; the administration and coordination of differing drug supplies, for example generic drugs procured through funds from the Global Fund to Fight AIDS, Tuberculosis, and Malaria versus brand-name versions purchased through the US President's Emergency Plan for AIDS Relief (PEPFAR) funds; and the continuing medical education and mentoring required by trained healthcare personnel.
Russia
From a mood of optimism to one of greater doubt and frustration, symposium attendees were next asked to shift their imagination across another vast expanse of geography and experience, as Julie Stachowiak (AIDS Infoshare Russia, Moscow) presented snapshots from one of the potential "next wave" countries that has captured global attention over the past year -- Russia.
As Stachowiak unraveled her presentation about the status quo of care and treatment in the former Soviet stronghold, it became ever clearer that there was as little in common between the spirit of busy antiviral progress in Haiti and the state of affairs in Russia as there is commonality between the humid languor of Port-au-Prince and the steely nerve of Moscow.
What most distinguishes the AIDS epidemic in Russia -- and those of much of Eastern Europe for that matter -- from its existence elsewhere, is its overwhelmingly predominant mode of transmission. Unlike most other affected regions, where sexual contact or tainted blood supplies account for the bulk of transmissions, Russia suffers from an HIV epidemic spurred forward by a co-epidemic of intravenous drug use (IDU). Stachowiak explained that of the official number of 274,808 reported HIV cases (as of early 2004), anywhere from 80 to 93 percent of those are IDU-related. High-risk sexual behavior, she noted further, is a growing concern, as is the likeliness of vertical transmission of the virus from mother to child, absent effective PMTCT programs. Although the actual rate of transmission of HIV from mother to child seems unclear, 8,458 babies have been born to mothers with reported seropositive status.
In a slide aimed at describing what Stachowiak called, "the horror behind the official numbers," she noted morbidity and mortality figures that bespeak utter neglect of the disease. Most notably, Stachowiak related that of the officially reported number of HIV cases -- itself felt by most experts in the region to grossly misrepresent the actual number of people living with HIV -- 4,403 had died thus far. Of those, only 1,009 individuals had been diagnosed with AIDS-defining symptoms; 700 of them ultimately dying. This means that of those who have died in Russia, with known HIV seropositive status, 84 percent die before being diagnosed with AIDS, with a staggering 70 percent mortality rate in those individuals who are diagnosed with AIDS.
Reasons for this horror run the full gamut of the possible. At its core, a lack of political (and in turn financial) commitment to fighting HIV/AIDS, and discrimination against and a punitive approach toward injection drug use has resulted in widespread stigma, covert high-risk behavior, and a stagnant healthcare system response. In an overall context where a highly limited number of healthcare professionals are trained to diagnose and care for HIV, where state policy remains to deny treatment of injection drug users (including use of opioids), and where ARVs are prohibitively expensive (average cost of ART is US$5,000 to US$15,000 per year compared to US$300 to US$700 in the Ukraine), the virus continues to run rampant.
Currently, Stachowiak stated, while the WHO estimates that 50,000 people need immediate ART, only 2,800 are provided for by national and local budgets; 700 of whom are currently receiving ART; the remainder are left to the dubious benefit of monotherapy. Little patient counseling is afforded, clinical follow-up and monitoring is inconsistent, and in combination with widespread stigma and the behavior patterns that often accompany IDU, adherence in those who are able to access treatment of some sort remains a tremendous problem.
Stachowiak noted the limited signs of hope seem to be appearing either from external sources or from courageous civil society groups fighting against stigma and for healthcare rights, under great strain. Recently, for instance, the Global Fund approved a fourth round proposal for Russia that will infuse a desperately needed US$120 million into the country, largely for treatment efforts. Astride this ray of hope, the World Bank and others continue to support ARV price reduction efforts. And, in the trenches, a new social movement called "Shagi" aims to reduce HIV-related stigma, to expand acceptance of ART for people living with HIV/AIDS, and to harness the energies of groups such as AIDS Infoshare.
In ending her remarks, Stachowiak appealed for greater attention to the potentially disastrous situation that is unfolding in Russia. As for the general state of care and treatment in 2004, her final slide described a chaotic state of affairs that begs no elucidation: "What we have in Russia is not [highly active antiretroviral therapy]. It is pills, and the supply of those is not even consistent. There is discrimination in determining who has access to these medications. There is very little laboratory monitoring, no emphasis on adherence, little communication between patient and doctor."
Uganda
The final country-specific presentation of the evening focused on the African nation of Uganda. The east African country, widely acknowledged as the crown jewel of the African fight to prevent the spread of HIV/AIDS due to the host of measures that it effected to reverse its high prevalence rates relatively early on in the days of the burgeoning global pandemic, has seen a decrease of 4.1 percent, according to the Joint United Nations
1
Programme on HIV/AIDS (UNAIDS). Controversy continues to surround the Ugandan case with respect to just what in fact was responsible for this marked success. The discussion is focused largely on the oft-cited "ABC approach" (Abstain, Be faithful, use Condoms), with actors from all scientific, social, and religious walks of life -- and from all corners of the earth -- measuring in on the debate. Amid this tumult, however, discussed far less often is where the country stands with respect to actual HIV/AIDS care and treatment.
Paula Munderi (DART Trial, Entebbe) delved into the matter from the highly informed perspective of a site investigator at one of the African continent's largest multi-site, multicountry treatment projects. Munderi told the symposium attendees that, in advance of the UNAIDS 2003 figures released at the XV International AIDS Conference, Uganda's National AIDS Control Programme reported that prevalence rates stood at 5 percent for the general adult population (15 to 49 years) and an average of 6.2 percent across the country's antenatal care sentinel sites. Ministry of Health figures for 2002 also included 70,170 new infections for the year; 73,830 new AIDS cases; and 75,290 AIDS deaths. Given a total estimate of 530,000 people living with HIV/AIDS at the end of 2003,8 these figures, depicting the continued progression to advanced disease in large numbers of patients, and a high AIDS mortality rate, bespeak far less success in Uganda with regard to caring for and treating HIV than in preventing its spread.
As with many African nations, the reasons for limited achievement in HIV/AIDS care and treatment do not include a lack of political will or clinical and scientific leadership, nor an inactive advocacy community. Rather, they are rooted in conditions of poverty, lack of healthcare infrastructure, and until fairly recently, the almost complete absence of ARVs.
For its part, the Ugandan Ministry of Health has developed a very robust National AIDS Control Programme that includes a five-year strategy to scale up comprehensive care and support, with attention to implementation of national HIV care and treatment guidelines, broad capacity-building measures, and firm government policy support. This has been supported at the highest political levels.
Given the existence of all of the above, more recent commitments of donor assistance, reductions in the price of many antiretroviral agents, and the initiation of larger ART programs is cause for great hope. As of May 2004, Munderi noted, a total of 23,152 patients had been placed on ART, although the vast majority (16,300) were seen at a few "specialized" and centralized HIV care and research centers such as the Joint Clinical Research Centre (JCRC) in the capital city, and DART Trial sites, rather than geographically diverse public health centers and hospitals. This total of 23,152 patients -- were one taking count so as to measure future success -- may be compared against the 120,000 Ugandans who are estimated to be in need of immediate treatment. Another target that observers may wish to keep in sight is the WHO "3 x 5" initiative target for Uganda of placing 60,000 on ART by 2005, and a full 120,000 by 2007.
These ambitious, but reachable, goals may be frustrated by numerous care delivery challenges. Citing one of the perennial challenges across Africa, Munderi noted that with 18,600 Ugandans for every physician; 133,514 Ugandans for every pharmacist; and 3,065 Ugandans for every nurse/midwife, the challenge of managing drug supplies and providing effective and appropriate care and treatment for this complex disease is immense. To this challenge is added the fact that most patients placed on treatment continue to present at later stages of disease progression, where the relative burden of care and monitoring is greatly increased. A slide depicting experience with patient cohorts in Entebbe exemplified this phenomenon, which is common to many resource-constrained settings (Figure 2).9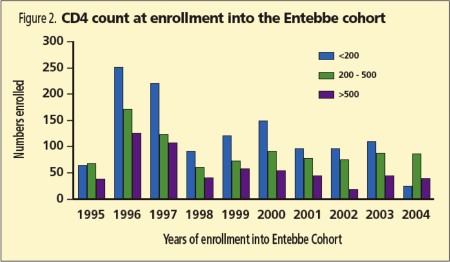 Viewing these figures, one might suppose that the increased proportion of patients presenting at clinic with earlier-stage disease in 2004 than in previous years suggests greater uptake of care services due to the actual promise of treatment, and societal acceptance of its benefits. One hopes data from years to come will substantiate this interpretation. And there are many signs at this point to suggest that hope, rather than pessimism, is in order.
Regarding other challenges to effective care provision, Munderi noted the enhancement of laboratory capacity and greater accessibility of these services as paramount. Currently, vital microbiology, histology, and special imaging tests, for instance, are available only at select centers of excellence in the capital city. These will become ever more critical with the advent of large-scale ART in order to ensure earlier diagnosis of disease and subsequent monitoring for ARV toxicities. To compliment this clinical component, she added, are required greater patient adherence support interventions, measures to ensure equity in access to care and treatment, and a forward-looking, multi-sector approach to the pandemic that will ensure the sustainability of treatment services.
Vukile: South Africa's New Day
A global darling and story of inspiration in many respects, South Africa has, over the past decade, managed to shake off many of the shackles of a repressive political system, trudging forward progressively through a period of political and social transition. Not resting contented, the state has set its sights on rising to even greater global stature by welcoming myriad international congresses and conferences and even declaring its readiness to act as host to prestigious global events such as the 2010 FIFA World Cup of football (soccer, to some). Why then, ask many South Africans and foreigners alike, has the country not become the shining example of compassion and African pride in the realm of HIV/AIDS, as would be expected? This, undoubtedly, is the underlying question -- opinions aside -- when South Africa and HIV are mentioned in the same breath.
With a blemished track record in its past, and a new generation of infections and preventable deaths staring it in the face, the government of President Thabo Mbeki finally took the long-awaited step in 2003 to announce measures to provide for the care and treatment of those out of the estimated 5.3 million South Africans living with the virus that are in immediate need. A strategic plan to do just that, released in November 2003, was a sign that this was more than mere rhetoric. Months later, South African Minister of Health Mantombazana (Manto) Tshabalala-Msimang was poised to present the case of South Africa's future outlook at the IAPAC July 2004 symposium when emergency budget meetings forced her to return prematurely from Bangkok to cabinet in Pretoria. In her stead, Minister of Health for Gauteng province -- home to Johannesburg, Pretoria, and many of the country's most severe HIV problems -- Gwendoline Malegwale Ramokgopa, addressed the conference audience to describe the state of affairs in the continent's southern-most country.
Minister Ramokgopa described South Africa's strategic plan to fight HIV/AIDS, and implementation in Gauteng province according to four fundamental pillars: prevention; treatment, care and support; research, monitoring and surveillance; and legal and human rights. In the absence of curative measures for the disease, she stressed that prevention of new infection continues to serve as the core of all national programs, while care and treatment interventions are being gradually strengthened. Among the key components of this central prevention objective are a broad campaign aimed to encourage sexual abstinence or fidelity to a single relationship among youth, massive distribution of condoms (distribution has increased by 80 percent over the past six years, she noted), widespread programs focused on prevention of vertical transmission of virus from mother to child (now undertaken in over 1,500 public health facilities nationwide), and aggressive training of healthcare workers in preventative measures and post-exposure prophylaxis (PEP).
Of course, while these measures were of interest, and are critical to any comprehensive national strategy, audience members waited in greater anticipation of word from the Minister on recent care and treatment activities. Of these, Ramokgopa related that the government is quickly scaling up efforts to meet goals set in President Thabo Mbeki's State of the Nation Address, which announced the target of establishing 113 service points and getting 53,000 people on treatment by March 2005. This includes achieving access in all the 53 districts of South Africa within the current financial year and at least one service point in every local municipality within the next five years. Currently, she noted, there are about 6,000 people who are receiving antiretroviral drugs free of charge through a temporary supply measure, and more than a third of them are in Gauteng province.
Of challenges, the Minister described financial and human resource constraints as the greatest obstacles to universal access in South Africa, as well as the difficulty of expanding necessary services to rural areas. Importantly, Ramokgopa described the serious attention being paid within the national strategy to nutritional support for those receiving treatment. Surely, in the face of scarcity of income and food for many South Africans, the relative success of these nutritional interventions will be eagerly observed by other nations embarking upon the journey of ART scale-up that are faced with similar or greater food and water crises.
With a hint of regret at the slow pace of progress in South Africa over the past decade, the Minister nonetheless declared her pride in the success of South Africa's public health sector response to the pandemic. Though some would disagree, the Minister described the slow and methodical approach of tending to HIV/AIDS within the scope of comprehensive, multi-faceted healthcare services, as the unfortunate lot of an African nation faced with multiple public health crises and continuing financial shortfalls. Certainly, challenges and disagreement on past decisions can be discussed, but the determination to provide ART within South Africa for all in need will soon yield data and anecdotes that will permit true judgment on the relative prudence of past action and inaction.
A country most resplendent in beauty, natural and man-made, and endowed with tremendous potential, South Africa nonetheless now labors under the watchful eye of spirits that have fallen over the course of its long journey to freedom. The latest episode of this ongoing saga, borne out in the realm of infectious disease -- the new apartheid, one might say -- will hopefully soon pass the way of its political antecedent. More than the fate of South Africans, but rather hope itself, lies in the balance.
3 x 5: A Global Challenge
Focus on Uganda provided a perfect segue to a presentation dedicated to the WHO's initiative to place 3 million people living with HIV/AIDS in the developing world on ART by 2005 -- a presentation which in turn reinforced the host of factors raised by country presenters. Gottfried Hirnschall (WHO, Geneva) unveiled the institution's strategic plan to reach the targets contained within the "3 x 5" initiative. He highlighted the initiative's chronology, and outlined its five pillars: global leadership, strong partnership and advocacy; urgent, sustained country support; simplified, standardized tools for delivering ART; effective, reliable supply of medicines and diagnostics; and rapid identification and application of new knowledge.
This foundation in place, Hirnschall noted, the WHO looks forward to an aggressive capacity-development program geared not only toward addressing HIV, but also to revitalizing health service systems in broad terms. The components of this comprehensive approach include drug procurement systems, robust financing, training of the healthcare workforce in sufficient numbers, establishment of health information systems and logistics management systems, development of public-private partnerships and community participation, and overall quality improvement. These components, already being implemented in a total of 56 countries that have requested assistance from the WHO, are based on careful needs assessment revealing generally agreed-upon priorities.
Of successes to date, Hirnschall reported that 192 WHO member states have endorsed "3 x 5" and the institution has raised US$218 million to support of the initiative. Additionally, he stated, 12 countries have established national ART targets in support of the "3 x 5" goals; 15,000 care providers have been trained; core medical education curricula have been developed; and a host of key 2004 milestones have been reached or surpassed. Concerns include the fact that only three countries thus far have published national ART scale-up plans to cover 50 percent of the estimated national need, that average ARV drug prices remain higher than projected for this point in time, and the fact that the projected overall resource gap for WHO activities in 2005 is still at US$62 million.
Editor's note: Scott A. Wolfe was formerly Director of Global Health Policy with the International Association of Physicians in AIDS Care (IAPAC), and currently acts as Policy and Research Associate with the University of Toronto Faculty of Medicine's Centre for International Health.
References