HIV treatment as we know it is poised to undergo a seismic shift. New long-awaited "Star Wars" drugs are on the brink of becoming part of our arsenal; they belong to the new class called entry inhibitors. While older antivirals are effective because they inhibit viral replication after the virus penetrates the CD4 T cell, several new agents in development, blocking HIV from getting into the cell from the get-go, are making their presence known at select institutions participating in specific studies. These entry inhibitors stop the virus from entering the T cell by binding to a co-receptor; a resultant distortion of that receptor binding-site blocks HIV entry. This is a very exciting time in treatment research; one can't help feeling revved up while conducting the studies at Northstar in Chicago.
The new entry inhibitors are being developed to fill specific unmet treatment needs. Existent mutations that foster resistance to antiviral therapy and combined residual virus replication have had a major negative impact on future options for patients. Additionally, constructing regimens with low pill burdens is paramount.
Previously, Fuzeon was the first drug to have an effect on the virus prior to its penetration into the cell; it blocks viral fusion, a step following the stage of viral co-receptor binding (Figure 1). Fuzeon needs to be administered by the patient in two daily injections. In contrast, the new entry compounds are in pill form (thankfully) that will either be taken once or twice daily. There are actually two main steps that the virus needs to pass before it gets to the fusion stage. One of these steps is the co-receptor binding. This article will focus on the specifics and the CCR5 entry inhibitor.
Figure 1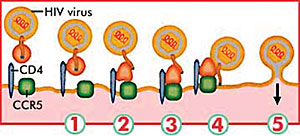 Advertisement

Steps comprising viral entry: New drugs are being developed to block various steps in viral entry.
CD4 binding
Conformational change
CCR5 and/or CXCR4 co-receptor
Membrane insertion
Fusion
Understanding the Mechanism of HIV Entry
To understand entry inhibitors, one should have some basic knowledge of the mechanism of viral entry. The virus needs to pass through several hoops before it finds itself within a (CD4+) T cell (see
Figure 1
). First, the virus must bind to the CD4 component of the T cell. Specifically, one of the envelope proteins of the virus, the gp120, binds directly to this CD4 receptor on the T-cell surface.
This induces a confirmational change or change in the shape of the outer portion of the cell, which now allows for the next step, co-receptor binding. In this step, the virus uses one of two possible receptors: CCR5 and/or CXCR4, which is on the T cell itself.
The virus' preference for using one co-receptor versus another is referred to as "viral tropism." Most individuals' virus uses the CCR5 co-receptor (and is called CCR5 tropic virus). Many fewer patients use the CXCR4. Some individuals harbor virus that uses both types of receptors. Receptor binding eventually allows for the fusion step to take place and subsequent viral penetration into the cell. The CCR5 inhibitor's effect in blocking the co-receptor binding step does so by causing another confirmation change -- it distorts the shape of the receptor site, thus blocking further steps for entry.
The fusion step is the site of activity for T-20 (Fuzeon). Once inside the cell, other targeted sites can block HIV replication, hence the nukes, non-nukes and protease inhibitors. Different from these older antivirals, the CCR5 entry inhibitors target human cells themselves, since the co-receptor is on the surface of human T cells.
Tropism
Both CCR5 and CXCR4 are made up of transmembrane proteins. As stated above, the viral preference for using a particular type of receptor is referred to as "tropism." Tropism can be analogous to a description of the virus' preference to enter the T cell through a particular door and which door it uses -- whether it is CCR5 or CXCR4. Tropism plays an important role in prognosis and can lead to consequences in patient response to a particular entry inhibitor treatment.
What factors affect the virus choice for the particular co-receptor is presently unknown.
To make matters more complicated, if you suppress the virus' ability to get into the cell by blocking this CCR5 doorway, theoretically the virus can then select or choose to use the CXCR4 door. In this scenario, the virus population is referred to as switching its tropism to CXCR4.
Also, in patients who have not been on HIV therapy, who harbor the viral tropism for CXCR4, often switch to CCR5 tropism after successful treatment.
Finally, some virus is "dual tropic," meaning their HIV can use both co-receptors to fuse onto the cell. And some patients have two virus populations for which some virus utilizes CCR5 and some of their virus uses CXCR4; these individuals manifest "mixed tropism."
Specific drugs targeting the binding at the CCR5 co-receptor are not effective in individuals who harbor CXCR4 exclusively. Fortunately, the CCR5 co-receptor is used by the great majority of HIV strains and the majority of HIV-positive individuals. Also, most patients during early infection, being healthier, more commonly use the CCR5 co-receptor.
People with more advanced stage HIV/AIDS -- patients with lower T-cell counts and higher viral load, are at increased likelihood of having CXCR4 tropism. However, there is still a high prevalence of CCR5 tropism among those with low T cells or advanced disease. Other predictors of viral tropism also include length of time on antiviral treatment. It is expected that individuals who have primarily CCR5 tropism will respond to this new class of drugs. For patients with mixed or dual tropism, CCR5 inhibitor treatment effect is yet unknown, but is also being studied.
Studying the Effect of Entry Inhibitors
Several years ago, a study was performed in patients receiving Schering's SCH-C, the first CCR5 inhibitor. This work was the first proof of the principle that blocking viral entry at the CCR5 co-receptor site can be very effective treatment. Though treatment successfully demonstrated potent antiviral activity, during the pilot study, a cardiac abnormality was observed to occur as a side effect. Thus Schering has decided to study their second candidate compound instead, SCH-D. Trials with SCH-D finally began earlier this year. Other drugs being studied in this class include Glaxo's GW873140 (140) and Pfizer's UK-427.
A Phase I study with GW873140, or "140" for short, was presented in October at the 44th ICAAC in Washington, D.C. In this study, 40 participants were given four different doses of "140" either once or twice daily for 10 days. This initial trial was undertaken in patients who were either treatment naive (never treated) or treatment experienced, but none of the patients in this small group were taking other antiviral therapy during this period. Also the patients had to have CCR5 tropic virus, demonstrated by the PhenoSense assay (blood test for tropism) developed by Virologic (see below). The results showed potent antiviral effect; a greater suppression of HIV (viral load decreases) was observed with the highest doses (1.66 log drop). Also important, the CCR5 receptor remained occupied or blocked for several days after stopping the drug.
Side effects observed during the study were mainly mild degrees of gastrointestinal symptoms. They occurred during the very start of treatment as either soft stool, nausea or mild abdominal pain, most of which disappeared or resolved within one to three days, while continuing the treatment. None of the patients needed to discontinue the study because of side effects.
Phase II Trials
In CCR5 studies, all patients are required to be tested for co-receptor tropism; HIV-positive individuals are being screened to find out which virus they harbor (CCR5, CXCR4, mixed, or dual tropism). This test is done by taking a patient's blood sample and performing the assay created by Virologic, a company well known for their extensive work on viral resistance testing (including Phenosense GT) and their replicative capacity test that is often helpful in making treatment decisions. The test does not distinguish between dual or mixed tropism.
Northstar in Chicago is participating in a 96-week study for which patients are receiving Kaletra in combination with various doses of "140." Kaletra was chosen for several reasons, including its favorable pharmacokinetics (drug metabolism and length of time in blood), and its low barrier for resistance. Additionally, Kaletra boosts the blood levels of 140. An earlier study done by GSK found "140" levels boosted by more than 7-fold in the presence of Kaletra. Potentially, other boosted protease inhibitors can be used with "140" and likely provide for less frequent dosing (once daily). (In its own right, a recent small study by Dr. Joseph Gathe showed the use of Kaletra as monotherapy to be effective.)
During this Phase II study, one expects to learn more regarding the drug's antiviral effect and the further use of this new class of treatment. Viral tropism and data on patients co-infected with hepatitis C will also be collected. While drug levels of Kaletra are not affected by "140," more about the interaction of the two drugs will also be gathered. We anticipate this work will be very influential on future HIV treatment and will provide an abundance of information about entry inhibitors.
Conclusion
As we look forward to the promising benefits of CCR5 inhibitors and drugs that affect viral entry, it is remarkable to reflect back on the incredible progress being made with every passing year. We are clearly living in a Star Wars era. This new class of drugs may turn out to be a knockout that will have great influence on the course of HIV treatment and ultimately affect the treatment landscape.
Drugs such as "140" have demonstrated potent activity in their own right during pilot studies. During this next phase of research "140" is pitted together with another agent such as a boosted protease inhibitor with a high genetic barrier; and this has the potential to exhibit the most potent HIV treatment to date. One antiviral will be effective on the outside preventing viral entry, while the other drug shuts down replication within the cell.
While there are some uncertainties regarding this new class of drugs, including what happens to envelope tropism among subjects who may fail with CCR5, or what effect these drugs will have on mixed tropism, we are primed and ready for the challenges and experiences ahead.
Daniel S. Berger, M.D., is Medical Director of Chicago's largest private HIV treatment and research center, NorthStar Healthcare and Clinical Assistant Professor of Medicine at the University of Illinois at Chicago. He serves as medical consultant for Positively Aware and serves on the HIV Medical Issues Committee for the Illinois AIDS Drug Assistance Program, the Board of Directors for the AIDS Foundation of Chicago and the Editorial Board of Contagion: Reports, Cases, and Commentaries in HIV and Infectious Disease Research. Dr. Berger can be reached at DSBergerMD@aol.com or (773) 296-2400.