How Are HIV Medications Given Out?
Well, not on time. If you're on a HAART regimen [highly active anti-retroviral therapy] and you miss two to three days, you could get resistant. You put in for a refill and I've been weeks without it. It varies from jail to jail. The jail I was in before here was a joke, three weeks [wait] for my Videx and Viracept. See, I was on Sustiva. They took three weeks because they order from a pharmacy in Pennsylvania, so I grew resistant.
What's the Food Like?
A joke. People (inmates) with HIV are treated just like crap, even worse. Special diets -- forget it. You can't get Ensure [a nutritional supplement] unless you can show that you lost more than 10 pounds in one week. You get no preventive medicine. Yes, you get vitamins, but you must give blood in order to get them. Sort of like, you give me and I give you. The blood is then sold to universities for studies. We're laboratory monkeys. If you get a rash or shit like that, you don't get any lotion. Everything has to be pre-approved. The doctor controls everything you do, from where you sleep to what you eat, and nine out of 10 of the doctors are unprofessional.
Is Confidentiality a Possibility?
Zero. Nada. Once you come to jail your confidentiality is blown. They give you bags of medication in front of everyone. They talk openly about AIDS -- your personal problems -- in front of whomever. The officers make jokes. In March when I caught shingles, the officer got on the loudspeaker and said, "Get away from Lisboa. He's got the monster [AIDS]." Can I report him? Yes. Will anything change? No. See, once you complain about this or that, they isolate you. I've been in five different jails. In maximum security, you get just a little more of what you are entitled to. Medium security is a joke. They know you are close to your board [being released], so they won't give you what you need, and if you write to Albany (central office) they lock you up in solitary confinement. They will either find a razor on you or write a misbehavior report for anything.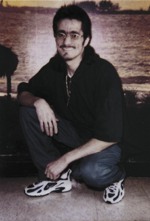 Kevin Lisboa
Are Support Groups Available?
Varies with the jail. Some jails don't allow more than five inmates gathering because of gangs. So if you're HIV-positive don't come to jail. It's like being in hell. You are humiliated constantly, laughed at. See, the officers here are mostly uneducated and they stereotype you. If you're HIV-positive they say, "He's gay." About four months ago, a C.O. [correctional officer] told me, "Hey, you like ass?" I said, "If it's your wife's." Then I told him the only meat I eat has to smell like fish and taste like chicken. He didn't lock me up. I never stay quiet. I do get what I'm entitled to, even if it costs me my TV or phone or yard privileges.
Advertisement
What Is the Healthcare Situation?
Some guys get hep C. They tell you the meds are too expensive. Why spend money on you when AIDS is going to kill you? The state won't pay for hep C meds and you won't get them while in jail. To see an AIDS specialist they chain you and take you to another facility where you would wait eight hours to see a TV monitor -- yes, a TV doctor. If you have an infection he can't see it on TV. He can't even touch you. He's 300 miles away. When I was on Crixivan I used to urinate blood from time to time. No kidney stones, just peeing blood. The nurse would ask, "Did you just masturbate?" No skills. Shit, if you jerk often and bleed, you must be a hell of a beater.
You don't get to see a doctor, only a nurse and LPN [licensed nurse practitioner], if you're lucky, a PA [physician's assistant]. God forbid you put down for sick call and you ain't really sick -- $5 and a ticket. See, it has to be what they say. If you have an emergency and they believe it's not, you get a ticket and $5 [fine]. You pay those $5 out of what your family sends you. The system is so screwed up and no one is doing nothing. The C.O.s get away with whatever. In '96, before I went home, two of my friends died in here. No family, no nothing. The times they were in the hospital they were not attended to.
I don't know what else to tell you. I could tell you so much, yet not tell you anything.
Kevin Lisboa is a prisoner in touch with the staff of Positively Aware. He never complains, and he always makes us laugh. You can write to him at Kevin Lisboa #98A5826, Cayuga Correctional Facility, P.O. Box 1186, Moravia, New York 13118 C-1 21B.