... Being Gay and Positive in the Boonies
Those of us living with HIV in big cities tend to think that it must be a glitter-free hell for those doing it in the sticks, the boondocks and the hinterlands. Of course, we know it's not always so pretty in urban centers, but out in the middle of nowhere, isolated, with nothing but horse doctors and gun toting Republicans? No thanks! Sprinkle some G-A-Y into the rural/HIV batter and most sophisticated city sissies imagine a Deliverance-style purgatory of lunatic yokels from the hills who've never heard of Six Feet Under but want us there all the same ...
It's not exactly a fair portrayal. While living in rural areas as a gay, HIV-positive man certainly has its challenges and downsides, there are also plenty of silver linings. Just like anywhere, really -- a complicated blend of good and bad that hopefully balances out in your favor at the end of the day. The following profiles reveal some of those complexities as well as the good, the bad, and the downright lovely. The hills are alive ... with the sound of music.
Trever Jones is 32, Caucasian, and lives in Norfolk, Nebraska. He travels the state as a prevention educator. He was interviewed a couple of years ago for "The Faces of AIDS -- Living in the Heartland" project managed by the Chicago Department of Public Health.
Advertisement
As far as he knows, Trever is the only gay man with HIV in Norfolk. Located in the northeast corner of Nebraska, Norfolk is a town of 30,000 with literally a church on every corner. It is a couple of hours away by car from the state's two major cities, Lincoln and Omaha. Chances are good that there are other gay men, other folks impacted by HIV in Norfolk, but they are not known to Trever.
It's a "Conflict of Interest"
"It's very closeted here, " he says. "But I am very out, about everything. I don't hide my sexuality. I don't come out screaming from a mountaintop either, because in Norfolk, people may be okay with you being gay, but they don't want to hear about it. So I maintain, and I act like a normal human being. I don't scream, flame, or anything else out here, I stay very conservative. But I've had doctors that won't work on me because of me being gay, because of their religious beliefs. I had a doctor say he couldn't work on me because basically it's a 'conflict of interest.' Being gay is wrong in his book."
Trever needs to go to Omaha to see his physician, who is an HIV specialist. He has looked for a local doctor to take care of him in emergency situations, or for when he has a simple cold or the flu, someone that would be willing to coordinate his care with the doctor in Omaha. However, he hasn't had much luck. "I found that not one of them wants to do it," he relates. "They don't want to be labeled an AIDS doctor, they don't want to take the time to keep up on it. A lot of the doctors don't want to consult with my doctor, because they want to think they know it all. So when I am really sick, I have to go to the emergency room and force them to take care of me. There have been times I've been so sick I could not drive two and a half hours to Omaha. On some occasions I've gotten friends to drive me, but it's very difficult. Ya know, I'm sick now, I can't wait a week to see the doctor, I gotta go today or tomorrow. So I go to the emergency room a lot. There was a period that I was being seen in the emergency room three times a month."
Nathaniel Bledsoe is another Nebraskan who echoes some of Trever's issues with access to health care. He is 42, African American, and lives in the Great Plains of central Nebraska in a town of 25,000 called North Platte. He sees a doctor in Lincoln, which is three hours away by car. Even if he is really sick, he makes the drive, or gets his lover or a friend to drive for him. "I wouldn't go to the emergency room here in my town," he says, "I don't feel like they could adequately meet my needs. Plus, it's such a small town and everyone kind of knows everyone. The issue of my confidentiality is really my greatest concern, more so than the expertise. I, like most people, want my anonymity."
But the long drive to see his doc is worth it, Nathaniel feels. "He's an infectious disease doctor and the best in the state. We know that on paper. I have no complaints. When I drive for three hours to get there, he makes sure he spends an hour talking with me. No matter what, I get an hour of his time."
Hey city boys, when was the last time you got an HOUR of your doc's time?
Nathaniel and his lover of 12 years know that there are other gay men in North Platte, "but there are only one or two who are brave enough to stop by to visit," he conveys. "There are a lot more that you see and hear about, but you never actually meet them. People are very much undercover about their sexuality." The two will go to Denver, which is closer than Omaha, when they want to go out.
The Lack of Temptation Keeps You Safe
While they are isolated from other gay men and "the scene," it's not all bad in Nathaniel's book. "I've lived in larger cities where everything was available, you know, the bars, the bookstores and the baths and all that, everything to satisfy any whim. But living here, you may get that urge, but you can't find those avenues here. I think that's a good thing, it can lower your chances of getting re-infected with HIV, because you don't have a big opportunity to find sexual partners. The lack of temptation keeps you safe. Plus, it's a more relaxed atmosphere which keeps you at home. It's a lot less stressful than living in the city."
"I like the wide open country," he continues, "there is a good positive feeling being right here in the middle of the United States. There are not many trees here, but there is lots of farmland, ranches and cows. And there's a constant breeze." Another big plus? "It's not expensive to live here, auto insurance is a lot cheaper and you get a lot more for housing here than you could in a larger city." For someone living on a fixed disability income like Nathaniel, the ability to make a dollar stretch further is a major benefit of living in a small town.
"I travel a lot for work, and there's nothing like coming home here to these peaceful surroundings and being able to see for 80 miles every day," says Bob Munk, 52, of Arroyo Seco, a small village of 600 near Taos in Northern New Mexico, where he lives with his partner. "There's just nothing like it. And I think it's contributed to my health. The physical logistics are the obvious challenge, like how far it is to the doctor, and then there are the privacy issues -- those are the downsides. But the upsides are the quality of life and the lower stress levels as compared to living in a big city. I love living here."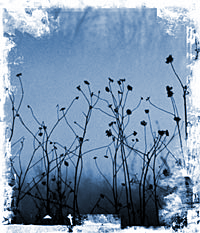 Bob grew up and spent most of his life in the San Francisco Bay area. He also lived in Chicago and New York before he moved to Northern New Mexico eleven years ago. Munk is the project coordinator of the New Mexico AIDS InfoNet, an internet-based HIV/AIDS patient information service. He tested positive in 1987 and has never taken any antivirals.
It Kind of Blew my Stereotypes About Rural, Hispanic Catholics
"Northern New Mexico is kind of a bizarre place, speaking very personally. My partner is Hispanic, and his family has really welcomed me into the fold. Totally. It kind of blew my stereotypes about rural Hispanic Catholics." He laughs. "Now, not every family is like that, some people kind of get disowned. But we're lucky, I get a lot of emotional support from them. They know I work in HIV, but we've never really talked about whether I have it or not, and I don't think it really matters. They would certainly be concerned, but they wouldn't discriminate against me in any way, shape or form," he asserts. "I'm not really out as someone with HIV, but I'm not shy about it either. Everybody else I know in this area is very closeted about their HIV status. There are very few people who are willing to be out with HIV in this part of the country."
Because Bob did not grow up in the area and does not have those roots that not only connect but deter, he doesn't experience the type of confidentiality issues that others who are homegrown do. "Lab tests reveal an interesting issue," he explains. "I get my blood work done locally in Taos, which is about a 13 mile drive, one way. But I know people who will not get their blood work done there, because they have grown up in this community and they have very strong concerns about confidentiality, about someone finding out their business. So they will drive 85 miles south to Santa Fe, and sometimes even to Albuquerque, which is 150 miles away, to get their lab work done."
This need for privacy extends to getting prescriptions filled. Many won't get them filled at the local Walmart, where the nice lady behind the counter might ask loudly, "Now, honey, have you taken Ritonavir before?" Many folks have insurance that allows them to receive their prescriptions via mail order, but that doesn't work for everyone.
"I have had conversations with some Native Americans, for instance," Bob articulates, "who don't live where they can get a mail pickup. They can't get UPS, they can't get FedEx, so if they were to get their meds delivered the package would have to come to the post office and be held for pick up. And then there is that same confidentiality issue. Ya know, 'what's this package you get every month that needs to be refrigerated?' In a couple of cases, people have made arrangements with their case managers to have their prescriptions delivered to their offices and they go and pick them up that way."
And then there is the car option once again. Many choose to drive all the way to Albuquerque where they can be reasonably anonymous, a method with drawbacks as well. Bob spells it out. "With a lot of insurance policies you can't refill the prescriptions until day 28 out of the 30, or 31, and then if you have to drive, you have to get time off of work to drive into Albuquerque to pick your meds up. The chances that you are actually going to be able to do that without missing a day on your meds are slim." Obviously, this is not a great scenario for avoiding resistance.
Brother, Can You Spare a Sustiva?
"We have a circle of HIV positive friends who have formed a kind of drug support club, it's like, 'Oh my God, I ran out of Videx, who do I know that's taking it?' That happens in cities too, but it's pretty vital here. Ya know, brother, can you spare a Sustiva?"
"New Mexico has organized it's HIV services into a sort of managed care model, and they have one agency in each of four quadrants of the state that coordinates all state supported HIV services," Bob details. "The good news is that it's one stop shopping, the bad news is that stop can be quite far away. For us it's a two hour drive, to Santa Fe."
"I have absolutely no complaints about my care," he continues. "We have an excellent HIV doc and the Albuquerque area does as well. It's not what you would expect, I think. A key point is the relationship with your physician. Whether or not you have an 'AIDS' doc, I think the biggest problem is if folks don't feel like they can be out to their doctors, and talk about everything that is going on. If you have a good relationship with your doc, especially if they are a non-HIV doc or a low incidence provider, and you feel like you can work with them, and can get referrals and consultations as needed, I think you can cope with most things."
Being Gay Pretty Much Doesn't Matter
"And finally, one of the reasons I love living here is that being gay pretty much doesn't matter," enthuses Bob. "It's amazing, but it doesn't matter. I'm not saying that there aren't bigots or there's no discrimination, but it's really sort of a non-issue here. It's like the opposite of being in San Francisco, where if you were gay, there were certain political views and candidates you were supposed to support, and events you were supposed to show up for, and others you weren't supposed to show up for. There is nothing like that here. It's like, 'You're gay? So what! Should I be interested in you as a person or not?'"
After growing up in Laramie, Wyoming (population 23,000) and graduating from the university there, Bob Hooker, 43, moved to Baltimore, Maryland in 1987 to attend culinary school. Two years later, he tested positive for HIV. "I practiced safe sex the entire time I was in Baltimore, it was just so obvious that HIV was rampant there," recalls Bob. "While I don't have any absolute proof," he goes on to say, "I was probably infected in Wyoming."
He met his lover, Willie, of nearly seven years at an HIV clinic there and the two became very involved in the whole AIDS scene. They were charter members of ACT-Up Baltimore and were hooked in to ACT-Up New York as well. Then, in 1995, Willie died of complications due to AIDS. Bob himself was getting very sick as well. "I was down to 7 T-cells, I named them like children. I got CMV retinititis and lost the vision in my left eye. Then HAART came along in 1996, too late for Willie, but I was one of the Lazarus boys." He continues, "I had not intended to come back to Wyoming to die, I wasn't going to put my family through that. If I was going to die, I was going to die in Baltimore. It wasn't until I got better that I decided I didn't have to live in a crack house any more, which was what the housing project I was living in had turned into."
And Dorothy Clicked Her Heels and I Was Back to Wyoming
Bob returned home in 1998. "Before I moved back," he states, "I contacted the HIV program and talked to the woman who was the administrator, and then I talked to someone at the Wyoming AIDS Project. Just kind of of getting my ducks in a row. I called up my old family physician who I had seen for a long time since I was little, and said, 'Hey, this is what's going on, would you be willing to see me?' And he said absolutely. And Dorothy clicked her heels and I was back to Wyoming."
"My doctor had had three other patients with HIV previous to me, all of whom had died. That was all pre-HAART days," Bob recollects. "He was really honest," he continues, "he said, 'Ya know, I've got limited experience with this, and I'll tell you the truth, if I don't know something, we'll work on this together and we'll find the answers together.' That was cool with me. He said he was willing to do whatever, that if something were to come up that he couldn't treat on his own, that he had colleagues to look to."
"My care has just been incredible, totally compassionate and professional. There is a lot of paperwork that has to be completed and the nurses just bend over backwards to make sure everything gets done. They are some of my best advocates. The medical care I get here from my doctor is even better than what I was getting in Baltimore, and I was getting great care there. And I don't hesitate in saying that. It's a real irony." He illustrates his point. "My doctor here is much more aggressive about my blood work, my overall health. With my doc in Baltimore, a lot of that time was pre-HAART, so worrying about my cholesterol and triglycerides was not all that big of a concern in a lot of ways. The HIV was going to kill me before a blown out artery. My doctor out here is a total wellness kind of guy, way beyond just looking at my T-cells and viral load. He looks at the whole spectrum of my health care needs in a very detailed manner."
There is Only One Dot in Albany County and That's Me
"I think I am the only one in Laramie with HIV right now. I know I am the only dot for the Ryan White EPI profile. They have dots for each county that has a Ryan White client and there is only one dot in Albany County and that's me," he laughs. So therein lies the challenge. "It's the fact that there is not a very big gay population here, there's not a real big HIV-positive population in the whole state," he says. In fact, there are about 150 people living with HIV/AIDS in all of Wyoming. And it can be a little lonely. "There are some times, ya know, I mean, I can always get on the phone, but there is really no one I can talk to right here in town. There's no AIDS service organization or support group here. I was real big with the PWA coalition in Baltimore, so I was used to having that kind of ongoing community. And looking back on it, in 1998 I couldn't wait to get away from those queens, and now I'm looking back with a little nostalgia."
"You have to drive everywhere in Wyoming," Bob says, sounding exactly like the guys in Nebraska and New Mexico. "It's just part of what it is. A lot of people who are positive here have some history here, there are a few who are new move-ins. But a large number of us are homing pigeons, so we're able to deal with having to drive hours for services or whatever. And if you want to get laid or hook up with other positive people, you just know that you have to drive four hours."
"I love this little town," he asserts. "It's great place to live, it's the Sodom and Gomorrah of Wyoming, even though that's spelled with small letters all the way around. But it's a really neat community, it's a wonderful town, and it's been a great blessing to move back here and be able to live openly and freely and enjoy my friends and family and stuff like that."