I think everybody remembers the precise date that somebody calls and gives you really bad news. It was two days after Robert's birthday.
My husband Marshall and I had called him to say happy birthday. He was living in New York and was in the Fiji dance troupe at the time. He sounded absolutely awful. "What's wrong? What's happening?"
"The doctor told me I have shingles and it's very painful and it really hurts, and I just feel terrible."
It was a Wednesday night. Robert called us and said, "I'm going into the hospital for an emergency CAT scan, and Charles is taking me and he wouldn't let me go unless I called up to tell you 'goodbye' and to tell you why I'm going into the hospital -- because I'm HIV-positive and the doctor thinks I have a brain tumor."
Advertisement
We were devastated and absolutely stunned. Even though we had known Robert was gay for many years, we just didn't put two and two together. The phone call was like a goodbye phone call. I love you and goodbye. He did not know what was going to happen to him.
Even when he was very young, Robert was the most artistic child in our family. It was pretty obvious even when he was about three or four. He was great at improvising dances. He was interested in all kinds of artwork. At a very early age, like seven or eight, he started using a camera for filming. He did some cartooning. He created puppet shows. When he was a little older, I can remember one incident involving everybody in the high-rise building we lived in. There were about 38 children under the age of 12. Robert organized them and directed a play. We really thought he was a great kid, but he was very ebullient and high-spirited and sometimes got into big trouble because of that. He really grew up to be a very 'common sensical' person as well as a very creative person. He was a very terrific kid -- very outgoing.
When Robert tested positive, he didn't tell us immediately, we didn't know for nine months or so. And as much as I had read about HIV, I had a lot to learn. It was very scary.
That's why I advise people who are HIV-positive to disclose as soon as they possibly can handle it emotionally. It's difficult, but it's better to do it while you're still healthy than when you are not. The fact that Robert couldn't tell us immediately made me uncomfortable at first. I felt we had a really great relationship. But I've come to realize he just couldn't bring himself to tell us such bad news.
It's a very difficult thing to do. But it is extremely important. It brings great peace of mind once you've told people. It's a great relief, and that relief lets you focus on the real important things: the disease and how to cope with it.
We told our family as soon as we knew what was going on. I think that it was very helpful in the whole course of the disease for close family members to know what was up. We told people they should tell other people because we wanted everybody to know in the family. I think it's really part of an educational process for other people to hear that. Their whole attitude changes toward the disease and toward sexuality. In a way, you're educating people and also helping yourself.
When Robert called to tell us he was going to the hospital, we flew to New York to be with him. He was in the hospital for two weeks. They did not find anything. They took all kinds of tests. He had a wonderful doctor, but he was in a terrible hospital. They were not used to dealing with anybody who was HIV-positive, and we went through the usual stereotypes of donning masks and gloves and gowns. The doctor came along and was furious. He took the sign down from the hospital room door and said, "This is not necessary" and "Take those gowns and masks off." But they were still very leery -- fearful. And the whole staff was afraid to come into the room. It was very strange and very weird and you felt like you, as well as your son, were a pariah.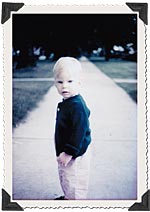 But I'm glad we went. We really supported him emotionally, and, of course, the implications of this were just so far reaching. In those days, they really didn't have a hand on a lot about HIV. He was sent home without any real diagnosis of what was wrong with him or what needed to be done and there was no medication, as I said before, for anything.
We left Robert in New York. He stayed in New York for a couple of months recuperating at his sister Julie's house. While he was there, he had friends that flew up one week at a time to take care of him and be with him because Julie was working full time and wasn't around.
Robert came home to Chicago to live permanently. He decided to be closer to family. He became involved with Test Positive Aware Network and he met Michael, through TPAN. They became partners and moved in together. He was independent for a long time.
Learning to cope was a major lesson, and he turned his skills and his abilities into a real positive thing for his life. He went to Atlanta with a friend and formed this company called The Blue Rider Movers. His friend's skills were more in the technical end: lights, sound, and sets; and he did the choreography. He wrote several dances and they all pertained to AIDS and the experience of learning that you have HIV and what you do with it. He actually incorporated it into sort of a biographical sketch, called The Grief Suite. They were performed in Atlanta.
Robert exposed his feelings of his status in the form of a diary. A friend of his read the diary as his mother on stage and then three men performed this dance about dying of AIDS. It was a gut-wrenching experience.
We were very proud of Robert. We really respected his right to bare his soul in doing these performances. It showed us how Robert was progressing and developing in terms of his whole psychological outlook and his thoughts.
As the disease progressed, he became very ill. Anytime he went in the hospital, we were there. As he developed more and more complications, we tried to help out as best we could while still leaving him his independence. It got harder, but he actually was pretty independent up until the end. It was difficult for him to walk and difficult for him to drive. But he was still getting around and it was only the last month that he couldn't do that for himself.
I cannot tell you the amount of hours we spent at the hospital. I think the thing that kept me afloat was our support of each other.
Ultimately, I think that what kept us going was our association with Test Positive Aware Network as an agency and being able to talk to people there -- getting their advice about things. I was at TPAN and was running FASN, the Family AIDS Support Network.
I started FASN primarily for parents and partners and caregivers because I felt that that was the one area that really wasn't covered. I went back to school to study the process of self-help and group support. We've been running our support groups since 1989. We affiliated with TPAN in 1990. Not only has it helped my mental health, but it helps people to cope and to live through this whole process of HIV disease.
Sometimes I think my husband Marshall is the unsung hero in all of this. I remember Marshall massaging Robert's feet in the hospital. That was such a powerful, tactile way for Marshall to show Robert his support. I know Robert was touched by it. Then when Robert had chemo and he lost his hair, both Marshall and Robert's life partner Michael shaved their heads in support.
When Robert had been in the hospital maybe eight, ten times, he developed his first tumor in the lung -- lymphoma. He went through the whole series of chemotherapy's ups and downs with all the side effects. Then the tumor disappeared, which was like a miracle. In his euphoria, he planned this gigantic trip with Michael. He wanted to go cross-country on a train in Canada and then fly to San Francisco and meet people and say goodbye to all his friends. He knew this was the end of his life and that was one of the things he wanted to do.
Before he even had a chance, he woke up -- well, he didn't even wake up, he started coughing one night and all that came up was blood. Michael had to rush him to the hospital. The doctor told them that the tumors had come back; that it was impossible for him to go anywhere. The trip he had planned was impossible. This was really the end of his life and he knew it. Instead of going out on a glorious high note, this was it.
He did not want to end up in the hospital dying; he wanted to be home. He hated the hospital at that point. He just didn't want to be alone in a rigid, confined place where you had to wait on everybody else to do things for you. Going home was the best for him. He decided to go into hospice at home.
He had to go into the hospital, obviously, and get well enough to go home. He did a lot of crying with his doctor, with us, with Michael. It was one of the hardest times of our lives. We wanted to see him do everything he could do in terms of his independence. But looking back, I'm sort of glad that trip never happened. Robert always had his very dramatic way of thinking and that was really the way he wanted to end his life.
The idea of having hospice care at home was just wonderful. I felt that it made all of our lives so much easier, and it really helped Robert immensely.
It was a beautiful time after he finally resigned himself to not going on that trip. He called his friends and said, "You need to come and say goodbye to me." He called about six special friends, and he called his brother, Jonathan, and his sister, Julie. It was impossible for his sister Ruth to even think of coming from Israel. He made it a time of great peace and celebration.
We brought him special foods and had almost a party atmosphere. Julie went out and bought hundreds of dollars worth of flowers. Robert was planning to give up, and it was very special because we really talked. He designated a very dear friend he'd known since high school to write his eulogy and she spent a lot of time with him, talking, planning and writing. Up until then, he was not ready to talk about things, and now he was ready to talk.
Robert died on November 1, 1992. That seemed to be his choice. November 1st had a great cachet for him; it is the Mexican Day of the Dead. People celebrate their loved ones who have died and go to graves and put flowers and food because they believe the spirits will come back and will eat the food and enjoy the flowers. I think he wanted death to be part of that kind of tradition. We as his support people -- his close friends and his family -- were there surrounding him. I think that it was very peaceful -- very serene and very unscary, having that control and having it the way he wanted it -- that part was so beautiful. It wasn't easy kissing him goodbye, but it was the way he wanted it. I think it helped us through the whole process.
He had a traditional Jewish funeral. Six months after Robert died, we had a memorial get-together in our country home for all the people who loved Robert. It was also absolutely wonderful.
It was a way of us celebrating Robert's life. It was six months from his death, so we could talk about the fun things and his personality. We showed eight hours of his dance tapes, everybody brought photos. We planted a spirit tree in our garden. To this day, his friends who were there have such a close relationship with Marshall and me and Jonathan and Julie. We feel like part of the same family.
I think the one thing I've learned about HIV and AIDS is you've got to cope; you've got to find out what's happening; and you've got to get information. You have to start dealing with it immediately. The real hard part is that HIV and AIDS change constantly and a new condition comes up and you've got to learn all over again.
I also think that it gives you a long-term philosophy of life. You really need to change your whole attitude about life. Marshall and I learned to appreciate all the small things in our lives, not to have such a negative outlook but to just look at all the positive things in our lives. This is very, very important -- make those positive things important. The sun is shining; it's important.
I'm still busy being involved with the Family AIDS Support Network. I feel they help me greatly in terms of my mourning and my grief. You have a special relationship with people living with HIV. I want to do this as long as I possibly can. It helps me immensely, but I think I also make a difference in people's lives.
Betty Stern and her husband Marshall made their home on the south side of Chicago where they ran a retail store and raised four children. Robert was their third born child and first son.
Betty's story is based on an interview conducted in March of 1996.
After she lost Robert to AIDS-related causes, she didn't have to stay in the fight, but she did. She founded the self-help Family AIDS Support Network (FASN) here in Chicago to help relatives cope with the HIV status of their loved ones. Soon afterwards FASN became a part of Test Positive Aware Network, where it still maintains a separate phone line, (773) 989-9490.
"Grief Suite" is a chapter from a yet-to-be-published book produced by FASN that tells their stories.