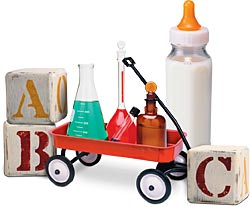 Not long ago my 17-year-old asked what motivates me. I was speechless for a moment while I conducted a quick inventory of my life. The last time he asked me a question I knew required as much thoughtfulness and consideration was when he was seven. We were on our way to his school when he turned to me and asked, "What exactly do I have that I have to take medicine?" For the first time, I gave the disease he lived with all of his life a name, although we had talked about it many times before in general terms. Along with learning the name -- HIV, came the realization that the other children in the clinic, some who had died a few months before and who died shortly after, had the same disease. Soon his mood and behavior noticeably changed and it was impossible to get him to talk about what he was thinking and feeling. It was my hope that working with an art therapist would help him find a way to express and get out what he was feeling. Since then, I have tried many ways to provide a safe environment for him to talk about this, but it always seemed too difficult for him.
For several weeks leading up to his question about my motivation in life, our family therapy sessions had focused on encouraging him to find a reason to live and motivation to work in therapy and on relapse prevention. His mantra is, "I don't know how to begin. Life is too hard." I cringe every time I hear him say it. From the time we were diagnosed with HIV as a family in 1987, my focus has been to fight for our lives. I believed it was my job to instill the same fight in my son, resisting the urge to curl up and wait to die. I was determined to find a way to beat this disease.
Why do I have to take my medicine? This question was asked by my son starting with his first dose of AZT in the late 1980s and continued into adolescence. I always answered his question based on his age and level of understanding, including more information as his ability to comprehend increased. I took his cue he had the answer he needed when he stopped me to ask a completely unrelated question. Even with consistent, honest answers, there were times when it was almost as difficult to get him to take the liquid Norvir at 12, as it was to get him to take the AZT when he was three.
With the introduction of each new medication over the years, we would talk about the medicine he was expected to take and how it worked, although he seemed to not be able to remember its name. I would have to taste the new medicine. Or as he got older, I would express admiration that he could swallow a handful of capsules and pills in one gulp. There had to be a clear purpose for taking the medicine. What was the value to him? This was put to the test when his health declined and he got sicker and didn't have strength or energy. As he was able to understand more about HIV, the importance of taking the medicine made more sense to him, but he continued to stay shut down emotionally. It was important to me he believe what he was doing was helping him become and stay healthy. More importantly, he needed to be an active participant in his healthcare.
Advertisement
After his father's death in 1988, less than a year after our diagnosis, our future looked bleak. There wasn't much known about HIV, infected women and children were rare, and there weren't any treatment options, except a few for
opportunistic infections
. I expected to die before I reached 30 years. I was in a fog. I felt isolated. We were one of a half dozen families at Children's Memorial Hospital in Chicago. There I met Doctor Ram Yogev who kept telling me that I should be angry -- and express it! This advice went against what I was taught and allowed to do growing up. When I decided to give it a try it took some practice but I soon got the hang of it. I found my voice. I enjoyed the power that expressing myself gave me. I wasn't going to sit around and wait for HIV to take hold of us. With my newfound power I focused on life and giving it to my son. My goal was to make it possible for him to realize he had power and control and the right to participate in the important decisions about his health. We talked a lot about why he was taking medicine emphasizing the risks of skipping doses and of keeping to the schedule. Of how the medicine is active for only a period of time, but that HIV is always busy working, and how that can lead to
drug resistance
.
I struggle with how unfair it must seem to him to have to choose between taking the medication or risk getting sick again. I can understand him trying to delay the taste and the side effects of the meds. It's hard to answer him when he asks, "My stomach already hurts, why do I have to take my medicine when it's only going to make it hurt worse?" I would give him those extra minutes as he stood, chin cupped in his hands, staring at the meds in front of him, finally taking a deep breath and knocking the liquid or handful of pills down the back of his throat.
Not quite a year after our diagnosis, I joined the ACTG 019 (AZT) study. This was my introduction to research, and a hard decision to make. How could I take what could be a life-saving medication, when there wasn't anything for my child? Not to mention the reality of having a toddler who wasn't sleeping through the night. I was a single parent working to maintain our household and continuing my education to get a better job with insurance. I juggled all of this with taking my son to the doctor, giving him his meds on schedule (eventually), getting myself to the doctor and trying to remember to take my own meds. I was exhausted. How was I supposed to remember to take those AZT capsules so many times throughout the day and night? In the early days of 019 the capsules were in individual plastic bubbles on cards. I went to several visits with the cards containing many capsules still in their bubbles. I was finally told that I needed to start taking them to remain on the study. I was even too tired to think about popping those remaining capsules out before heading in to my study visit.
I was frustrated the options for treatment were so bleak. Was AZT the only hope? Not so frustrated however, that I was willing for us to try anything or agree to participate in every research protocol. I began to educate myself, reading about treatment options, experiences of people using these treatments, indulging in discussions -- and arguments -- with Dr. Yogev and other care providers, thinking about how they did or didn't apply to our health.
As I attended seminars at my clinic at Northwestern Memorial Hospital during the early years I heard the latest news about HIV/AIDS research and treatments and felt more hopeful that lives could be sustained, but impatient children weren't yet enjoying this hope. Not only had I experienced my son's failing health but also knew and watched other children get sicker and sicker and die. My son became afraid to go to sleep at night for fear he would die and not have the chance to tell me goodbye. He told me he would rather be scared by the scariest movie, than by living with HIV. Eventually, he chose to self-medicate with drugs of his choice, saying he was relaxed for the first time in his life. All of his worries about death, getting sick, being bullied and made fun of disappeared. The downside, he lost his will and fight to live.
Yes, I am angry about how slow pediatric HIV research has developed. It has always seemed years behind asking the pertinent questions and finding the answers to the issues of the day. Instead of becoming bitter, I took advantage of the opportunities that at first were foreign and new. In the adult clinics were notices of AIDS Clinical Trials Group (ACTG) Community Advisory Board (CAB) meetings. What is a CAB? I thought, and didn't go. Then in 1996, Dr. Yogev approached another mom and I about starting a research CAB at Children's Memorial Hospital. I agreed. I had been searching for a way to put value into living with this disease. I also think Dr. Yogev used it as a way to divert my frustration at lagging treatment development from him to the Pediatric AIDS Clinical Trials Group (PACTG). Finally, an opportunity to have input into the research needs of children with HIV! Well, not exactly. The CAB didn't get information on protocols until they were already developed, and we didn't have the training or power to say what we thought the research needs of our children were. We struggled with how a CAB finds its purpose and to recruit and retain members. We began to develop projects. One of our first major projects was to review the informed consents for protocols to provide input to the research staff to make them more understandable and informative for the families. This was my first introduction to the Institutional Review Board (IRB). I admit at first the IRB seemed like yet another hoop we had to jump through to get treatment for our children. I started attending the PACTG meeting in 1997, to find the national CAB, the Pediatric Community Constituency Group (PCCG), brand new itself, having just gained independence as a subcommittee of the Adult ACTG CCG, and not able to provide a forum for CAB members at the meetings or support or advice on how to develop and maintain a CAB. Over the next few years the PCCG began to create a stronger presence among the investigators on the research agenda committees, at the meetings, and assigning members as community representatives on protocol development teams, but still struggled for credibility and was unable to reach out to the CABs.
Upon becoming a member of the PCCG in 2000, I had two main goals. The first, for the PCCG to become partners with the investigators and provide input on the research priorities of the community. And the second goal was for the PCCG to assume responsibility for supporting the development and maintenance of CABs at the Pediatric AIDS Clinical Trials Units (PACTU). Although the PCCG is a small group of 15 members, we share the same concerns and with determination and hard work we have met these goals. In May 2002, we presented the PACTG leadership our first Research Priority Agenda for the PACTG that was developed as a result of a strategic planning retreat earlier in the spring. And in December 2003, we presented our first CAB retreat. The goals of the retreat were to provide an introduction to CAB members and site staff about the value of community involvement in clinical trial development, CAB purpose and function, the research process, and structure of the PACTG. With the ultimate goal for CABs to enhance the site's recruitment and retention, and to provide a broader demographic and geographic perspective on the research needs of children and families.
Although I had participated in studies, research seemed abstract. This was probably true when I was first approached to consent for my son to participate in studies. Sometimes I declined. I don't doubt I made the right decisions, however I'm sure it was not a fully informed decision. I know now I didn't completely understand what I was consenting to, which means my son didn't understand either. Now that I participate on protocol development teams I advocate that the informed consent process isn't the act of reading the consent and obtaining the parent's signature and child's assent. It is an ongoing educational process, starting well before being presented the consent form, and continuing throughout the course of the study.
For research to be tangible the parent and child need to hear how valuable their participation is. To give value, the investigators must convey that they appreciate the many factors going into the decision to consent, and acknowledge the burden to the family if the child participates. These factors include, but aren't limited to the frequency of visits and number of and types of tests there will be at the study visits. It is important for us to know how many times our children will need a blood draw or why a test as invasive as a lumbar puncture is required. I have refused to consent for a study when this has not been clear to me. We also must hear a thorough explanation about the risks and side effects and administration of the treatment. And the investigator should be aware of whether a family can manage the overall schedule of evaluations and keep their jobs and family intact.
Trusting the investigator and staff requires honesty and communication. It is important for parents and children to understand the benefit of participation and be told the objectives of the research and what the researcher wants to learn, in simple language. For example, is it to determine the safety or right dose of a medication? Is it to compare two medications or combinations of medications and find out which one is better? And, it's important for the family to know what other treatment options there are to consider instead of being in the study. Finally, it is crucial to provide updates throughout the study and a report regarding what was ultimately learned. And just as importantly, remember to regularly thank us for being in the study and not take our participation for granted.
Throughout the discussions, symposiums, studies and reports on adherence, I am always disappointed to hear investigators blame failure of a participant to adhere to the study regimen on dysfunctional families. I believe the participant's and family's ability to adhere to the study is a true test of the effectiveness of the informed consent process. We are doing the best we can with where we are in understanding the illness of our child. Our lives do not revolve around the needs of the researcher. The investigator should give consideration during the consent process whether the child or family is capable at that time to participate. The needs and readiness of the child and family must come before accrual of the study.
From the early days when Dr. Yogev's persistence helped to set in motion my freedom to express myself and my quest for knowledge, through the years as I have worked with researchers, doctors, nurses, social workers and other persons in the clinic providing care, the key has been knowledge and understanding. Working together doesn't mean being told what to do and doing it without thinking or asking questions. It means that I have spent time educating myself so I can talk about treatments and how they affect quality of life and other areas of concern regarding our health. It means the willingness on the part of the researchers and care providers to see my child and I as individuals who make valid contributions to our care decisions. We need each other. Without each other there are limits to what we can learn and the health we can maintain for children and families with HIV. I'm not advocating that every parent who comes through the clinic door should be expected to become involved as much as I am to be able to contribute to research. I do advocate that children and families must receive training and education before being expected to make a fully informed consent to participate in research.
So, what motivates me to get up every morning? What did I tell my son? Well, it has evolved over time. In 1988 my motivation to live was the belief that I am the best person to be my son's mother. As my health continued to stay good, I wanted to find work that made a difference so in the end I could look back on my life and say I made a difference. I have remarried and have the love and support of my husband that has given me the freedom and time to do more than I ever dreamed possible. And, the genetic seed of a strong-willed nature and stubbornness passed from my grandmother Eva, through my mother and on to me was nurtured over the years by the people I have had the good fortune to know and work with.