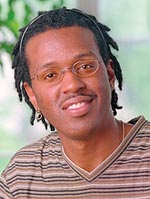 Photo © Russell McGonagle
A couple months ago, I stumbled upon an interesting revelation. Not that I've never thought about it before, but approaching my 30th birthday somehow makes it all the more real. As I poured out my life story in front of a group of young, vibrant high school students, it suddenly occurred to me that I've lived my entire adult life with HIV.
Though it's been more than 12 years since I received the diagnosis, I can remember the events that led to it as if they had transpired last week. As a member of the senior boys council at my high school, I had helped to organize a blood drive as part of our community service requirement. I never had any intention of donating blood. The very thought of it made me ill and I was way too cool to let anybody know that (or see me fall out, which is what I thought would surely happen).
This led to a heated argument between me and my long-term girlfriend. She couldn't understand how I could be such a hypocrite, helping to organize the blood drive and then not donating. I told her that I had done my duty and that was that. She didn't see it that way. Needless to say, as was usually the case, she won. On the day of the drive I found myself in the designated area drinking orange juice and eating graham crackers, praying that that lightheaded feeling I was experiencing would go away before I stood up.
When I didn't pass out, I thought the worst was over. There were, however, a couple of questions that the nurse asked during the initial screening that disturbed me. In particular, the question about whether or not I had ever had sex with a man was unnerving. What in the world did that have to do with me giving blood, and, who on Earth would ever admit that out loud?
Advertisement
After a couple of hours, I had forgotten all about the whole experience. I hadn't made a complete ass of myself by passing out. The blood drive had been a success. My girl was proud of her community leader-type boyfriend. And the secret that I held about having slept with a man was still safe, secure and very much in the past. Or so I thought.
A couple of weeks later, I received a phone call from Life Source, the company that had conducted the blood drive. The representative was relatively nice, but not as equally helpful. She informed me that I needed to make an appointment with one of their staff right away and, in the meantime, not to donate any more blood. I asked her what the problem was, but she kept blabbing about their company policy not allowing her to release any information over the phone and would not let up until I finally made an appointment.
A million things ran through my mind between the time I hung up that phone and the day of that dreadful appointment. What in the world could be wrong? Sickle cell anemia and diabetes run in my family, so maybe I had tested positive for one of those. Or maybe they had done a drug screening and detected that I had smoked marijuana ... on more than one occasion. I couldn't put my finger on exactly what could have been the problem, but those awkward questions that the nurse had asked me before she took my blood began to replay in my head like a broken record.
I vaguely believed that I had potentially put myself at risk for HIV by having sex with a man, but just vaguely. It wasn't like that made me gay, or promiscuous for that matter, and only gay or promiscuous people could get HIV. Besides, I was way too young. HIV was something that only happened to old people -- people who were 21 and older. I was only 17 and there was just no way that I could be infected with a virus that would take me out before I had the chance to grow old.
I had too much planned. I was on my way to college to major in audio engineering. I was going to be the man who made Janet Jackson sound as beautiful as she looks. I was going to get married, have children, and live long enough to spoil my grandchildren the way that my granddaddy had spoiled me. I had way too much planned to be infected with HIV.
But, as I learned the hard way, things don't always happen as you plan them.
The funny thing is that every time I tell this story, I am even more convinced that the little voice that I heard on my way home from receiving the devastating news was real. Now that I'm older, I recognize it as my "God voice." I also believe that each of us has one within, but it is up to us to choose to listen to it.
On this particular day, that voice told me that everything was going to be alright. In spite of everything that I knew (and didn't know at the time) about HIV, I had this strange feeling that somehow I would survive. And, by the grace of God, I have.
In many respects, I cannot complain. I'm healthy. I have loving, nurturing relationships with my family and friends. I'm building a career for myself in a field that I love. And I have a connection to that little voice that keeps me grounded and constantly walking in my own truth. From the outside looking in, my life is pretty good.
But, as I approach the big 3-0, there's a sadness deep inside that not many people know about. More often than anyone would think, I sit and wonder what my life would have been like without HIV. I wonder about the family that I might have had. What kind of father I might have been. What my career would be like. And what I would be doing now if HIV had not changed the entire course of my life.
That little voice, however, constantly tells me to be patient. And, for some reason, I trust it. I have absolutely no reason not to. The path that trusting it has led me on has been one filled with blessings and miracles. My only concern is what's next!