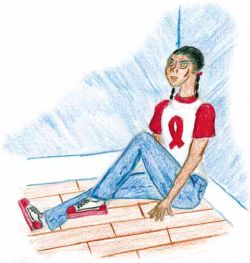 Illustration by Adonis Omni
The cloudy, wet day only added to Kenya's mood. The anthill that she had spent hours playing with yesterday would surely be gone today. She'd stumbled upon it along the side of the big red brick house that she now called home. It was her third home in two years, and she was pretty sure that it wouldn't be her last.
She had arrived there early yesterday afternoon, so the stares from the other kids were still fresh in her mind. The stares were something that, like moving from place to place, she was beginning to get used to. The stares, the giggles, the whispering behind her back when they thought she couldn't hear them. As much as she wished that she couldn't, she did. And everything she heard made her sad.
Kenya is a caramel-brown-skinned nine-year-old girl who has never been told how beautiful and special she is. She has never really had a family to call her own because she's spent most of her short life being shifted from foster home to foster home. At one point, about three years ago, she came really close to being adopted.
The young husband and wife had come several times to the foster home that she lived in, bringing a special gift for Kenya when they came. She was actually beginning to like them and looking forward to going to live with them permanently, as their daughter. The affection they showed her was the best (and only) that she had ever known.
The couple also had a nine-year-old son of their own. His name was Joey, and he would come along with his parents on their weekly visits. Joey and Kenya got along as if they were brother and sister already. They enjoyed watching cartoons together, especially Arthur, and were both really big fans of Usher.
About a month before the adoption process was complete, the young couple had a change of heart. Kenya had become ill with a cold that she just couldn't seem to get rid of. It had lasted for weeks and she eventually had to be hospitalized before it finally went away. The young couple came to visit her in the hospital and what they saw frightened them. Kenya was connected to several tubes that went in through her arm and there was even one that had been placed in her nose to help with her breathing.
The young woman broke down in tears as soon as they entered the room. As her husband comforted her, she sat staring at Kenya through horrified eyes. He was able to keep her calm long enough to speak to Kenya, but just barely. The tears, however, flowed from her eyes the entire time that they visited. Aside from consoling his wife, the young man barely spoke two words to Kenya. It was the only time they had visited her during her two-week stay in the hospital.
She soon got better and came home only to learn that the young wife didn't feel that she was up to caring for such a sickly child. The couple had changed their mind about adopting her. Kenya was so sad that she went to her room and cried herself to sleep. She vowed never to get her hopes up about anything again, especially about being adopted or having a real family. She vowed this despite the fact that it was the only thing that she had ever dreamed of for as far back as she could remember.
Kenya was born inside of a prison hospital. Her mother, Keyana, was pregnant with her when she went to jail for doing some very bad things. Keyana was only 19 years old, and had become addicted to drugs while experimenting in high school. She dropped out of school at 16 and had been living on the streets ever since. To support herself and her drug habit, she had done many bad things. She lied, she stole, and even sold her own body so that she could get the drugs that she so desperately needed. She did not know that she had HIV until she was about to give birth. She didn't even know when or where she got it from and, at that time in her life, she really didn't care.
Because her mother was made to spend three years in prison, Kenya was sent to live in a foster home when she was strong enough to leave the hospital. The people there did not care very much about her, and only opened up their home to foster children to receive the government money that comes along with taking them in. Sure, they took care of Kenya well enough so that the monthly check would keep coming, but they never gave her the love and attention that a girl her age truly needs. When the responsibility of taking care of a child with HIV (constant doctor visits, medication several times a day, and occasional unexplained illness) became more than what the foster family felt the check was worth, they turned Kenya back over to the state authorities and off to another foster home she went.
To read more of Kenya's Tale, visit www.tpan.com.