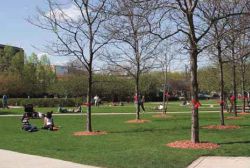 Photo © Russell McGonagle
DePaul University is located in the trendy, upscale neighborhood of Lincoln Park in Chicago. It's an unseasonably warm, sunny spring afternoon in April, and there are large, red ribbons tied to the trees which line the streets of this picturesque campus of around 25,000 students. A large, non-descript RV rolls up in front of the student center, arriving 20 minutes late. Five young adults disembark with their luggage, barely noticed by the dozens of students walking by.
Today is the Chicago stop on the Road to Hope Tour. Founded in 2004 by Todd Murray (see "The History of Hope's Voice" in this issue) and Danielle Rivera, the non-profit Hope's Voice orchestrates this annual speaking campaign which promotes HIV education and prevention amongst young adults.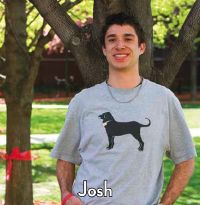 Photo © Russell McGonagle
Josh, 24, is the first one to step off the bus, and it's his last day on the tour. They all seem a bit tired, and glad to be off the bus. "We sleep whenever we can," Josh says half-jokingly. "We just came from Iowa. It was really cool, we had over 100 people show up." He's on break from grad school and only heard about the tour three months ago, through a friend who did a stop last year.
Josh wants to be a guidance counselor at an elementary school when he finishes school. "I work with kids at a camp, kids with hemophilia and kids with HIV." Josh has hemophilia himself, and found out he had HIV at an early age. Although they've asked that only their first names be used in this article due to a string of recent threats, all the members of the group say that they are pretty open about their HIV status. Says Josh, "My whole community back where I live in upstate New York knows. It's kind of hard to scream out in New York City, 'I have HIV!' -- but my friends do know. And as I meet more people, it's always a different way in how I try to tell them [about my HIV status]."
Advertisement
"It's a little crazy, because there's always something that happens [during the tour] that's not quite right, but it always falls together," states Aaron, 22, the group leader, and the only member of the group who is HIV-negative. "It never starts on time, and by the time it's over, it changes everyone's life in the room, including us. We learn something new about each other every time."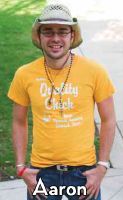 Photo © Russell McGonagle
Aaron will be with the tour the entire five weeks -- the other speakers generally sign up for shorter, one-week stints. The tour kicked off on April 3rd at George Washington University in Washington, D.C, and stops at college campuses along the way in places such as Waco, Texas, and Lincoln, Nebraska, with the final stop in Williams College in Williamstown, Massachusetts, on May 5th.
Today is only one of a series of weekend-long events that they are involved with in Chicago, including one tomorrow at a local GLBT (gay, lesbian, bisexual and transgender) youth drop-in center for at-risk teens. There they'll hang out with the kids, show the Road to Hope video (from last year's tour, which recently aired on MTV), answer questions, and just "chill."
It's the Condoms, Stupid
Traci Ackron, 21, heads up the DePaul AIDS Project, which is run out of the University Ministry. She is on the Steering Committee of the Student Global AIDS Campaign, a national student-based grassroots AIDS organization, and this is the second year in a row that she has been involved with bringing the Road to Hope Tour to DePaul.
"We are not allowed to distribute condoms on campus," explains Ackron. "It's a Catholic institution, and they ... see condoms solely as a form of contraception. You can talk about condoms, and demonstrate how to use them, you just can't distribute them." They are, however, allowed to bring in different organizations to conduct testing. Last week they tested 80 people during their AIDS awareness week through the Broadway Youth Center, a collaborative program of Howard Brown Health Center in Chicago, which provides free services for GLBT youth ages 12 to 24.
I'm Ready for My Close-Up
As the group prepares for their photo shoot, Marvelyn, 21, wanders off. She's just finished a taping for the Tyra Banks show earlier in the day, and wants to find a television so she can view the episode.
I continue talking with the other group members during the shoot. There's Duane, 27, who runs a non-profit in Boise, Idaho, called ALPHA (Allied Link for the Prevention of HIV and AIDS), an all-volunteer prevention and care organization. William is wearing a bright, orange T-shirt with the words "HIV+" and "Educate Yourself" boldly emblazoned across the front. Everyone in the group received the shirt from the folks at Baylor Medical College in Texas during a recent stop.
William, who's 26, has had HIV since he was 18 months old, when he received a blood transfusion after being badly burned. I look, but can see no visible scars of the burns from his childhood.
Let's Hear It for the Girl
That evening, the speakers gather in the lecture hall to share their stories with the audience. As people filter in, Marvelyn is positioned at a table outside the door, taking donations for Until There's a Cure bracelets, and for books and videos about HIV.
Marvelyn begins her story by talking about a boy she met who she thought was her soul mate. "He was 24, he had his own place, his own car, he looked good, he smelled good ... I mean, he had it goin' on!" She thought he was everything. She bragged about him to all her friends. He told her he loved her.
One day, when he didn't have a condom, she said, that's okay. "I was happy. I felt privileged," she explains. "I had no problem seeing him as my baby's daddy!"
Weeks later, she thought she was pregnant, but found out instead that she had HIV. She was 19 years old. "I didn't have any initial reaction. I didn't cry. I didn't know anything about HIV." She desperately needed to talk to someone. She called and told her best friend, who said she'd be right over. "Then, I called another friend," continued Marvelyn, "And, she was like, 'Whoa! I'm sorry, Marvelyn, I know you're supposed to be the godmother of my child. But you can no longer come around me or my child with HIV.' I wish she would have told me that before I bought that crib and car seat!"
Marvelyn's message is simple: You have to take responsibility for yourself. "I can't blame him," she says about the young man who infected her, "I can only blame myself. I put more trust in him than I did in myself. I trusted him to care about me, but no one can care about you but yourself. It's not who you are, but what you do, that puts you at risk for HIV."
Small Town Boy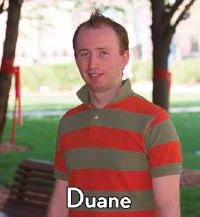 Photo © Russell McGonagle
Duane grew up in a small town, and the first thing he wanted to do was get out of that town. He moved to Phoenix to go to college. He got tested for HIV, and before the woman who gave him his results had even closed the door, he heard the word "positive." "What do you mean, positive?" he asked. She told him, "The results of your test came back -- you're HIV-positive."
"When they told me I had HIV, they might as well have told me I had AIDS and I was going to die," says Duane. And he thought it was going to happen soon. He felt he needed to tell his family right away, before they found out later on, after he got sick, or maybe even died.
So he caught the first plane home, and it was Mother's Day, "which was kind of a drag," he says. His plan was to tell his family the next day, but it didn't happen that way. His mom, dad, grandma, grandpa, and little brother were all there. "You guys have always been there to support me," he told them, "and I hope that after what I have to tell you, you'll still continue to be there for me.
"I told them, 'I have HIV.' My grandma ran over, and she gave me a hug, and she said, 'It's okay, everything's going to be alright, we still love you!' My dad stood up and said, 'Well, happy fuckin' Mother's Day.' My mom cried hysterically, I'd never seen her cry like that before in my life. And my grandfather said that I had broken my father's heart.
"I didn't know what to say, I mean, what do you say? I didn't really expect them to react any differently, but since then, they've all kind of helped me in their own way."
Duane has been positive for seven years, and things are going well in his life. "If you get HIV, you don't have to give up," says Duane. "You don't have to crawl under a rock. You don't have to turn to alcohol and drugs, which I did for a while. You can find hope. Your family, your community, some people they may or may not be there, but there will be people who will be there, and there will be more people eventually."
Philadelphia Freedom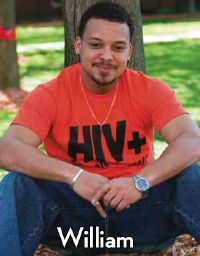 Photo © Russell McGonagle
William (see "
No Longer a Child
" in this issue) is from Philadelphia, and says that "being HIV-positive and being a young adult is the hardest thing in the world. You have to hide your medications, and you have to hide the fact that you're positive."
William never told anyone his status for 18 years. He was in denial, and fearful of the stigma attached to being HIV-positive and how it could affect him.
"Sometimes," says William with a wry smile, "when sex crosses from the living room, to the bedroom, to the bathroom -- the condom may not make it." Once, after he and his girlfriend had finished having sex, he looked down, and the condom wasn't there. He didn't know what to do. He hadn't told her he was positive, and he was too scared to tell her then. So he ran, and they broke up.
"If you are with a person, and you think you know everything about that person, you're just kidding yourself," says William. "HIV is just another secret. I was with my girlfriend for one year and I never told her that I was positive. Most people in this room, if you were asked by your spouse or partner how many people you have had sex with -- most of you are not going to tell the truth.
"So don't assume that people are going to tell you the truth, they may be in denial, and they may fear rejection. The stigma attached to HIV may be the strongest thing on this earth."
I Love New York
"I'm from the Big Apple -- New York City," begins Josh. "My life with HIV is pretty much all I know. It's me. It's who I am." Josh was born with hemophilia, a blood clotting disorder. He found out when he was 4-1/2 years old that he was HIV-positive. When he was nine, he got really sick, and he's been taking meds ever since. "I thought life was going to get easier as I got older," says Josh, "because people are more knowledgeable. As I got older, life got harder."
Relationships, for Josh, are the hardest part. He says that life is about feeling like you're somebody, like you're worth something, like you're worth having a friend, and about being accepted. He had a best friend from when he was about 2-1/2 years old until he was seven, and they were inseparable -- they did everything together. But he lost his best friend because he was open about his status, and it wasn't cool with his friend's parents.
"It's hard because I need a circle of people around me, to help me," Josh says. "And at some point in my life I will find someone who will care about me and want to share my needs, and be there in my life."
And a Child Shall Lead Them
Jasmine and her mom, Leslie, live in Lake County, Illinois. Jasmine is in the fifth grade, and found out about the Road to Hope Tour through Camp Kindle, a camp in California for kids with HIV. Many of the speakers on the tour become camp counselors for the kids, explains mom.
"After they meet them, they just can't help it. Your heart goes out to them," says Leslie. "For one week, the kids just get to be themselves." Leslie is a long-time friend of Jim Pickett and Shelly Ebert, both of AIDS Foundation of Chicago, and through them had an opportunity to meet recently with U.S. Representative Mark Kirk (R-IL), a "hardcore Republican," helping to sway Kirk's vote on pending legislation. "The best way to somebody's heart and their purse-strings is through a child," says Leslie, barely cracking a smile.
When Jasmine speaks to the audience, it's difficult to hear her soft voice from where I'm seated in the lecture hall. She reads from a worn slip of paper, and I ask her mom later for a copy.
"Hi, my name is Jasmine, I am in the 5th grade at my middle school, and I have HIV!!! I am the only person in my school who has HIV. Once in a while I get sad because I can't tell anyone in my school I have HIV, because they might laugh at me or their parents won't want them to play with me or be around me. I am just like any other 5th grade kid. I like doing cartwheels and splits, I'm on the cheerleading squad and I get good grades.
You see, I was born with HIV. I got it from my mom. My dad also had HIV. I get scared sometimes that my mom might die. My dad died when I was four years old, and it's been me and my mom since then. My mom has been giving me my medicine since the day I was born.
"My medicines used to make me very sick when I took them, but now I have a g-tube that's in my stomach and they don't make me sick anymore. I am lucky because I get my medicine. There are lots of kids in the world who don't get medicine and they are dying. I am also very lucky because I get to go to Camp Kindle. I heard about camp at my doctor's office. I was really excited to go to camp because I got to meet new people my age with HIV or AIDS or their parents have [it]. This will be my fourth year at Camp Kindle. While at camp I get to hang out with my friends and swim all day long!!! Camp Kindle gives me the chance to share my story through the SPEAK-OUT program, [which] stands for Sharing Personal Experiences and Knowledge: Our Unique Truths. When I share my story I get very nervous, but I like telling people about HIV and AIDS because we are no different than them. You don't have to be afraid of kids with HIV. They like rollerblading, bike-riding and just hanging out with friends. You can't get HIV from being friends with them so remember: KIDS WITH HIV ARE JUST LIKE YOU. I am 11 years old and I have HIV and I am just like you, a kid that likes to have fun and make my mom mad. Thank you for having me here and hearing my story."
Like Daughter, Like Mother
Leslie, Jasmine's mom, was born and raised in Illinois. "I'm the typical Jewish American Princess," says Leslie in a gravelly voice that's somewhere between Tallulah Bankhead and Brenda Vaccarro. Her story is anything but typical, but definitely from the heart. "My mother died when I was 17, by the time I was 17-1/2 my father put me out on the street," she continues. "After 2-1/2 years of being in Chicago, I wound up in the penitentiary, and by the time I was 24, I was on my second jail term.
"You take the good with the bad," says Leslie. "When I was in jail, I called my father, and he said, 'How much money do you need?'" She told him she didn't want his money. "'I'm calling to tell you I've been diagnosed with HIV.' I was informed not to call him until I was dying. I was 24 then, I'm 42 now -- and the only thing I can tell him is, 'Sorry, you sonofabitch, but I'm gonna outlive you!'
"I went on every medication there was when I found out I was pregnant. I didn't drink any alcohol, I even quit smoking while I was pregnant," Leslie states proudly. "I just knew my baby was going to be born negative -- I did everything I was supposed to do." But it didn't work out that way, and Jasmine was born HIV-positive.
Leslie says there is a reason for everything that happens in this world, there is a purpose. "My reason for getting HIV was to have a beautiful, beautiful daughter who could go out and speak to people, and educate them.
"People don't realize that the person sitting next to them could be HIV-positive," Leslie tells the audience. "It doesn't matter if you're old, young, gay, straight, black, white, green or purple. All that matters is if you didn't put a condom on. So 26 years from now, you could be standing up here telling the story of how you got HIV, because you forgot that condom," she tells them. "Or, you could use a condom, and get yourself tested."
On the Road Again
Photo © Russell McGonagle
The speakers stay onstage afterwards for a brief Q&A. William, when asked where he sees himself in 10 years, says he'll be finished with his Masters degree and head of his own non-profit organization. Josh will have his Masters and hopes to be married. Duane says he'll be married, with kids. "I'll be a daddy," he says with a smile.
During the train ride home that evening, I think about all of the different people I'd met that day, and discover a common thread woven through each of their unique stories. The desire to make a connection with others, to find a way to give back something to their communities and to their peers, and to strengthen their resolve to never give up hope for a better future.
As Josh says, "HIV is the card I've been dealt -- and I'm going to use it to teach."
To find out more about Hope's Voice and the Road to Hope Tour, visit www.hopesvoice.org. For more information on Camp Kindle, visit www.campkindle.org.