A Look at an Underground Youth Community That Has Taken HIV Prevention and Awareness Into Its Own Hands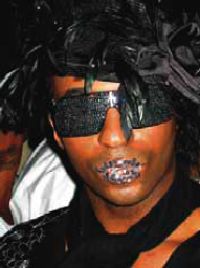 Photo by Frank Leon Roberts
In a world where the influence of hip-hop dictates one's sense of style, speech and masculinity, many Black gay youth have a difficult time finding their way. Safe spaces where they can explore their gender and sexuality are few, far and in between, likely contributing to the extremely high prevalence of HIV and STDs among this marginalized group of young people. Hundreds, if not thousands, turn (or are pushed away) from their traditional families and are forced to fend for themselves in order to survive.
Many, however, find refuge in a small community that celebrates self-expression and encourages them to explore and define who they are for themselves. Here, they are given the tools they need to create their own realities and to live fully inside of their own truths.
History
The ball scene dates back to as early as the 1920's. The first balls were basically drag pageants, organized and thrown inside of grand ballrooms in Harlem. They were competitive in nature, with structures similar to other events in the Black cultural tradition -- such as cotillions, step shows, and carnivals.
Balls as we know them today are centered around several aesthetic categories, including Face, Body, Realness (which is often a play on Black masculinity), Fashion and Vogue (made popular by the classic Madonna hit by the same name). Cash prizes and trophies are the most common rewards. However, any ball kid (as members of this community refer to themselves) will tell you that the ultimate goal of competition is community recognition and status.
Advertisement
Community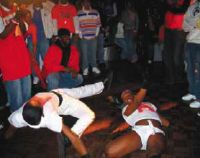 Photo by Frank Leon Roberts
In order to understand this concept, one must first become familiar with the ball community -- which is slightly different from the ball scene. While New York City is still recognized as its epicenter, there are sizeable ball communities in several major cities across the country, including Chicago, Atlanta, Detroit, Philadelphia, and Los Angeles.
Though it is derived from a highly competitive institution, the ball community is more about social networking than it is about competition. It is made up of more than 35-50 nationally recognized and active houses, each named after a different fashion designer extraordinaire (House of Chanel, House of Escada, etc.).
Houses serve as makeshift families for many GLBT (gay, lesbian, bisexual, and transgender) youth who would otherwise do without the support and nourishment provided from "traditional family households."
A True Home
Each house consists of a house mother and a house father, usually both male and not necessarily defined by degrees of masculinity (or the lack thereof). The roles of house parents are similar to those of "traditional family households," where the mother lays down the laws and the father enforces them. Both exist to ensure that their "children" have everything they need to grow and develop into healthy, productive human beings.
"Belonging to a house really entails membership, and is, in and of itself, about belonging," says ball kid and scholar Frank Leon Roberts. Roberts, also known as Frank Mizrahi of the House of Mizrahi, has been actively involved in the ball community and scene since early 2002. At 23 years old, he is a doctoral candidate at New York University, in the Graduate School of Arts and Sciences and the Tisch School of the Arts.
"Houses are basically social networks similar to fraternities or sororities," he explains. "People network within their houses for jobs and resources that they are often otherwise refused."
Roberts goes on to explain that many of the kids actually live with their house parents, because they have been ostracized by their biological families for being gay or transgender (or sometimes simply for questioning) and have no place else to go.
"You will often find very young kids -- 12, 13, 14 years old -- who are questioning their sexuality or their gender," he tells me with wisdom way beyond his years. "It is often the only place where transgenders can celebrate their gender transition free of judgment."
While many social service agencies make attempts at outreach to the ball community, its underground nature and transient population make efforts done out of good intention oftentimes unfruitful. Roberts describes it as a marginalized community within a marginalized community that many people, including other Black gay men, just don't get.
"The scene comes out of the community. Therefore, you can't just do the work at the balls, you have to do the work within the community," Roberts says matter-of-factly. "You have to be connected to the ballroom community. It has to be hand in hand.
"The work that the ballroom scene does, in and of itself, is that it provides a self-affirming space for Black gay men to be themselves and to play with gender, and to affirm their gender ideas and sexual identities. It provides a recreational space that truly is intervention on the ground level. It is the only place where these types of gender performances are celebrated."
While he believes that traditional outreach is necessary and that people should be encouraged to practice safer sex and use condoms, Roberts also stresses that outreach to this population has got to be considerably more involved. "The problem with telling people to put on a condom and protect themselves is that you assume that they have a positive sense of self worth and identity," he says. "But if you have been systematically taught to devalue your life and your body, then why the hell are you going to protect yourself?"
Chi-Town Home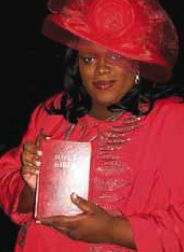 Photo by Frank Leon Roberts
The agenda of a Sunday evening family meeting at the Chicago chapter of the House of Omni absolutely supports this theory.
House father Kenny Omni has been involved in the ball community since 1989. He has seen firsthand the devastation that HIV and AIDS has inflicted on Black gay men, both young and old. Having only recently been able to have any type of productive dialogue with his own mother regarding his sexuality, he does not take his role as house father lightly. He understands that his influence is oftentimes the only parental guidance that many of his "kids" will ever know.
"This house is different from most other houses in the ball community," he says seriously. "I don't push the balls on my kids. Don't get me wrong, I enjoy the balls and love for my house to be recognized within the community," he explains. "But more important than that, to me, is seeing to it that my kids succeed in life and realize their potential to be whatever they want to be." And, based on the level of success that many of Omni's members have attained thus far, Father Kenny Omni is achieving his goal.
Darren Omni recently produced remixes for the Kanye West and Brandy hit Talk About Our Love, and Natalie Cole's Tell Me All About It. While he refuses to share his real age with anyone in the group, Darren has been a member of the House of Omni for more than eight years. He says that he got involved strictly for the social aspect of it, not necessarily for the balls. "I enjoy the camaraderie that I have with my brothers and sisters," he says. "I have never really been interested in walking in the balls."
The exact opposite is true for 20-year old Bambi Omni, who is a professional dancer with Deeply Rooted Productions (a dance troop based out of New York and Chicago). "I don't live for the balls," he says. "But the balls live for me." His animated remarks cause his house brothers to burst into laughter as he demonstrates the unique way in which he works the runway. "I give it to the children."
Though he fully enjoys being a part of the ball scene, Bambi's life is a perfect example of what it means to not get caught up in it. He walked into today's meeting with news that he has been selected from thousands of dancers to perform in the opening and closing ceremonies for the Gay Games, to be held in Chicago in July. He is also an honor student at the American Intercontinental University, where he majors in business administration.
He moved out of his parents' home at the age of 16 and has never looked back. "When I came out to my family, they called a family meeting and folks I hadn't seen in years [came] from all over the country ... to exorcise the 'demon' from me," he shares. "I sat there with my Louisville Slugger clutched under my arm and dared those girls to try it. From then on, this community became my family."
Growing Up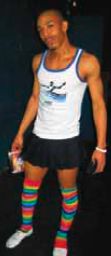 Photo by Frank Leon Roberts
Sex and sexuality are discussions that are constantly on the table for the House of Omni. Father Kenny Omni is a member of the Friend-to-Friend Network (see
November/December 2005
), and requires that his "kids" not only participate in educational sessions about safer sex practices and HIV, but also has an unspoken rule that they be involved with community events to raise awareness and money to support the efforts of AIDS service organizations in the GLBT community.
"We had 12 members participate in the AIDS Walk last year," says Fred Omni, who is a prevention case manager for a local HIV/AIDS organization in Chicago. "Not that we were resistant, but we weren't given much of a choice in the matter," he jokingly explains.
"In other words," Bambi chimes in. "Kenny was going to put us out of the house if we didn't show up." The entire room bursts into laughter again, but Kenny Omni doesn't crack a smile.
"I take this very seriously," he says. "This is such a serious issue that affects all of our community. If we don't do something about it, who will?"
The House of Omni also takes a serious stand as it relates to underage drinking and substance use/abuse among its members, another hot topic that draws lots of negative attention to the ball scene. "We have a zero tolerance policy on matters such as these," he says sternly. "There is no place for any of that in this house."
When asked his perspective on the substance abuse issue that exists within the ball scene, Frank Leon Roberts had this to say: "I don't know if substance abuse is any more of a problem within the ballroom scene than it is in any other queer recreational space.
"Whether it's the club scene or the sex party scene or whatever recreational scene it is, drug use is a problem in the gay community in general," he adds. "But because no one is doing that work and doing that research and doing those surveys with the ballroom community, the entire scene gets stigmatized. Regardless of the situation, however, it is still no excuse for resources to be denied, which is often what happens."