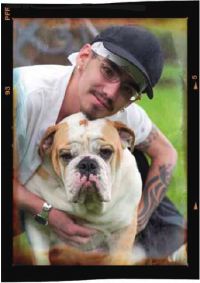 Photo © Russell McGonagle
Arlo Andrade is 19. He was born with HIV and found out he had it when he was seven. When he was diagnosed with AIDS a year later, he began speaking in his school about HIV to educate other kids about the virus. As a result, he was beaten up, although most of the other children were supportive. He was also struck with stigma that followed him up through high school.
Andrade fell in love with movies for their ability to take him away from his pain for a short time. A creative writing class in seventh grade also eased his pain, and he still writes short stories and poems. But as an adolescent, he found that drugs were the easiest way to take away all of his emotional pain, and he became an addict. Two years in a treatment facility helped him recover and today he has goals for his future. He's a beautiful, bright, and articulate young man. These are his words.
Poetry and Short Stories
I only write about addiction and not HIV. The people who know me know that's where it comes from. I hated life and I wanted to take everything I could get my hands on.
The Moment
The day I found out, I remember it clearly. I was seven years old and my mom was dropping me off at school. When I got out of the car, I turned around and said, "What do I have? I know I'm sick." There is no way to back off from a question like that.
Advertisement
The reason I asked is that I was taking all these medications. It wasn't talked about a whole lot. I had physical pain from taking
ritonavir
[Norvir], full dose. It killed my stomach.
She told me I had HIV. I knew what it was, but not really.
That's when I became depressed, when I realized I wasn't a normal kid where I could go out and just have fun.
Bullying
A year later I got an AIDS-defining illness. That's when other kids found out. I had a PICC line. People know you're sick, you can't hide it. I talked about it, wanted to educate other kids. When I came back from my month away from school due to being sick, most everyone supported me coming back and welcomed me back with get well cards and so many hugs. I felt really loved, but still didn't fully understand why I got so sick.
During my fourth or fifth grade, a kid called me "AIDS boy" and I beat the hell out of him. Even my friends got picked on. They got called "faggot" and things like that.
I was on the Oprah show when I was eight [he read from a book he wrote for Chicago's Children's Memorial Hospital to help kids deal with HIV]. After that -- surprisingly enough -- I didn't get picked on. If anything, I guess the kids grew up emotionally and were happy for me. But then my picture was in a book called "The Faces of AIDS" [produced by the Chicago Department of Public Health] when I was 12, and that got me beat up.
A New School
In junior high, I had a creative writing class and I learned to write about my pain. I ended up graduating with honors from eighth grade, and I never thought that would happen.
But the kids who moved on to junior high with me opened their mouths, and from there it went on to high school. Oak Park [a middle-class suburb on the Western edge of Chicago] is a small town and in the teen world everybody knows everybody's business. Nothing's secret.
As a teenager living with this, kids don't realize how important it is to keep confidentiality. It's nobody's business. If they talk, I can meet someone down the road who will judge me off of that. I can't tell them and explain it.
Addiction
When I got older I decided I didn't have a future and I was just going to have fun. At the 8th grade dance, I got drunk. After that, going into freshman year, I started to drink more heavily and started smoking weed. Then I went on to Codeine, Special K, Xanax, Valium -- to name a few. I was losing reality. At the time I didn't know that's what I was doing. I wasn't feeling my pain any more. In my first year I started doing heavy drugs.
In 2002 I snorted heroin. I never slammed it. I'm so scared of needles. I know that's ironic for someone who has regular blood draws and 11 tattoos.
Heroin is the best high of your life. But it ruins your life.
Dropping Out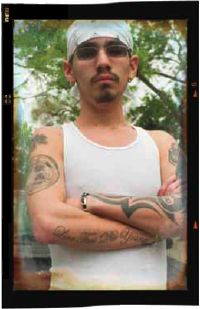 Photo © Russell McGonagle
I didn't make it through even one year of high school. If you tell the teachers, it makes the harassment even worse. That's why you have things like Columbine. If things had gotten worse and I had stayed in my school for all four years, I would have done something to my high school.
I don't remember a whole lot because I drowned most of it out. I was just thinking I want to have fun. [Andrade has a tattoo that says, "Live fast, die young."]
Hanging out in the park I was accepted. It felt good being a part of something. I could talk and hang around them [other kids] and not worry about being harassed.
Treatment
My problems got bigger than they were to begin with. In December '02 I went into treatment for almost two years, at two different places. Before that, I was hospitalized for the same reason. My way of life wasn't working for me. It isn't working for anybody.
The people in treatment [in Knoxville, Tennessee] were incredible. They gave me another family that will always have my back. Whenever I go back to visit it feels just like a second home. Thank you, all you cats in Knoxville, for helping me get my shit back together.
They also got me to look at parts of my life that I didn't know existed. Subconsciously I'm angry at my father and angry at my mother. I knew I was angry at my dad, but I didn't realize I was angry at my mom. [Andrade's father died before he turned two, and he doesn't remember him. He has a tattoo with his father's date of birth and "Mexico" -- Andrade's mother is of European descent, including Russian.]
My underlying root is my health. I have no idea what my life would be like if I hadn't been born positive. I have no idea. Sometimes I think about it, but I know it's no use.
Relapse
I got too comfortable at the treatment center in Knoxville. I didn't want to leave. Meds twice a day. Three meals a day. I learned everything I could there. I went to another treatment center [in League City, Texas] and left against medical advice. I hated it. They didn't even bother to put me in the best program they had. I was watching TV about quitting cigarettes and I had been snorting three bags of heroin. I said screw this.
I went back to heroin, but then I was sober for six months, until I fell in with a party crowd. I wanted to go back to my way of life.
Suicidal
I was using cocaine and Ecstasy, and drinking a lot. I stopped that because I was in a suicidal depression.
I was staying with some people in a studio apartment on the North side [of Chicago]. One day, very early in the day, around three or four in the morning, I decided that I'm either going to go to AA or I'm going to kill myself. I didn't know how to use the El [subway] but I got on the train and got to Forest Park [where the AA club is located, a suburb 15 minutes away from his home].
Recovery
I had attended an AA meeting in Forest Park when I had a home pass from the treatment center [in Knoxville] and I went back. It's been helpful. What I learned in rehab has also helped me. I had a better head on my shoulders. I knew that what I was doing was wrong.
Dwelling on [your pain] is what gets to people. That's what gets you back to drugs.
The Virus
This disease is fatal. But it also can be controlled. It's not something you have to fear. "Oh, my God -- HIV. I'm going to die." "He's going to give it to me." "I can't drink from his soda." It's serious and it's not serious. You can share a soda, you can share a fork, you can share a toilet.
Sex is serious. You have to use a condom. My friends just want to get laid. (Well, I want to get laid too, but I know that you need to be careful.) You're playing with a bullet. If you're doing drugs, the odds of you grabbing a condom don't look good.
Sex
I can't just go out and have sex. The obligation of telling a girl I have it is scary as hell.
What I see in my age group is that sex is just a game. Who can sleep with [the most] people. Who can be the biggest whore, in other words. Casual partners. One night stands. Those are nice, but yet they are very dangerous.
That's what boggles my mind. You have a friend who has it. You know it's in your community.
Yes, I'm jealous. I can't go out there and do that. But it's dangerous. There are people out there who will have sex with you and not let you know.
I'm protective as hell with my friends, guys and girls, especially the girls, because I know how guys think. They see a cute girl and they think, "I want to get with her tonight." And I'll just stand there trying my best to be intimidating. Even with how short I am -- 5'2" -- I still can come off threatening if needed. "Don't mess with her." Sometimes they get mad at me [the girls].
Girls
I don't talk to them because I don't have a high self-esteem. My friends tell me go talk to her. I know I look good because my friends tell me I do. But I'm self-conscious. If they do [flirt with me], I'm oblivious to it.
I have hit on girls. I was always on drugs. Every girl I dated I was on drugs. I was always upfront about it. If I meet a new girl, then it's a problem. It's kind of hard to say something. If it's a group of friends, then they know. It's just that taking the chance of getting rejected because I have HIV is hard.
I'll ask a question. How do you feel about this or how do you feel about that, just to get a clue about whether to say something or not. I'm pretty blatant: "How do you feel about people with STDs or HIV?" I make sure it's not an awkward time. I always ask one-on-one, not in a group. "I'm cool with it" or "I've got no problems," that's usually the response I get. Usually they are. But sometimes they say they're okay with it and they're not.
I hate when they say, "Oh, I'm sooo sorry!" You know what? Get the fuck out of here. I don't need your pity shit.
Or when they say, "I understand." Really? Do you? Do you understand? Do you take meds that tear your stomach apart? Do you take medications that yeah, they save your life, but if you don't take them, you could die? That's why I refuse to talk with a therapist who says they understand when they've never had an addiction.
The Movies
You lose yourself for a couple of hours. You just have fun for a little time. I loved Saw 1 and 2. I could relate it to myself in a sick way. The Jigsaw killer didn't kill anyone. He put his victims in a position where they could see how advantaged they were and to not to take life for granted. Jigsaw was a cancer patient. These people were assholes cheating on their spouse, drug addicted, a voyeur. They didn't have to take medications every day and deal with a life-threatening disease. I think that about other people. They're living a healthy life. Here I am with a ticking time bomb. I could get a cold and get very sick.
As I continue in my recovery, I see more that I do have a good life. I have two parents. Yes, one is a stepparent, but he loves me as much as he loves his four kids. My stepdad's oldest son was my best friend. That's how my parents met, driving us back and forth. I have four great step-siblings. Why should I feel sorry for myself?
Goals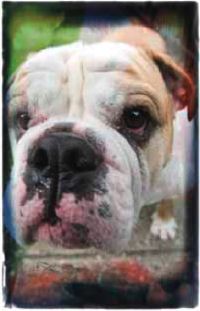 Photo © Russell McGonagle
I want to start a tattoo shop. I want to get married and have kids. Then some little thing gets me down.
I'm not on psychotropic drugs, but I see light at the end of the tunnel. That's a cheesy way of putting things, but it's true.
I'm registering for business classes and working on starting the shop.
People who lose someone go in to get a memorial. [Andrade has one for a friend who overdosed on cocaine: "Spencer -- Rest in peace."] It's healing. They'll look at it and remember the shop and say, "Yeah, they helped me get through this time in my life." Or even just the pure pleasure of giving someone a piece of art that they want for whatever reason and in doing so making someone happy. There is no greater joy for me than to see people happy and if I can be the one to help make them happy, then it's all good.
I learned there's other ways of feeling good, other than being high. I don't regret anything I've done in my life. I think there's a difference between feeling bad and having regret. There's a difference between guilty and feeling bad because you did something wrong. If you have a conscience, you should feel bad. But there are only so many times you can say, "I'm sorry."
Today
I see myself as having a good state of mind. I'm not okay. I'm still depressed. I'm still anxious, but with my addiction managed. I am back on my medications for HIV and still have the same struggles with those. But I see it this way: I have a life I want to live now. In the past, I didn't want to live or I feared the future. I am facing life head on. I
will
succeed in my dreams of having a tattoo shop and having a family with a wife and kids. I will be successful!
Survival
Doctors shouldn't tell people they're not going to live. A doctor told my mother that I wouldn't live for very long. My mother smothered me. I'm almost 20 -- it's time to let go.
Arlo Andrade received a Mustang from his parents recently, but the light of his life is his five-year-old bulldog, Toro, who goes practically everywhere with him. Andrade's mother, Eva Janzen Powell, was chairperson of the Community Constituency Group of the Pediatric AIDS Clinical Trials Group, a volunteer position, and is active in the struggle against HIV/AIDS. Andrade can be reached at shorty_tattoo313@yahoo.com or online at www.myspace.com/distortedstateofmind.