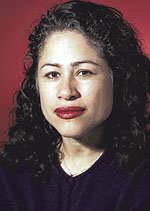 Enid Vázquez
Omission
In the annual HIV Drug Guide (January/February),
Positively Aware
inadvertently omitted the Merck & Co. statement on their HIV protease inhibitor drug, Crixivan (indinavir). The statement follows. Our sincere apologies to Merck & Co. and to our readers.
Crixivan was one of the first protease inhibitors on the market and in combination therapy provides highly effective therapy for the treatment of HIV. Crixivan in combination with antiretroviral agents is a powerful protease inhibitor that fights HIV and is among the preferred treatments for HIV in federal healthcare guidelines.
Advertisement
Crixivan can help reduce chance of illnesses and death associated with HIV; Crixivan can also help lower the amount of HIV in the body and raise
CD4
T-cell counts, as shown in studies over a one-year period. As with all products some patients may not experience these effects and Crixivan is not a cure for HIV or AIDS. Crixivan must be taken every eight hours and adults should drink at least 6 glasses of water per day.
Stopping PCP Meds
Part of the good news that the use of HAART (highly active antiretroviral therapy) had brought to people with advanced HIV disease is that they were able to stop taking preventative medicine for PCP (
Pneumocystis carinii
pneumonia) once their T-cells were more than 200. The illness was a common cause of death in the early days of the epidemic. However, people who had already experienced PCP were not able to stop taking prevention because their risk of another bout of PCP was too high. Now a Swiss study published in the January 18 issue of
The New England Journal of Medicine
reports that this group can also stop taking PCP prophylaxis (prevention). Of a group of 325 people taking HAART whose T-cells were greater than 200, not one suffered a PCP relapse as of 13 months from the time they stopped taking PCP prophylaxis. The researchers concluded that stopping PCP prophylaxis is safe in this population. A different study in the same issue of NEJM again noted no finding of PCP in people whose T-cells had gone over 200.
HIV Guidelines Now Say "Hit Later"
It's been years in the works. Doctors and HIV advocates had become increasingly concerned over the difficulties of taking HIV therapy, including side effects that may increase the risk of serious disease and deteriorate quality of life. Now it's a done deal: the new HIV treatment guidelines of the U.S. Department of Health and Human Services (DHHS, part of the National Institutes of Health, or NIH) suggest that people wait until their T-cells are down to 350 or their viral load above 20,000 before they begin HIV therapy. Before, the standards were much higher: "In general, any patient with less than 500 CD4+ T-cells or greater than 10,000 (bDNA, the Chiron test) or 20,000 (RT-PCR, the Roche Amplicor test) copies [viral load] should be offered therapy." The changes represent more nails in the coffin of the "hit hard, hit early" school of HIV therapy. And although expected, the new official word is creating a buzz among HIV specialists about the continuously changing direction of treatment. For a copy of the guidelines, call 1-800-448-0440 or visit
www.hivatis.org
.
Polylactic Acid for Facial Filling
An experimental treatment successfully used in Europe for AIDS-related facial wasting is soon expected to be available in the U.S. The Direct AIDS Alternative Information Resources (DAAIR), a buyers club in New York City, offers a 3 ml bottle of New-Fill (polyactic acid) for $177.50 plus shipping, with up to five refills. A prescription is necessary and several treatments are needed. A variety of materials are available for injecting during plastic surgery, including fat taken from other parts of the body and collagen. New-Fill is found to last longer than collagen and is expected to stimulate the body to form more of its own collagen. The material is thicker than most other injectibles, and must be injected with a smaller needle to get a smooth surface result. As with any experimental treatment, long-term side effects are unknown. DAAIR is providing a fact sheet on how to administer the treatments. Visit the manufacturer's website,
www.new-fill.com
, or contact DAAIR: e-mail
info@daair.org
, fax 1-212-689-6471, call 1-212-725-6994 or toll free outside New York state at 1-888-951-5433. Visit
www.daair.org
.
Facial wasting, the hollowing out of cheeks and temples, appears to be a side effect of HIV drug therapy and can be extremely distressing. Reconstruction surgery has been used by many to insert or inject a filling to round out the face again. AIDS reporter Emmanuel Trenado wrote to a U.S. internet list, "Polylactic acid has been used in France quite a lot. People who have been using it are pleased, but it seems that it does not last as long for some. The company which produces New-Fill answers to this by saying that you need a skilled doctor to inject the product (deep in the skin but not too deep). Also some people have bruises for a couple of days. The product was put on the market at the end of 1999, and it seems at least here in France for the moment the only interesting filling product that is temporary. Collagen and hyaluronic acid don't last very much. There's a brand new filling product called Outline and it will be in clinical trials soon."
More Viramune Rash for Women
Researchers reported that women are seven times more likely to experience severe rash from the HIV drug Viramune (nevirapine) than are men. The side effect is potentially fatal. Women are also 3.5 times more likely to discontinue taking the drug because of rash. The researchers looked at people who had taken Viramune over a five-year period at several cities throughout the country. They found that nine out of 95 women had severe rash, compared with three out of 263 men. The results were reported in Clinical Infectious Diseases.
Don't Mix Cipro with Methadone
A report in
The Lancet
medical journal of December 16, 2000 noted that a woman on methadone experienced toxic levels of that drug when she was given the antibiotic Cipro (ciprofloxacin) for a urinary tract infection. The interaction between the two medicines caused her to be hospitalized. Symptoms of toxicity from methadone can include drowsiness, confusion, low blood pressure and slowed breathing. An injection of the anti-narcotic drug Narcan (naloxone) helped her recover right away. Many people with HIV use methadone, a medicine to control cravings for drugs such as heroin. The doctors issuing this report noted that Luvox (fluvoxamine) and Prozac (fluoxetine) can also raise methadone blood levels.
Zerit, Videx, and Hydroxyurea
The story of a London man helps illustrate the point that the three drugs together may increase the risk of serious side effects. His doctors recently reported in the British Medical Journal that he took Zerit, Videx, and Viramune for a year and a half before his viral load went up (the amount of HIV in his blood). His doctors then added hydroxyurea, a cancer drug that works against HIV. But he had to stop the hydroxyurea within two months, after experiencing pain in his upper abdomen. It was pancreatitis. Three weeks later the other three drugs also had to be stopped, after his condition became worse. In 1999 the manufacturer of Zerit and Videx had to add the following warning to Videx's drug label: "Patients treated with Videx in combination with stavudine [Zerit], with or without hydroxyurea, may be at increased risk for adverse events such as pancreatitis, peripheral neuropathy, and liver failure." Just a reminder.
Experimental Drug Problem
The Washington Post reported on December 18 that an experimental HIV drug which caused heart arrhythmia when it was tested in dogs, a problem that could lead to blackouts and death, is no longer allowed to be tested in large-scale studies in the U.S., but will now be tested in Mexico. The paper reported that Triangle Pharmaceuticals promised the Mexican government that it will closely monitor mozenavir. Trials in poorer countries are much less expensive to conduct, the report noted.
Treating Lactic Acidosis
Lactic acidosis is yet another potentially fatal side effect of HIV drugs, and difficult to measure. Doctors in the Netherlands reported results from six HIV-positive people with lactic acidosis (high levels of lactic acid in the blood). Symptoms include fatigue, abdominal pain, shortness of breath, and nausea. People with hepatitis B or C are at increased risk, as are women, especially obese women. The Dutch researchers infused their patients with a saline solution and twice-daily infusions consisting of 100mg vitamin B1, 20mg vitamin B2, 200mg niacin (as nicotinamide), 20mg of pantothenic acid, and 1,000mg of L-carnitine. They reported that 50% of people with lactic acidosis die, but all six here survived. The results were published in
AIDS
.
Medicinal Marijuana for Hawaii
People with debilitating diseases who live in Hawaii can now legally have up to three ounces of marijuana and grow up to seven marijuana plants. A registration form must be obtained from a doctor and the marijuana is to be used for the treatment of pain. There are now nine states allowing the use of medicinal marijuana, but the U.S. Supreme Court is set to weigh those laws against the federal law prohibiting the use of marijuana.
HIV Drug Companies Sue South African Government
An association of drug companies has renewed its lawsuit against the government of South Africa to stop the country from importing less expensive generic HIV drugs. In attempts to control its HIV epidemic, South Africa has passed a law challenging company drug patents, which give them exclusive rights to the sale of their medicines. However, the companies then set the price, which for HIV drugs are generally sky-high. Less expensive generic versions of many of the drugs are being manufactured around the world, most successfully in Brazil. It is these drugs that the South African government was trying to buy for its people when the drug manufacturers stopped them with the lawsuit. HIV advocates fear that U.S. president George Bush may reverse an executive order signed by Bill Clinton last year that allows poor countries to buy generic versions of drugs still under U.S. patents. An editorial in the British medical journal
The Lancet
in January urged drug manufacturers and governments representing their interests to change international laws that make it difficult for impoverished countries to fight the AIDS epidemic. As for the idea of drug discounts and giveaways, AIDS activists charge that these proposals are a public relations front for the drug companies with no plans in place for actually following up to provide the medicines.
Crix Stones
Canadian researchers reported finding seven times more cases of nephrolithiasis (kidney stones or kidney sludge) from therapy with Crixivan protease inhibitor than the 4% incidence rate listed on the drug's product label. At 78 weeks, 43.2% of the 155 people they reported on had nephrolithiasis. These results are not surprising, given that there was nephrolithiasis in a third of the 33 people who took the drug for three years in one drug trial. The number of side effects associated with any drug tends to be greater out in the real world. The results were published in the December issue of The Journal of Urology.
Uh, Oh . . . Pregnant Women, Look Out
The FDA and Bristol Myers Squibb, the manufacturer of the HIV meds Zerit (stavudine, or d4T) and Videx or Videx EC (didanosine, or ddI), issued a warning in January that pregnant women taking the two drugs together may be at increased risk of fatal lactic acidosis, as well as liver damage. The warning came after three pregnant women died of lactic acidosis while taking the drugs together along with other HIV antivirals. The FDA explained: "Lactic acidosis occurs when cells of the body are unable to convert food into usable energy. As a result, excess acid accumulates in the body and vital organs such as the liver or pancreas may be damaged. Severe lactic acidosis is an infrequent, but well-described complication of the class of HIV drugs known as nucleoside analogues. Pancreatitis is also a well described complication of Videx and Zerit." The women were taking Zerit and Videx in combination with other drugs used to treat HIV, as is common with standard triple combination HIV therapy. Two of the cases were reported from HIV studies in South Africa and one was identified through worldwide post marketing surveillance. The FDA also noted that it "has received several nonfatal reports of lactic acidosis, with and without pancreatitis, occurring in pregnant women receiving only Videx and Zerit. Although data have suggested that women may be at increased risk for the development of lactic acidosis and liver toxicity, it is unclear whether pregnancy potentiates [strengthens] these known side effects." The letter also noted that the two drugs should be prescribed for pregnant women only when the potential benefit clearly outweighs the potential risk, as when the women do not have other treatment options. Look out for symptoms of lactic acidosis as listed above in "Treating lactic acidosis," but don't get unnecessarily frightened. Pregnant women who are prescribed the two drugs should be closely monitored for clinical or laboratory signs of lactic acidosis and liver damage. Because lactic acidosis can develop quickly before abnormal lab values are seen, the FDA recommends that healthcare workers keep "a high index of suspicion when monitoring these patients." Adverse reactions to the two drugs can be reported to BMS at 1-800-426-7644. Contact the FDA by calling 1-800-FDA-1088, fax 1-800-FDA-0178, visit
www.fda.gov/medwatch
or send report to: MedWatch (HF-2), Food and Drug Administration, 5600 Fishers Lane, Rockville, MD 20857.
Uh, Oh . . . Viramune Not for PEP
The U.S. Centers for Disease Control (CDC) in January said Viramune (nevirapine) should be avoided when trying to prevent infection after exposure to HIV, because of the potential for serious adverse reactions. This recommendation does not apply to treatment for people with HIV or the use of Viramune to prevent mother-to-infant transmission, which requires only two doses of the drug and has been shown to be safe. So-called post-exposure prophylaxis (PEP) consists of an HIV drug combination used for a few weeks and is commonly used by healthcare workers after accidents involving needles that have been used in people with HIV, or whose HIV status is unknown. But reports of adverse reactions following treatment with Viramune led the CDC to make its recommendation. One nurse needed a liver transplant two weeks after starting Viramune along with Retrovir and Epivir. A doctor was hospitalized with life-threatening fulminant hepatitis, also after taking that combination. All symptoms began within two weeks. At least six of the cases did not use a lead-in dose as called for when taking Viramune. Still, Viramune can be used if necessary, as when the HIV source is resistant to other HIV drugs. The CDC points out that the risks of all the HIV drugs may be greater than the potential benefit of trying to prevent HIV when the risk of infection is very low to begin with. The complete
CDC Morbidity and Mortality Weekly Report
can be seen at
www.hivatis.org/atisnew.html
.
Recommended PEP regimens are outlined in the MMWR of May 15, 1998. See it online at www.cdc.gov/hiv/treatment.htm. For most exposures, Retrovir/Epivir (AZT plus lamivudine, also available in one tablet called Combivir) is recommended for four weeks. The two along with either Crixivan or Viracept protease inhibitor are recommended for exposures that may pose a greater risk for transmitting HIV (such as those involving a larger volume of blood or those involving a source with advanced HIV disease). The possibility of drug resistance in the source must be considered. For consumer inquiries, call toll free 1-888-INFO-FDA.
Award to Man Refused Treatment
Neurosurgeons in Oklahoma were ordered by the U.S. Justice Department to pay $50,000 to an HIV-positive man for refusing to perform back surgery because of his HIV status. The successful lawsuit was brought under the Americans with Disabilities Act.
HIV Specialty Center Opens
AbsoluteCare, a center for HIV/wellness care, has opened in Atlanta. There are plans for more centers around the country through partnership with Absolute Wellness, a non-profit center open one year. Together they combine under one roof all the services that people with HIV need. Services include nutritional counseling, alternative healthcare, and minor medical procedures. A similar facility, the CORE Center, opened in Chicago in 1998. The center is run by Cook County Hospital and Rush Presbyterian-St. Luke's Medical Center.
Nonoxynol-9 Increases HIV Risk from Anal Sex
The spermicide nonoxynol-9, found in many condoms and lubricants, may increase the risk of HIV transmission during anal sex. Recently the CDC issued a statement noting that the substance may in fact help increase the risk of transmission, rather than reduce the risk as had been hoped. The new report in the January issue of the journal
Contraception
said that nonoxynol-9 actually caused cells lining the rectum to peel off, thereby increasing the risk of transmission.
AIDS Lymphoma Still Up
By Daniel S. Berger, M.D.
Many infections and opportunistic complications in AIDS have decreased with new HIV therapies, but there are some concerns that lymphoma has not. Lymphoma is a cancer of the lymph node system, often referred to as "glands" or lymph glands. Lymph glands or lymph tissue are located in the neck and groin but also in many organ systems of our body, including intestines and lungs. Lymphoma is suspected when the lymph nodes swell to abnormally large size and often accompanies other symptoms such as fever, night sweats, fatigue, and shortness of breath.
Changes in the course of AIDS-related lymphoma have recently been reported in the journal Blood (December 15, 2000, pages 4084-90). 369 patients from Los Angeles County Hospital diagnosed with, or who had treatment for lymphoma, were studied. Overall, the incidence of AIDS-related CNS (central nervous system) lymphoma (brain) has not changed, yet, there was a greater prevalence among women and minorities; the changing demographic of AIDS in general in the U.S. has also increased in women and minorities. Changes observed in this study were related to the specific type and pathology of lymphoma. The subtype "high-grade small noncleaved" lymphoma decreased from 55% in the years 1982-86 to 22% during 1995-98. However "diffuse large cell" subtype increased from 0% to 32% during the same time periods. Average survival for AIDS lymphoma in the study remained bleak.
However, despite HAART (highly active antiretroviral therapy) and the widespread use and availability of protease inhibitors, the median T-cell counts at the time of diagnosis of lymphoma was 177 cells during the time period of 1982-86 and decreased to 53 cells during 1995-98. One wouldn't expect that the average T-cell count would have decreased among HIV positive individuals, even those with lymphoma, if those individuals were taking effective HAART medications.
Many previous studies have demonstrated a reduction in opportunistic disease with marked increases in T-cells among patients on antiviral therapy. This study is different from that experience. The differences in this clinical trial may be due to the study being conducted in its entirety at one institution, which sees a heavily indigent (poor) patient population and thus probably not representative of the overall population of HIV positive persons in the U.S. Additionally, one can not help but ask why would the average T-cell count decrease (from early '80s to the years 1995-98) in this population, despite widespread use of protease inhibitors and HAART, since this is in sharp contrast to what is commonly observed and published. The authors seem to rely on a less probable explanation for this disparity: "these patients may have simply lived long enough to eventually develop lymphoma as a long-term complication of HIV infection." Other explanations can be raised and include that the lower observed T-cells may indicate that these patients were not on treatment or their adherence to their drug therapy was poor. Perhaps treatment may not have started until too late or another possibility may be that the therapy chosen was not effective or tolerated. These reasons could easily explain differences that seem to be apparent from other treatment centers around the U.S. Lymphoma in our HIV-treatment center in Chicago still remains rare; we believe this is due to the availability and use of more potent antiviral therapies.