Developing and implementing a model HIV prevention program at the grass-roots level in the People's Republic of China is a very difficult undertaking, but this is the task we have agreed to with the Health Bureau of Zhejiang Province in China. The U.S. Centers for Disease Control and Prevention (CDC), World Health Organization (WHO) and various universities in the U.S. are actively involved with HIV/AIDS in China; but all of these undertakings are between professionals, usually physicians, or high level administrators on all sides. What has not been done, and what is unique to the relationship that Howard Brown Health Center (HBHC) is developing, is to work directly with the people in China who will implement the treatment and prevention programs among the Chinese population. Getting out in the field among the Chinese populations most at risk -- men who have sex with men (MSM), intravenous drug users (IDUs), and female sex workers -- is a major milestone.
Here is how this happened. For approximately 20 years, I have traveled to China over 25 times. All of my work there has been in health care -- health administration and health policy, cardiac surgery, telepathology, etc. -- and all of this work was in Zhejiang Province, a relatively wealthy southeastern coastal province with advanced educational and health care systems. The capital city is Hangzhou, with a metropolitan population of about four million.
In order to do business effectively in China, the Chinese people you work with must first trust you, and, secondly, you need a "mentor," or high level official to support you. I have been lucky on both accounts, being a close personal friend of the director of foreign affairs for the Zhejiang Provincial Health Bureau, who is also a respected official throughout the province. This is the reason that HBHC is "allowed" to initiate discussions around HIV disease and prevention among the Chinese people and with the three high-risk groups mentioned above.
Advertisement
It is also important to understand that working with these high-risk groups in China has its own particular set of problems. The first is that both IV drug use and sex work are illegal activities in China and are prosecuted more consistently and severely than in the United States. As a result these populations are much more "hidden" in China than they are here. Another barrier to reaching these groups is the potential or actual conflicts between the Chinese provincial health departments and the police departments. Whereas the police or security department are charged with arresting IV drug users and sex workers, the health department has a different goal, which is to provide prevention and treatment; and the two bureaus are often in conflict.
To be gay in China is not illegal. However, the problem with providing outreach to gay men is that the gay population is off the radar screen for most Chinese officials and the population as a whole. They vaguely know that they have a gay population, but they have no idea of the venues where people meet. It is very easy for the Chinese to think that the gay population is quite small because they never hear anything about it. In fact, there is only one or possibly two officials in the Zhejiang Provincial Health Bureau who know of the gay bars and clubs in the capital city of Hangzhou. It is important to have the support of these individuals in order to identify the bars and meeting places for gay men.
In 1999 my partner and I lectured on HIV/AIDS in Hangzhou and then in April 2000 we were visited by a group of Chinese health officials from Zhejiang Province about HIV/AIDS prevention. A team from HBHC traveled to China in September 2002 to meet with these same officials and many of their colleagues. The ostensible purpose of these trips was to provide information about HIV/AIDS; however, another very important factor was to provide the health officials with information to take to the central provincial government to argue the case of providing outreach activities to these at-risk populations who are engaged in illegal activities, without the threat of arrests from the police.
Howard Brown Health Center has been asked by the Chinese government to develop model HIV prevention programs for two to three cities in Zhejiang Province. The next step is to work with three to four Chinese outreach workers in Chicago in April or May of 2003 for a period of about a month. They will work with our outreach workers in the field conducting prevention activities in the venues for gay men, IV drug users and female sex workers.
We will then return to China in the Fall to help them develop printed materials for distribution and will expand training to other Chinese outreach workers. We will also work with the Health Bureau to set up confidential HIV testing sites, as well as work with several hospitals that can accept referrals for people who are HIV-positive. Finally, over the next couple of years, we plan on setting up working model HIV prevention programs and HIV testing sites in three major cities in Zhejiang Province -- Hangzhou, Wenzhou and one other city -- with the intent that the provincial Health Bureau will use these models throughout the rest of the province and then in other provinces in China. We have a huge and serious task ahead of us, but we are committed to seeing it through. -- Keith J. Waterbrook, Executive Director, Howard Brown Health Center, Chicago.
At-Risk Populations
Recent reports and data paint a dismal picture of HIV/AIDS invading regions of the globe, where for many years experts believed that some populations might be less susceptible, or even immune, to the infection. China was thought to be one of these countries, with its traditions, rich culture and government regime. To everyone's surprise, HIV infections are spreading at alarming rates all throughout the country, even within its mainstream population. Where HIV was "virtually nonexistent" a few years ago, there are now one million people in China with HIV, and the United Nations (UN) predicts that this number could well rise to ten million by the end of the decade.
The most frequent modes of HIV transmission in 2001, according to the UN, are sharing of contaminated needles among injecting drug users (IDU) and unsanitary practices during paid plasma collection. However, the spread of HIV is quickly gaining momentum through sexual intercourse, both heterosexual and homosexual.
Underlying vulnerability factors include the widespread lack of knowledge and protective life skills, internal labor migration, underprivileged minority communities, poverty, youth, and of course gender inequity.
Shailey Merchant writes, "there is a large difference in attitudes towards men and women's sexuality, both within and outside of marriage. Promiscuity in men is much more acceptable. This exposes men to an increased risk of infection, and increases the possibility that they will transmit HIV to their partners. Messages focusing only on 'faithfulness' and 'one partner' prevention delude people into false safety. Taking into consideration the increasing number of men paying for sex, it is devastating to the women who believe that they are protected as long as they only have one sexual partner.
"So what happens to those women who are forced to deal with HIV? Women known to have HIV/AIDS are more likely to be rejected by their family, denied treatment, care and basic human rights. Yet women and girls will tend to bear the main burden of caring for sick family members, including their spouses, brothers, or fathers living with HIV/AIDS. Many women in the villages whose husbands were the primary breadwinners are being left widowed and/or are forced to search for work to care for their sick husbands. In rural areas, finding work can be difficult, thus forcing many women and their children to turn to the sex trade industry and other harsh work conditions. Many individuals are forced to move to a different region of the country in fear that their HIV status will be revealed to those around them. Movement not only facilitates the spread of HIV infection but poses as a barrier to adequately tracking the number of individuals testing positive.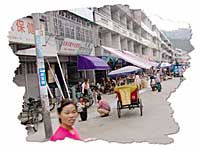 "It is often reported that those who test HIV-positive are denied treatment or access to care due to their sexual practices or involvement in 'illegal acts' such as prostitution, homosexuality, drug use and/or other criminal activity. For female inmates, 'education centers' have been created. Unfortunately, the centers usually provide scarce information on sexual health and miss the opportunity for motivating behavior change that could improve women's health. Condoms are rarely used in sexual encounters, and some sex workers believe that they can contract HIV only from a foreigner, but not from a Chinese customer. Condom use is made more difficult by the fact that, in practice, local police may arrest women carrying condoms in their purse as 'proof' of prostitution."
John Flynn writes, "as a gay male, living with HIV for the last five years, I had two goals to achieve during my visit to China. The first was to work with the Chinese Center for Disease Control and Zhejiang Health Bureau on HIV prevention and education for men who have sex with men (MSM). Second, and more importantly, to generate opportunities to discuss how to reduce the stigma attached to HIV affected populations. I thought it would be interesting to disclose my HIV status to other healthcare professionals, to gauge their reactions, and to try and generate some discussion around living with HIV including the challenges and rewards of taking medications and managing therapy.
"Our team's presentation to the Health Bureau included basic public health theory around HIV prevention and education for MSM. After a theoretical foundation was introduced, I offered specific examples of the type of work we do at HBHC, including basic venue outreach at bathhouses and on the Internet, as well as our Treatment Advocacy Program, which is a behavioral intervention for HIV-positive MSM.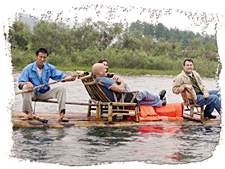 "The dialogue was respectful, and I felt a genuine interest in our work from the Chinese contingency. At one point during one of the breakout sessions, it became evident that there was an opportunity to disclose my HIV status. Having dealt with HIV medications for the past five years, I thought I could give the group some personal insight. Yet this self-disclosure was not only to give a perspective on the side effects of the drugs -- I wanted the contingency to get a sense that it was important and critical to talk openly about HIV and being HIV-positive. I wanted them to understand that it is O.K. to be positive, to share personal experience, and to engage in conversation to nurture understanding and growth. The reaction was mixed. Some people were obviously shocked; others pulled me aside during breaks to engage in meaningful conversation.
"Shanghai, one of the nation's largest and most progressive cities in China, has approximately eight million people. During the meeting someone mentioned that 60% of all new cases reported in the Zhejiang Province are among men, yet officials claim that there are only 20 gay men in the entire province. However, after only spending a few days in Shanghai, the team was able to identify a few sites for outreach and education efforts to the MSM population, confirming that there were more than 20 gay men in the entire province.
"While walking back to our hotel after an evening dinner, we noticed that several hair salons were open late night, yet there seemed to be very little work being done. After some investigation, we found out that many of these salons actually have 'back rooms' for sexual encounters. Shanghai actually does have some gay bars, one of which some of us had the chance to visit. While the décor was contemporary by U.S. standards, we had to go 'underground' as if we were back in the 1970s to find it. Back at the hotel, a few of us were fortunate enough to afford a massage, due to the strong U.S. dollar against the Yen. While being massaged, some of our team members were propositioned by a male massage therapist for 'an extended massage' in their room.
"Perhaps one of the most difficult aspects of HIV prevention work in China is with the IDU community. They often face multiple 'life-stressors' which, because of their immediate survival nature, can take precedence over protecting themselves from HIV. As in the U.S. these stressors include, but are not limited to, financial distress, the impact of substance use on overall judgment and decisions about HIV risk-reduction, inadequate housing and medical concerns related to substance use and abuse, and overall neglected health. In addition, there are many cultural taboos and myths in China associated with providing prevention services to IDUs, particularly the needle-provision or exchange aspects of programs (e.g., the myth that providing sterile or new needles to IDUs will increase their substance use). Because of these multiple issues, if HIV-prevention with IDUs is going to be successful it must be more than simply educating individuals about HIV and AIDS, how HIV is transmitted and how to protect oneself against infection."
Access to Treatment
Last July, the International AIDS Conference held in Barcelona brought out activists from all over the globe. Their primary concern centered on increasing the availability of HIV drugs for under-developed and developing countries at reasonable prices. ACT UP/Paris and U.S. activists demonstrated at the conference daily, demanding that governments and pharmaceutical companies give up their patent rights and allow generic drug companies to produce the life-saving drugs for use in countries in Asia and Africa for pennies on the dollar. Successful generic drug programs to treat patients in countries not able to afford expensive brand name drugs was highlighted in Brazil's example.
An idea of a good time, while in China, Glen Pietrandoni writes, "was to visit a Chinese pharmacy, weird, I know. A section of one particular store was devoted to prepackaged Western medicine that a pharmacist prescribed over the counter. Most interesting to me were the herbal and natural items for sale. These included dried pieces of animal parts, all kinds of teas and herbs, and my personal favorite were large glass jars of snakes and worms swimming in an alcoholic liquid. The pharmacist sold 'shots' of the liquid to cure ailments. In another section was a compounding area where the pharmacist weighed out and mixed different herbal items together to prepare a 'designer' solution to the patient's illness or complaint. Through a translator, I asked the pharmacist about HIV/AIDS. I wanted to know how he could help someone with HIV using natural products. He seemed stunned at first, but then mentioned how natural products boost the immune system and help cleanse the liver. It was obvious that his overall experience had not prepared him for such a question; but how different is that from asking similar questions to a pharmacist in the United States who has never seen an HIV patient?
"Still, I was a little stunned when a Chinese doctor asked me, 'What is the best drug for HIV?' The question itself told me that this physician did not have any experience or information on how drugs are used to treat HIV. Obviously, we have known for about 8-10 years that in order to prevent drug resistance, pharmaceutical agents must be used in combination. We also know that there is not one answer that fits all patients. The 'art' of using drug combinations evolves every time new treatment options become available. Because the question was too complex to reply with a simple answer, I questioned which drugs were available in China. He stated that only two nucleosides were available in China, although he was not sure.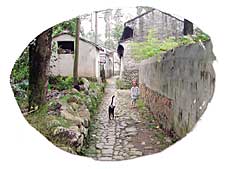 "The Chinese Health Ministry announced that beginning in January 2003, that four drugs would be mass-produced in China by local pharmaceutical companies, with permission of the drug's originator and in compliance with international law. At this time, it appears that the only true regimen that will be available is ddI (Videx) + d4T (Zerit) + nevirapine (Viramune). AZT (Retrovir) is mass-produced by many companies in China. In addition, the Chinese government is negotiating with the pharmaceutical companies to reduce the prices of other patented drugs by as much as 90% and reduce the import taxes. With these agreements indinavir (Crixivan) and efavirenz (Sustiva) could also become available in China at lower prices. This is great news of course, but many doctors are unsure when the drugs will actually be available.
"Even with drastically reduced prices, anti-HIV therapy will very likely remain unaffordable for most HIV-positive Chinese citizens, unless the government can help pay for the drugs. Currently, only government employees are covered by national health coverage, leaving most of the country's rural populations without health care. Some expect that only 10-20% of the one million plus Chinese infected with HIV will be able to access the newly available treatments. In the U.S., state Medicaid programs, AIDS Drug Assistance Programs (ADAP) under the Ryan White CARE Act, or private insurance companies usually pay for antiretroviral drug therapy. Most people in the United States could not afford medications if they had to pay for them out of pocket.
"Everyone is aware of how important adherence is to ensuring successful HIV therapy. It is imperative that the patient receiving HIV medications understand adherence and how the drugs work. In the Chinese culture, this may be more difficult because many Chinese still believe in traditional medication (natural and herbal medicine) to treat illness. Poor adherence to anti-HIV therapy will undoubtedly lead to resistance and lessen treatment options. Obviously much education must be provided to physicians, pharmacists and patients in China if long-term anti-HIV therapy is going to be successful."
Next Steps
Our experiences in China involved working with medical professionals, administrative staff, political officials and community members in the Zhejiang province faced with an exponentially growing HIV-epidemic among the MSM, IDU and sexual worker populations, in a country that has done little to address HIV prevention thus far. It is a frightening and critical time. Despite the specific cultural differences between China and the U.S., which sometimes appear extreme, part of the HIV/AIDS challenge facing China is the same challenge faced by the U.S. and most other countries living with the pandemic: How to effectively address the care and prevention needs of HIV-positive individuals, at-risk populations and their sexual partners. These are populations caught at the intersection of public health, cultural values, religious beliefs and political agendas.
Only recently has China directly acknowledged this disease which threatens the stability of the country and which simultaneously forces them to acknowledge the existence of, and the need to work with, people the government and many citizens would prefer to ignore. This conspicuous similarity between the U.S. and China was just as striking as the cultural differences observed. The uncomfortable place that China now finds itself is the same place the U.S. found itself during the 1980s. During those early years of the AIDS epidemic in the U.S., we witnessed the devastation that can occur when government and political leaders turn away from the care and treatment needs of impacted communities. And while the U.S. has made great strides, in many ways we are still anxiously negotiating this difficult intersection of conflicting values, political agendas and public health.
The Chinese are making great strides to overcome obstacles, including cultural, to deal with the threat of the HIV epidemic in their country. The Health Bureau has committed to allow four outreach workers to take part in a four-week visit to the U.S. to exchange ideas with HBHC staff on providing culturally competent health care and HIV risk harm reduction to at-risk populations. Is there a lot of work to be done? Absolutely. Are the Chinese interested and invested in the health of their people? Absolutely. However, it's going to take time, patience and plenty of resources.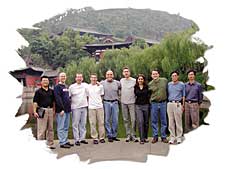 In China, as in the United States, if the wrong choices are made, if fear, intolerance, and profit margins take precedence over sound public health decisions, many unnecessary deaths will occur. If people in China -- and more importantly if the Chinese government -- make the right choices, new understanding, compassion, inclusion and improved public health can take root and grow. And more important, million of lives will be saved and suffering reduced. China now stands at a crucial crossroads. The choices they make in the next few years regarding how they will attend to the needs of HIV-positive individuals and at-risk populations will determine the future of the entire country for decades to come. Hopefully China will learn from our mistakes and from our successes. This kind of coordination and cooperation will take constant effort and monitoring.
The Howard Brown Health Center team included Shailey Merchant, M.P.H., Scott Cook, Ph.D. (Director of Community Services); John Flynn (Men's Health Promotion Manager); Keith J. Waterbrook (Executive Director) and Glen Pietrandoni, director of Clinical Pharmacy Services for the Walgreens Specialty Pharmacy, focusing on HIV, located in HBHC.