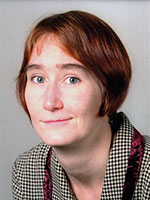 The latest holiday season passed full of parties and socializing even for relative introverts like me. I rang in the New Year over at a friend's house -- one of those hyper-organized social engineers who sets up little "Activities" for guests to do at parties, little rituals arranged decoratively on tables in special corners of the room. There was a chalkboard upon which we were all to write our Biggest Goal for the New Year ("Learn Polish" was one of mine, in case anyone knows where I might take lessons), a bowl of apple slices in another corner to eat in celebration of the freshness of the new year, and a table in the bathtub that held a ceramic plate, a bowl of matches, and slips of paper for writing down Things to be Released (which you then set on fire, in the safety of the bathtub). And in the living room, there were more pieces of paper, markers, and tape -- so you could write down your favorite memory of 2003 and tape it to the archway above the entry to the "entertainment area" (i.e., the stereo/TV/sofa corner of the room).
People had some pretty exciting stuff taped up on that archway: "My trip to Iran," "The birth of my first child," "My wedding," "Skydiving in Colorado" -- that kind of thing. I was trying to remember if I'd even taken a real vacation in 2003 when my own response struck me ... but it sounded ridiculously homestyle (especially compared to the births of first children, weddings, and trips to Iran). Still, the more I mulled it over the more I realized it was the truth -- it really was my favorite memory of 2003, the image that will forever leap to mind when I'm old and crippled with osteoporosis and thinking back on the salad days of my early 30s. So I wrote it down and taped it up, and left it fluttering there on the archway with First Children and Iran and someone's Wedding.
What'd I write? I wrote this: "Going to Work," because it's the truth. Our staff, volunteers, and clients are my heroes, and how many people are lucky enough to spend 40+ hours of their week surrounded by their heroes? Not many, probably. But I get to, so why not brag on that at a New Year's party?
Advertisement
The friends and others I've known for a few years thought that was a pretty cool response, since they know where I work and what I do and how much I enjoy my place of employment and everyone I rub elbows with there. But there were many new faces at this party, and lots of people took the opportunity to ask what kind of work I do once they read my response. Surely it must be something uber-exotic and exciting, if it's my Best Experience of 2003.
People who are not "in the field," as we say, often don't know quite what to say when they learn that you love your HIV/AIDS-related job. This is especially true when you reveal yourself to be neither Case Manager, Social Worker, Lobbyist, nor any of those other Noble Helpers or Glamorous Activists, but rather just a plain old grantwriter-cum-program-developer-cum-fill-in-the-blank-when-no-one-else-is-available-to-do-it person for a small "peer-led" agency. "What's in it for you?" their faces say, while "Isn't that depressing?" comes out of their mouths with some frequency.
They're always surprised when I tell them "No. Why should it be?" I work with people who, by the simple fact of getting up every day and going about their business, tell both a virus and a stigmatizing society to bite them. I work with people who aren't afraid to talk openly about sex, drugs, sickness, and death in plain, down-to-earth terms. Best of all, I work with people who don't take their lives or their health for granted, and are able to make black-humored jokes about chronic conditions and ailments that would send most others back to bed in two minutes -- all while going about their business, same as anyone else. Pretty damn inspiring, when you think about it.
As for the "What's in it for me?" part ... well, anyone who can laugh instead of cry while describing the best way to navigate an ice slick while trying not to unleash a diarrhea spill in their pants is my hero. Anyone who considers it a blessing to lose only four close friends a year instead of 14 is my hero. Anyone who is able to stick with a commitment to recovery while dealing with the stresses of HIV-positive life is my extra-special hero -- as is anyone who is brave enough to go back to school or consider parenthood while living with HIV, especially when so many people at parties seem to believe that being HIV-positive renders a person pretty much unable to tie their own shoes, let alone hold down a job or a have a healthy sex life.
I'm surrounded by Everyday Heroes, every time I go to work. Who can ask for more than that?