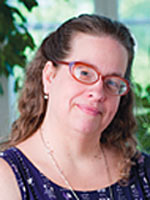 Sue Saltmarsh
It seems that grief and loss have been abundant lately. Whether it's the devastation of Katrina, deaths in Iraq, the economy, or our corrupt government threatening our accessibility to desperately needed medications, it seems we are facing loss more and more.
In my private practice, I've lately had a string of people seeking healing from loss. For some it's been the death of a loved one, for others, the death of a relationship or career. I had to think the Universe was sending me an opportunity to learn and expand my work to deal with loss and grief specifically.
We are conditioned by society, religion, and custom to "handle" grief "appropriately." But what if the customary five-stages-of-grief approach doesn't work? What if you are stuck in depression or anger, unable to reclaim the joy of your life because you are bruised by grief? I asked for Guidance to help me come up with a visualization that might help my clients who were stuck and this is what I got.
It seems a common human thing that when we have a minor bruise (I'm not talking about major trauma here!), we find ourselves drawn to fiddling with it, pressing it, seeing how much it still hurts. I believe this action has a purpose because it disperses pooled blood which helps the bruise to heal more quickly. This exercise is an energetic way to "press the bruise" of grief and I tried it with a client who had recently lost his mother.
Advertisement
I had struggled with him because while he complained of being "debilitated" by his grief, he was also resisting any release of it -- he had never cried, yelled, or sought help until a friend intervened. He was energetically locked, barely functioning and at the end of a leave of absence from his job. Our first session was difficult -- he answered my questions with one-syllable grunts and was so armored that the only chakra I could begin to read was his Root chakra which told me that he was hanging onto life force on auto pilot. If I've learned anything in the years I've been doing this work, it's to go slow the first time I try something new. So I asked him at the beginning of the second session if he was ready to let the grief go. He said, "Why else would I be here?" But I felt that he was looking
not
for release, but for validation of his grief and, therefore, wasn't ready to be free of it. It took two more sessions before he was reaching for that freedom and it was then that I tried the exercise.
I had him do the usual relaxation, deep breathing, closing his eyes, and I asked him to place the palm of his right hand on his Heart chakra and press around until he could feel a point of pain or tenderness. Though it's not a purely physical sensation, I do believe our hearts hurt when we are in emotional trauma. I asked him to see that spot as a bruise and to press against it until it just began to hurt or feel tight. Than I asked him to pull up from his memory and his heart, a "film clip" of the best day he ever had with his mother; to remember how it felt to feel her arms around him, to hear her say she loved him, to see her smile. He started holding his breath as these images came to him and I could tell he was fighting not to cry. I reminded him to breathe and asked for more images -- a moment he knew she was really proud of him; knowing that they loved each other as people, not just as parent and child; a memory of shared fear or shared healing. He kept pressing and I kept asking for more and finally, two hours into the session, the tears began to fall. And then he got angry that the tears were falling. And then he gave up the anger and began to shake as he cried. Soon he was curled up on my table, completely immersed in the pain and grief. I kept a hand on his back, encouraging him to let all that emotion out. It took another hour before the torrent started to slow and for him to start breathing and uncurling and finally sitting up. I didn't, by any means, think that was the end of it or that he'd wake up the next morning functional and ready to go back to work. But when he left, I saw a bedraggled smile for the first time. In subsequent sessions, he was able to process more anger and fear and get to the point where when he thought of his mother, it wasn't about his pain or anger, but rather those positive memories and experiences he'd pulled up during the "pressing."
I'm not saying it would work for everyone -- with grief, like any other condition of life, you must find the way that's right for you. But I do think that too often, healing grief is more about accepting the negative impact and "making peace" with it, rather than seeing it as a step in the process of honoring the one you've lost. We've all heard the soap opera line about how those we've lost are "always with us in our hearts." Do we really want to tether them there in that space of grief or isn't it better to free them to be the angels they were to us when they were living?
May your bruises be small and the pressing easy.