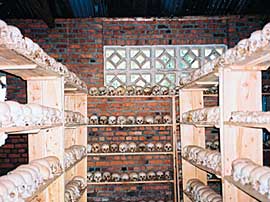 Skulls of victims of the genocide in Rwanda line the scene of a memorial.
Dr. Mardge Cohen founded one of the country's first women's HIV clinics at Cook County Hospital in Chicago. Today she is director of women's HIV research at the Ruth M. Rothstein CORE Center, is an associate professor at Rush University, and has published numerous medical papers and articles on the subject of HIV-infected women and domestic violence.
In December at a World AIDS day workshop, "AIDS in the Faith Communities" at Fourth Presbyterian Church in Chicago, Dr. Cohen and activists from Rwanda spoke about their experiences in the aftermath of the genocide atrocities, termed "murder on the installment plan." I recently caught up with Dr. Cohen to talk with her about her work in Rwanda.
JB: How did you come to be involved with those living with HIV in Rwanda?
MC: I have provided medical care to women with HIV in Chicago since 1987, when we started the Cook County Hospital Women and Children with HIV Program, a comprehensive single site HIV medical and psychosocial clinic for women, their partners, and children. After highly active antiretroviral therapy [HAART] became available in 1996, life improved greatly for many people with HIV in the states and in Europe. However, in developing countries, especially in sub-Saharan Africa, new infections and high death rates continued, because these medications were not available.
Advertisement
I work with a small U.S. NGO [non-governmental organization] called the Women's Equity in Access to Care and Treatment (WE-ACTx) that addresses these global HIV/AIDS inequities. We first went to Rwanda in April 2004 when several women's associations there issued an international plea to provide HIV care for their members. An estimated 250,000 women were raped and infected with HIV during the 1994 genocide. In 2003, the perpetrators of these rapes were in jail in Rwanda receiving HIV medicines but the women who they had raped were not. We went to Rwanda to meet with these associations and work together to set up a care system that could meet these women's needs.
JB: How was WE-ACTx formed, and what is its mission?
MC: WE-ACTx is an international community-based initiative that was launched in the fall of 2003 by frontline AIDS physicians, activists and researchers with extensive experience in caring and advocating for HIV-positive women. I work with Dr. Kathryn Anastos and Anne-christine d'Adesky, the co-executive directors of WE-ACTx. Our primary goal is to increase women's and children's access to HIV testing, care, treatment, support, education and training in resource-limited settings at the grassroots level. We are committed to helping survivors of genocidal rape and sexual violence. WE-ACTx began working in Rwanda in early 2004 to provide HIV care to genocide rape survivors, in active partnership with the Rwandan government and local NGO partners. We focus on empowering HIV-positive women and girls to take charge of their lives and become leaders in the fight against AIDS.
JB: What is the "Reparations Agenda" as it relates to Rwanda?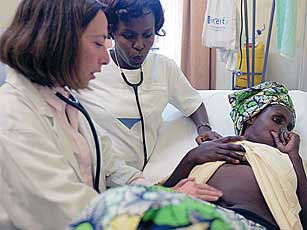 MC: WE-ACTx sees it as a matter of justice to provide HIV prevention and care for women in Rwanda and other developing countries. In Rwanda, we are responding to what was a preventable genocide and a subsequent predictable HIV epidemic. An estimated 67% of survivors now have HIV, some deliberately exposed to the virus via rape as a "slow poison" by the genocide perpetrators -- the first historic use of HIV as a weapon of war. Providing these women with HIV drugs is a matter of justice, as well as their individual right to live.
JB: What do you see as some of the barriers to testing and care in Rwanda?
MC: The triad of gender-based violence, HIV and poverty is fueling the HIV epidemic and is responsible for the increasing number of women with HIV in many parts of the world, and certainly in Africa. In Rwanda, women tell us that the stigma of being raped and infected with HIV keeps them from getting tested and getting care. They don't want to have the flashbacks from their post-traumatic stress, but when asked how they got infected by someone they haven't disclosed to, they relive the experience of being raped and see again how their husbands and children were killed. They would prefer to have their trauma counselors, often nurses and survivors themselves, with them while accessing HIV testing and care.
Other obstacles include transportation costs to and from the clinics and fees for registering at care sites. Finally, women have told us that not having food to eat with the medications and when they feel better and are hungry is a big barrier to getting care.
WE-ACTx supports trauma counselors and empathetic nurses, from the many associations we currently partner with. In addition, we provide transportation, and provide free care and food along with antiretroviral medications via the Rwandan public health system.
JB: What is the name of the clinic you work with in Rwanda, and how does it work?
MC: Currently we work in two clinics -- one free-standing site in downtown Kigali, the capital of Rwanda, and one on the outskirts of Kigali in the clinic of the Icyuzuzo Association. Associations bring their members on a particular day, after being tested for HIV by our counselors. We evaluate the patients and within 1-2 weeks, patients who are eligible for antiretrovirals are started on therapy. Patients need to have a family member or friend accompany them to a 3-day educational class on HIV and adherence to medications. Follow up has been very good. Rwandan doctors and nurses, along with trauma counselors, staff the clinics.
It takes about $18,000 to run each clinic each month and about $5,000 each to support our voluntary counseling and testing program each month. We expect to provide care for 3,000 patients, including adults and children, when we are at capacity.
JB: Could you tell us about the RWISA cohort study?
MC: The Rwandan Women's Interagency HIV Study is modeled after the National Institute of Health's Women's Interagency HIV Study (WIHS), which is the largest and longest ongoing multi-city cohort study of women with and at risk for HIV. In Rwanda, the goals of the study are to determine the effectiveness and toxicity of HAART in women with HIV. We will evaluate the effect of the trauma suffered by many of the participants on their immune system and adherence to therapy. We are also determining and treating cervical dysplasia, a common medical problem in women co-infected with HIV and human papilloma virus. We've enrolled over 900 women in the study -- 700 with HIV and 200 uninfected women. In the HIV group, 500 women will start therapy soon after enrolling in the study because of their low CD4 count. The baseline study visit consisted of an interview with questions on medical history, an adapted Harvard Trauma Questionnaire, an examination including a Pap smear and cervical vaginal lavage collection, and blood specimen collections. Most laboratory studies are performed in a Kigali hospital laboratory and the Rwanda National Reference Laboratory. The interviewers, nurse clinicians and laboratory staff are all Rwandan.
JB: What is the most pressing, urgent need facing individuals in Rwanda today?
MC: Poverty and malnutrition are very common, with most of our patients living on $ .70 each day and 35% of the population considered malnourished by World Health Organization standards. In addition, as the women we see get stronger, they are adamant about helping their children attend school, scraping together the necessary school fees for high schools and the money needed for shoes, uniforms and local fees at each primary school.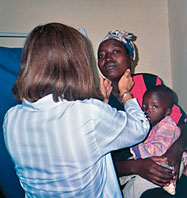 JB: What can our readers do if they would like to help, and where can they go for more information?
MC: There's been a tremendous outpouring of support around the Chicago area for the WE-ACTx work in Rwanda. This has come from an amazing variety of people: from women with HIV feeling solidarity with their sisters in Rwanda to philanthropic donors to high schools to churches to interested media figures to involved health care providers to caring people all over the Chicago area. They have donated to Chicago Friends of WE-ACTx-Rwanda at www.crossroadsfund.org/WE-ACTx-Rwanda.html or given their time to set up programs to spread the word about the work. We invite your readers to check out the website and read more articles on our work. We welcome their support. Information is also available at www.we-actx.org. I can be reached at mardgecohen@aol.com.