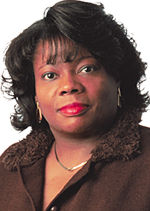 Leatrice Simpson
(Photo by Russell McGonagle)
Despite many frustrations, Lea's been successfully able to both prevent cervical cancer from developing, and to treat it when it did.
That takes regular check-ups and follow-up on abnormalities. Lea's great about getting good health care.
Her Pap smear abnormalities began when she was a teenager, long before she had HIV, and she had them taken care of every time. Abnormalities are not so strange, since human papilloma virus (HPV), which can lead to cancer of the cervix, is a very common infection in women.
But if left untreated, abnormal cervical cells -- no matter what causes them -- may become cancerous. A Pap smear looks for abnormalities in the cervix, the lower part of the uterus that leads into the vagina. Every woman over the age of 18 should have one done every year. Thanks to Pap smears, cervical cancer has decreased by 70% over the past several decades.
Advertisement
For women with HIV, all the problems seen with the cervix are more complicated than in HIV negative women. Positive women are much more likely to have abnormal cell growth and other conditions, including serious abnormalities. They're also much more likely to be infected with HPV.
As a result of her exams, Lea's had eight surgeries, four of those before she was positive. Most of these treatments can be performed on an outpatient basis (no hospitalization). Thanks to her regular exams and follow-up, she remains cancer-free. And because HIV medicines are shown to reverse certain conditions that can lead to cancer, her drug combination may be helping to keep cancer away.
For now, the only treatment gynecologists have for preventing cervical cancer is to freeze, burn off, or just plain cut out abnormal cells.
Lea started out with cryotherapy (or freezing, a process that's no longer recommended for positive women) at age 18. Later she had laser surgery (destroying abnormal tissue by zapping it with a laser). Then she had a cone biopsy, a surgical procedure in which part of the cervix is cut off (in the shape of a cone). Then a year later she had a LEEP, another cutting off process (see "Treatments"). A year later, again abnormal tissue. This time she had a hysterectomy (removal of the uterus). Ironically for Lea, who has a T-cell count of 860 and undetectable viral load, the incidence of serious problems has been shown to increase when a woman has less than 200 T-cells, as you would expect. Obviously there's still a risk with good numbers, as with all negative women.
But now abnormal cells are back. At this point, her treatment is that old standby, "close monitoring." Her doctor has upped Lea's Pap smears from once every six months to every three months. Her option now is 5-FU, which she was told is "a messy, burning cream" that takes off the abnormal cells. But it's painful, and she would need a prescription for a painkiller. Or she would need more surgery.
Lea advises women to continue monitoring for problems. "Be prayerful," is her first advice. Then, "If there are any suspicions whatsoever, go to the doctor. And don't be afraid to ask questions. And last, don't be afraid to have the doctor examine you. Women get so sick of these gyne exams. But there's that good catch phrase doctors use, 'At least we caught it in time and we can do something about it.' That's always good to hear."
Dr. Mardge H. Cohen, director of the Women's Interagency HIV Study in Chicago, agrees. "The point is that careful monitoring is important. Low-grade lesions need attention. Most people with high T-cells and undetectable viral load do like everybody else who are uninfected and do better. HPV is common, more so in HIV infected women. They need to be encouraged to connect with their health care provider so that we can give appropriate treatment. There are no progressions to cancer, if appropriate therapy is instituted."