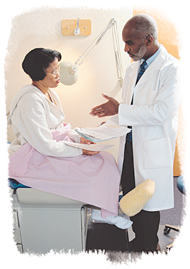 Art by Russell McGonagle
The beginning of the AIDS epidemic in the United States was presented as a disease that was primarily transmitted by men who have sex with men (MSM), and intravenous drug abusers (IVDA). In fact, women were essentially excluded from an AIDS defining diagnosis until 1993 when a CD4 T-cell count less than 200 cells/mm
3
, or a CD4 T-cell percentage of less than 14 and/or invasive cervical carcinoma became recognized (after years of community activism and pressure on the CDC). In 1995 greater than 59% of the women were diagnosed based on the addition of the new inclusion criteria added in 1993. As the faces of AIDS continues to change, with women representing more than 42% of the total cases reported in 1999, it would stand to reason that the health care system that had been developed to deliver clinical care services for men needs to redirect their care towards the specific needs of women.
This article would not be complete without a statement about how little is known regarding women who are infected with HIV disease. After 1993, the Food and Drug Administration (FDA) mandated the inclusion of women in Phase I clinical trials. Prior to the mandate most women were excluded from clinical trial participation because of their ability to reproduce. Currently women comprise less than 24% of the participants in clinical trials, therefore most of the data that is currently available continues to be gleaned from men.
Be an Advocate
Women activists need to continue their work with researchers to provide community input and direction towards the common goal of improving the quality and level of care that women who are HIV infected receive.
Most of the data currently available would suggest that a large disparity exists in access to health care for women. Women are traditionally the caregivers in the home, providing care for an infected spouse and/or children, and thus require much more energy to coordinate their perceived responsibilities and access to health care. Disparities also seem to exist in the ability to acquire transportation to health care appointments, as well as finding childcare resources. Until we, as an AIDS community, acknowledge these basic disparities, HIV positive women will continue to receive suboptimal health care, which in many cases may equate to no health care at all.
The Clinic Visit
Advertisement
The clinical visit can sometimes consist of a very long time spent in waiting rooms that lack a supportive environment for women, including inadequate activities to keep their children occupied and a lack of GYN or contraceptive care. Many health care professionals have provided care to gay men with HIV/AIDS for so long, they may feel uncomfortable providing care for women and/or addressing the difference in women's health care demands.
During a woman's initial visit, usually between 50 to 100 mL (between 2-3 ounces or 4-5 tablespoons) of blood will be sent for routine laboratory evaluation such as CD4 T-cells, viral RNA, total blood count, chemistry panel (checking the liver, kidney and electrolytes), syphilis and a toxoplasmosis panel. Each woman will also have a baseline chest X-ray, urinalysis and a mantoux skin test (to check for tuberculosis). An appointment will be made for a return clinic visit with the health care team where a history, physical examination and the laboratory results will be evaluated and discussed.
The initial physical examination should be conducted with a review of symptoms (to determine if anything is wrong), focusing on specific and common HIV-related symptoms including fevers, night sweats, weight loss, diarrhea, skin rashes or lesions, oral thrush or ulcerations, and changes in neurologic function (memory loss, tingling in your hands or feet).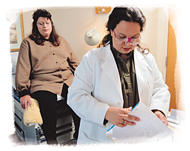 Art by Russell McGonagle
Basic laboratory work (drawing blood) should be done during the first visit and then repeated every 3-4 months. The laboratory evaluation should include CD4 T-cell counts, viral load (vRNA) along with liver function testing, basic complete cell count and chemistry panels. Although there are a fair amount of data available that suggest resistance testing (genotyping and phenotyping) can help us decide the best and most successful antiretroviral therapy, these tests are not widely available.
Staying Healthy
During the first several visits, women will receive an overview of how HIV is transmitted, how it affects the immune system and what they can do to stay healthy. All of the information may not be remembered, but a list of questions that are felt by the patient to be important should be kept and brought to each appointment. Bringing questions to the clinic appointment helps to direct the health care team in addressing the individual needs of each woman and can provide a rewarding experience for both the woman and her healthcare team. Becoming involved in community support groups will continue to enrich the women's understanding of HIV and its associated syndromes, and give them the opportunity to develop new friends thereby creating and strengthening a support network.
When Should You Start Antiretroviral Therapy?
It is important to know that there are guidelines available (http://www.hivatis.org or call 1-800-448-0440) to help clinicians make decisions about what antiretroviral medications may be appropriate. However these are only guidelines and do not deal with individual or "life" issues. Starting antiretroviral therapy is almost never so immediately required that someone cannot take a couple of weeks to gather information, talk to a treatment advocate, read AIDS newsletters, talk about their options with their health care provider and make an educated choice!
Deciding when to start medications should not begin without a great deal of time spent on discussing the subject of adherence.
When to start taking antiretrovirals is really dependent on several factors. The first is to determine the viral load because the higher the viral load the more likely the CD4 T-cells are to start decreasing. (Note: viral loads may be lower in women than men with equal T-cells.) The second is to determine the CD4 T-cell count. T-cells are an important marker in knowing when to start taking antiretroviral therapy. As the virus damages the immune system, T-cell counts go down. Progression to an AIDS diagnosis is directly related to low T-cell counts.
But most importantly, adherence (taking medications regularly) is the real deciding factor of starting highly active antiretroviral therapy (HAART). Taking all of the medications as directed, as close as possible to the appropriate time, is extremely important with antiretrovirals. Women who are 95% adherent (missing less than one dose a month) decrease the risk of developing resistance or eventual medication failure and thus disease progression. If a woman is not ready to take medications rigorously, then starting medications should wait until she feels that she can commit to adhering to a strict schedule. Health care is a team effort and each member has a responsibility to do his or her part in maintaining good health.
Prevention
Prevention care, or prophylaxis, really means trying to prevent infections instead of waiting until you become sick (http://www.cdcnpin.org). Guidelines include recommendations of when to start prophylaxis for opportunistic infection, immunizations, annual labs, PPD (screening for TB) and bi-annual Pap examinations and colposcopy if necessary. These guidelines suggest when preventive interventions should occur. Prevention is an important component of care; it helps to optimize health in women by minimizing illness.
Blood draws should be done on a regular basis -- usually several times a year or when clinically indicated. During your regular blood draw, a toxoplasmosis IgG, syphilis screening, lipid profiles, hepatitis screening, chemistry and complete blood cell count should be done. Annual flu vaccination should be utilized; this should occur during the end of September through the end of November. This allows the body enough time to respond to the vaccine by producing antibodies against the strain of influenza that may be expected during February through April. The flu vaccine does not lead to the development of influenza, but some individuals may be susceptible to developing an upper respiratory infection that may occur shortly after receiving any vaccination.
Current recommendations suggest that any HIV positive patient who is negative for hepatitis B (HBV) should be vaccinated. For those patients who are positive for hepatitis C (HCV) they should receive both HBV and HAV vaccinations. A pneumovax should be administered followed by a booster when CD4 T-cell increase <200 cells/mm3. A booster tetanus vaccination should be given if it has been greater than 5-10 years and/or again after CD4 T-cells are <200.
STDs
Routine screening of sexually transmitted diseases (STD) should be done every six months during the GYN exam and when clinically indicated. Currently, there is controversy over whether a colposcopy should be performed during a routine Pap smear or only when the Pap results indicate that it is necessary. Mammograms should follow current guidelines (baseline between 40 and 50 years and annually over the age of 50 or if clinically indicated). Receiving GYN care from an experienced HIV/GYN clinician is extremely important when screening for CMV, HPV and HSV. In the next several months, the AIDS Clinical Trials Group (ACTG) will open a protocol (A5029) looking at the effect of highly active antiretroviral therapy (HAART) on genital secretions and effects on HPV (which can lead to the development of genital warts or invasive cervical carcinoma).
Pregnancy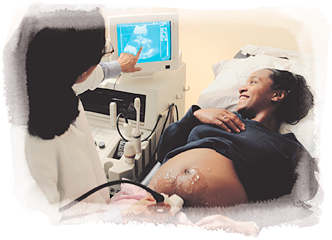 Art by Russell McGonagle
Pregnancy is an important discussion for some women. Discussing options regarding the best time to become pregnant and currently available information about fetal transmission should be a natural part of conversation with your health care team. If your intention is to become pregnant, it is extremely important to inform your health care team so that certain antiretrovirals that are thought to be unsafe in pregnancy can be avoided. Sustiva (efavirenz), Ziagen (abacavir, ABC) and hydroxyurea (HU) have been shown in animal models to potentially cause birth defects and should not be used in women whose intention is to become pregnant. Waiting until your viral replication or vRNA is below the lower limit of detection will also decrease the risk of transmitting HIV to your fetus.
Women and Estrogen
There is little information about women and estrogen replacement. Hopefully in the next year a clinical trial known as AT LAST will provide important information about the effect of hormones. Another trial scheduled for later next year will look at the contraceptive, Depo-Provera and any potential interactions with protease inhibitors. So, for now following the current guidelines on hormone replacement is the best recommendation. Discuss issues about hormone replacement and the use of contraceptives with your clinician and decide together what is best for you. Just remember that nothing takes the place of latex condoms (female or male) which should be used to protect against diseases, regardless of your other birth control choices.
Testosterone Replacement
Data on testosterone replacement in women may actually demonstrate an increased risk of developing lipodystrophy. The bottom line is a good exercise program with a healthy diet decreasing fat intake. This is probably the least invasive and holds the most hope. It can be hard to start to exercise, so walk with a friend or your support group or push your child in a stroller. You do not have to join an expensive gym. Walking is a great way to build endurance and lose weight.
Nutritional Counseling
Nutrition is becoming a much more important component in HIV care with information slowly trickling into the mainstream about women's risk of being vitamin deficient. Several small studies suggest that women may be low in vitamin B12 and vitamin A. The information is not strong enough to recommend replacement, but an inexpensive antioxidant and a multivitamin once a day is advised. Talk to your health care team about a nutritional evaluation either at your clinic, if it is available, or through one of the community based organizations. Eating healthy makes good sense and it is preventive.
Support
Becoming involved in a support group may be one of the most important things that you do. Getting together with other women to validate how you feel is necessary! Support groups also will assist you in obtaining all of the benefits you may be entitled to, including, at times, free transportation to clinic appointments.
Talk to your health care team, the nurse manager or the administrator of your clinic and make suggestions about things you think would be important to help you make your visit to the clinic more comfortable. If you do not make suggestions, changes may or may not occur. We need to start ensuring that our issues, as women, are addressed because we are important! Many men with HIV/AIDS are skilled in advocating for themselves and their male friends. Women with HIV need to develop these skills to ensure that their needs are being met.
Conclusions
More information is necessary to improve the quality of care that women currently receive. Health care facilities need to seek out the barriers that impede the care of women infected with HIV disease, such as transportation, child care and women-specific services.
Get involved! There are all levels of involvement. Expect the best from the clinic and if it does not meet your needs, suggest constructive ways that the clinic can meet the needs of women. We need to capitalize on the services that are available, and ask questions and demand appropriate answers as to why some services that are available to men are not available for women. Get involved, be an activist. Become an equal partner in your health care.
This article is reprinted with permission from Women Alive.