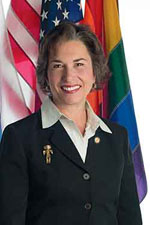 Photo © Russell McGonagle
In an effort to keep our readers informed, earlier this year we asked a series of questions to leading Republican and Democratic officials. Beginning with this issue and up until the elections in November, you'll find their responses here in the pages of
Positively Aware.
First up, U.S. Representative Jan Schakowsky (D-IL), featured on this issue's cover, who talked to
Positively Aware
about the Ryan White CARE Act, microbicides, and the ideology of the Bush Administration.
Jeff Berry: What are your own priorities on your agenda for national HIV/AIDS issues for 2006?
Jan Schakowsky: More than one million Americans are living with HIV/AIDS (over 42,000 in Illinois) and over 40,000 individuals are infected each year. Our community, our nation, and the entire world are threatened by this terrible pandemic. We need to make sure that everyone who is already infected is able to get all the information and services they need and work harder to prevent new infections.
I am a member of the House Energy and Commerce Committee, which has jurisdiction over the Ryan White CARE Act. The CARE Act's authorization expired on September 30, 2005 (although funding is continuing), and I believe it is a top priority to reauthorize this critically important program in 2006. I want to make sure that we maintain the comprehensive medical and support services that make the CARE Act so effective and that we expand the number of people who receive those services. Unfortunately, President Bush has put forward reauthorization principles that could hurt our efforts. Among his recommendations: shift some funding from Chicago and other of the hardest-hit large urban areas to rural communities, limit the amount of funding that can go to support services like job training and transportation, and lower support for community-based organizations that are so essential. While Illinois has some of the best HIV/AIDS treatment centers in the country, those centers cannot afford to lose a dime of funding at a time when the epidemic is spreading.
Advertisement
In addition to my efforts on the CARE Act reauthorization, I will do whatever I can to increase funding for the Housing Opportunities for People with AIDS (HOPWA) program. This assistance is particularly important in areas like Chicago where affordable housing is so scarce. I am also working to protect Medicaid and Medicare funding and to pass the Early Treatment for HIV Act, H.R. 3859. This bill would let states provide critical Medicaid services to HIV-infected individuals (rather than waiting until they have developed an AIDS diagnosis as required under current law) so that they can remain healthy and productive.
I am aggressively promoting specific measures to improve prevention. Recently, I introduced the Microbicide Development Act, along with my colleagues, Congressmen Chris Shays and Danny Davis. Microbicide research and development are critical to preventing HIV and other sexually transmitted diseases (STDs). Our legislation would encourage the Federal government to expand, intensify, and coordinate microbicide research and development. As gender inequalities have left women particularly vulnerable to infection, the battle to stop the spread of HIV/AIDS among women will ultimately hinge on our ability to empower women to protect themselves. Microbicides could prove to be one of the most important tools women have in preventing the transmission of HIV. (See "What's New Pussycat?")
JB: What is the current state of affairs with support for HIV/AIDS care and prevention today and how do you see it becoming affected in 2006 midterm and 2008 elections?
JS: Despite the ongoing epidemic, the Fiscal Year (FY) 2006 Labor-Health and Human Services (HHS)-Education appropriations bill, which I strongly opposed, froze funding for every title of the CARE Act except for the AIDS Drug Assistance Program (ADAP), which was slated to receive a $10 million increase, an amount that would not even keep pace with drug price inflation. HOPWA received a slight increase to $286 million which, again, doesn't keep pace with existing need or housing prices. At the same time, the budget cut Medicaid by $6.9 billion and Medicare by $6.4 billion over the next five years. Together, those two programs account for about 75% of all funding on HIV/AIDS. The President's FY 2007 budget proposal is more of the same. On the one hand, it would include small increases of $95 million in the CARE Act specifically to assist state ADAPs with waiting lists and $93 million to the Centers for Disease Control and Prevention (CDC) for testing efforts. On the other, it also proposes cuts to other essential services: $4.9 billion in Medicaid cuts and $36 billion in Medicare cuts as well as cuts to the National Institute of Mental Health (NIMH) and Substance Abuse and Mental Health Services Administration (SAMHSA), programs that provide necessary mental health and substance abuse treatment to those living with HIV/AIDS, a population estimated to have rates of co-morbid mental health and substance abuse problems anywhere from 30% to 80%. These co-morbid factors greatly influence prevention as well as treatment for those at risk for and infected with HIV.
Finally, I am concerned that the Bush Administration has put ideology ahead of science on many issues, including HIV/AIDS prevention. Instead of focusing on prevention tactics that work -- like needle exchange and condoms -- this Administration continues to put the focus on abstinence-only education. It is also ignoring the needs to provide more prevention services in our corrections facilities, which are a major contributor to new infections.
JB: What is your policy on harm reduction and what is your perception of the crystal meth problem?
JS: Methamphetamine represents one of the fastest growing drug threats in America today, and we need a comprehensive strategy to deal with this problem. The House is currently debating H.R. 3889, the Methamphetamine Epidemic Elimination Act, which would make it more difficult for would-be producers of meth to obtain the necessary ingredients and provides more funding for enforcement. Yet, this is only one side of the fight. I believe we need a strategy that goes beyond enforcement and supply side initiatives and includes targeting demand for this drug through prevention efforts that educate Americans about its dangers. Those dangers include the risk of HIV infection through injection use and the drug's disinhibiting effects that can impair a person's impulse control and judgment, often leading to high-risk behaviors. I believe there is a role for harm reduction strategies in this fight as well, interventions designed to meet the drug abuser "where they're at" and seek to address not only the drug abuse, but the conditions that lead to the abuse and the harm resulting from it.
Meth is a community crisis and we must work with community-based organizations to develop the strategies that will be effective in preventing harm (including HIV infection and the possible spread of HIV to the abuser's sexual partners and children) while working to stop drug abuse altogether.
JB: Who would be your choice for a pro-AIDS president in 2008?
JS: I will support any Democratic candidate who will make elimination of AIDS a priority and commit to ensuring guaranteed, affordable health care to all Americans.
JB: Where do you see AIDS research funding in 2006? Are you committed to continued funding for OAR (Office of AIDS Research)?
JS: I am a strong supporter of increased OAR funding, which holds the promise of delivering amazing breakthroughs in the prevention, treatment, and cure of HIV/AIDS. Although we were successful in completing a five-year, bipartisan effort to double National Institutes of Health (NIH) spending, of which OAR is a part, we need to continue the effort to adequately fund AIDS research. I voted against the House-passed budget resolution, which severely underfunds AIDS research and other health programs. I supported the Obey amendment which would have increased NIH spending and other critical programs by limiting future tax cuts for millionaires. The President's budget for FY 2007 proposes a freeze in NIH spending. If that recommendation is followed, OAR will again be underfunded. I plan to do whatever I can to make sure this does not happen, as it is clear that research on prevention and treatment is the only way to a cure.
JB: Are you committed to being a leader in keeping the CARE Act strong and intact for the future?
JS: Absolutely. Over the past years, I have had the opportunity to meet frequently with Illinoisans who have been given hope and a future because of the Ryan White CARE Act. I have seen the difference that the CARE Act makes for individuals, families and our community. Unfortunately, between 42% and 59% of people living with HIV/AIDS are not in regular care. To reach them, we need to expand the CARE Act and provide increased funding for prevention, treatment, support services and community-based outreach and education to every person living with HIV/AIDS. This year, as I have done in the past, I will continue to do whatever possible to ensure that the CARE Act receives the resources it needs. And, I am privileged to work with so many vocal, committed and strategic advocates in that effort.