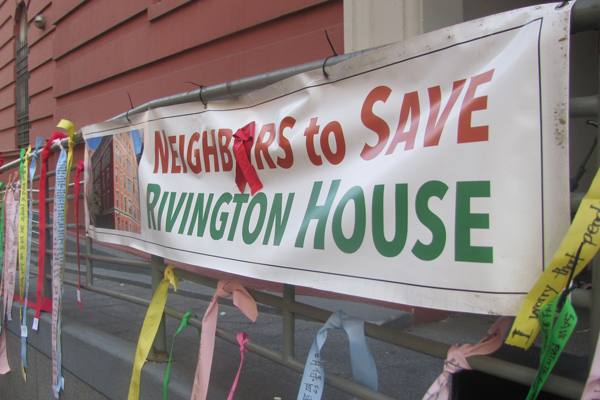 Credit: Kenyon Farrow

In the Broadway musical and, later, Chris Columbus-directed film, Rent, there is a scene in which several HIV-positive people gather for a "life support" meeting to offer hope in the face of the impending HIV/AIDS epidemic. The cast sings "Will I," a short, emotional ballad with these lyrics:
Will I lose my dignity?
Will someone care?
Will I wake tomorrow,
From this nightmare?
It's a song about survival and hope in the face of all odds. The main characters of the late Jonathan Larson's 1996 hit show faced not only the very real HIV/AIDS epidemic but also the impact of gentrification on their safety, livelihood, and homes. In many ways, the play foreshadowed the gentrification and displacement that have happened on New York City's Lower East Side, where the clamor for more and more real estate for luxury housing continues to force poor people living with HIV out of their Manhattan neighborhood and into the outer boroughs.
Last week, a group of neighbors, led by a small grassroots organization called Neighbors to Save Rivington House (NTSRH), gathered to fight the redevelopment of the former health care facility for people living with HIV into expensive housing. The 200-plus residents of Rivington House at 45 Rivington Street -- one of the few nursing homes dedicated specifically to caring for people with the HIV -- had already been displaced when the organization closed its doors in 2015.
But this wasn't a Broadway show. Here, the consequences were all too real.
"We are here to bring light to the fact that we are losing this facility, and the provider is not doing what is in the best interest of the community," said Debra Jeffreys-Glass, a member of NTSRH and a resident of the community for over 25 years.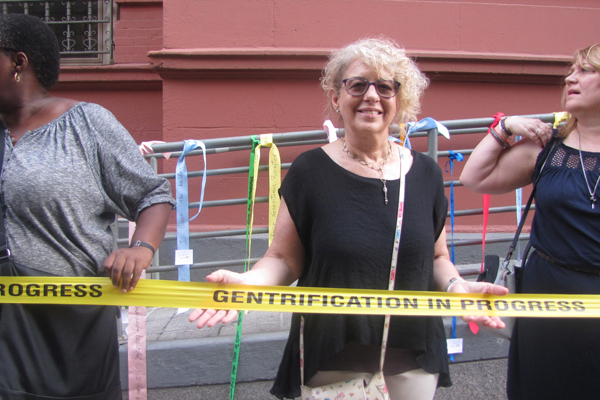 Credit: Kenyon Farrow

Rivington House originally opened in 1995 and was listed as one of the few nursing homes to care for HIV/AIDS patients. "They provided care for a very specific population," Glass said.
According to Glass, Village Care, the non-profit that owned Rivington House, came to the community board and explained that the building was at half capacity because of improvements in HIV treatment, which meant that more people were now living healthier, longer lives than when Rivington House opened, so there was less of a need for an HIV/AIDS-specific nursing facility.
However, neighbors and the local community board wanted to ensure that whoever owned the building upheld the two deed restrictions on the property. One restriction stated that the Rivington property was to remain a nonprofit entity and the other required the building to remain a health care facility. According to the New York Times, the facility was sold to the Allure Group, which promised to keep the facility a general nursing home "if the deed restriction was lifted."
After this was done, as the Wall Street Journal reported in 2016, the building was again sold, for a reported $116 million, to three companies, Slate Property Group, Adam America Real Estate and China Vanke Co., which intend to build luxury condos.
Advertisement
The community was outraged, given that the community board representatives had written the mayor's office a letter opposing the non-transparent lifting of the deed restriction by the city and warning that the property could now be converted into free market housing.
The city comptroller consequently opened an official inquiry/investigation into the Department of Citywide Administrative Services (DCAS) and Mayor Bill de Blasio's office and their roles in the sale of the property.
"I'm here as the comptroller that did the investigation and exposed the city's complicity in the potential for building a luxury condo here," said New York City Comptroller Scott M. Stringer, at the NTSRH gathering. "The developers played city offices like a fiddle and, as a result, people lost a valuable health facility for something they don't need."
That "something(s)" are the proposed luxury condos developers want to erect in place of the neighborhood health care facility.
Nevertheless, the NTSRH's protesting has not been in vain. Because of what happened to the Rivington House, a bill was written by State Senator Daniel Squadron and Assembly Member Yuh-Line Niou to ensure community involvement when nursing homes are at risk and to promote the upholding of deed restrictions on certain properties or at least to put more hurtles in place before they can be lifted.
Nevertheless, the closing of this facility has major consequences for older people living with HIV.
According to the New York City Department of Health and Mental Hygiene, in 2016, there were 385 new HIV diagnoses of New Yorkers over the age of 50. And, while new diagnoses are declining overall, there was an increase in new diagnoses among women (including transgender women) over the age of 50 from the previous year. Of all those over the age of 50 diagnosed with HIV, nearly 26% also received an AIDS diagnosis.
Treatment options have gotten better, and more people are living longer. This presents unique challenges to a new, growing population of people who are aging with HIV.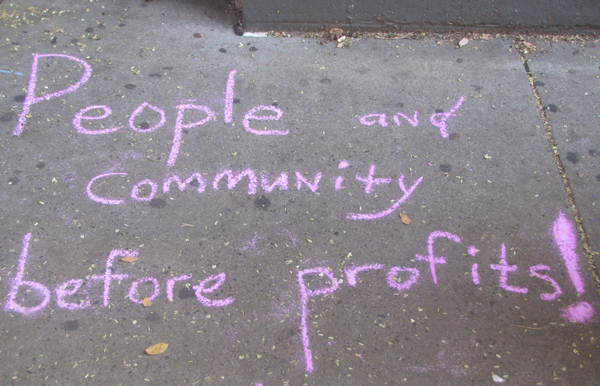 Credit: Kenyon Farrow
Jason Rosenberg, 26, a member of ACT UP New York, attended the Rivington rally with his uncle, Richard Rosenberg, 70, who's living with HIV and was a resident at Rivington House from 2004 to 2014, before he was moved to a new facility in a different neighborhood. Jason sees housing as an imploding issue for the HIV community.
"Something that has fallen off the radar is HIV housing and the need for it," said Jason. "Once we had the effectiveness of treatment, people lost track of how dire the need for housing is, and we are trying to get that back."
Richard recalled just how impactful and unique his residency at Rivington had been for him.
"Coming from being on my own with the virus, it was a shock coming into the nursing home situation," he said to a crowd of supporters. "However this place eased the shock for me."
Richard said that even though he had been able to find other housing on the city's Upper West Side, he noticed a difference in services right away.
"It's like going from my home to a factory," he said of his new place of residence. "Here [at Rivington House], everyone was on a first-name basis."
As of this reporting, development plans for the Rivington property remain at an exploratory stage. Representatives of the developers declined to comment on this story. DCAS and the mayor's office were unavailable for comment. However, the NTSRH are committed to speaking out until everyone returns to the table to discuss a solution.
K. Brewster, another organizer, who said she has lived on the Lower East Side for "decades," said: "We don't intend for this PR nightmare to ever go away until you reach some resolution with the HIV/AIDS community, the Alzheimer's community, and everyone who's trying to figure out how we care for our neighbors."
After the testimonies of former residents and elected officials and calls to action from neighbors, the small group of activists fanned out across the front of Rivington House, stretching a strip of police tape across the building that read, "Gentrification in Process." A woman began singing:
Return this house to the people.
Return this house to the people.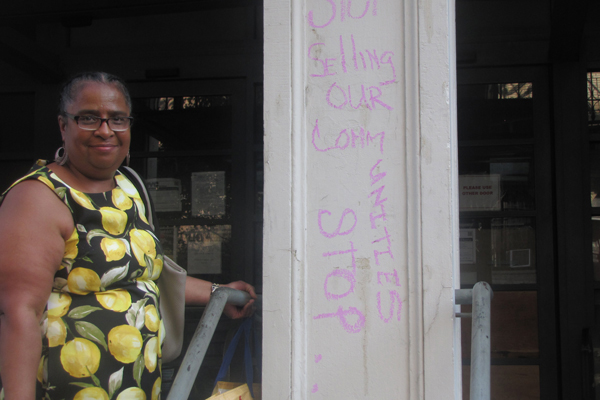 Credit: Kenyon Farrow

Soon, the entire line of people was singing in unison. You can imagine this song fitting at the end of Rent's first act. It's the part of the show where everyone comes together, hoping for a better future -- or any future at all.
Only time will tell whether Rivington House or its supporters will get a second act.
George Kevin Jordan is a writer based out of New York. He is currently executive editor at Bleulife Media, as well as a contributing writer at Black Art in America. In between searches for beach locations for vacations, he can be spotted watching as much theater as possible. Find him at georgekevinjordan.com or hit him up on Twitter @GKJWrites.