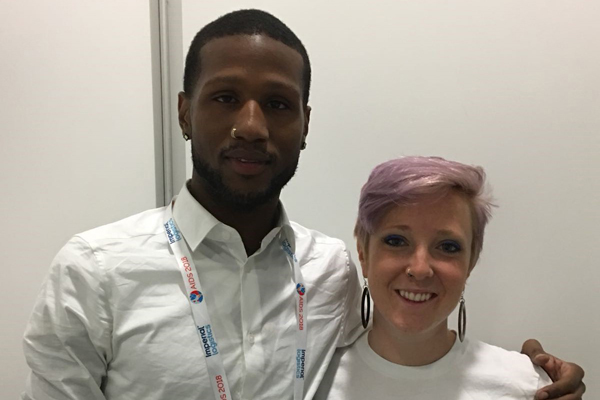 Jason Walker and Emily Sanderson at AIDS 2018 in Amsterdam, the Netherlands (Credit: Terri Wilder)

NYC-based HIV activists Jason Walker and Emily Sanderson think that, just like the cost of rent, pre-exposure prophylaxis PrEP is too damn expensive. To address the cost of accessing PrEP, they are among a group of activists who launched #BreakThePatent, a campaign advocating to make the generic form of Truvada (FTC/tenofovir disoproxil fumarate) available in the U.S. or to greatly reduce the price of the Gilead drug so that communities most in need can have access to it. They sat down with TheBody at the International AIDS Conference in Amsterdam to discuss the white paper they recently launched, detailing their national plan of action for universal PrEP access in the U.S.
Terri Wilder, M.S.W.: So, this is an exciting week. You have just released a National Action Plan for universal access to PrEP in the United States. Start out by just telling me a little bit about what is PrEP4All, and then, we'll dive right in, talk about the National Action Plan and what's in that.
Emily Sanderson: So, PrEP4All is a group that started when we realized that Gilead Sciences was withholding PrEP due to pricing from people who needed it most to prevent HIV. And we realized that most of the research that was done to develop PrEP was done with American taxpayer money, and then Gilead came in and bought the patent.
We formed this group so that we could inform people and change the policy and change the access to Truvada as PrEP.
Advertisement
TW: In the United States, the pricing is very different from maybe other parts of the world.
ES: Yes. In the U.S., it costs on average $1,600 a month to fill a one-month prescription of PrEP. But, in other countries, it is cheaper to access because drug companies know that they can make a lot of money off people in the United States, because we're a high-income country.
TW: Great. So, yesterday at the conference, you guys had a press conference. You released your National Action Plan for universal access. Talk to me a little bit about this National Action Plan.
Jason Walker: Our National Action Plan is really a call to get different folks who are impacted, communities who are impacted by the HIV/AIDS crisis, to come together to put public pressure on Gilead and the [National Institutes of Health](NIH) to ensure that we have generic drugs that come onto the market so that we can provide options for folks who want to take preventative HIV medication.
Our whitepaper is really just outlining how we got here, how we got to a place where folks cannot access Truvada. It's essentially a call to action to get communities together so that we can organize, so that we can strategize, so that we can build our collective power to put public pressure on Big Pharma, so that we can make sure that we have an accessible biomedical prevention strategy for high-impact communities.
TW: It sounds like, at the foundation, [in the U.S.], the prices are higher, and Gilead's application to the [U.S. Food and Drug Administration] (FDA) for PrEP indication for Truvada was not funded by Gilead but, rather, by U.S. taxpayers.
ES: Right. Exactly.
JW: We paid, U.S. taxpayers paid, for the research, we paid for this drug, essentially, to be utilized to help keep communities safe, to keep people safe, and to keep key populations safe. However, those communities are not receiving or reaping the full benefits of this new strategy, this new approach that we have to combating the virus.
TW: And so, specifically, when you look at the cost difference -- you mentioned the $1,600 in the United States, and then maybe $6 for a monthly supply from other parts of the world -- the $6 is because people in other countries have access to a generic.
ES: The $6 a month is what it costs Gilead to produce this drug in their factories. So, if we bought it at price, it would be $6 a month, and if people are accessing it in other countries, it is either low-cost or free, depending on where they're accessing it from.
TW: So why is Truvada so expensive in the United States?
ES: Truvada is so expensive in the United States because drug companies and pharmaceutical companies have too much power, and there are no regulations around how much they can charge people for drugs. Especially, there's no heed paid to whether a medicine is on the essential medicines list; they still get to charge whatever they want for drugs because there's no check on them.
TW: So, [Truvada] is the only evidence-based, highly effective prevention sold for HIV. And, when we're looking at moving forward, people are constantly talking about ending epidemics. So, where I'm from, the New York State Department of Health, as you know, has this Ending the Epidemic plan; we have 90-90-90 globally. Where do you think that lowering the price of PrEP, particularly in the United States, plays into these ambitious goals of ending epidemics, particularly in the United States?
JW: I think PrEP is essential to these goals, right? I think we wouldn't have a clear vision of ending the epidemic without tools like PrEP. They're essential. They're crucial to making sure that we can drive down the rates of infection and protect vulnerable communities.
But I think, like Emily was stating, it is Pharma, I think, that is not equally as invested as the people are. So, [by] ensuring that drugs like Truvada are inaccessible to, particularly, communities in the South, particularly low-income people of color, particularly trans folks, it does seem to me that they are not in line with our values, and they don't share the same vision that we have, at the same level of commitment.
ES: And the story of the AIDS crisis currently is that people are still dying because there are tools that are not being utilized. People are dying from coinfections. And it's not because we don't have the science to fix the problem; it's because -- the resources that we have, and the tools that we have, to fight the epidemic and to stop people from dying and becoming newly infected -- people can't access those tools, such as PrEP.
TW: Pharmaceutical companies often have these patient-assistance programs. One of the things that's in this whitepaper is a heading that says, "Gilead's Financial Assistance Programs Are Inadequate." And so, that's stated pretty strongly in this document.
How are these programs inadequate, in terms of helping people, particularly in the United States, when the costs of these drugs are so high? Why does this group think that these programs are inadequate?
ES: Well, for starters, there are people without health insurance. Part of the copay assistance program, from my understanding, is that there is a limit to how it is used. In some cases, it's that you have to pay a certain amount of money before that program kicks in.