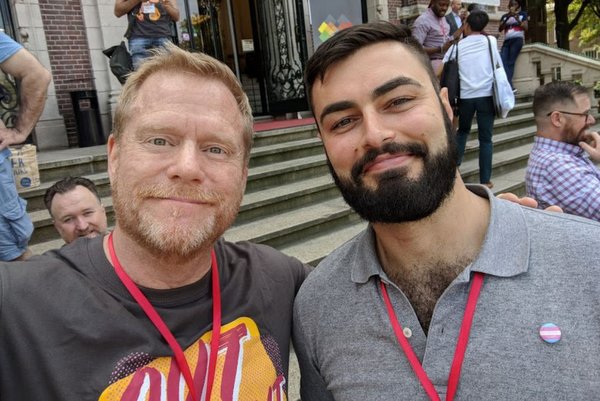 Mark S. King (left) and Theodore Tsipiras at the 2018 International AIDS Conference in Amsterdam, the Netherlands (Credit: Mark S. King)
As part of TheBody's coverage of this year's International AIDS Conference (AIDS 2018), which took place July 23-27 in Amsterdam, the Netherlands, longtime contributor and veteran HIV journalist/activist Mark S. King of My Fabulous Disease shared a series of brief video reports from the event. King has covered the biennial conference for TheBody and TheBodyPRO since the 2010 conference in Vienna, Austria.
Mark S. King's AIDS 2018 Coverage
You can also watch the full collection of King's AIDS 2018 videos on his website.
About Mark S. King's AIDS 2018 Videos

Though International AIDS Conference highlights tend to feature scientific headlines, King's daily video reports often bring a playful point of view that focuses on the community of people who are doing bold, dynamic, and creative HIV work in countries around the world. His video coverage from the 2016 conference in Durban, South Africa, included stories on pre-exposure prophylaxis (PrEP), combating homophobia, drag queens, global gay networking, an HIV treatment march, and a raucous nightclub that hosted conference attendees for a "party without pants."
King's chief coverage sponsor this year is MPact Global Action for Gay Men's Health and Rights (formerly known as the MSM Global Forum, or MSMGF), an international organization that describes itself as focused on "global action for gay men's health and rights," so he will pay special attention to the stories of gay, bi, and trans men.
"HIV has always included the most outrageous and dynamic activists, probably because it is often driven by proud gay men and those who are gender non-conforming," King explains. "You can find the scientific breakthroughs from the conference on any news site. I enjoy featuring the amazing activists behind the headlines. They work their asses off, and they also know how to blow off steam."
For this year's conference, King scheduled interviews with leather and fetish gear aficionados discussing HIV stigma at a private play space, a male sex worker speaking out about his use of PrEP, and the owners of the city's iconic gay sauna talking about their efforts to wipe out hepatitis C in Amsterdam.
As co-producer, King worked with Theodore Tsipiras, an HIV advocate from Australia. "Theo is a fairly imposing presence," says King. "He's 6'4'' and delightfully handsome. He's my secret weapon. Somehow, most anyone we encounter immediately agrees to an interview."