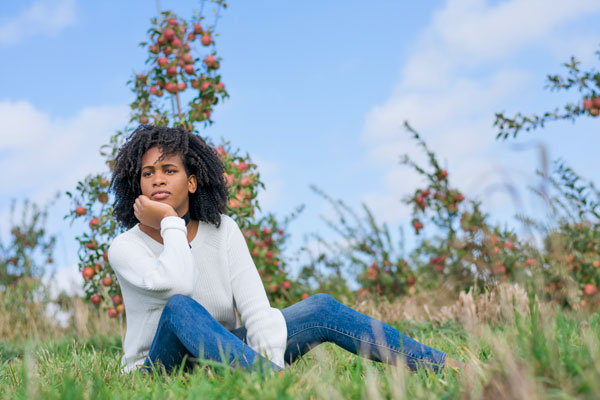 Nyala Moon (Credit: Laura Davis)

In part one of our three-part series on vaginoplasty (one form of "bottom" or gender-affirming surgery), we heard about aftercare from a trans-knowledgeable visiting nurse who has supported transgender women through this experience. Now, we'll turn to Nyala Moon, an outreach specialist with Housing Works and screenwriter/actress of the feature film NOVA about a young trans woman of color trying to make it in New York City. Both spoke at Community Healthcare Network's 7th Annual Conference on Transgender Health in October 2017. Moon captivated the audience by sharing her experience and noting what others could consider and prepare for when it comes to the days and weeks after surgery. Here's her story:
Nyala Moon: A lot of trans people work really hard to get their surgeries covered. And you go through those hard journeys of finding a surgeon who will do it, of getting health insurance that will cover it. And you get to your surgery. And you're like: "I'm getting my surgery. It's tomorrow. I'm drinking the bowel prep. It's gross. I'm going to get through it." And you get your surgery.
And you're like: "I hate it. I have gotten this surgery that I have wanted to get all of my life. This is the tipping point. I've fallen off into this reality that I've been working hard to strive for." And you think that the journey is over, right? I did, at least. And it's not. It's not over.
After you finish with surgery, the journey begins of actually relearning yourself. Because once you get the surgery, and you're done, and you're healing, and you're in your room, and your family's there, your friends are there, supporting you, you think that you've made it. There's nothing else you need to worry about. Wrong.

Related: Gender-Affirming Aftercare for Trans Women: Healing From Vaginoplasty
Advertisement

Besides dilation. They tell you to dilate, and you're prepared for that, so you're like: "I'm going to dilate three times a day. Gonna make that work." But there are other factors that you should consider.
For one, you are relearning your body. The doctor has created this body part that is on you. But at first, it doesn't necessarily seem like it's yours. And a lot of trans people, myself included, felt that maybe it was wrong to have these feelings, to question whether you made the right decision. Those feelings are totally valid, of course. But a lot of trans people go through that, and they may experience a lot of postoperative depression -- which is real.
In New York City, we have had a surgery renaissance in the last few years. A lot of trans people have been able to get gender-confirming surgeries. And they have been able to make it past the finish line that they have been racing towards ever since they were born. And they think, "If I have any fears, if I have any doubts after surgery about how it looks, if I talk to my doctor about it, if I need more pain meds, then I'm complaining, and this is not for me."
This journey is a very hard journey.
For example, the first time I got home afterward, with my catheter, I was eating, watching TV, on Facebook, talking with all with my friends. And then I remembered; I was like, "Oh, crap, I haven't peed yet." And then I go back to what the doctor told me. The doctor was like, "Nyala, if you do not pee in six hours, you need to go back to the emergency room and you need to get another catheter."
I was like: "Oh, my God. I don't want to get another catheter while I'm awake. No. They need to put me out to do that." So, I remember, time goes by, and it's midnight. I'm sitting on the toilet, and I'm, like, crying. My boyfriend is there. And I'm pouring water on myself and I'm like: "Pee. Pee. Please pee."
And then I call the emergency room, and they're just like, "Ma'am, you need to go and get a catheter again."
I'm like: "No. I can do this. I can do this." And, literally, in the eleventh hour, I peed. I cried. I didn't imagine that peeing again would be a different and a complex process of getting gender reassignment surgery.
So, I peed, and I prayed to God that I could pee again the next time. I drank a lot of water and, luckily, I peed again.
Dilation is also a complicated process. It is a full-time job to dilate. In the first three months, you have to be religious about it. I dilated a lot to TV shows. They tell you to dilate for 20 minutes a day. But you're so scared that it's going to close up that you probably dilate -- well, I dilated till like an hour. I would watch the Atlanta Housewives, and I would get in my bathtub. Because at first it was the only place that I could dilate. There was so much blood.
The blood is a lot. But you'll be OK.
So, I would get my pillow. I would sit in my tub. I would have my iPad, and I would watch The Real Housewives of Atlanta while I was dilating. I'd watch the whole episode. Then I was done. I knew I was finished dilating, and I could go back to lying in bed. Because your body is also healing, too. So you're learning. Your day is pretty much taken up with dilating, resting, cleaning up the blood, and healing.
A lot of fear that trans people also have is the need for revision. So I dilated religiously -- some may think to the level of being OCD. But I didn't want it to close up. So, I dilated, dilated, got better, and got better.
But still, I needed a revision.
And I was so scared to tell my doctor that I needed a revision, because I thought, "Nyala, you worked hard to get this surgery covered." I said: "If you go in there, they're going to think that you didn't dilate as you should have (even though I did). And then you just asked them for more pain medication. And they're just going to blame you in your failure because this didn't work. And maybe health insurance won't cover it again."
So, I had a huge fear of going back in and seeking another revision. Now that I look back on it, I tell myself, and I tell other trans people: "You are a customer. And the medical professionals are there to service you and your needs."
You need to be your own advocate while going through the first six months. Because you're going to mess up. There are going to be complications. And you may need a revision. But you have to be your own advocate -- or at least have someone else be your advocate: a friend, or someone who is there for you, who's close to you and can help you advocate your needs.
You're in a very fragile point in your life. You have just done something that is life changing, and it's hard to do. So, I had finally gotten the guts to go to my surgeon and tell him that I messed up and I needed a revision.
Once he told me, "You have a complication, and we're going to have do a revision surgery," I thought to myself: "Nyala, you just got done. You've gone through all the pain, in the process of getting the surgery. You can't do this again. You know? You need to work. You have to move on in your life."
And I waited. I waited a while before I went back in and got the revision. And revisions are very tough on trans people, because getting the surgery is a spiritual journey, too. And so I didn't know if I had enough spirit to go through this process again.
But I did, luckily.