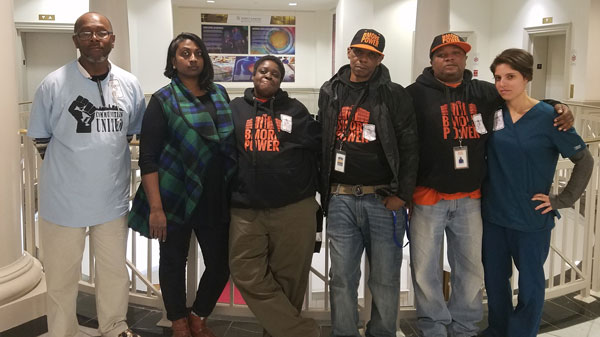 Rajani Gudlavalleti (second from left) with colleagues at the Maryland State Senate House before testifying for a bill in support of legalizing supervised consumption sites in the state (Credit: Harriet Smith)

Rajani Gudlavalleti is sticking with it. As a community organizer for Baltimore's BRIDGES Coalition, she's been working for years to build awareness and support to open a site in her city where opioid drug users can inject under supervision and be given the overdose-reversal drug Narcan if they start to overdose. Like elsewhere around the country, in Baltimore, opioid-related overdoses have become a major cause of death in recent years, with 694 such mortalities in 2016 and 523 already in the first nine months of 2017 -- 80 more than during that same period the year before.
But her crusade is happening more slowly in Baltimore than it is in other cities with big opioid overdose crises, such as San Francisco, which expects to become the first U.S. city to open a legal safe injection site (SIS) around July 1, or even nearby Philadelphia, where city officials have signaled that they are ready to make a site happen.
"It's harder for us here," says Gudlavalleti. "Our mayor is completely unsupportive." (The mayor, Catherine Pugh, has infamously said she thinks local drug users should be treated "in Timbuktu or somewhere" rather than in their own neighborhoods.) "Our health commissioner has helped with Narcan expansion and has said that, as a doctor and an activist, she supports safe consumption sites, but she can't as a public official."
So, Gudlavalleti and her colleagues are, for the third year running, taking their crusade (and a bill) to the state legislature. Every year, she says, more delegates get on board with the idea -- at first sometimes counterintuitive -- that the best way to save drug users' lives is to let them use in a clean, supervised, unhurried indoor setting instead of alone in alleys, the streets, or Starbucks bathrooms.
"Baltimore is known for the TV show The Wire, being the heroin capital of the country," she says. "And now with fentanyl in so much of the heroin, it's out of control. There's even a new analog called 'carfentanil' that requires three or four doses of Narcan to bring someone back from overdose instead of one."

Related: What You Need to Know About the Opioid Epidemic
The Breaking Point
By now, most Americans realize that the country is facing an opioid overdose crisis. Overdoses are the leading cause of death for people under 50, and the number of them occurring is rising faster than ever -- from about 10,000 per year in 1980 to 65,000 in 2016. (In comparison, AIDS deaths in the U.S. peaked in 1995 at about 50,000. The presence of fentanyl in heroin has definitely worsened the problem.
Meanwhile, Trump has declared the problem an emergency but actually done little to stop it. Kellyanne Conway, whom Trump made his "opioid czar," has most recently sidelined actual drug policy experts in favor of political cronies to advise on the issue. And the U.S. Attorney's Office from the District of Vermont, part of the federal Department of Justice under right-wing former senator Jeff Sessions, said recently that SIS "would violate federal law."
So, much as cities facing high rates of HIV and hepatitis infections among injection drug users in the 1980s and 1990s had to fund their own needle-exchange sites in the face of federal refusal to do so, urban areas are once again finding they are largely on their own in trying to reverse overdose deaths. They've had some progress training cops, and even drug users, to carry Narcan.
"The moment we're in right now is a reflection of public health and evidence-based interventions filling the void that we've had around drug crises," says Kassandra Frederique, the New York state director of the Drug Policy Alliance, which advocates for such approaches nationwide. "We've been here before with syringe exchange. It took a lot of advocacy to make people put public health first above stigma, fears, and moralizing about drug users," she says. "When we base our policy in those things, we always fail. We have to shift the debate from whether we think people should use drugs to whether we think people deserve to live."
Learning From Canada
Many in the U.S. are looking for guidance from the roughly 100 SIS already operating in 66 cities in nine countries (Australia, Canada, and seven in Europe). INSITE, North America's first, opened in 2003 in Vancouver, a city with a longstanding, large population of injection drug users. According to a recent Scientific American paper, overdose fatalities in the area around INSITE dropped 35% and, in 2015, it referred more than 400 of its 6500 visitors to addiction treatment, with half of them completing it.
But, given the scale of Vancouver's overdose deaths -- it had the majority of the 1,400 such deaths in British Columbia last year -- INSITE alone, with lines regularly out its door, is not enough. That's why about a half-dozen "pop-up" SIS -- merely a tent, table, chairs, a human monitor, and a supply of Narcan -- have emerged in the city in recent years. They're all within a 20- to 30-block radius of an area with a high concentration of public housing and drug users.
"The problem was that people were dying alone in their own homes," says Sarah Blyth, a former INSITE staffer and the founder of the city's Overdose Prevention Society. "So, we started more sites once more OD's started happening the past couple of years."
The particular site that Blyth runs is part of a popular flea market on the city's Downtown Eastside. Prior to its 2016 opening, says Blyth, people would often run into the market screaming that someone was overdosing in a nearby alley. At first, she says, the government objected to the site. But shortly afterward, the health minister realized that the approach was saving lives -- and she approved other sites in Toronto and Ottawa.
Blyth says that her tent has seen more than 10,000 people and reversed more than 300 overdoses. With a staff of about 30 (all volunteers who receive a small stipend), the tent is open 8 a.m. to 11 p.m. seven days a week. (Some public housing buildings, she adds, have safe injection rooms for the wee hours.) And Blyth says she wants to take her model further by supplying synthetic heroin free of often-lethal street additives, such as fentanyl.
"That way, people don't have to go give a blowjob or break into a car to get their supply," she says. "They know what's in it and how much, and they get on a schedule." She'd also like to provide a marijuana therapy program to help people with the pain and anxiety of withdrawing from heroin.
But for now, she feels good knowing that her tent is keeping people from dying -- and also (a big win with locals) reducing the amount of injection that happens out in the open, as it often does on the streets of San Francisco. Her site has been visited by police from that city, as well as by officials from other U.S. cities.
"Everyone who visits says, 'Oh my God, this is so great and easy; I can't believe we're not doing this in the U.S.,'" she says.
And what does she tell people who tell her that she is enabling addiction? "We're saving people's lives," she shoots back. "They're among the most vulnerable human beings who've slipped through the cracks of the health care system. And if you just want to look at it conservatively, then we're lessening the burden on the system. Having people overdose all the time is very expensive. And we've learned that just hiring more police doesn't work."