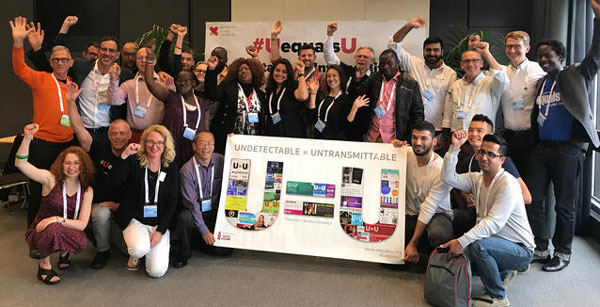 Courtesy of Prevention Access Campaign

At IAS at the end of July, the results of the Opposites Attract study were announced which further support U=U; major international leaders, partners, and coalitions confirmed U=U for the first time; U=U was integrated into the language of many plenaries and sessions; and our activists took the stage to celebrate U=U and call for universal access to information, treatment and care! What it means to live with HIV is forever changing because of you -- the pioneering people and partners who are committed to science over stigma.
Here's an overview of those exciting few days:
"UequalsU: The Significance of Undetectable = Untransmittable" Press Conference at IAS
Dr. Luiz Loures, Deputy Executive Director of UNAIDS confirmed that UNAIDS fully and unequivocally supports the U=U message. UNAIDS also released an explainer that states:

In addition to the positive impact upon the health of people living with HIV, there is increasing consensus among scientists that people with undetectable HIV in their blood do not transmit HIV sexually. This knowledge can be empowering for people living with HIV. The awareness that they are no longer transmitting HIV sexually can provide people living with HIV with a stronger sense of being agents of prevention in their approach to new or existing relationships.
Ambassador Deborah Birx supported the U=U message and noted the importance of community driven messages grounded in science to ensure they are responsive to real people, especially key affected populations.
Moderators Dázon Dixon Diallo, President & CEO of SisterLove and Charles King, President & CEO of Housing Works, and panelist Bruce Richman, Executive Director of Prevention Access Campaign/U=U announced the U=U campaign had reached 350 partners in 46 countries including most recently:

Planned Parenthood Federation of America -- USA
Blue Diamond Society -- Nepal
Caribbean Sex Workers Coalition -- Guyana
Lean on Me Foundation -- Kenya
Kuala Lumpar AIDS Support Services Society -- Malaysia
The City of Paris signed on to U=U: The Mayor of Paris signed the city on to U=U and pledged to introduce the campaign to other mayors throughout Europe. Thank you to Sidaction and AIDES for organizing this important partnership!
Community Symposium on Key Populations: AIDES, Sidaction and IAS launched the Paris Community Declaration drafted by 80 HIV activists from around the world detailing the ways that key populations must be meaningfully engaged in the global AIDS response including a call to action to integrate U=U into advocacy for universal access. We were honored to take part in this exciting collaboration, and we encourage our partners to read and endorse the groundbreaking declaration
Media Coverage: For an excellent personal account of U=U at IAS check out Bob Leahy's PositiveLite.com, and more coverage at CNN.com, NAM aidsmap, and A&U.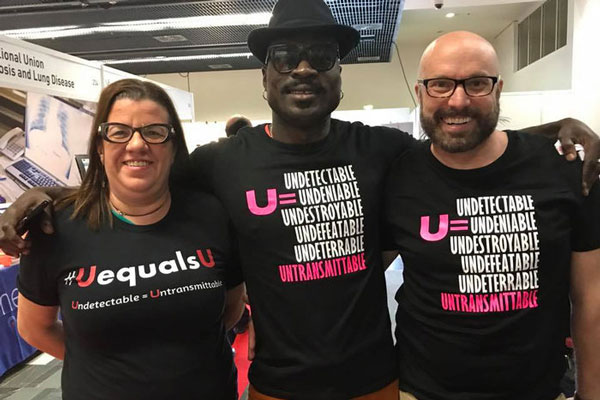 Souhalia Brouhard (ATP+: Tunisian Association of Positive Prevention, Tunisia), Carlos Idibouo (ICHANGE CI, Côte d'Ivoire), Brent Allan (Living Positive Victoria, Ausralia) (Courtesy of Prevention Access Campaign)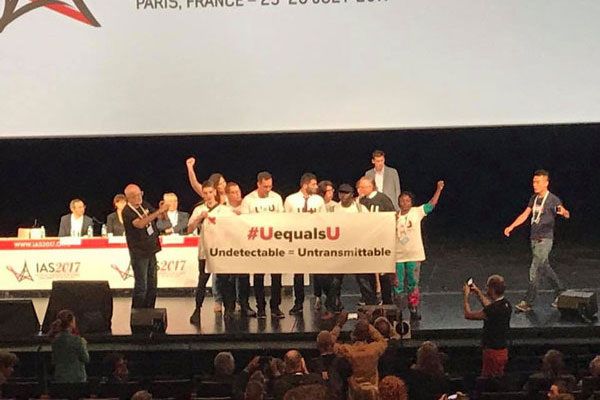 U=U activists takes the stage for a dance party followed by a call to action for equal access to HIV information, treatment and care. Thank you Minas Arda Panosian and Jacque Wambui for your powerful speeches, and Charles King and Christian Hui for leading the demonstration! (Courtesy of Prevention Access Campaign)

[Note from TheBody.com: This article was originally published by Prevention Access Campaign on Aug. 15, 2017. We have cross-posted it with their permission.]
This article was provided by Prevention Access Campaign. It is a part of the publication The 9th International AIDS Society Conference on HIV Science.
(Please note: Your name and comment will be public, and may even show up in
Internet search results. Be careful when providing personal information! Before
adding your comment, please
read TheBody.com's Comment Policy
.)