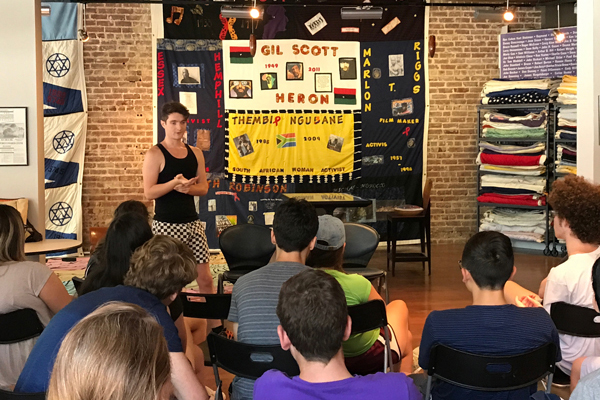 Courtesy of The NAMES Project Foundation

Art and activism create a powerful voice that builds community and initiates change. Hearing the voices of marginalized people has been a passion of mine for years. As a result, I love discovering other ways I hear our voices using artistic expression.
Lately, I have been on a tough journey to find my voice as a writer and activist. There are times I question the power of my own voice. Am I loud enough? Does my voice matter? Artists and creators alike are the architects of change, and still, we can use a boost of inspiration. My inspiration comes from a visit I had to the new home of the AIDS Memorial Quilt.
The AIDS Memorial Quilt is a patchwork of more than fabric and color patterns. It is a patchwork of love stories, farewell letters and statements. This Quilt is a testament to the human experience, giving voice to the voiceless. During my visit, it wasn't long before I realized the power of stories.
Great art allows us to see ourselves through each other. We all share a connection in some way. Through that connection, we should see how responsible we are for one another. Love is the stitch that binds us. The new AIDS Memorial Quilt headquarters shows us that love connection.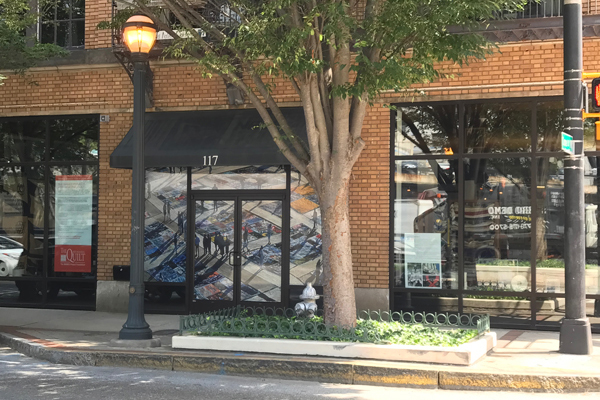 117 Luckie Street (Courtesy of The NAMES Project Foundation)

You can view the quilt at 117 Luckie Street in an artistic storefront in Downtown Atlanta. The downtown space makes the Quilt more accessible to the people of the city, and it has been open to the public since June 1st. There, you will find panels of the Quilt on display. Yet, you will get more from your visit than beautiful art. It is a safe space perfect for having meaningful conversations. So, a meaningful conversation is what I had when I sat down to talk with Julie Rhoad, the president and CEO of the AIDS Memorial Quilt: The NAMES Project.
There was great value and wisdom in our conversation. It was a history lesson in activism, compassion and remembrance. Through its 30-year span, the AIDS Quilt has held significance in memorializing the lives affected by HIV and AIDS. It is a 54-ton growing masterpiece of diverse storytelling. Julie called it the "the original piece of social media." Since its beginnings in 1985, the Quilt has played a part in connecting people of all walks of life to engage in a universal dialogue about AIDS.
Advertisement
Julie shared her experience of losing loved ones to AIDS complications, and the hurt she felt not being able to mourn them. For her, it was a matter of looking back to the early and mid-80s. She expressed how it felt for small-town gay men and women during that period. They sought out liberation in places such as New York, only to die in those cities due to the AIDS pandemic. They were then scooped up by family members and taken back home to those same small cities.
As a result, there was no space to mourn and honor the memory of friends. So, friendships established in the bigger cities were taken away, not only due to illness but also because of families that did not want to acknowledge their loved ones' sexuality. Countless voices of artists, writers and everyday people who wanted to live their most authentic life were silenced. I cannot imagine leaving this world and not have my family and friends be able to remember my truth. No one wants to be forgotten, and I imagine those were the same feelings Cleve Jones had when orchestrating the poster board memorial in 1985 that led to the NAMES Project.
Keep in mind that the AIDS Memorial Quilt is a visual tool to help people understand the impact of the disease. History and information about the AIDS Memorial Quilt is available on the AIDS Quilt website. To this day, it is still a movement used as for outreach and education, as well as dedication to those living and gone. Every panel is created by everyday Americans and everyday citizens of the world. They are the artists who have created these loving testimonies that are also works of art. Julie said, "We honor memory to teach the living."
Without a doubt, the power of story and connection drove our discussion. Julie describes the Quilt as a spirit that moves while it advocates for change and builds coalitions. The good thing about the Quilt is that you can request to host the Quilt in your city. Julie's goal is to keep the quilt moving around the country, and it's a lot of quilt. Of course, storing a 54-ton quilt in a 2,500-square-foot space is next to impossible. However, the bulk of the Quilt sits in a warehouse in Tucker, Ga.
Should you ever have the chance to view the Quilt in your area, know that Julie and her team take their time to honor display hosts requests. Based on a host's request, the NAMES Project will engage in conversation with the host to accommodate them with panels that tell a specific, authentic and diverse story. For instance, if you want to host panels of the Quilt that discuss the AIDS pandemic between the late '80s and early '90s, The NAMES Project can select panels that can tell that diverse story within 100 blocks -- from Rock Hudson to Eazy-E.
Accessibility is important to The NAMES Project, as well. Dr. Anne Balsamo, dean of School of Arts, Technology and Emerging Communication at the University of Texas at Dallas, is helping bring the Quilt's accessibility to everyone worldwide. She is helping the NAMES Project implement AIDS Quilt Touch, which gives virtual access to the AIDS Memorial Quilt. It's an ongoing project through which people can utilize a browser to view over 48,000 panels, the names each panel represents, the panel makers and much more. You can visit the AIDS Memorial Quilt's Luckie Street location to use AIDS Quilt Touch or visit the AIDS Quilt Touch webpage to experience this beautiful project. The Quilt is an archive that deserves digitization for online viewing because panel makers, family, and friends are connected to the Quilt for many reasons.
Many panel makers like to stay connected to the panels they have submitted because they want to know where their panels travel. Again, it speaks to the idea of honoring memory to teach the living. When you think about it, memories of these men and women live on through the handcrafted panels of family and friends. These panels travel from city to city, viewed by thousands of people every year. Stories are being told, keeping the memory of these individuals from being forgotten.
For me, the thing that stood out most is that the NAMES Project receives more than panels. Along with the panels, people send letters, photographs and other little mementos. There's always a backstory to everything sent, whether it's a story about the person the panel represents or the loved ones who miss them dearly.
Honestly, there is so much that can be said about my experience at the new AIDS Memorial Quilt headquarters. It is a safe space that is open to the public where you can honor those lives and have meaningful conversations, and most importantly, it's a testament of love. When you come to visit this space, there's nothing but love and joy in the room. Before ending my conversation with Julie, I asked her what brings her the most joy throughout the entire process of moving, and her answer was nothing short of amazing. She said:
I find my personal joy from the amount of love in the room. Love is evident in every stitch of the Quilt. It is testimony to people being loved and to that love continuing as long as the people who remember them live. I remember the early '80s and mid-'80s. I remember the fear, anger and despair. We have to reenergize the movement. Love lives on. It's a testimony of life and love, and not death. This is our nation's national monument. It's a global expression of uniting people in a cause, united through love. It tells the stories of how people were loved.
My visit left me inspired. No longer did I feel voiceless, because I saw the power of story and connection through the AIDS Memorial Quilt. My conversation with Julie reawakened my passion for creating unique dialogues that are rarely heard, and I'm so happy I had the opportunity to feel the love in the room that day. If you're ever in Atlanta, I encourage you to do the same.
The AIDS Memorial Quilt is open Tuesday to Thursday from 10 a.m. to 4 p.m., and Friday to Sunday by appointment. You can contact the center by email at rwilliams@aidsquilt.org or by phone at 404-688-5500.
Kevin L. Tarver is a freelance writer, gay activist and content creator for BamaBoiBlues.com. Established on July 15, 2010, BamaBoiBlues.com documents experiences that often go undiscussed within gay culture, especially within the African-American gay community.