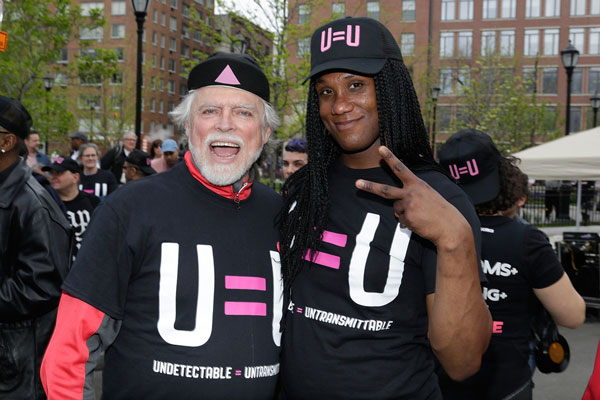 Housing Works' head Charles King (left) with one of the U=U dance partygoers (Credit: Getty/Lars Nikki)

On a Sunday afternoon in late April, there was a small but buoyant dance party at the fairly new outdoor AIDS memorial in New York City's Greenwich Village, which had once been ground zero of the AIDS epidemic.
New York City's openly gay health department assistant commissioner Demetre Daskalakis was on hand as one of the DJs, as openly HIV-positive folks such as NYC councilmember Corey Johnson and Housing Works founder Charles King boogied down to jams like the Notorious B.I.G.'s "Hypnotize."
As Mary J. Blige might say, there was definitely no hateration going on up in that dancerie!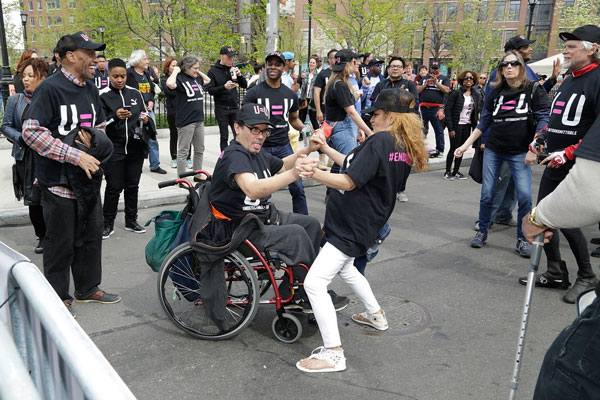 Credit: Getty/Lars Nikki

The reason for the party? It was to celebrate and promote the fact that we now know with certainty that people with HIV whose meds make the virus undetectable in their blood (as confirmed by lab tests) cannot transmit the virus to sexual partners. In New York City, a host of organizations -- including the health department and Housing Works -- have been part of an effort in recent years to end New York State's AIDS epidemic by 2020. Now, they're rallying behind the Undetectable = Untransmittable or U=U message, which is the national rallying cry of the Prevention Access Campaign.
Advertisement
In recent months, a stunning array of prominent international agencies and individuals have signed onto a U=U consensus statement saying that, based on modern science, undetectable people cannot transmit HIV. They include AIDS United, GMHC, the Human Rights Campaign, the International AIDS Society, the UK's National AIDS Trust and the National Alliance of State and Territorial AIDS Directors (NASTAD), to name just a few.
"U=U is such incredible news that we've been saying we should be dancing in the streets about it," says Bruce Richman, who started Prevention Access Campaign. Richman says he's been eager to get the U=U word out since he learned in 2012 that because he was undetectable he was not infectious. (He was diagnosed with HIV in 2003.)
Charles Sanchez at the U=U Dance Party at the AIDS Memorial, NYC! #UequalsU #EndAIDSNY2020

Posted by TheBody.com on Sunday, April 23, 2017

Even since then, scientific evidence for U=U has continued to mount in a series of very large studies, such as one released early last year finding that among nearly 900 serodiscordant (one HIV+, one HIV-) gay and straight couples followed over 16 months, there was no evidence of HIV infection despite their having condomless sex.
This has massive health, prevention and legal implications. It means that HIV-positive folks and their HIV-negative sexual partners can all but stop freaking out about the possibility of transmission. It also renders even more outdated various state laws from the 1980s and 1990s that criminalize HIV-positive people for endangering sexual partners when they don't disclose their HIV status. Finally, it should serve to reduce the stigma suffered by HIV-positive people, who are often made to feel as if they are second-class citizens for carrying an infectious virus.
But despite all that -- and despite the fact that U=U has essentially attained global scientific and advocacy consensus -- national, state and local entities still do little to broadcast this fact to the general American public. A brief review of the main HIV webpages for health departments nationwide serving those states and cities hardest hit by HIV found that not one stated in clear language that people with undetectable HIV were incapable of transmitting the virus.

The Centers for Disease Control and Prevention (CDC) site says that people who are undetectable "greatly reduce" their chances of transmitting HIV, which is true, but such cautious language is more in line with what we knew from data almost a decade ago. Richman says he's in touch with the CDC and expects that we'll see messaging changes soon.
Even states that mention PrEP (pre-exposure prophylaxis, or taking the HIV med Truvada [tenofovir/FTC] to prevent getting HIV) or the fact that pregnant women on meds can prevent HIV from passing to their children made no mention of U=U among sexual partners.
New York State, which, along with California, has usually put out the most current HIV messaging in the country, says that being undetectable "decreases but does not eliminate" the chance of transmission. Moreover, the Mayo Clinic, one of the more prominent health info sites online, doesn't mention U=U at all on its HIV prevention page.
"None of the websites are saying this, none of the marketing campaigns," says Richman. "I've found that people who know this information tend to be privileged, have private insurance, are often white. That is so unjust that information that concerns are our social, sexual and reproductive health and lives is being withheld."