Interview
Nightclub Explosions With Political Points of View: Michael Musto on Writing at the Height of the AIDS Crisis
April 26, 2017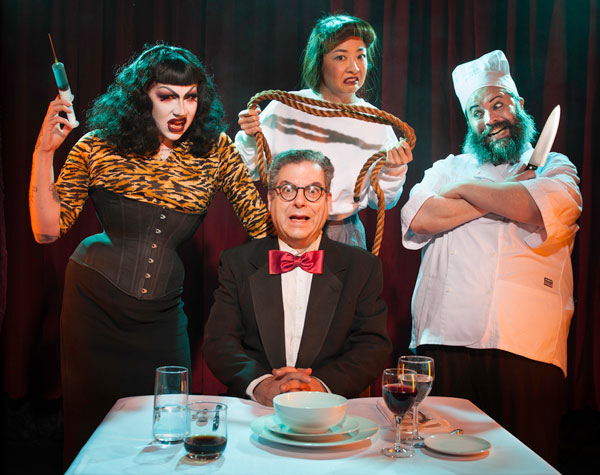 Credit: Michael Blase

Michael Musto has dissed and dished celebrities his whole career, and now he's about to get payback.
An openly gay native New Yorker, Musto made a name for himself writing a column for the Village Voice in the '80s and '90s, at the height of the AIDS crisis. Called "La Dolce Musto," his column was part NY nightlife, part celebrity dish, part social commentary, and it was a must-read for anyone who wanted to know the buzz around town.
He's become somewhat of a celeb himself, developing into an author as well as a pop culture journalist, enough so that when the call came for him to be roasted to benefit the Callen-Lorde Community Health Center, he was more than willing to step into the fire.
The evening is coming up on May 22, and the list of featured performers is a veritable who's who: film and TV star Rosie O'Donnell: comedian and Emmy Award winner Bruce Vilanch; RuPaul's Drag Race Season 6 winner Bianca Del Rio; comedian and actress Judy Gold; actor, director and producer Michael Urie; SCRUFF creator Johnny Skandros; viral video sensation Randy Rainbow; and even comedian, actress, and Facts of Life star Mindy Cohn, to name just a few.
I was lucky enough to have a conversation on the phone with Musto about a little bit of everything: politics, celebrities, HIV, and nudity on public access.
Advertisement
Michael Musto: Hi, Charles, it's Michael.
Charles Sanchez: Nice to meet you!
MM: Nice to meet you, too.
CS: It's a pleasure to get to talk to you. You're such a quintessential New Yorker, such a legend.
MM: Wow. Thank you. I'm going to keep you around.
CS: You should! I must say, I was nervous in preparing to talk to you. And then I came across a video. In my research, I sometimes watch Robin Byrd reruns on [local New York] cable access. You were on her show, and she talked you into mooning the camera!
MM: I don't know what you're talking about, I'd never do that. Well, alright, maybe I did. But those were the wacky old days. I'm friends with Robin and she would have me on all the time as a guest star. Because I really couldn't get booked on Johnny Carson at that time! I found a home on public access, which I always called "pubic access." And it wasn't mooning. It was actually ... well, there was one episode where she actually yanked up whatever I was wearing and my business came out.
CS: Really? I guess I missed that part.
MM: They probably edited it out, thank God. But it's probably on the DVD box set.
CS: I hope so! At least in "Special Attractions" or something. I don't know what year the episode I saw came out, probably in the early '90s? The late '80s?
MM: I did her show in the '80s and '90s.
CS: What it was like to be writing about the social scene, everything you wrote about in your Village Voice column at the time, with regards to the AIDS crisis?
MM: Well, my column in the Village Voice started in 1984, when AIDS already had started percolating very strongly. And as the crisis mounted, it really galvanized me politically. And I started interjecting screeves about how the government was ignoring AIDS and other topics like that into my column, which was really intended as a party column.
It was supposed to be covering entertainment and nightlife, so I kind of stretched the boundaries of what I was intended to cover by covering AIDS. Because if you didn't cover AIDS, you really had your head in the sand just like President Reagan did. And the scene kept going, it was pretty charged, and it even got sexual again, once people learned about safer sex. So I covered a mixture of nightlife explosions, and political points of view. I mixed it all together because that was reflected of what was on the minds of New Yorkers at that moment.
In the '80s, AIDS was considered a death sentence and it was a gruesome death sentence. People developed horrifying symptoms, like pneumocystis [pneumonia], lesions, and night sweats, and dementia, and weight loss, and they were vulnerable to all kinds of infections. It was just so horrible to witness, in addition to witnessing all the homophobia and AIDS-phobia, whereby the conservatives tried to paint gay people as deserving victims. So to see all of that at once was horrifying.
I'm very gratified to have seen the changes through the years, the treatments, the fact that it's manageable in many cases, in seemingly most cases. So there's not only medications, there's [pre-exposure prophylaxis (PrEP)], there's all kinds of stuff, so there's a whole new landscape. It's not the horrifying sci-fi movie that I felt like I was living in in the '80s.
I think people are more sexual now than they were when AIDS first hit. A lot of people used to run out in nightclubs in, like, scary outfits, almost to ward off potential suitors, because it was so scary. I mean sex seemed to equal death at that point. But now, it's such a different feeling.
CS: How do you feel about the stigma attached to HIV?
MM: Well, that was the main problem in the early days. The right wing attached a stigma to it, and that made it harder to deal with it. It's absurd to attach a stigma to any illness. People with illnesses deserve nothing but treatment and compassion.
CS: Absolutely. So, we're coming up on you getting roasted! The benefit for Callen-Lorde coming up ...
MM: Speaking of compassion, I'm not going to get any! I asked for it, and I deserve it. I wanted to call the event, "He Had It Coming." I think that would have been a good title. I've stirred up a little ill will in my day. Now the shit is hitting the fan! I know I'm complicit. Such a big word from the Republicans, that I'm "complicit" in all of this. I might even provide a few jokes for people, because nobody knows my foibles better than I do!
CS: Well, you really have some heavy hitters coming after you, you have Rosie O'Donnell, Bruce Vilanch, Bianca Del Rio, Michael Urie, I mean, the list goes on!
MM: Well, Rosie is not going to roast me. She's going to introduce the evening and talk about Callen-Lorde. But yeah, I'm terrified of Bruce Vilanch, Michael Riedel. ... They know my weaknesses! And they are prepared to just go for broke.
CS: I'm thinking Mindy Cohn might be the one to look out for. She just seems like she might have some venom in her ...
MM: You know what? I thought so, maybe, but she's such a doll, she can't say a bad word about anyone.
That bitch! [laughter]
CS: Tell me more about this event. How did this all come about?
MM: Well, Daniel Demello came to me last year and said would you like to be roasted for charity to benefit Callen-Lorde? And I'd heard that was an amazing clinic that is very accessible to LGBTQ people, it's affordable, a friend of mine told me the service there is amazing, it's compassionate, it's professional. So I thought that was a great cause, and at first I was a little wary. I mean, who's going to come to see me be roasted? And then I realized, everyone is going to come to see me roasted! Give the people what they want!
It's shaping up to be a hit event and Daniel and I have made sure to keep the expenses at a minimum, so this is a true benefit, so we'll make some nice money for Callen-Lorde and it's going to be hilarious. I'll be ready to shoot myself by the end of it, but I'm already ready to shoot myself!
CS: Will there be any video outtakes, perhaps, for those of us who can't make the event?
MM: I'm hoping there will be a video. At this rate, it's shaping up to be like 18 hours long! Because so many people are lining up to rip me a new one!
---

Well it sounds like the fabulous Mr. Musto is ready to be in the hot seat for the big night. I do hope he's got some oven mitt undies, though, because I have a feeling his butt's gonna get burned.
FORK ON THE LEFT, KNIFE IN THE BACK: BROADWAY ROASTS MICHAEL MUSTO will be held on Monday, May 22, at the Actors Temple, 339 West 47th Street, NYC. The event is produced by Lug Nut Entertainment in association with SCRUFF, and every penny of the proceeds goes to benefit Callen-Lorde, a community health center in New York dedicated to providing sensitive, quality health care and related services targeted to New York's lesbian, gay, bisexual and transgender communities. To purchase tickets or make a donation, visit www.BroadwayRoast.com.
Charles Sanchez is an openly gay, openly poz writer/director/actor living in New York City. He created the musical comedy web series, Merce, about an HIV+ guy living in the city.
More From This Resource Center
Related Stories
---

This article was provided by TheBody.
---
| | |
| --- | --- |
| No comments have been made. | |
Add Your Comment:
(Please note: Your name and comment will be public, and may even show up in
Internet search results. Be careful when providing personal information! Before
adding your comment, please
read TheBody.com's Comment Policy
.)