Blog
Sean McKenna: Life With AIDS Isn't So Damn 'Fabulous'
April 21, 2017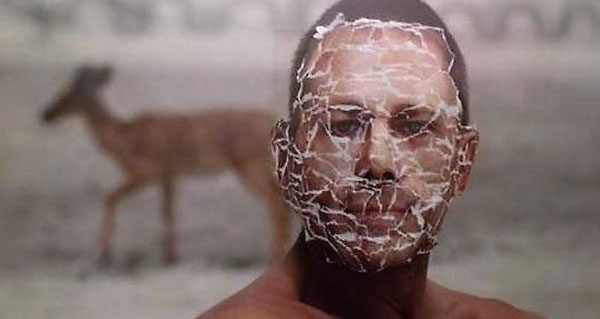 Sean McKenna, as part of a portrait series by photographer David Meanix

Last December I attended the most moving, transcendent World AIDS Day program I have witnessed in years. That's not saying much, of course. These evenings are usually well-meaning but maudlin, featuring tearful eulogies while we hold up candles that drip on our fingers and we revisit personal losses that I put to rest a long time ago. Okay, clearly I have issues with grief.
But this event, organized by long-term AIDS survivor Sean McKenna in New York City, inspired and reawakened something in me. The program featured speakers and entertainers (this is New York, after all) who rose above the perfunctory nature of these events and made it something truly beautiful. It ached with loss, yes, but it also had an emotional honesty that never felt melodramatic. And it made me want to know Sean McKenna better.
I tend to present my life with joy and good humor (and let's face it, I have never had a challenging emotion that wasn't worth stuffing down as far as possible). Sean, on the other hand, wants us to face the harsh realities of today's long-term survivors. He has sent me messages to chastise me for painting too rosy a picture. He puts me on the defense a lot. In other words, Sean McKenna does exactly what a good advocate should do. He bears witness and holds people accountable.
In my interview with Sean, we wrangle over our different styles, the purpose of AIDS history, whether fear is a useful tool, and his insistence that life today for long-term survivors is far worse than any of us are acknowledging.
First of all, we have very different attitudes about being longtime survivors. I should probably say that up front. Would you agree?
Actually no, I agree with a great deal of what you say but there's nothing really "fabulous" about it as we age.
Oh, so we're going to go there right away, eh? I will admit I was being cheeky when I named my blog My Fabulous Disease, but isn't there a place for some levity? And why shouldn't whatever joy and humor we possess accompany us as we age?
We wouldn't be here if we couldn't find joy or humor, and "fabulous" worked for me before my friends started getting ridiculous kidney problems and cancers. Before they became home bound by soft bones and the continued isolation. Some even opting out of their meds or not getting them for cognitive reasons. I have great respect for what you do. The world needs both of us.
Advertisement
You're speaking up for those for whom decades of HIV hasn't been easy, or at least it isn't now.
I'm speaking for people who have recently lost their husbands and have to sell all of their belongings to be able to access the proper care. I'm speaking to people of color who have NEVER been serviced correctly.
When I wrote the piece "Stop Bludgeoning Young Gay Men with Our AIDS Tragedy," you were offended. Like, really offended. I was making a point about respecting our history but not using it to shame younger people, but you weren't having it.
I was offended. You don't tell children to forget slavery, the Holocaust, Vietnam or any other world war. History is not about shame. I've never used our war on AIDS to shame anyone. In addition, I believe it gave a lot of younger folk the permission to not give a shit about those of us who paved the way for PrEP. It doesn't help garner respect for long-term survivors.
Yes, but did you ever, in your youth, ask a WWII veteran to sit down and tell you all about it? My own Dad was an Air Force colonel, and we never discussed the wars he fought in. I give younger people some slack on this topic. Human nature is self-centered. We have to experience life for ourselves.
I give younger folk more credit than that. My Uncle died in the Korean war, he was Dad's best friend. We were taught about it in schools, so yes, I was curious.
I know "the AIDS years" of the 1980s have shaped everything I am today, and I believe that history should be preserved. My objection is when we try to scare the hell out of younger people about those nightmare years so they will respect us more or change their risk behaviors. Scare tactics about the past don't work. If so, why would any new war begin?
When I was in school we had bomb drills. I was scared but it didn't change my history or the fact that it needs to be at least a reference. I have never tried to scare young people with our War.
I think our different points of view might be reduced to this: I see AIDS in the rear-view mirror. You see it in the passenger seat.
Unless I am misinformed and there is a cure, then you are in the driver's seat, too. I feel an obligation to communicate our history, not pretend it didn't happen for fear of scaring young people. Besides, Larry Kramer scared the shit out of a lot of people and boy, I am glad he did.
When I met Larry last month for the first time, to interview him for POZ Magazine, I couldn't bring myself to tell him I had a blog called My Fabulous Disease. Can you imagine his reaction? Oy.
You give people a laugh and hope and I respect that, but there isn't anything I'm afraid to tell Larry. He was not about laughs. I like to think he would be proud of my tenacity.
What do you want to see change? What rights and services are not being provided us, and do you mean long-term survivors specifically, or all people living with HIV?
Well even those that are positive now will someday be long-term survivors, no? I would like AIDS service organizations to realize that those of us who were given a death sentence in the 80's and 90's are not doing so well. We didn't have the advanced meds, we were the ones they tested them on. I can't believe that you don't know any long-term survivors from those days who are living in poverty and often times without any services at all. People with bone and cognitive issues, people who are homebound, because that is the reality of long-term survivors today and time is not on our side.
Actually, I know plenty of longtime survivors. We're all doing well, although bone density issues have cropped up. That is probably more to do with my being a privileged gay white man, I imagine, with access and resources.
I have heard of too many early deaths, be it from side effects or just giving up and I hear of more every day. It is because of constant needling of the GMHC that they now have a working Buddy Program and are creating a Long-Term Survivor Hub, that and (GMHC Executive Director) Kelsey Louie's willingness to listen to me. (Sean convinced GMHC to reinstate its Buddy Program in 2015, specifically to offer support to long-term survivors.)
Related Stories
---
---
| | |
| --- | --- |
| No comments have been made. | |
Add Your Comment:
(Please note: Your name and comment will be public, and may even show up in
Internet search results. Be careful when providing personal information! Before
adding your comment, please
read TheBody.com's Comment Policy
.)