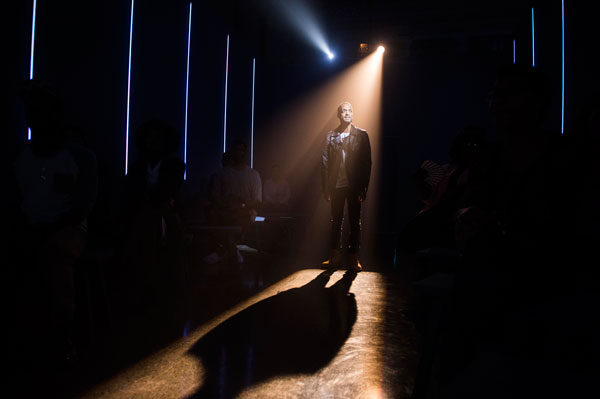 Delius stands before the congregation at church in As Much As I Can (Credit: Harley & Co.)

It's 7:10 p.m. in Jackson, Mississippi, and I am late.
After driving three hours from New Orleans and making several wrong turns in this unfamiliar city, I tumble from the car into the performance space. I am funneled through several layers of handlers telling me I can't, then can, come in; putting a neon band on my wrist; spiriting me up the stairs; shuffling me toward a stage crew member who shuffles me toward my audience group, whose wrist bands match my own.
Adults of all ages, primarily black and in Saturday-evening casual dress, are crammed into a dimly lit white box. I'm hoping to slide surreptitiously into a seat. Who doesn't want to be invisible when they've done something others might judge? A woman's exasperated face meets mine as I enter the space.
"Do you have your form?"
She holds a clipboard. Her voice is more bored, and yet more strident, than the earnest crew members. Did I need a form? Didn't I just go through this downstairs? Did I somehow end up in the wrong place? I have a wristband. ... Wait; is she dressed as a nurse?
"You forgot your form?"
This question is louder, as if her volume will cut through my confusion. I am aware that many near me are watching. I'm still half-stuck in the journey to get here; I'm underdressed; I'm over-layered; I'm sweating, and everyone can see me, can smell me, tell what a mess I am.
A kind voice cuts diagonally through the crowd to my left. "You can sit right here," the young man says, moving over for me on a large white cube serving as a stool. I exhale, mouth "Thank you," make myself as small as I can to squeeze through the crowd to my spot. My relief is real, though it is now quite clear that the setting is contrived: The performance has begun, and we, in part, are it.
Advertisement
Listen
As Much As I Can is an immersive performance shaped by the experiences, and largely through the bodies, of black gay and bisexual men. Mounted in Jackson on the final weekend of January and in Baltimore, Maryland, two weeks prior, the performance has been crafted to echo the findings of a unique and ambitious research project undertaken with men in those two cities.
"[We talked with] national stakeholders," said Marc Meachem, director of external affairs at ViiV Healthcare, "getting their point of view on the cities that could most benefit from an effort to accelerate the response to the HIV epidemic in black gay and bisexual men."
After considering this and other factors, the "winners" were Jackson and Baltimore -- two cities where overlapping systems of poverty, racial bias, state violence and other traumas abound.
ViiV funded the study, produced the report on the findings (called Meet Me Where I Want to Be) and supported development of the performance. These efforts were part of the ACCELERATE! Initiative, ViiV's multi-year, $10 million investment in improving the lives of black gay and bisexual men in these two cities.
HIV in Baltimore and Jackson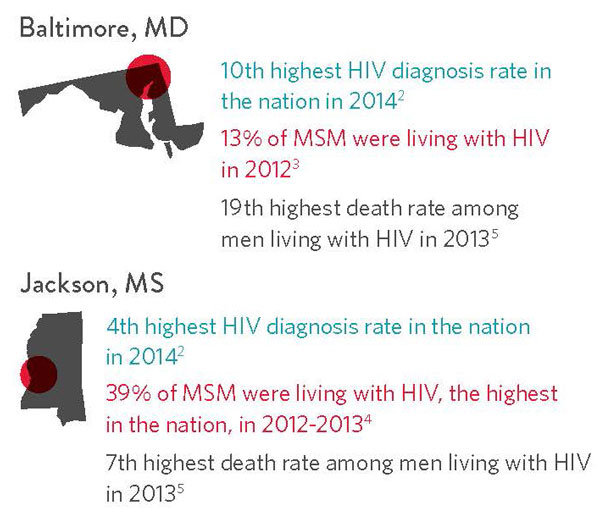 Courtesy of ViiV Healthcare

Our crowd of spectators is shepherded back and forth across an open-plan venue, through self-contained spaces representing an exam room, a bar, an AA meeting, a young man's bedroom, his mama's living room, a church and more. Our audience is small; the performance is meant to accommodate 35 spectators, though on this night they've shoehorned in 42. Still, I see acquaintances, friends. Black LGBTQ and HIV community folks are here from across the South. We make eye contact, wave, grin "hello"s, mime inquiries as to when we last crossed paths.
Constant movement and shifts in mood keep us alert, teetering on disorientation's edge. As is perhaps the nature of immersive performance, we are in places we should not be.
"Immersive theater is powerful because you have to be willing to enter into experience, be an active participant in witnessing," commented Isa Wrenn-Jones, a fellow voyeur and familiar community face. Sé (Isa's preferred gender pronoun) is going on 25 and works as a pre-exposure prophylaxis (PrEP) coordinator in Jackson. "It's inherently humanizing: You and the actors are so close, they could run into you, you could touch them, and people are having real dialogue, all at once."
We peer through face-sized holes into a room where, one after another, two diagnoses are delivered to two men: one HIV negative, the other positive. We press to walls listening to the exhausted, anguished 12-step testimony of a community mentor. We eavesdrop on a Greek chorus of homophobes at a barber shop. We hear a mom worry that her son will be shot for walking, driving, living, while black. "You can't run away; you can't clock out of that experience," Isa said, "because you're also never in a room long enough to get stuck."