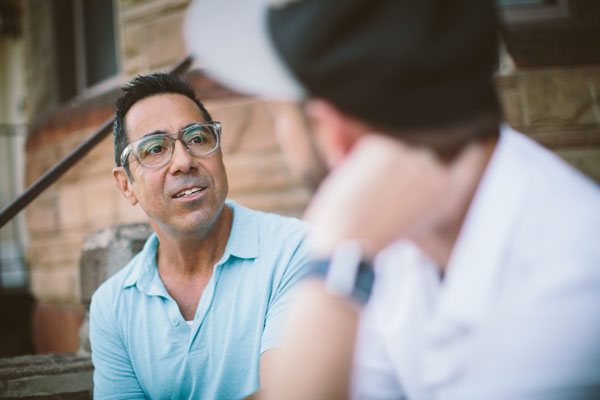 Charles Sanchez (Credit: U.S. Centers for Disease Control and Prevention [CDC])

I have a big mouth. Sometimes it gets me into trouble, such as the time I was boisterously joking with a friend about his bachelor party sexual indiscretion, and his new wife was standing two feet away. Yeah, that was a good one.
But, sometimes, it actually can come in handy. I was asked last year to take part in some videos for the Centers for Disease Control and Prevention (CDC)'s new campaign: Start Talking. Stop HIV. It features conversations among individuals from diverse backgrounds, different ages, races, ethnicities and gender identities, focusing on men who have sex with men. The videos have men, both cis and trans, in different scenes talking about all things HIV, both in Spanish and English.
Well, I'm a model of diversity! I'm Mexican American (emphasis on American, since I don't speak Spanish), gay, middle aged and -- yes, indeed -- I have sex with men. How could I say no?
The experience of filming the videos was wonderful. I was flown out to Washington D.C., and put up in a fabulous hotel room. Actually, it was the first time in my life that I've had a big, beautiful hotel room all to myself. Seriously! All my life, I'd only ever shared. I was so excited, I had to do a little nudie dance around the room. I just had to.
The next day, I took a car to the set. The scene I took part in was a brunch at a diner. I walked into the restaurant, and there was a hubbub of activity. The crew was setting up the cameras, placing lighting, setting the table for the scene. Other "talent" were already there: One handsome fella getting his makeup done, another being interviewed individually.
Advertisement
When it came time to shoot the scene, I was nervous. There was no script, and big mouth or no, I've always been apprehensive when talking to gay guys that I don't know, especially attractive ones. And, the guys in the scene with me were attractive. Hella attractive. Hot, even. Brenden Shucart, Mickey Daniel and AJ King. The director, Manuel Rodriguez (not too shabby to look at either, truth be told) gave us a little direction, basically wanting us to be honest and authentic and suggesting a few topics for us to talk about. We were each fitted with pin mics and our makeup was retouched. Then the cameras rolled, and the four of us started talking.
A Lot of Common Ground
It was magical. I'm not sure why, but the four of us strangers of mixed races, ages and HIV statuses, sitting at a diner at a make-believe brunch, found a lot of common ground. We talked about true love, romance, bath houses, condoms, bare backing, pre-exposure prophylaxis (PrEP), getting tested, being diagnosed HIV positive, disclosing status, what it means to be undetectable and untransmittable, boyfriends, husbands, hook ups and everything in between. These men are smart and charming and funny and terrific, and they got more attractive as the conversation continued. We were only interrupted a few times by Manny, as he gently guided us.
And then, just like that, it was over. Time went by effortlessly, like an actual Sunday brunch with true friends. We were then asked to stick around and have photos taken, stills to be used in the campaign. I was coupled up with dreamy Brenden, and it was easy for me to be in those pictures, holding hands with him, making goo-goo eyes at him. I was cool enough to hide my drool.
Then I was in a car to the airport, heading back to New York. It was a charmed experience, one that stayed with me for days after I returned home.
Fast forward to a coupla weeks ago: The videos have been edited and the campaign approved by the CDC. I was asked by the campaign folks to make a little video teaser in anticipation of the campaign launch. I made a cute vid that I'm proud of and shared it on Facebook and Twitter.

Mostly, people approved of my efforts, but I did get an interesting comment. A friend is very critical (rightly so) of the CDC, specifically of their apprehension to embrace the fact that if you are HIV positive and have an undetectable viral load, you cannot transmit the virus. (The CDC uses the phrase "very unlikely to transmit.")
I totally agree that the CDC should be on board with the U=U (undetectable = untransmittable) message, but the point of this Start Talking. Stop HIV. campaign is just that: to get people talking to raise awareness of HIV issues, including undetectability, and thereby, hopefully, reduce new infection rates; keep those of us living with the virus healthy; and stop the shame and stigma surrounding HIV.
The Start Talking. Stop HIV. campaign launched on February 7, 2017, National Black HIV/AIDS Awareness Day. I'm thrilled to be a part of it. Here's the video where I come in after about a minute:

I hope everyone takes the time to watch the videos and to share the important message. I hope it helps men who have sex with men not to be afraid to talk about HIV.
As for me, to celebrate the campaign, I may do a little nudie dance in my apartment.
Charles Sanchez is an openly gay, openly poz writer/director/actor living in New York City. He created the musical comedy web series, Merce, about an HIV+ guy living in the city.