Personal Story
From an HIV Diagnosis to Finding Love and Becoming a Parent
February 9, 2017
February 2017 -- Current Season, Infinite Love
For so many of us, the path to love and achievement is an extremely slippery slope and we often get lost or discouraged along the way. Reflecting back on my life, I must say, it has truly been worth the struggle. On December 29th, 2016, my greatest love and achievement came with the unforeseen birth of my son London Duke Shazor. The first time I saw my son London solidified for me that no matter what I had been through, London was my ultimate gift for learning to love life again. Becoming HIV positive (+) at the age of 28, in my mind, closed the window of opportunity to ever having a family, let alone a child. Now with the opportunity before me to have a family, I've never been so open and proud to take on anything in my life. The love that I've experienced through my marriage and birth of my son is much more than I thought myself worthy of, and it's an opportunity that won't be squandered. Now that you have had a look into my Current Season, I welcome you to join me in taking a brief look into "How Love Led to London".
January 2013 -- Season 1, Not Just New Year
January 2013 was the start to what I describe as my "New Reality". At the start of 2013, I was working at a youth service organization as the lead HIV tester and care advocate for their department that focused on sexual health. In early January 2013, I had gotten engaged to a person who I considered the first "True Love" I had experienced. He was a local man from New Orleans I met during a trip for a work conference on HIV in January 2012. Although we were in a long distance relationship it just seemed to work. Shortly after our visit in January 2013, I fell sick for the second time in a month. Unknowingly during that time, I was experiencing heavy symptoms of ARS and it prompted me to get tested. Being an HIV tester at the time, I had plenty of tests at my disposal. My initial test that came back reactive shocked me and I brushed it off as a misreading and I continued administering one after the other until I had used 5 different HIV tests. I decided to speak with my then supervisor and a close co-worker to disclose what had been happening with my health and the test results I had received. Being in my position at work I knew that I needed to get confirmatory testing, but it was still a very hard pill to swallow now that I would be sitting on the other side of the table. After my blood draw at the confirmatory testing site, the next 3 days seemed to be the longest I had ever encountered.
At the end of my 3-day wait, I was contacted by a counselor from the testing site who I was very familiar with. I could tell by the tone of her voice that my confirmatory test must have come back reactive. Once I arrived at the office it was clear what my diagnosis was. I then met with the counselor to discuss my reactive HIV test results, and to fill out my treatment papers while my mind was still intact. After leaving the testing site feeling confused and defeated, I started to call close family and friends to let them know what was going on with me because I knew I would disappear for a while to cope and mentally adjust to the news of my new HIV status.
May 2013 -- Season 2, Love Lost
My next step was to find a way to disclose this information to my then fiancé about what my test results revealed. He had avoided gay men altogether because of his huge fear of HIV, and now the "New Reality" was that I was introducing HIV into our relationship. We did our best to push forward with our plans. He stayed on track and moved to Maryland with me from Louisiana in February 2013. We did our best to make things work towards the future we envisioned together. Unfortunately, that day never came. I was blindsided months later when he casually told me that he was leaving me because he couldn't deal with my HIV status. It was the beginning of May 2013 at the time he announced it and by the end of the month he was gone; it was one of the loneliest moments I had ever felt.
Immediately after my then fiancé left me, I had an amazing friend from New York who came to Maryland to move in, help support me, and to keep me grounded. At that time, I couldn't have asked for a better support system than a friend who loved and cared about me, someone to show me I was worthy of life. Through the support of my friend from New York, I was able to pick my social life back up and begin dating again. Jumping back into dating was a huge step and it also meant that I had to come out and start disclosing my status. Disclosure of my HIV status somehow became a security blanket, it allowed me to sort out who was to be in my life and who wasn't before they got too close and could leave me again.
August 2013 -- Season 3, My Real True Love
In August 2013 the most important person I met during that time of my life was a man named Gavin from Houston, Texas. Although we met on Facebook, over time we grew closer, developing an amazing friendship, and our bond became unbreakable. We both had personal reasons for discomfort and we both had something about ourselves that needed to be disclosed with time. We fully became comfortable with each other and Gavin disclosed to me that he was a transgender male (FTM), meaning that he was born female and transitioned to male. He shared his story and experience with me and it caused me to fall even deeper in love with him for living his life through his adversities.
June 2015 -- Season 4, Married to the Love of My Life
As time went on, I knew that my time for disclosure was near. The disclosure of my HIV status was a little harder to do with Gavin because I didn't want to scare him away and risk losing a good thing. Surprisingly, it turned out that my disclosure was the best thing that I could have done. Gavin became more intrigued with me and the work I had been doing over the years in HIV prevention. After a year and a half, we finally met in person February 2015 in Denver, CO. From the moment we met, we knew that we were meant for each other, and shortly after meeting we began to speak of marriage. All of our baggage was on the table with acceptance from each other around our personal flaws. This made for a level of comfort that neither of us had ever experienced. With short planning, in June 2015 we decided to take the ultimate leap of faith and we got married.
My "New Reality" now was being married to someone who was HIV-negative (-) and trying to move forward and build a family. My HIV status and the fear of transmission was, of course, my largest barrier to face, but to Gavin, it was him being a transgender male being viewed in the public eye as a pregnant man. We spoke to a few doctors to get their medical opinion on us having a biological child given the circumstances. So I then began to balance the thought "Well how do I protect my husband from myself?"; even with being undetectable. With my husband being a transgender male, he was fully aware of the risk as it related to us sexually, and with PrEP, we were comfortable to move forward. During our first year of marriage, we discovered that we were expecting our first child together. From the beginning of discovering the pregnancy, we began to search for a doctor that had experience in dealing with pregnancy in the transgender community and who was comfortable discussing the HIV-related risk. We were fortunate enough to find an amazing doctor's office in Silver Spring, Md., that matched all of our needs.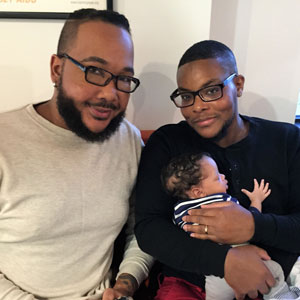 December 2016 -- Season 5, Family Joy
Ultimately at the end of the storm, on December 29th, 2016 my son London Duke Shazor entered into this world a loved, healthy, and HIV negative (-) baby boy. With London's birth, all of my fears were washed away and a new sense of calm entered my spirit. My new focus became being a loving father, creating a better life for my family, and preparing my son for what's to come in life, as long as God allows. With my beautiful marriage and new son, another chapter is welcomed and added to my "New Reality" and through all of my struggles and losses in life, I had to learn to love life ... because life is truly worth it!
More From This Resource Center
Related Stories
---

This article was provided by
National Minority AIDS Council
. Visit
NMAC's website
to find out more about their activities, publications and services.