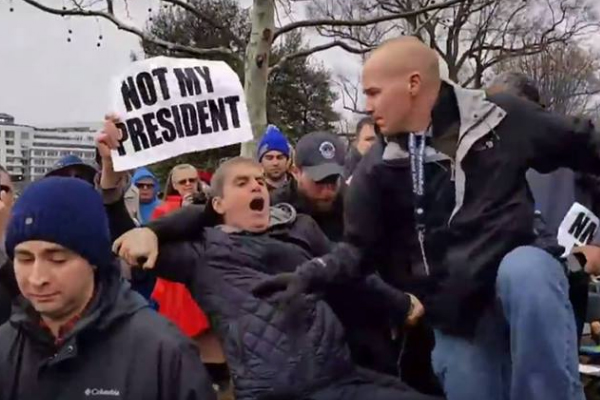 Courtesy of Mark Milano.

On Friday, January 20, Donald Trump was sworn in as the President of the United States. Just as he began to say his name in the oath of office, the piercing sound of a mariner's whistle pierced the air immediately behind the front VIP rows. Further back, small clusters of people in the crowd that won tickets for the inaugural proceedings erupted in chants of "Unfit! Not legit!," some unfurling signs reading, "Not My President" and "Unfit Clown."
The person behind the whistle was Mark Milano, a 35-year survivor of HIV who works as a treatment educator. One of the chanters was Tim Murphy, author of Christodora who has been living with HIV since 2001.
Both of the men are active members of a new group called Rise and Resist. Tim and Mark stepped up when a person came to the group's weekly meeting with a handful of tickets for the inauguration and offered them to those ready to take action. Other HIV activists who joined them were Benjamin Shepard, editor of From ACT UP to the WTO: Urban Protest and Community Building in the Era of Globalization, and Anya Meksin, creator of the film BALKA -- Women, Drugs and HIV in Ukraine.
I spoke with Tim and Mark as they returned from Washington, D.C., two days later, about the whys and hows of seizing the moment to speaking up amidst fervent supporters of the new president.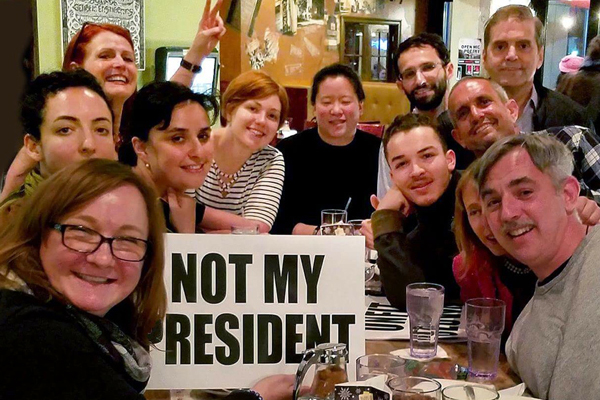 Mark Milano and Tim Murphy with others from Rise and Resist who participated in disruptions at the Trump inauguration. Courtesy of Mark Milano.
Mark Milano
Mark Milano, a longtime activist, was one of the organizers of the recent "cough-in," which garnered wide attention as a protest against Donald Trump's promise to dismantle the Affordable Care Act and Medicaid expansion. While he remains committed to protest and advocacy centering on health care and HIV, he told me that his focus for the inauguration was taking direct action on Trump being unfit to serve as the nation's leader:
We're going to have four years to fight this man on health care and AIDS; [January] 20th should be a fight against him as an unfit president.
Advertisement
I really wanted to disrupt. We're going to need to be very disruptive in the next few years if we're going to make any difference.
I disrupted Al Gore with a whistle in 1999, disrupted George Bush at private fundraisers.
Milano teamed up with Mary Ellen, a Rise and Resist member who is new to activism, agreeing to use the only two tickets with assigned seats, garnering them a location just past the VIP seating close to the main stage of the event.
We agree to do it, and everyone agreed we'd disrupt the oath of office.
We got there at 5 a.m., sat in line for an hour and got into our seats. Because we were there so early, we were in the 10th row. And then, we had five hours to chat with all these Trump supporters.
We were both fine until everybody began arriving. The entire Supreme Court. And the Clintons. And the Obamas. And, suddenly, the impact of what we were going to do really hit us: The most powerful people in America were all gathered on that stage, and we were going to stand up with our whistles and disrupt the "peaceful transfer of power," which is a hallmark of our county.
[Mary Ellen] was saying, "I'm getting really nervous. And I was too.
And then I said, "We have to say this man is unfit for office. As a person with HIV, and as a person with cancer and as a health care advocate, I know this man is really dangerous for me and so many of my friends and clients. I know the threat he poses for all of us, especially those of us with HIV/AIDS. What we are doing is a noble thing; we are de-normalizing his inauguration, we are saying this will not be a typical inauguration because this man is dangerous. We have a real responsibility now that we are here not to back out because other people would be here. Breath deep, I can guarantee that tomorrow you will feel so proud."
When I confronted George Bush alone in a fundraiser with thousands of people in attendance, I really learned that courage is being scared shitless and doing it anyway.
I texted [Mary Ellen] and told her that when John Roberts says, "I Donald Trump do solemnly swear," we should take a deep breath, and as soon as [Donald Trump] says "I," blow the whistle as loud as you can, take out your sign and start chanting.
[When the oath ceremony began,] they asked us to stand. I was in the aisle and signaled her to move into the aisle with me, and we walked slowly directly up front; we were up front as far as the general public could get.

That's my whistle you hear in the video. It's a super loud whistle from the marine supply store; the guy let me test it, and I bought the loudest one.
As soon as he begins, I was blowing it. The cops were on me within 15 seconds of starting.
Five cops pounced on me, threw me down on my face as hard as they could, then began jerking me around. I said, "I'm not resisting, stop it!"
They cuffed me so tight with metal cuffs that I bled. I've never been cuffed this tight and never been cuffed so tight that I bled. I still had my whistle so I kept blowing my whistle.
The cops took us out, and the cop made a point of jacking my arm up all the way. I said, "Your cuff is so tight, my hands are going numb," and he said, "You should have thought of that before you started this." I said, "My expressing my first amendment rights doesn't give you the right to hurt me."
Milano was released after the police ran his ID and found no open warrants, and after a brief interview with the Secret Service in which he said he had no plans to harm the president.
We disrupted his inauguration very clearly. And, by the way, I have no doubt [Trump] heard my whistle. As soon as he said the word "I," he heard my whistle. It warms me to the heart.
This is just a first step, this was very visceral for me, very satisfying, but this changes nothing. This is us saying to him: "From the first minute you are the president of the U.S., we will resist this." Now we have to be smart and savvy and obstruct his agenda.
This April is the 35th anniversary of my AIDS diagnosis. I know how dangerous this man is to all of us, especially to us long-term survivors.
I know a lot of long-term survivors who are having a hard time, asking, "Why am I alive, why am I fighting to stay alive? Why am I taking all these meds, fighting all these comorbidities."
This is the reason I stay alive. Doing this is why I take a dozen pills every day. This gives me purpose.
All these new activists are turning to me for experience. That's what a long-term survivor does: We use our experience to train the next generation. I'm very proud I'm doing that; we're going to be fighting side-by-side, old and new activists all fighting the same fight.
My hand, knee and shoulder are still bruised. I'm recovering, but I hope I get a scar, so I can show my battle scars and say, "This is from when the police took me down when I was disrupting Trump's oath of office."