One of the most important tools we have to "bend the curve" of the HIV epidemic in New York State is retaining people with HIV in medical care. This has been shown to increase positive health outcomes and to suppress HIV to undetectable levels. And there is now evidence-based confirmation that the risk of HIV transmission is dramatically lowered when a person with HIV is on treatment and undetectable for at least six months.
Retention in care as a way to improve both individual and public health is a critical part of Governor Cuomo's Plan to End the Epidemic (ETE). The plan's "three pillars" are:
Identify people with HIV who are undiagnosed.
Link and retain people with HIV to health care and get them on HIV treatment, both to maximize HIV suppression so they remain healthy and to prevent further transmission.
Increase access to PrEP and PEP.
The plan seeks to drive down new infections from 3,000 per year in 2014 to 750 or fewer by 2020. Another benchmark is to reduce the percentage of New Yorkers who test HIV positive and receive an AIDS diagnosis within two years, from 10% to 5%. Finally, the Plan hopes that at least 80% of people with HIV will have an undetectable viral load.
Advertisement
How Does The ETE Plan Address Retention in Care?
In the Blueprint to End AIDS, four of its 30 blueprint recommendations (BP) address retention in care:
BP 5: Continuously act to monitor and improve rates of viral suppression.
BP 7: Use client-level data to identify and assist patients lost to care or not virally suppressed.
BP 8: Enhance and streamline services to support the non-medical needs of all persons with HIV.
BP 29: Expand and enhance the use of data to trace and report progress.
New York State's Cascade of HIV Care has been a driving force in framing the need for retention in care. It outlines the stages of HIV medical care that people go through, from diagnosis to viral suppression.
The model comes from Dr. Edward Gardner and colleagues who observed in 2011 that, for people with HIV to fully benefit from HIV treatment, "they need to know that they are HIV infected, be engaged in regular HIV care, and receive and adhere to effective antiretroviral therapy." They acknowledged, however, that various obstacles contribute to poor engagement in HIV care, limiting efforts to improve health outcomes and to reduce new transmissions.
It's estimated that only 77,000 of the approximately 129,000 persons known to have HIV are virally suppressed -- leaving as many as 52,000 possibly receiving suboptimal care.
According to 2014 data from the NYS AIDS Institute, it's estimated that only 77,000 of the approximately 129,000 persons known to have HIV are virally suppressed -- leaving as many as 52,000 possibly receiving suboptimal care.
The CDC estimates that only 8% of HIV transmissions in the U.S. are from people who are in ongoing care. That's the good news. The bad news is that almost half of all people with HIV are not in regular HIV care, and they account for roughly 70% of HIV transmissions. According to the ETE Blueprint:
"A key approach to preventing more infections is to identify people living with HIV as soon as possible and link these individuals to care....Ensuring access to continuous care and achieving viral load suppression is critical for reducing mobility and mortality, thereby reducing the number of new infections in New York State."
Treatment cascades are a great way to measure our success in getting all people with HIV to learn their status and benefit from treatment. The U.S. health system does a fairly good job of serving many people with HIV once they find an HIV care provider. The problem, however, is that too many of these people are not retained in HIV care, which drives the cycle of HIV transmission that results in roughly 50,000 new infections each year.
So, how can we keep people retained in care and how do we measure our success?
For much of the first 15 years of the AIDS epidemic, many providers criticized the "medicalization of HIV" -- perhaps because there were not yet effective treatments, and because stigma and confidentiality issues bred skepticism of a medical approach to HIV. But when combination HIV treatment became available in 1996, health outcomes dramatically improved for people with HIV. And in 2015, the START Study showed strong health benefits for people with HIV who began treatment as soon as possible after diagnosis. Other studies provided strong evidence that early treatment reduced the risk of HIV transmission and that treatment interruptions increased the risk of death sixteen-fold.
Thus the need to get people on treatment early, and to help them stay adherent and in regular care, is clear.
So, what is retention in care and how is it measured? The U.S. Health Resources Services Administration (HRSA) defines "in care" as receiving at least two HIV care visits per year, at least 90 days apart. In studies, patient retention is measured in three different ways: appointments kept or missed, medical visits at regular intervals, and a combination of those methods focusing on use of the health care system. Measures for linkage to care and viral suppression are a bit more straightforward. If people are diagnosed with HIV, they are deemed "linked to care" if they have a medical visit within 30 days. Similarly, viral suppression is marked by a lab test.
New York State Cascade of Care, 2014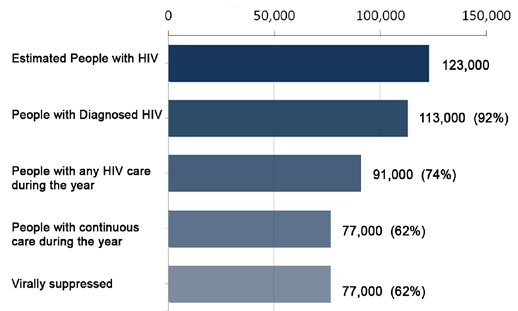 New York Links
"We all know how important retention in care is, but how do you measure it?" asks Steven Sawicki, the lead for the state's New York Links program. NY Links focuses on improving linkage to care and retention in care, and supports timely and effective care for people with HIV in NYS. It works to bridge the gaps between various HIV-related services to achieve better outcomes. Originally created through HRSA Special Projects of National Significance (SPNS), NY Links has been under the ETE Initiative since September 2015 through the AIDS Institute.
The NY Links program fits well with the Governor's Plan, and helps community-based health clinics address the issues people face staying engaged in care. It also works to strengthen systems to support them. Sawicki says monitoring retention in care has evolved. It used to have nothing to do with how well people were actually doing. Patients either checked in with their primary doctors at regular intervals or they did not. It was hard to know who had fallen out of care and for what reasons, what support helped them stay in care, and who might have been mislabeled as out of care.
NY Links uses a "two-year retention measure," which, according to Sawicki, "In and of itself ... doesn't tell you the whole story." The two-year retention measure holds that a visit should happen once every six months in these two years. Further, there is a 60-day period that must exist between visits in order to rule out visits happening due to an acute issue.
But data "drives improvement", says Sawicki. Providers can determine what barriers to care patients face and set about to eliminate them. NY Links encourages facilities to develop their own care cascades to help highlight gaps and study the barriers that create those gaps.
The program organizes the state into regions. Each region conducts its own analysis and plan its own interventions. Sawicki's role is to provide technical assistance, data analysis, and training. In addition, NY Links has designed five interventions to support patient retention. "We as a system have all the tools we need to turn HIV around," says Sawicki. "The primary issues are networking, communicating, and fine tuning."
Innovative models are emerging. One clinic, Erie County Medical Center in Buffalo, created its own care cascade, using measures provided by the "in+care" campaign for retention of patients and frequency of medical visits. The Center improved the rate of "patients newly enrolled with a medical provider" from 57% to 89% between August 2012 and June 2013. It also maintained a very high two-year retention rate (87% in April 2014) among patients.
Another program, also in Western New York, identified more than 40 barriers to retention and then measured community viral loads for each barrier, in order to find interventions that could be tailored to each issue. One example was domestic violence.
Now fully under the ETE, NY Links is building a set of new interventions that are informed by regional data, the involvement of people with HIV, and providers sharing their best practices and models with one another.