We are still gathering data on PrEP use, both in NYS and on a national level. But even at this stage, the data show that the increased use of PrEP since 2012 has been primarily among white gay and bisexual men.
A key component of New York's Plan to End the AIDS Epidemic (ETE) is to lower new infections, and one strategy for that is increasing access to PrEP. While the use of PrEP has increased since it was approved in 2012, its use in the communities where it is most needed remains low. What can we do to change this?
Where We Are Now
The number of new HIV diagnoses is falling -- the CDC reported a 19% decline from 2005 to 2014. In New York State, they declined from 5,712 in 2000 (the first year HIV infections were reported) to 3,512 in 2013, a 38% reduction. In New York City, they declined from 4,619 in 2000 to 2,615 in 2013, a 43% reduction. Clearly we are making progress.
But these declines don't hold true across the board. In fact, the CDC reports that the number of new infections is actually rising among Latino men who have sex with men (MSM) -- their rates are up 24%. Black MSM, women of color, and transgender women also have higher rates of infection than other groups.
The numbers are staggering. Without effective interventions to stop this trend, half of all Black MSM and 25% of Latino MSM will be diagnosed with HIV in their lifetimes. These communities, along with women of color, transgender women, and intravenous drug users, are the populations most in need of prevention tools like PrEP.
Advertisement
Prevention and the ETE Plan
Prevention of HIV infection is critical to achieving the goals of the Ending the Epidemic Plan, and it calls for more access to PrEP. It recommends focusing on four primary areas:
Statewide education and awareness campaigns
Measures to address affordability and cost
Enhanced availability
Expansion of pilot programs in settings most likely to reach people at greatest risk
PrEP is a once-daily pill, Truvada, that can reduce a person's risk of getting HIV by over 90%, and possibly as high as 99%. With such high effectiveness, PrEP should be the "easy" solution to achieving fewer infections for all groups. Unfortunately, it's not as simple as that.
First, before being prescribed PrEP, a person must have a negative HIV test, no evidence of recent HIV infection, normal kidney function, and must be tested for Hepatitis B. Along with taking a pill every day, being on PrEP requires HIV, STI, and kidney function testing every three months, counseling about the use of condoms to prevent STIs, education about harm reduction, and counseling to stay adherent. Side effects are few, which is a plus. The main drawback is that PrEP must be taken every day for maximum effectiveness, which can be an issue for a number of reasons. Other factors can also pose barriers to access.
The ETE Plan recognizes that a "one size fits all" strategy for increasing access to PrEP won't work. The Task Force that authored the Plan cautioned that, in order to be effective, the Plan must continuously study the key groups most affected by the epidemic, at continuing risk for new infection, and most disadvantaged by the health, economic, and racial inequalities that lead to new infections.
With respect to PrEP, the Plan recommends that special care be taken to ensure that MSM of color are reached through education campaigns that resonate with them, because PrEP is likely to have the most impact in that group. The Plan also recognizes that lack of stable housing and stigma are two very important factors that, unless addressed, will continue to contribute to poor health outcomes, including new HIV infections.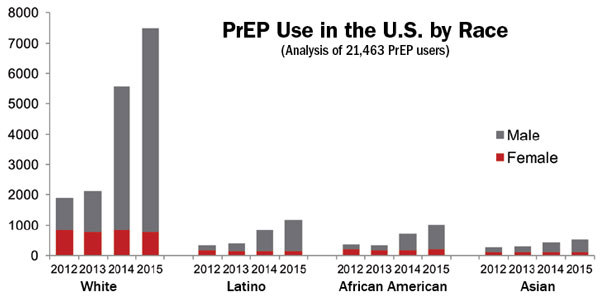 "Racial Characteristics of PrEP Users in the U.S.," Bush, Staci, et al.
Progress So Far
We are still in the early stages of gathering data on PrEP use, both in NYS and on a national level. But even at this stage, the data show that the increased use of PrEP since 2012 has been primarily among white gay and bisexual men.
Findings from a New York City Department of Health study showed a substantial increase in PrEP prescriptions in NYC outpatient care practices from 2012 to 2014. The largest increase was found in primary care practices in the Chelsea/Village area. So, although the number of prescriptions is increasing overall, it isn't going up in the communities that are at highest risk for infection.
Gilead, the manufacturer of Truvada, reported in June 2016 that there are broad racial differences in the use of PrEP, White MSM are using it more, despite the fact that Black and Latino MSM have higher rates of HIV. Based on CDC data, only 5% of people engaging in high-risk behaviors have used PrEP since it was approved in 2012.
Our own experience at Harlem United reflects what the data show. In our health and wellness centers, where some 90% of our clients are Black and Latino, we see first-hand how slow the uptake of PrEP has been. Dr. Keith Joseph, our Chief Medical Officer, cites several factors as contributing to this, including lack of information about PrEP, the cost of Truvada and the required follow-up care, lack of access to health insurance, and difficulty in navigating the insurance system.
But these challenges are actually the easier ones to address. The more difficult challenges that we see, and which were recognized by the ETE Task Force, are those that arise from the social determinants of health so deeply imbedded in the communities most at risk for HIV: poverty and the lack of basic needs like housing and food. These take priority over health care and limit focus on the future.
Dr. Joseph points out, "You really can't expect someone to take medication if they are starving or worrying about where they are going to sleep tonight." Stigma and shame around sexuality, sexual orientation, and gender identity are also major barriers to addressing either HIV or PrEP. In addition, as a result of past human rights violations rights in clinical trials such as the Tuskegee syphilis experiment, many people in communities of color distrust the medical profession as a whole. This distrust is another barrier to accessing health care and any form of HIV prevention, including PrEP. We also know that mental health and substance use issues compound the already significant barriers for many people who might otherwise be prime candidates for PrEP.
Swallow This
When we first rolled out "Swallow This", some of our clients were embarrassed by it. Others thought it was cool. Regardless of their reaction, it got people's attention and got them talking.
Despite the challenges, in the past couple of years substantial progress has been made in getting the word out about PrEP and making it more available. Education and awareness campaigns have increased and are showing effectiveness.
Harlem United's "Swallow This" campaign (harlemunited.org/PrEP) is one of a growing number of campaigns raising awareness and increasing education about PrEP. Now in its second year, it specifically targets HIV-negative Black and Latino MSM living in Harlem, the South Bronx, and Washington Heights, It features print ads in bars and at bus stops and bodegas, digital outreach on dating apps like Grindr and Jack'd, posts on Facebook and other sites, and outreach at events like Black Pride and the African American Day Parade in Harlem.
We've seen the benefits of this fun and somewhat provocative campaign. When we first rolled it out, some of our clients were embarrassed by it. Others thought it was cool. Regardless of their reaction, it got people's attention and got them talking.
We brought "Swallow This" to NYC's Gay Pride, where tens of thousands of people learned about the campaign and had the opportunity to ask our experts about PrEP. We've presented the campaign at conferences all over the country, including USCA. It's been so popular that we've been asked by community groups across the country to help them adapt it for use in their communities. With the next edition of "Swallow This", we are creating new print and digital materials using faces representing more of the communities most affected by HIV, including women of color and transgender women. We're also creating videos (in English and Spanish) about why PrEP can make a difference in the communities where it is most needed.
Based on data gathered after the first year, we have inspired hundreds of people to talk to their doctors about PrEP, have conversations with their partners about it, and even make appointments to get started.
"Swallow This" was recently chosen for inclusion in TheBody. com's "11 Sexy Campaigns That Spread the Word -- and the Love -- on PrEP". Also included was NYC's #PlaySure campaign. #PlaySure is a sex-positive campaign that is plastered across the city's transit system and online. It promotes the city's PlaySure kits -- pouches that can hold the user's choice of prevention tools, such as condoms, lubes, PrEP, etc. The campaign also promotes the city's message of combination prevention to end HIV as an epidemic.
Another information campaign launched in New York is the Department of Health's PrEPforSEX campaign (prepforsex.org). The campaign has had widespread coverage throughout the State in bus shelter ads, billboards, convenience store ads, and ads on dating sites and on other social media designed to reach target audiences.