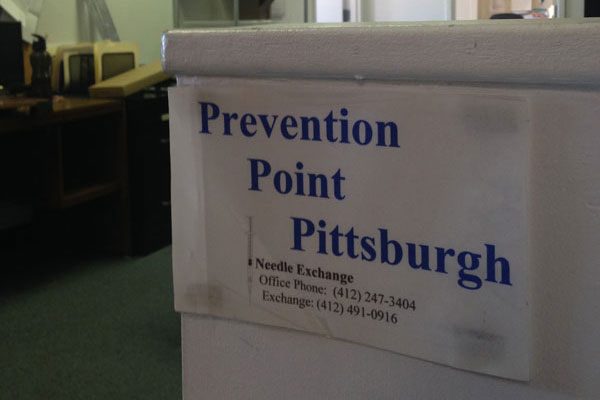 Credit: Heather Boerner

People who inject drugs don't often come directly to the offices of Prevention Point Pittsburgh (PPP) in the city's east end. But when they do, Sarah Danforth always reminds them to come to the fifth floor, not the third.
"Fifth floor, fifth floor," Danforth, one of PPP's outreach workers, said she tells people. "Don't get off at the third floor!"
That's because the magisterial district court is on the third floor. And in Pennsylvania, it's illegal for people to possess drug paraphernalia -- including the needles they get from PPP. The Allegheny County Council passed an ordinance giving the exchange permission to operate and has heavily regulated where and when it can set up shop for people who inject drugs.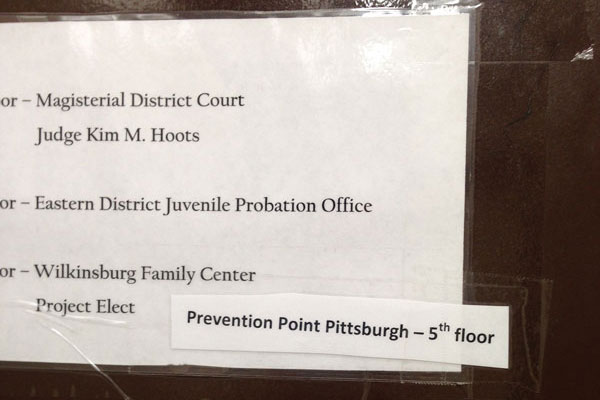 Credit: Heather Boerner

But as the opioid epidemic has led to a surge in new HIV diagnoses in places like Indiana, and as the death toll from drugs including Opana and fentanyl mounts in nearby West Virginia, the work of syringe exchanges like Prevention Point Pittsburgh has become more important.
So we wondered: What's it like to operate a syringe exchange in a highly regulated but still criminalized place such as Pennsylvania? Prevention Point staff allowed us to follow them but asked that we not speak directly to any of their clients. We agreed.
Here's a day in their life.
Wednesday, September 14, 2016
The offices of Prevention Point Pittsburgh are three cramped rooms that in places look more like a warehouse than an office. In the office's main room, wire shelving is stacked high with boxes of insulin needles and, across the room, a metal cabinet sits with its door ajar. This room serves as conference space and staging area. It's where Alice Bell, overdose prevention project coordinator, compiles flyers and fact sheets about preventing overdose with naloxone (Narcan), along with little black, plastic baggies containing two vials of overdose antidote and a few syringes. It's also where Danforth folds brochures to restock the supplies in the organization's unmarked, white van, now parked at the far end of the weedy parking lot across the street.
Advertisement
Spread loosely on the wall of the main room, between posters urging people not to shoot up alone and a construction-paper display of the supplies the organization provides, hang paintings of women with their faces turned away, on canvas but not stretched across a frame. The paintings were done by the brother of one of PPP's founders, Carnegie Mellon University Professor Carolyn Acker. Acker's brother died from complications of AIDS, and Acker donated the paintings when the organization moved into this office.
Off the main room are the offices where PPP's four staff members work: In one sit the organization's executive director, Aaron Arnold, and case manager, Ron Johnson. Everyone knows Johnson; he's the guy to go to if they want to get clean or need a place to stay -- or just some food for their families. Danforth said the most common question she gets when she takes the van out by herself is, "Where's Ron?"
"They aren't just saying, 'Where's Ron,' when they say that," she said. "They're saying, 'This is my van, and that's my guy. Where's my guy?'"
The other room, the one with the giant houseplant, copy machine and whirring air conditioner, is where Danforth and Bell sit before and after their trips to see the people they serve -- both people who inject drugs and those who want to stop overdoses, sometimes both, often one and the same. Bell and Danforth are PPP's first and most recent hires. Bell was PPP's first -- and for two years its only -- paid employee, starting a year before the organization went legit in 2001 with authorization from the board of health. She volunteered for the group before that.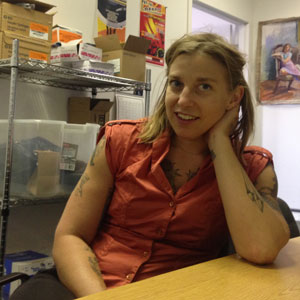 Danforth, meanwhile, came to Prevention Point Pittsburgh in October last year, an outreach worker new to Pittsburgh from Asheville, North Carolina, where she worked with homeless people and sex workers. In a fit of packing procrastination and after years of circling the idea, Danforth applied for a master's in public health two days before leaving Asheville. Now she's enrolled in classes at University of Pittsburgh, where she often finds herself searching Google for harm-reduction data -- a frustrated reaction to the abstinence-based public health messages she hears in class. She'd like Prevention Point to stencil the words "HARM REDUCTION SAVES LIVES" on the van she and Johnson take out on Tuesdays and Wednesdays to meet clients and pass out needles, cookers and breakdown (medical-grade vitamin C used to break down insoluble drugs to something that can be liquefied and injected), among other things.
On this sunny September day, the sweltering heat from the month before had finally broken, and Danforth was wearing an orange, short-sleeve top that showed off her "no shame" tattoo. By the time she arrived at the office at 10 a.m., Bell had already been there for an hour and worked from home for an hour or two before that. Today, Bell had been answering emails and drafting a letter to the U.S. Food and Drug Administration about the suggestion that the standard one or two doses of naloxone isn't powerful enough to counteract fentanyl overdose.
"That's not been our experience," she said. "Our finding has been that 93-95% of the time, two doses or less is sufficient."
Later, Bell would finish prepping the brochures, pamphlets and oft-photocopied fact sheets, along with the kits of naloxone, for a community meeting she'd attend that night. Some folks in McKeesport, about 30 minutes from the Prevention Point office, asked her to come out and talk to them about the antidote. The most common question she gets, she said, is how people can get ahold of it.
"It's not easy," she said. "There's not enough of it."
When Danforth arrived, she went immediately to the photocopier, where she duplicated brochures on safe crack injection and PPP's case management services. She folded them at the conference table and packed them up -- along with medical disclosure sheets, more naloxone kits and instructions on how to use them -- in a slim plastic file carrying case.
She also ducked into an actual storage room on the same floor and grabbed a few sharps containers and a few more of the blues, the syringe type her regulars prefer.
Around noon, she headed out to the Hill, a traditionally African-American neighborhood of tidy houses interspersed with overgrown and abandoned ones that is not far from the sprawling Victorians of the Friendship neighborhood or the rapidly gentrifying rowhouses of Lawrenceville.
"Let me make a prediction," she said. "I'll serve 15 people and give out eight naloxone kits. Let's see how I do."