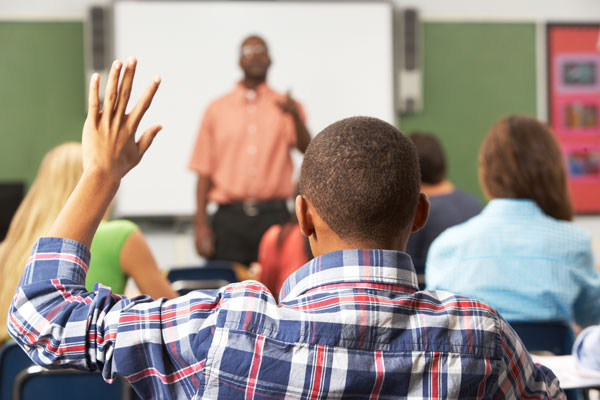 Credit: monkeybusinessimages for iStock via Thinkstock

HIV testing is down, and condom use has stalled among high school students according to a survey from the Centers for Disease Control and Prevention. The Youth Risk Behavior Surveillance Survey (YRBS) is conducted every two years in high schools across the country. It asks young people about a wide range of potentially risky behavior including violence and guns, alcohol and drug use, nutrition, bike safety and sexual behavior. The survey has been conducted since 1991, so it not only provides a snapshot of current behavior but also can be used to identify trends over time. The results of the 2015 survey were released last week.
In terms of sexual behavior, there is a lot of good news. Fewer high school students are having sex, having sex at an early age or having a high number of partners. In 2015, 41.2% of high school students reported having ever had sexual intercourse. This is a significant decrease from 2013 when 46.8% of high school students reported having ever had intercourse. In fact, the percentage of high school students who have ever had sex has been steadily going down since 1991 when 54.1% of high school students reported having sex. (CDC has not yet revealed the results from questions on sexual identity and the gender of sexual contracts that some states include in the survey. They told TheBody.com that specific data will be released in a separate report on August 11.)
The percentage of high school students who had sex for the first time before age 13 has also been declining over the past few decades. In 2015, just 3.9% of high school students said they'd had sex at this young age compared with 5.6% in 2013 and 10.2% in 1991. Similarly, fewer high school students (11.5%) reported having had four or more lifetime sexual partners in 2015 than in 2013 (15%) and 1991 (18.7%).
These are all positive steps for young people. Delaying sexual activity and limiting one's number of partners can help reduce a young person's chance of becoming pregnant (or causing a pregnancy) as well as contracting a sexually transmitted infection (STI).
Advertisement
Pregnancy prevention does seem important to young people. The survey found that among sexually active students (those who reported having had intercourse in the three months prior to the survey), 18.2% reported that either they or their partner used birth control pills before their last sexual intercourse. Use of the birth control pill had gone down between 1991 and 1995 but increased significantly until 2013 (19%). There was no significant change between 2013 and 2015. In 2013, the YRBS also started asking about other methods, grouping IUDs and implants together in one question and the contraceptive shot, patch or ring in another. In 2015, 3.5% of sexually active high school students reported using an IUD or implant and 5.3% the shot, patch or ring. Overall, only 13.8% of sexually active high school students said they used no method of contraception the last time they had intercourse.
While this is good for pregnancy prevention, none of these methods help prevent STIs, including HIV, and the survey results show that condom use among young people has stalled. For over a decade between 1991 and 2003, condom use among sexually active teens was steadily on the rise, going from 46.2% of sexually active students who used condoms at last intercourse to 63%. But use has since decreased; in 2015, only 56.9% of sexually active high school students reported using condoms.
The YRBS does not ask students about their beliefs or motivations, but the results do seem to suggest that teens are more focused on preventing pregnancy than STIs.
The survey's findings on HIV testing may help confirm this. The percentage of students who have ever been tested for HIV (not counting those who were tested when they donated blood) has declined significantly since 2011 (from 12.9% to 10.2%).
We should certainly applaud high school students for the responsible choices they are making in delaying sex, reducing their number of partners and using effective contraceptive methods. But we also should be concerned. HIV is still an issue for young people, with over 1,800 new diagnoses among young people 13-19 in 2014. And, though they account for just a quarter of the population, more than half of the sexually transmitted infections diagnosed each year occur in those under 25.
High schools need to be emphasizing the importance of condom use, testing and treatment, all of which can help reduce the STI/HIV epidemics among this age group. Young people need to understand that delaying sex and protecting against pregnancy is important, but they're only the first steps. Once they become sexually active, all young people need to protect themselves from STIs and HIV as well.
Martha Kempner is a freelance writer, consultant and sexual health expert.
Follow Martha on Twitter: @marthakempner.

Copyright © 2016 Remedy Health Media, LLC. All rights reserved.