Interview
Aaron Wittnebel, HIV Advocate and Former Mayor, Continues to Reinvent Himself
June 13, 2016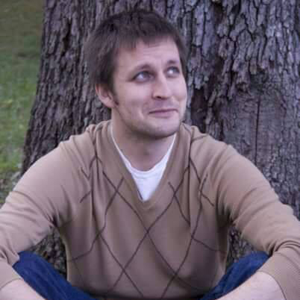 Credit: Jaime Armstrong
Name: Aaron Wittnebel
Location: Lake Park, Minnesota
Birthday: May 10, 1981
"The process of being in your 30s is kind of like reinventing yourself again."
Aaron Wittnebel knows a bit about turbulent life changes. A self-described "political nerd" since grade school and an out, gay student leader in high school, Aaron had worked in politics, taught summers in Washington, DC and lost a partner suddenly to meningitis by the time he had turned 25.
After a stint in Florida, where he learned he was HIV positive, Aaron returned to his small, rural hometown to become a city councilperson and even spent an embattled term as mayor. Now, at 35, he's back in school and active with the Minnkota Health Project, a service, support and self-empowerment network of people living with HIV and hepatitis C. A tribal member of the Red Lake Nation, Aaron represents greater Minnesota and American Indian communities on the Minnesota HIV/AIDS Consumer Advisory Committee, as well as the Minnesota Cultural and Ethnic Communities Leadership Council, which provides guidance on eliminating disparities in access to health and human services programs.
Advertisement
In speaking with Aaron for TheBody.com's "35 at 35" series in June 2016, the 35th anniversary of the first official reports of AIDS, I learned about growing up gay in the '90s against the backdrop of HIV, the challenges of small-town politics and why you won't see Aaron volunteering when he's 70.
---

Where were you when HIV first entered your consciousness?
Probably not until fourth grade, really. I was a history and political nerd even in grade school. I followed the campaign quite closely when "Bubba" [Bill Clinton] was running, in fifth or sixth grade and during the election.
We would see images in the national news of people protesting [about AIDS], but not really understand what they were upset about: "That's them, that's The Big City, where all those problems are. We don't have to worry about those things as a small, rural community."
There was still that myth of "HIV can't happen here because that only happens in the big cities." It wasn't until the story of two high school students in a rural town in North Dakota hit the papers: The girl on one of her high school trips, band or choir, met a college guy, had sex; then she came home and had sex with her boyfriend at home, and they both became AIDS patients. Then it was like, "It happens here."
We saw more and more people coming back to live in small towns -- that's still one of the things people say you do when you die is you move back home. A lot of people were moving back to Minnesota, because there was health care available and there wasn't a residency requirement at the time. We had people moving back to our communities who were living with AIDS, who were dying, who were doing hospice care. People knew people, whether through church or in their own family or helping with hospice organizations.
Growing up in a rural area, being out of closet in the ninth grade, being a student leader and being gay was kind of like being this sacred cow, being told, "Don't touch anyone or you might get sick!" I think even for gay teenagers today, that's still the same. There's not that high school period where you go through love and loss and dating and that kind of natural thing.
In high school it was very much: "You can't date; you can't kiss a boy; you can't fall in love; you can't have sex; it's not in the cards" -- even with gay organizations, such as PFLAG, that I would speak with.
But then, getting to college where I should have a little bit more freedom, there was still so much shame. So when I did get to have sex, it was a lot, anonymous, not in a relationship, not telling my friends. It was one of those things that I had been taught through high school that I can't be doing, and I don't know why.
Fill in the blanks in this sentence: At the age of 35, I am glad to be __________ and I wish I were _____________.
I'm glad I'm awake right now! And I would do anything just to be back in college or in my 20s.
The process of being in the 30s, if you're not married or you're not in a serious relationship and you don't have a permanent job, if you're not done with your master's program or your doctoral program or you're changing jobs, it's kind of: "Ugh! I've got to reinvent myself altogether. I've done this wrong!"
In 2005, when my partner Michael passed away suddenly, I quit doing nonprofit work. I quit doing government work. I didn't really know what to do. I decided to move to Florida and work in accounting.
I had a friend that I had taught with during the summers that had just gotten out of an abusive relationship. People didn't know what to do with me or with him, so they said, "You've both gone through horrible stuff; let's put you two together." It was so nice to have that moment in Florida without our friends around, but we brought out the absolute darkest and worst of ourselves with each other. It was like Richard Burton and Elizabeth Taylor. He became a drug addict and alcoholic; I went bankrupt.
I had been asked to run for city council in my hometown; I did that, but right as I was preparing to leave Florida and all that drama behind, I tested HIV positive right before my birthday, in 2009.
It wasn't really a shock. Before Michael . . . I remember we waited to have sex and then we got tested together. I used to get tested every three months because through college and when I was working on campaigns and in government, I was having sex five times a day, every day of the week, even more times on the weekend, all different people. That was my stress relief. Then, at the end of what was supposed to be a monogamous relationship with [my ex in Florida], and I hadn't been having sex, at my six-month test I now had HIV.
I had already had that discussion in my mind: "Your behavior could possibly lead to this." It was a surprise in the sense of, "Really? It didn't get it then, but I'm getting it now?"
What has life been like since returning to Minnesota?
When I came back to Minnesota and was applying for health insurance, I was eligible for the Ryan White insurance rider. With that came an invitation to get on a consumer advisory committee. I'm an elite controller, so I didn't need medication, but I started doing consumer advocacy, and I had a lot of friends who were HIV positive as well.
I had worked with the Minnkota Health Project when I was in college and saw everybody that was struggling with these services and this monstrosity that is bureaucracy. Having been in local government as a city councilman and then as mayor, I thought, "This is not how it's supposed to work." And because I was in somewhat better health, I felt it's kind of my duty to do what others can't.
Minnkota is all peer led. The board, all group leaders and members, are people living with HIV or hepatitis C. We provide services for ourselves and access for our fellow members and peers to the AIDS service organizations. I do the grant writing. We are all privately funded, which allows us to do advocacy on a consumer-by-consumer basis. All of our money goes right into programming. There are no paid staff. Some of us are either peer group facilitators, some of us just drive people -- it's all of greater Minnesota, South Dakota, North Dakota and the tribes. We have food assistance, nutrition programs, health literacy, leadership trainings. It's a natural evolution of -- if you're able to and you want to, we encourage you to take on a leadership role.
We also do legislative advocacy, and we try to get more consumers appointed to other state or federal committees so that we know there are trained consumers at the table.
Tell us about your experience being mayor.
I was mayor of my hometown, the city of Lake Park -- we're about 871 people at the last census -- from 2013 to 2014. I was on city council before that, from 2010 till 2013.
I am not the mayor anymore, and I would never wish local government on anyone, ever. State government and partisan politics were so much easier and nicer! It's hell on earth in a small town. It didn't have anything to do with me being gay or HIV positive; it was just everybody being nasty just to be nasty.
County governments are run that way too, unless it's in a metro area where you can have some anonymity in office. You might get a bad press article, but you won't get hundreds of bad press articles in the small local paper that's all volunteer written. You won't get people knocking on your door at midnight because your light is on to yell at you about a street light being out.
Where do you see yourself in another 35 years? Where do you think the epidemic will be?
In terms of the epidemic: Yesterday I saw this new report about gene alteration trials. Apparently they have done some with human cells that have had success. I think that looks promising; I'm really excited about it, but the one thing missing is that there hasn't been a bioethics debate on it.
My only fear is that a few years down the road they'll say, "Yup, this'll work; we've done the human trials," and then everyone's going to come out and say: "Is it right? Should we be editing people's genes and DNA? What can this lead to? Are we stepping into eugenics?" I'm hoping those kinds of university-type people will have that debate now, at the university level, so that when the cure is ready to roll out, it will just be rolled out.
In 35 years, if I live until I am 70 -- if somebody doesn't shoot me by then and if I don't get hit by a bus -- I envision myself in a cabin that I built myself, out next to Big Red Lake, on the reservation, in a rocking chair on my front porch, alone, just enjoying nature, knowing that I did all my volunteer and charity work, and I've already paid my dues.
I see these old-timers working in these service organizations that are retired or running for office when they're retired, and I am like, "No frigging way!" When I'm retired, I am doing what I want to do. No way am I doing highway cleanup with the Rotary Club -- let the high schoolers do that! I'm not going to be a Wal-Mart greeter! I'm going to be on Social Security, eating oatmeal in the morning, enjoying the sunrise in the morning and the sunset in the evening, and hopefully being well entertained in my senility.
Olivia G. Ford is a contributing editor for TheBody.com and TheBodyPRO.com.
More From This Resource Center
Related Stories
---

This article was provided by TheBody.
---
Add Your Comment:
(Please note: Your name and comment will be public, and may even show up in
Internet search results. Be careful when providing personal information! Before
adding your comment, please
read TheBody.com's Comment Policy
.)