Blog
My First Serodiscordant Relationship
April 28, 2016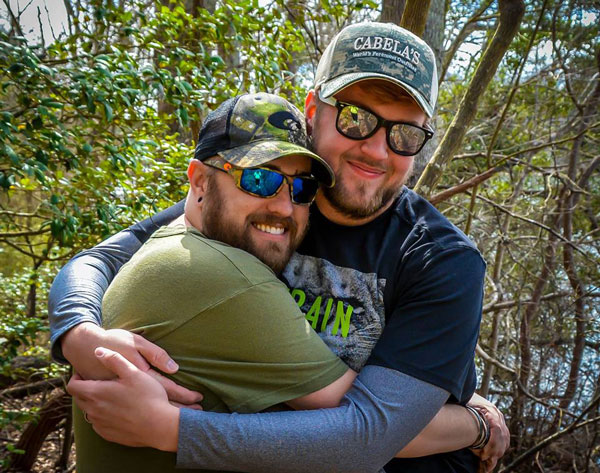 Credit: DevilDog Photography
Not too long ago I started talking to this really awesome guy on the social media app Moovz. If you do not know about this app, it is for the LGBTQ community. I was nervous as hell when he was actually interested in me. We talked back and forth for awhile and I finally decided before we even went on our first date to ask him if he knew about my status. Now, usually in the past when a guy has found out about my HIV status, they typically run in the other direction and I never hear from them again.
Well, to my surprise, he said "yes" and acted if it were not any big deal. I guess I had become so used to guys who were not interested that this kind of took me by surprise. We continued to talk and even went out on a few dates, just dinner and stuff like that. Then on February 8, we decided we were going to finally make it official and take our relationship to the next level. I was as excited as a little school girl.
He did admit that he did not know much when it came to the subject of HIV and had never known anyone living with the virus. I looked at this as a challenge and a way to help teach someone and to pass on some of the knowledge I have gained over the six years I have been living with HIV. So I did have an appointment at the VA coming up with my infectious disease doctor and I decided to bring my now boyfriend with me. I wanted him to be able to ask any questions that he may have, even the ones he did not want to ask me. I really do think it was a good experience for both of us as we both ended up learning quite a bit that day. We talked with my doctor about the use of PrEP and safe sex. What could put him at risk and ways that we could both protect ourselves. At this appointment we both ended up learning a lot, not only about each other, but about us and how we are able to continue in a safe relationship.
Advertisement
I think one of my biggest fears in dating a guy who is not HIV-positive has always been that I will risk infecting him. While I know the chances are low, it is still something that remains in the back of my mind. I never want to see anyone go through what I have with dealing with HIV and protecting someone I care about is the most important thing to me.
Another thing I have feared is that I will not be able to protect him from the stigma that is associated with dating someone who is HIV positive. Many will look and assume that he must be positive as well and for someone who may not be used to dealing with this type of stigma, it can be hard. In fact it can be enough to scare just about anyone. Here you are in a new relationship and along comes all this extra baggage that you just don't know what to do with. Now, I am not speaking for him but this is just what would be going through my head if I had been in his position.
Well April 8 makes two months and we still have a lot of learning to do, not only learning about ourselves but about us as a couple. We are taking this relationship one day at a time with the desire to make today better than yesterday. I have always told him that the key to a successful relationship is communication and honesty. I want him to be able to come to me with any questions he may have or any concerns and not worry that I will judge him for them or think that he is stupid. I could never judge or think anyone is stupid if they are trying to educate themselves and better themselves.
Now, I am not one to usually talk openly about my relationships but I want to share this with y'all for the simple fact that living with HIV does not mean that you cannot find happiness and that you do not deserve it. I found mine when I was least expecting it, but I was so happy that I decided to take the chance. We all deserve to be happy in our lives and nothing -- including HIV -- should stop us from finding it.
Read Brian's blog, AMarineAndHIV.
Related Stories
---

This article was provided by TheBody.
---
Comment by: Michael
(Baton Rouge, LA) Wed., May. 11, 2016 at 7:01 am UTC
This disease is a $@&ing nightmare. Not because of the complications (which are insignificant in the medium term), but because of the isolation and ostracism, comparable only to older diseases like pre-antibiotic tuberculosis and leprosy.
I'm glad the author seems to be finding happiness, but I think he missed an opportunity to make the point that a patient with an undetectable viral load appears to have a very low risk of transmitting the virus. For all intents and purposes, it makes him less risky than someone who thinks they're negative, and probably brings the real world risk down to zero. I realize that there's a (possibly corporate funded) imperative to talk about PrEP at every chance, but to talk about risk mitigation without acknowledging that the positive person may not actually be a risk is an act of violence against all people living with HIV.
I also wish he'd expanded a little bit on the tendency of people to "run the other way" when they encounter someone who says they're HIV+. In the gay community, HIV is old enough, common enough, managed enough, and understood enough that this is an unacceptable reaction. The ongoing failure of print magazines and websites like this to organize people against this ostracism should be viewed as a something of a death rattle. News sources that acknowledge this are getting support from people with HIV because most of us feel we deserve better than to be exaggerated risks. We expect more than "I talked to my doctor about ways to protect him". NO! If you can't acknowledge obvious medical facts that benefit people with HIV, you need to stop presenting yourself as a source of HIV related medical information or advocacy for people living with the virus.
Comment by: Peter
(Moline, Illinois) Thu., May. 5, 2016 at 2:02 pm UTC
I am very happy for you! I work for an agency that provides services to the positive community, and the lament I hear from clients most often is the same. Who do I tell, when do I tell, and "no one will go out with me after they know". Your story and others like it give me hope that we are making progress at the most gut level regarding the stigma and fear. I wish you the best of luck, and thanks so much for sharing this personal side of you.
Comment by: Charles
(Eatontown, NJ) Thu., May. 5, 2016 at 1:59 pm UTC
Good for you Brian! Be Happy
Add Your Comment:
(Please note: Your name and comment will be public, and may even show up in
Internet search results. Be careful when providing personal information! Before
adding your comment, please
read TheBody.com's Comment Policy
.)