On December 1, 1989, Visual AIDS held the first Day With(out) Art during the World Health Organization's second ever World AIDS Day. In response to Visual AIDS call for "mourning and action in response to the AIDS crisis," more than 800 arts organizations, museums and galleries across the U.S. locked their doors, dimmed their lights or covered up their art; and sponsored public education, exhibits or rituals. For this year's event, the 26th of what is now called Day With(out) Art, Visual AIDS has created a vibrant bridge between the legacy of generations of artists with HIV and the realities of today's HIV epidemic. The appropriately titled RADIANT PRESENCE is a powerful digital slideshow of images from the Visual AIDS' Artist+ Registry intercut with HIV statistics and key issues. The slideshow, which will be screened at locations worldwide and is available online, was curated by nine influential artists, activists and curators -- many of whom are living with HIV.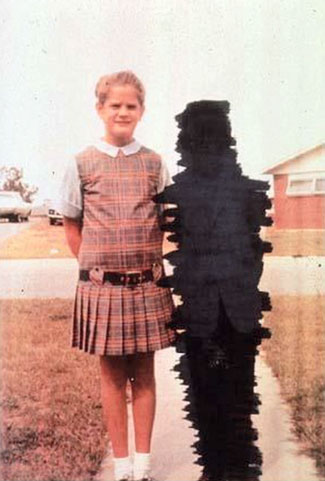 Steed Taylor, "Me and Sudie," 1997, mixed media, 20 x 16 in.

Several of our longtime bloggers at TheBody.com curated galleries for RADIANT PRESENCE. We asked two of them how they selected what to include in their collections:
Mine is called "Journey." Each and every piece I selected represents my journey and those of many around the world. It was very deep and intense for me to see my life through images from the beginning to where I am now: ALIVE AND UNDETECTABLE. I survived and I am blessed to be here to tell my life story, give hope to the hopeless and save lives. I am honored and proud to be a part of this amazing collaboration as a curator for Visual AIDS.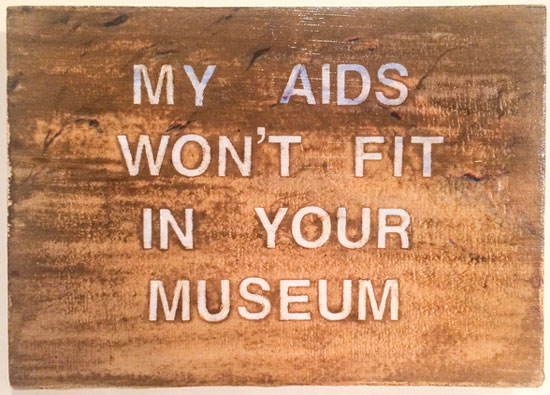 Shan Kelley, "With Curators Like These, Who Needs a Cure," 2015 oil paint, semen, resin on wood, 5 x 7 in.
My mission statement as a man living with HIV is, simply, joy. So the art I curated as part of RADIANT PRESENCE definitely reflects that. It's a shame that happiness still feels like a subversive notion in relation to HIV, but that's why I loved the opportunity to make a case for joy as part of this cool artistic project.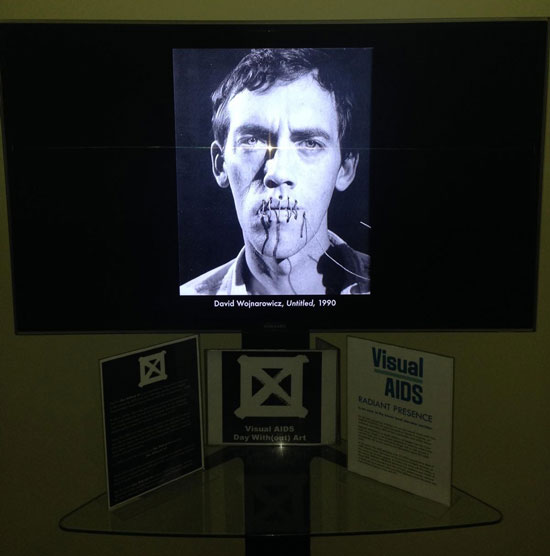 RADIANT PRESENCE display at Pratt Institute Brooklyn Campus Library. (Credit: Gina Carducci)

Visual AIDS has also created a resource guide for RADIANT PRESENCE, which is being screened and discussed throughout the week of World AIDS Day. Get more information here.
JD Davids is the managing editor for TheBody.com and TheBodyPRO.com.
Follow JD on Twitter: @JDAtTheBody.

Copyright © 2015 Remedy Health Media, LLC. All rights reserved.