Since our last update in September, the UNAIDS Programme Coordinating Board approved the new UNAIDS Strategy 2016-2021 calling for strong action to reach prevention, treatment and human rights targets by 2020 and USD 31 billion in funding annually by 2020 to achieve the targets. At the same time there is evidence of flat lining in donor financing for the AIDS response and worrying new signals from several donor governments.
How will we get the financing needed to make treatment accessible to all people living with HIV who want it, scale up HIV prevention, and advance on human rights?
Below are the perspectives of five advocates working in donor and implementing countries.
Table of Contents
Maurine Murenga: People Focused Investments, Ensuring No One Is Left Behind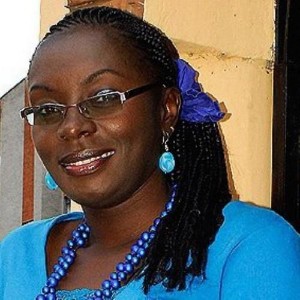 Maurine Murenga has openly been living with HIV since the early 2000s. At that time, there was little access to treatment in Kenya and a lot of stigma around the disease. In 2002, Maurine was expecting her first child, but could not access PMTCT services; her son, Earl Fortune, contracted HIV from her at birth. Maurine and her son, now age 12, were able to begin free treatment in 2003 when the Global Fund came to Kenya and Maurine has since had another baby in 2013 who is HIV-free. Through her lived experience, Maurine saw the inequalities and vulnerabilities young women and adolescent girls living with HIV experience. In 2008, Maurine founded the Lean on Me Foundation, an organization that provides comprehensive care and support to adolescent girls and young women living with HIV and affected by TB in Kenya. Maurine was a Global Fund Advocates Network "Here I Am" campaign ambassador from 2012-2013. She won the "Unsung Hero Award" from the US Embassy in Kenya and "East Africa Community Service Award" From Fadhili Trust. Now she works as the Global Fund Coordinator for the International Community of Women Living with HIV (ICW Global) and is a member of Gender Technical Committee on HIV and AIDS in Kenya, Women4GF and the Communities Delegation to the Global Fund Board.
What is your sense of the AIDS funding landscape today, among donor countries and/or implementing countries?
Donor countries are either maintaining a status quo or reducing AIDS funding. This is unfortunately coming at a time when evidence shows that increasing investments for the AIDS response will not only accelerate saving of lives but also end the AIDS epidemic.
Implementing countries have shown an increase in domestic financing mainly because it's part of requirements by some donors like the Global Fund to Fight AIDS, TB and Malaria. Those that still provide funds focus on clinical interventions forgetting that we have reached where we are due to engagement of communities and civil society and we cannot reach the end without these populations.
Advertisement
What are the biggest challenges in making the case for increased funding for the AIDS response?
The biggest challenge is in middle-income countries. Most donors have policies that do not allow funding for middle-income countries, yet evidence shows that the disease burden is in middle-income countries and especially countries where key affected populations are criminalized.
There is need for focus to be on populations and not on country income classifications. Another challenge is seeking funding for gender and human rights. It takes a while to measure impact and therefore investing in activities to address these issues is not attractive.
What are some messages you use to make the case for investing in the AIDS response?
We now have evidence that if we scale up investment in the AIDS response we are not only going to be able to save more lives but there is a possibility of ending the epidemic by 2030. If we don't invest more now then the cost of inaction will be too high.
What are some ways that advocates can work together to get these messages out?
Advocates in donor countries need to lobby for an increase in AIDS investment and the need for people-focused investments, ensuring no one is left behind. Those in implementing countries should still keep asking for increased domestic financing.
Khalil Elouardighi: Remind Donors We Want a Fairer, More Stable, Safer World for All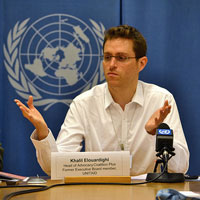 Khalil Elouardighi is an AIDS activist currently heading the Advocacy Program at Coalition PLUS, a coalition of francophone community-based HIV organizations in 13 countries. Based in Paris, Khalil started engaging in advocacy for universal access to HIV treatment in 1998, as part of the French Community Advisory Board. From 1999 to 2008 he worked for Act Up-Paris on global treatment access (many years as a volunteer), and in 2008 he joined the newly formed Coalition PLUS. Among activist victories that he played a part in are winning the WTO Declaration on access to generic medicines; making HIV treatment a priority of the Global Fund and UNITAID; and launching a tax on financial transactions as a potential source to fund universal access. Khalil served as Board member of UNITAID for 3 years, and as delegate to the Global Fund Board for 7 years. He is currently working on a multi-country campaign to expand access to generic hepatitis C drugs, with HIV/HCV co-infection in mind.
What is your sense of the AIDS funding landscape today, among donor countries and/or implementing countries?
Many donor countries are experiencing a drop in solidarity both internal and international, which is pressuring AIDS aid downwards. The solidarity drop is largely linked to the de-leveraging that ensued since the 90's and the financial bubble burst in 2007. In mainland Europe, the simultaneity of the social spending cuts and the refugee crisis is making it very hard to position ending AIDS as a high priority.
In developing countries there seem to be more opportunities, as in many countries governments' budgets are increasing, thanks to significant economic growth. However making health a priority of government spending, and AIDS a priority of health spending, is difficult in many countries and takes time.
What are the biggest challenges in making the case for increased funding for the AIDS response?
Everyone agrees that doubling the number of people on ART by 2020 (to achieve the 90/90/90 target) will require more money, but everyone seems to want everyone else to do the increasing. That's the case in France, for instance. Also, the devastating costs letting AIDS balloon in some developing countries is seen as not being a cost to developed countries themselves.
As for national funding for AIDS, it often touches on issues related to healthcare reform -- reform of how healthcare is funded, how the healthcare system is managed, etc. Those are hot-button issues that take years to address. Most governments are too short-termist to want to want to touch them.
What are some messages you use to make the case for investing in the AIDS response?
We try to remind politicians that voters do want a fairer, stabler, safer world for all -- and that reducing inequities in the face of deadly diseases is a big part of that. Also the strength of the mobilization of the global AIDS movement -- we collectively, by our commitment and action, have achieved wonders that no one thought possible. We've got the results to show for it. That's another reason why decision-makers should invest in the AIDS fight.
What are some ways that advocates can work together to get these messages out?
The first thing is to not give up hope -- just because politicians are saying "no way" doesn't mean we should listen to them, or stop demanding what we need. We must continue asking. Also, UNAIDS should find us a champion, a global public figure whom we can rely on, who'd be willing to give us (i.e. the global AIDS movement) several days of their time every year. Perhaps a pop star, à la Rihanna?