If you are diagnosed with HIV in one of 13 countries today -- Argentina, Australia, Brazil, Britain, France, Maldives, Mexico, Netherlands, Spain, South Korea, Thailand, Turkey or the United States -- policies mandate that you should have access to HIV treatment regardless of your CD4 count. But in every other country in the world -- that is 183 countries -- treatment policies recommend waiting for HIV treatment until your CD4 count falls below either 350 or 500, or there's no policy in place to get people prompt treatment.
This reality is in sharp contrast to what scientific evidence has strongly supported for some years: Immediate access to HIV treatment significantly improves the health of people living with the virus, and works as one of the most effective tools to prevent HIV transmission.
Simply put, most people with HIV in low and middle-income countries have to be sick, or at much greater risk of future illness and premature death, before they can get the treatment that prolongs their health and virtually eliminates risk of transmission to others.
Antiretroviral Therapy Initiation for Asymptomatic People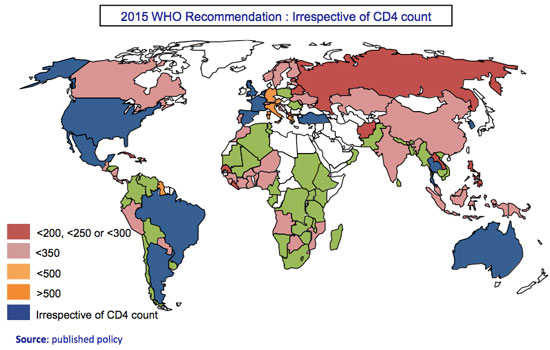 From the International Association of Providers of HIV Care's ART Policy Review, November 2015
A Watershed Moment
Nearly 16 years ago, world leaders, scientists and activists gathered in Durban, South Africa, for the International AIDS Conference in 2000. It was the first time that the conference was held in a developing country -- where most people carrying the virus had been living (and dying). Four years earlier, life-saving antiretroviral therapy had become available for people living with HIV in wealthy countries, but the exorbitant prices of these medicines put them out of reach for the vast majority of people in South Africa and the Global South.
At the conference, people living with HIV and their allies called attention to the atrocious form of "medical apartheid" that had been created by the high costs of drugs. The result was a watershed moment in the history of the global AIDS movement. Activists successfully challenged world leaders and corporations to reduce the prices of antiretrovirals, mobilize financial resources to fund the response, and to scale up the number of people receiving life-saving treatment.
Today, 15 million people throughout the world are receiving treatment, and 16 years later our movement is preparing to go back to Durban for the 2016 International AIDS Conference next July. There is much to celebrate. However, while we have made incredible progress in the response to this pandemic, there is a new form of medical apartheid that we must confront: the disparity in immediate access to treatment for people with HIV between rich and poor countries.
When taken by people with HIV, treatment suppresses viral load, usually leading to an undetectable viral load and nearly eliminating the chance of transmission. Treatment also works when taken by HIV-negative people at risk of infection -- an intervention that could substantially reduce incidence. There is now increasing consensus that if every person living with HIV had access to treatment, we could end the HIV epidemic as we know it in the next 15 years.
Advertisement
The Science Isn't New
The science on early treatment is not new. The scientific community has known for more than five years that treatment significantly improves health and works as prevention. It's been clear in the policies and guidelines in many wealthy countries for three years now. In light of this knowledge, it is a moral outrage that the majority of governments throughout the world have not yet adopted immediate provision of treatment, upon diagnosis, as the model for HIV treatment access.
"Come back when you're more sick" policies are unacceptable in 2015.
This World AIDS Day, the World Health Organization (WHO) will officially launch its new guidelines for HIV treatment (first announced in September 2015), recommending that all people living with HIV be started on treatment regardless of disease stage. Additionally, the WHO is calling for expanded availability of pre-exposure prophylaxis (PrEP) to groups at substantial risk of contracting HIV -- including men who have sex with men, sex workers, and adolescent girls and young women in certain countries. These new guidelines are an important tool to increase the availability of treatment on demand for people diagnosed with HIV -- but they are rendered inconsequential without the political will to put them into action.
But history has shown that scientific evidence and technical guidance are not sufficient precursors for action.
The 2010 guidelines, which recommended treatment at a CD4 count of 350, are still the standard in 38 countries, despite the updated guidelines released in 2013 that recommended treatment initiation at 500 cells/mm3. At least 12 countries in the global south and Eastern Europe have yet to adopt even the 2010 guidelines, and are only initiating treatment for people below CD4 counts of 300.
The High Costs of Inaction
There is no time to delay the implementation of immediate access to treatment for all. Without access to effective treatment and health services, people are left to illness and death, the rate of new infections will continue to increase, and the global economy will pay more for the response to the epidemic in the long run. Paying up and treating people now, saves us money later.
It's time for all governments to adopt, fund, and implement immediate initiation of treatment for every person diagnosed with HIV.
However, simply adopting the new guidelines is not enough. Countries must commit to implementing a robust treatment and prevention agenda that includes effective models of care that increase access to ART for key affected populations, prioritizes communities and their needs, combats stigma and discrimination and uses standard of care medications to ensure the health of patients and increase the likelihood of adherence.
Science and years of experience in this response have given health care professionals and people living with HIV all of the tools they need to treat and prevent HIV. However, the gross global inequities in access to these tools -- to medicine, to prevention, to a healthy life for people living with AIDS (PLWHA) -- is a moral outrage.
When world leaders return to Durban to discuss HIV/AIDS in July 2016, they need to know that we will hold them accountable. We have the capability to successfully end the epidemic as we know it. Now all we need is for world leaders -- both those of countries who are greatly impacted by HIV and those of donor governments and institutions -- to finish the job they started in 2000.
Amirah Sequeira is Associate Director of International Campaigns and Communications for Health GAP, an international policy and advocacy organization dedicated to eliminating barriers to global access to affordable life-sustaining medicines for people living with HIV/AIDS. You can follow her on Twitter at @miraseq.

Copyright © 2015 Remedy Health Media, LLC. All rights reserved.