In his long career as a black gay journalist, Rod McCullom is known for his reporting on science and health (including HIV). As such, he says he has often been the only person of color in the newsroom or production studio -- and almost always the only gay black man.
Whether in his mainstream media work or as the creator of the early and ongoing Rod 2.0 blog, he's covered vital topics and carved out a bold, prominent place online, in print and as a multimedia producer.
This fall, McCullom embarked on the next step of his journey as a fellow in the Knight Science Journalism Program at the Massachusetts Institute of Technology (MIT), where he's focusing on writing a book on the search for an HIV vaccine. I appreciated the opportunity to talk to Rod -- one of the fabulous writers I've had the pleasure of working with at TheBody.com -- as he took time to reflect on his path as he prepared to relocate to Cambridge.
Tell us a little more about the Knight Science Journalism Program you're doing this year.
MIT's program, which is called the Knight Science Journalism Program, focuses specifically on science journalists. So every year -- and they've been doing this, they recruit 10 to 12 journalists to come to MIT to take courses. You take courses at MIT and Harvard. Some of us work on research projects.
I am going to MIT, Knight Science Journalism, on my HIV/AIDS reporting platform. Someone at MIT told me that this would be the first time they had a journalist who specifically reported on HIV. I mean, obviously I report on more than that. But my application focused on HIV.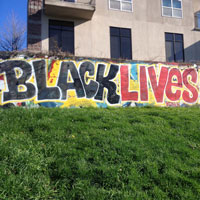 Related:
Rod McCullom on HIV and the Movement for Black Lives
Many of our readers may be familiar with your website, Rod 2.0. I wanted to back up and get into the Rod 1.0. Tell us a little bit about your background and how you got started. And how did you come to focus on HIV as a journalist?
It's been a circuitous journey. I started in journalism in college at the University of Chicago writing for this alternative weekly, called the Chicago Reader, which is sort of like the Village Voice or the LA Weekly. I also did some freelancing for the Windy City Times, which is the gay news weekly.
And then during college, I had an internship at the LA Times, which was very interesting. You learn a lot, but I experienced so much racism and just hostility, being one of only a handful of black reporters. I was a young, black 20-year-old gay guy who was on the business desk at the LA Times. And this was in 1991 or so. So you can imagine how that was.
I'm openly gay. I have been ever since high school. So I've brought this with me to everywhere I've been.
I'm openly gay. I have been ever since high school. So I've brought this with me to everywhere I've been.
After, I didn't think the newspaper business was for me. So I kept on freelancing for different magazines. I eventually landed in TV news -- we're talking the mid-'90s or so. I worked in TV news in Chicago, for the FOX station and for the NBC station. Then I started working for the ABC Network, and then other news properties. Then I went to New York.
Along the way I actually started reporting on pharmaceuticals. Of course, this was during the height of the AIDS scare. It was the early '90s. No one had heard anything. The term antiretroviral was like a quest by some scientists. This was during the age of AZT.
Advertisement
What was it like to start reporting on pharmaceuticals before there was effective antiretroviral treatment for HIV?
At that time, so many of my friends were dying. I lost so many of my friends. You'd go to the club and you'd hang out, and then two weeks later you would hear that they were dead or they were in the hospital. So at that time I did a lot of reporting around pharmacies. For some reason, I was more attracted to the medical and pharmaceutical aspects of HIV. That's what I was doing actually when I moved to the LA Times, and was on the business desk. And then later on, once I started getting in TV news, I became the "go-to guy" on medicine and science and AIDS and cancer, those types of things.
Once I stopped working full-time in TV news in the late 2000s, then I started going back into print. I started writing for The Advocate and others. I was reporting on many different things, but one of my main focal areas always has been the [HIV] epidemic and trying to report more on the science behind it -- and also the global aspect and, of course, people of color in the U.S.
Your focus is HIV and the black diaspora. What are the main underreported or misreported stories? What do you think is not getting enough coverage, or actually is getting covered wrong?
One of the main issues, and one of the biggest issues of course, would be health disparities -- not simply just on the disparities, but why does the disparity exist?
We're always hearing these terms -- black people are only 14 percent of the U.S. population, but almost half of all new HIV infections. So sometimes we hear these statistics bandied about, and we accept them as fact and don't understand why.
We need to have more clarity around why health disparities exist.
We need to have more clarity around why health disparities exist. And it's not just HIV/AIDS -- it's issues affecting women and it's issues affecting youth, especially people of color, be it cancer, diabetes, smoking. So that's one thing I've been trying to do in my work, be it at TheBody.com, or at The Atlantic, or Scientific American -- any of these places, explaining why these disparities exist.
We need to do more on that. And when I say we, I don't mean necessarily just HIV-specific publications, or science publications, or medical publications; but just the media, in general.
The problem with disparities is people tend to equate them. So when they thing of black gay men, they think of HIV. Or when they think of black women, they'll just think of HIV.
It's not our blackness. That's not the reason why we have HIV, or why there are so many in our community who have HIV -- it's because of lack of access to medicine, lack of access to health care, stigma, other social reasons. Some issues are genetic. There are so many different reasons.
We need to report more on women, especially women of color, in HIV, and how it manifests in them differently and how services are not available to them. I also think more should be done around youth. As always, we need to report more on medicine and science -- a vaccine, antiretroviral therapy.
A lot of journalists are afraid or unsure about how to report on new advances, especially when it comes to science. Every month there's some new study that says this, or some new study says that.