Before 2014, there were zero museums dedicated to documenting and remembering the 39 million people worldwide that have died thus far due to AIDS-related causes. That changed on May 15 with the opening of the World AIDS Museum and Educational Center in Wilton Manors, Florida.
"This is the only place dedicated to the 39 million who have died of AIDS," said Ed Sparan, director of the museum. "It's also a place to enlighten, educate and empower."
Sparan hopes the museum will help visitors to think about HIV not just as a part of LGBT history, but human history. "The story of HIV has been part of the LGBT story, but it's so much more than that," Sparan said. "In the past 35 years of HIV/AIDS, 75 million people have been infected, and 39 million people have died of AIDS."
The location of the museum -- in South Florida -- reflects a shift in the center of the epidemic, according to Sparan. "Of all brand new HIV infections in the country each year, Miami/Dade County is #1 on the list, followed by Broward County and Palm Beach County ranking #6 on the list." Though HIV is now considered a chronic manageable disease, Sparan does not think that means people should forget about it or its history. "It is a more treatable disease these days, but everyone needs to be informed," expressed Sparan.
Prominently displayed in the museum is a timeline of the history of the HIV/AIDS epidemic. Under 2014, Truvada (a combination of the antiretrovirals tenofovir and emtricitabine) as pre-exposure prophylaxis (PrEP) is featured as one of the major events. "PrEP was introduced in 2012 but it was not until trials were completed that more news about Truvada as PrEP was released," explained Sparan when asked why the drug wasn't displayed under 2012. "In 2014, it became widely known in the media of all the pros and cons of PEP [post-exposure prophylaxis] and PrEP, and it became a main topic of conversation in the general public," he said.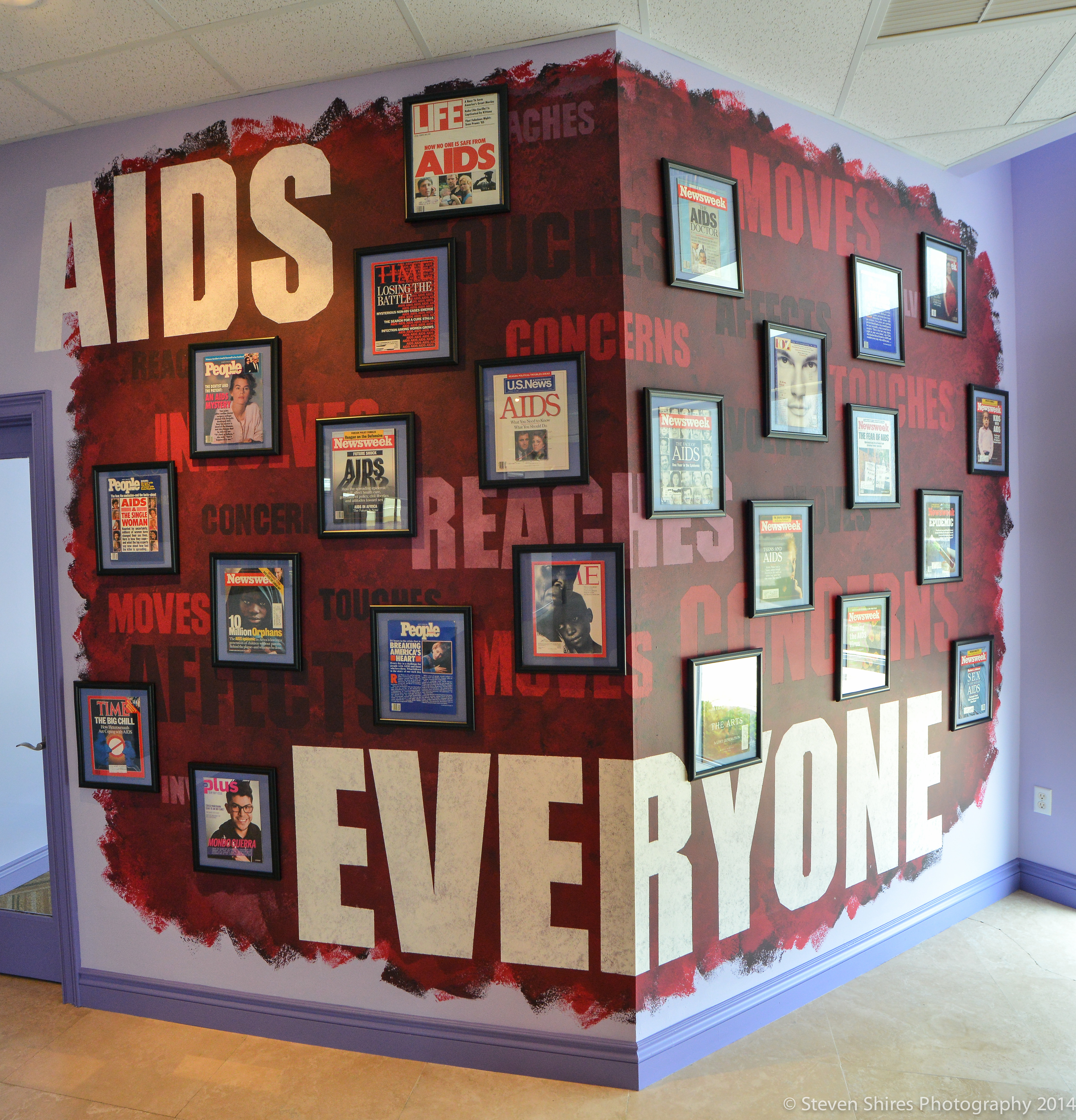 Currently, the museum occupies a relatively small space. The museum's main exhibit is the timeline of HIV/AIDS; it takes up most of the main area. The walls are adorned with artifacts related to the epidemic, including a sign full of hate speech that was nailed to the outside of a gay bar by members of the KKK. A small media room is in development and there is an additional screening room that plays a video produced especially for the museum. A three-dimensional AIDS ribbon made out of 10 years of Sparan's HIV medication bottles dominates the center of the screening room. Sparan's artwork, meant to provoke thoughtful discussions, is seen throughout the museum.
The museum is planning several projects and additions for 2015. "We are preparing for projects, programs, speakers and more exhibits, including more work with the Visual Tapestry Project," said Sparan. In addition, there are plans to expand the website in order to provide more outreach. As the first museum in the world dedicated to HIV/AIDS, there is still a lot that the museum wants to do. "We educate people, but people who reach out to us also educate us and that helps us to do a more effective job," said Sparan. The World AIDS Museum and Educational Center accepts donations, in addition to artifacts relating to the history of HIV/AIDS around the world.
The museum is also reaching out to anyone affected by HIV/AIDS to participate in its Digital Tapestry Project, a collection of short video clips profiling people telling their story -- whether infected or affected. "Everyone has their own story to tell, no matter whether they are male or female, black or white," said Sparan. "This is a world AIDS museum because this is a world epidemic, and anyone anywhere can be part of the project." The Digital Tapestry will be available for anyone around the world to access and view, Sparan said.
While the museum has been open since May 15, it will celebrate its grand opening on Dec. 2, the day after World AIDS Day. There will be a benefit at the Broward Center for the Performing Arts, which will feature the South Florida Symphony. "That night we will be honoring HIV doctors and celebrating as well as honoring the work they do and all the work we all do in fighting the epidemic," said Sparan. "We have come so far, and we should be proud of that, but there is also so much more to do."
David Duran is a freelance journalist and writer based in Brooklyn, N.Y. You can follow him on Twitter at @theemuki.
Copyright © 2014 Remedy Health Media, LLC. All rights reserved.