Personal Story
A Military Diagnosis, and Unrelenting Support From the National Guard
Part of the Series Day One With HIV
July 9, 2014
I was 41 and taking my annual flight physical for the U.S. Air Force Reserve. I was an enlisted flight crew member with over 4,200 flying hours in three different aircraft and an E-6 TSgt about to make E-7 MSgt. I had also served four years in the U.S. Marine Corps and 15 years in the U.S. Air Force Reserve and Air National Guard. I needed ONE year to be able to retire from the military.
A few days after the physical, I received a phone call from my supervisor in my unit telling me that I'd been grounded due to my flight physical results. I was to report to the flight surgeon when I came in for the next weekend drill, which was in December of 1998. When I arrived, my supervisor and I went straight to the flight surgeon's office after the morning sign-in and formation.
I had no idea what was going on. I thought I was going to be told I had high blood pressure or diabetes, which will get you permanently barred from flying. When the flight surgeon told me I was HIV positive, everything came to a stop in my mind. The doctor then told me that U.S. Air Force regulations require that I be discharged immediately. He then told me that in his regular civilian practice he was an infectious disease specialist and he was not going to discharge me without a fight. He also told me that it wasn't a death sentence and that with proper treatment I would die of old age before I'd die of AIDS.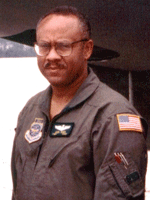 My unit was VERY understanding, to their credit; none of their attitudes toward me changed in any way. I still maintain contact with them to this day. My boss would not leave me alone and asked me what I needed. I told him I needed to go home to tell my wife. I didn't know that I was on a suicide watch and he had orders not to leave me alone at any time. He let me go home and I told my wife who took it very well. She has never tested positive and gets tested every year.
Because of my unit's support, I was allowed to remain in the U.S. Air Force Reserve part time only. I was working full time, for one more year to earn my retirement, but it ended my chance for promotion. While working a desk job at my reserve unit, wondering how I was going to make ends meet, I got a phone call offering me a full-time civilian job with the U.S. Army! I had applied for it because it was closer to home and did not require me to travel anymore; I still work for them today! I was retired with full benefits from the U.S. Air Force Reserve in January 2000 and there were a lot of tears at my retirement ceremony.
Today, I'm healthy, test undetectable and enjoy my job as an unit armorer for the U.S. Army. I don't have any other health concerns except I'm steadily gaining weight. No hypertension or blood sugar issues, I just keep getting fat! I eat what I want and do what I want. I'm still married and my wife has never tested positive. Our relationship is strained at times, my fault not hers. I'm afraid to do more than hug her or peck her on the cheek. I'm afraid I'll give her my HIV. So we take each day as it comes and being 56 and 60 now, sex is not a big issue, LOL.
Want to share your own "Day One With HIV" story of finding out your diagnosis? Write out your story (1,000 words or fewer, please!), or film a YouTube video, and email it to editor@thebody.com. In the coming months, we'll be posting readers' "Day One" stories here in our HIV/AIDS Resource Center for the Newly Diagnosed. Read other stories in this series.
Related Stories
---

This article was provided by TheBody.
---
Comment by: SEL
(Los Angeles, CA::) Tue., Jul. 14, 2015 at 11:41 pm UTC
Hello Mr. Sisco,
Thank you so much for sharing your story. I am so glad that you have this awesome support system in place. You seem like a loving, kind, and considerate person.
May God bless you and your family!
Comment by: MarriedMan
(Ft Meade, MD) Sat., Mar. 28, 2015 at 9:38 am UTC
Active Duty Army married Soldier diagnosed positive in 2013. My wife was devastated when I ran home to tell her. Not sure how your wife took it so well. Maybe she was in shock. I am glad you guys are still together. Your relationship sounds like my wife and I now. She is still negative, and we haven't had sex since. My kids don't know about my diagnosis. We chose not to burden them. I wish you the best and hope you continue to show your love to your wife to lessen the pain as I do. God bless you both.
Comment by: Flight Doc
(Arlington, VA) Thu., Aug. 28, 2014 at 6:53 pm UTC
I'm glad that you had a supportive commander because your flight surgeon was dead wrong. Even in 1998 it was established policy that HIV positive service members could remain in the military (albeit not on flying duty status). The problem with Reservist flight surgeons is that they see only a fraction of the cases that active duty flight surgeons do, and they are generally not supervised by more experienced, senior flight surgeons. Take home message is if you are a reservist, don't take what your flight docs say as the gospel truth. Do some fact checking on your own, and use your local IG if necessary (and the DoD IG Hotline if that fails). HIV positive aircrew have not been granted waivers by the USAF, but there are still plenty of opportunities to continue serving honorably until YOU desire it is time to retire.
Comment by: sely
(los angeles) Fri., Jul. 18, 2014 at 6:24 pm UTC
i am so happy that you were treated well and you are doing well. I was wondering if you know how you contracted HIV. I guess that would be the one of my first thoughts after processing my diagnosis.
Best wishes to you and your family.
Add Your Comment:
(Please note: Your name and comment will be public, and may even show up in
Internet search results. Be careful when providing personal information! Before
adding your comment, please
read TheBody.com's Comment Policy
.)