HIV testing is essential for improving the health of people living with HIV and helping to prevent new infections. CDC estimates that 16 percent of people infected with HIV in the United States are unaware of their infection -- more than 180,000 people.1 CDC also estimates that approximately half of the estimated 50,000 new HIV infections each year are transmitted by people who do not know that they are HIV-positive.2,3
CDC recommends that all adolescents and adults get tested at least once for HIV as a routine part of medical care, and that gay and bisexual men and others at high risk be tested more frequently. CDC is working to increase testing among people at higher risk in a wide range of settings outside of the medical system.
Benefits of Knowing Your HIV Status
HIV testing has never been quicker or easier than it is today -- and it has significant benefits for individuals who are HIV positive and for those who test negative.
For those who have HIV, testing is the gateway to treatment and care. Highly effective treatments make it possible to live a long, healthy life with HIV. However, one-third of people learn they are infected with HIV less than a year before being diagnosed with AIDS, meaning they have already been infected for many years and may not fully benefit from treatment.4
Testing also helps reduce the spread of HIV. Early diagnosis allows those infected to take steps to protect their partners from infection, and early treatment can lower viral load, and reduce the risk of transmitting HIV to others by 96 percent.5 And, for people who do not have HIV, testing is just as critical because this information can help link them with important prevention services so they can remain HIV-free.
Percentage of HIV-Infected Individuals Engaged in Selected Stages of the Continuum of HIV Care, 2009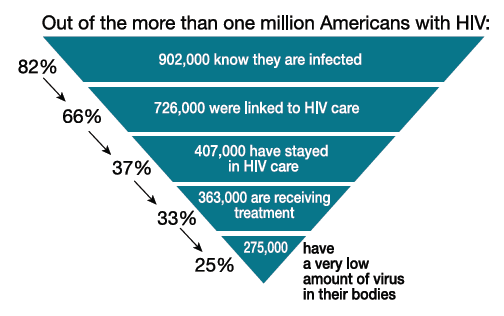 HIV Testing Progress and Challenges
While HIV testing rates have steadily increased, more than half of Americans still have not been tested for HIV in their lifetime.6
Lack of access to healthcare, fear, and misperceptions about HIV risk and the testing process itself are key barriers to increasing HIV testing. In addition, some healthcare settings have not yet made HIV testing a routine part of medical care.
Testing rates remain far too low even among groups at high risk for HIV, including men who have sex with men (MSM), African Americans, and youth.
In a study of MSM in 20 U.S. cities, 34 percent of MSM infected with HIV were unaware of their infection.7 Of those, more than one-third (35 percent) had not been tested in the past 12 months, as CDC recommends.8
Although African Americans are more likely to get tested for HIV than Latinos or whites, more than a third have never been tested.9
Nearly half of high school students report having had sex, but CDC data show that only 13 percent of students overall have ever been tested for HIV.10
Percentage of People Who Have Ever Been Tested for HIV, Overall and by Population, 2010